Social distancing became a competitive advantage for businesses during pandemics. Proper social distancing protects both employees and patients from the transmission of viruses. Those businesses that know how to abide by public health regulations while maintaining their communication network are set up to succeed in a pandemic, and during other emergencies.
To better understand how healthcare practices are dealing with the challenges of social distancing, Weave commissioned an independent survey of 750 healthcare experts and their patients. One of the main topics discussed in the survey is how to maintain effective communication and promote social distancing.
The results from the survey are fairly clear: providers and patients find calling, texting, and emailing to be the best ways to communicate in a pandemic. In addition to these three commonplace solutions, practices are also using them to generate online reviews for marketing to prospective patients.
This article looks at some of the statistics gathered in the survey commissioned by Weave. Along with these statistics, we'll consider the solutions available for optimizing the phones, text messages, emails, and review gathering for healthcare practices. Improving and unifying your communication network is key to implementing social distancing when needed.
1. Switching to a VoIP Phone System
Phones remain an essential way to communicate with patients. This fact is especially true for older patients, who stated that they prefer calling to texting. However, healthcare providers say that their calls go to a patient's voicemail 34% of the time.
There are a number of ways to improve your phone communication. The first approach is to make sure your office has a VoIP (Voice over Internet Protocol) phone system. This style of telephony relies on the internet rather than traditional landlines.
VoIP phones allow healthcare practices to consolidate their phones with other lines of communication, such as texting and emailing. This way, when patients aren't answering their phones, it's easy to try an alternate communication method. Without an integrated system, going between various communication pathways is clumsy and complicated.
71% of the practices in the survey say they can increase sales by improving their patient contact rate. Adopting a phone system that opens up new opportunities for contacting and engaging with patients is crucial for improving your patient contact rate and increasing sales.
VoIP phones also help your employees and patients maintain social distancing protocol. When employees are able to get through to patients more consistently, it's less likely that patients will come into your office uninformed, breaking social distancing rules. Customers will also not need to drop by unannounced in order to schedule appointments, pay bills, or ask questions.
With VoIP phones, software enables office staff to view customer insights as soon as they receive a call. This information includes names, birthdays, health histories, upcoming appointments, and outstanding balances. It also gives you analytical capabilities for identifying how your office is handling the new normal.
It's important to remember, however, that younger clients (35 years and under) are twice as difficult to reach by phone than older clients. VoIP phones let your practice automatically send missed call texts to customers whose calls you're not able to answer. This link between calls and texts allows your office to cater to the communication preferences of a broad range of patients.


Want to see how Weave can help you?
Weave Helps Streamline Business Communication
"Amazing technology has simplified our patient communication immensely! We are fairly new and can't wait to learn even more Weave features... customer service and tech support is SPOT ON and can't be beat! " - Weave Customer

Schedule Demo
2. Expanding Your Text Outreach
The survey we commissioned suggests that text messaging may be the future of communication for healthcare practices. 68% of the healthcare professionals in the study say most of their communication with patients will occur via text in the next three years. This means that those offices expanding their text outreach now will be most prepared for market demands in the near future.
43% of the patients surveyed say it's easier to reach them with a text message. This number should only grow in the coming years, since millennials seem to have a preference for texting. The question, then, is how to implement an effective texting outreach.
According to the study, only 18% of healthcare practices say they're using texts to their fullest potential. Connecting text messages with your phone system is a first step toward harnessing their potential. Other measures can create better social distancing in your office while also optimizing your communication.
Many healthcare providers have implemented curbside waiting rooms with text messaging. They send texts to patients before appointments, requesting that patients check in and wait for their appointment from their cars. When your healthcare professionals are ready to receive them, they can shoot them a quick text and bring them back for whatever essential service they need.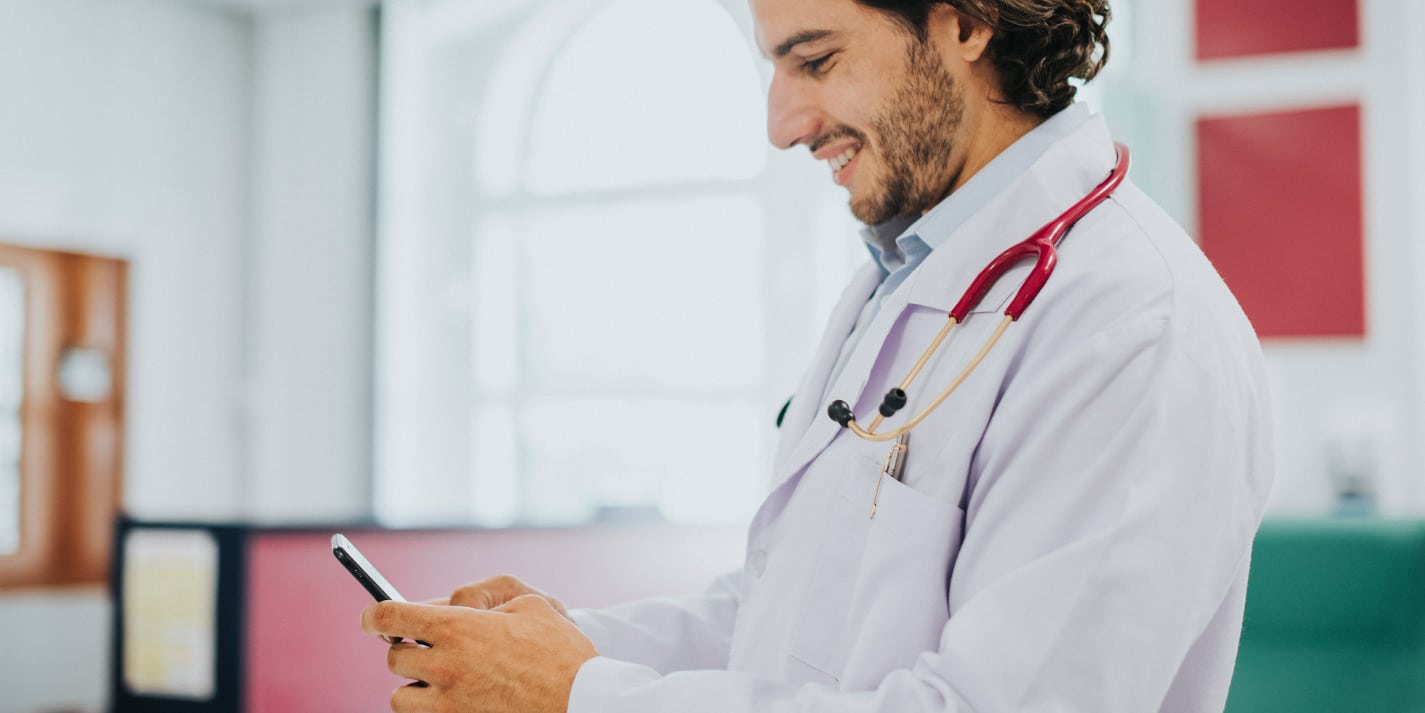 Along with curbside waiting rooms, healthcare practices are also using wellness forms to screen their patients. By sharing a link in texts to patients, providers can ask patients about their physical condition, their contact with potentially sick individuals, and their recent travel. Finding out if patients are at risk before appointments makes it for better social distancing.
Texts usually get your office's messaging to customers faster than phones. The survey indicates that patients respond within 13 minutes to text messages compared to nearly half an hour when responding to phone calls. The convenience of text messaging means quicker engagement with patients.
3. Professionalizing Your Email Marketing
The third-most preferred communication solution for healthcare practices during a pandemic is email. Patients say they forget about calls and text from their healthcare providers 33% of the time. As previously discussed, things can be done to mitigate this forgetfulness within your call and text outreach.
Beyond optimizing your calling and texting, consider upgrading your emailing. Email is a great tool for offices dedicated to social distancing because it lets them contact all their patients in one fell swoop. This type of mass communication is important for notifying customers about temporary changes in hours, upcoming promotions, and the ways your office is implementing social distancing.
Professional email marketing tools make it easy for non-experts to craft sleek-looking emails in only a few minutes. This tool provides administrative teams with pre-written templates that serve as a base for their emails. It also lets you dress up your emails with pictures from a free image library.
CTA (Call to Action) buttons are basically fancy links that encourage patients to take action after reading your emails. These actions can involve scheduling appointments, paying for services, or sharing online reviews. By inviting customers to take action with an email, you're letting employees and patients take care of processes that are essential for running your practice from within their remote workspaces and quarantines.
4. Requesting Online Reviews
The previous sections describe communication solutions for social distancing with your patients. It's also critical that your practice develop a good marketing strategy for pandemic crises. Since many prospective patients are spending huge amounts of time at home, traditional forms of advertising are becoming less effective.
Online is perhaps the best place to craft an effective marketing strategy for healthcare practices. Establishing a strong website is a must for providers, but it's also important that you get potential patients to that site. This is done by boosting your visibility on prominent review sites.
Popular review sites like Google and Facebook favor healthcare practices with a high amount of positive reviews. Your practice should be requesting that patients post reviews to these sites in order to gain visibility in Google's search results. Texting customers a simple review request following their appointments is best practice for maintaining good social distancing and enhancing your communication with prospective patients.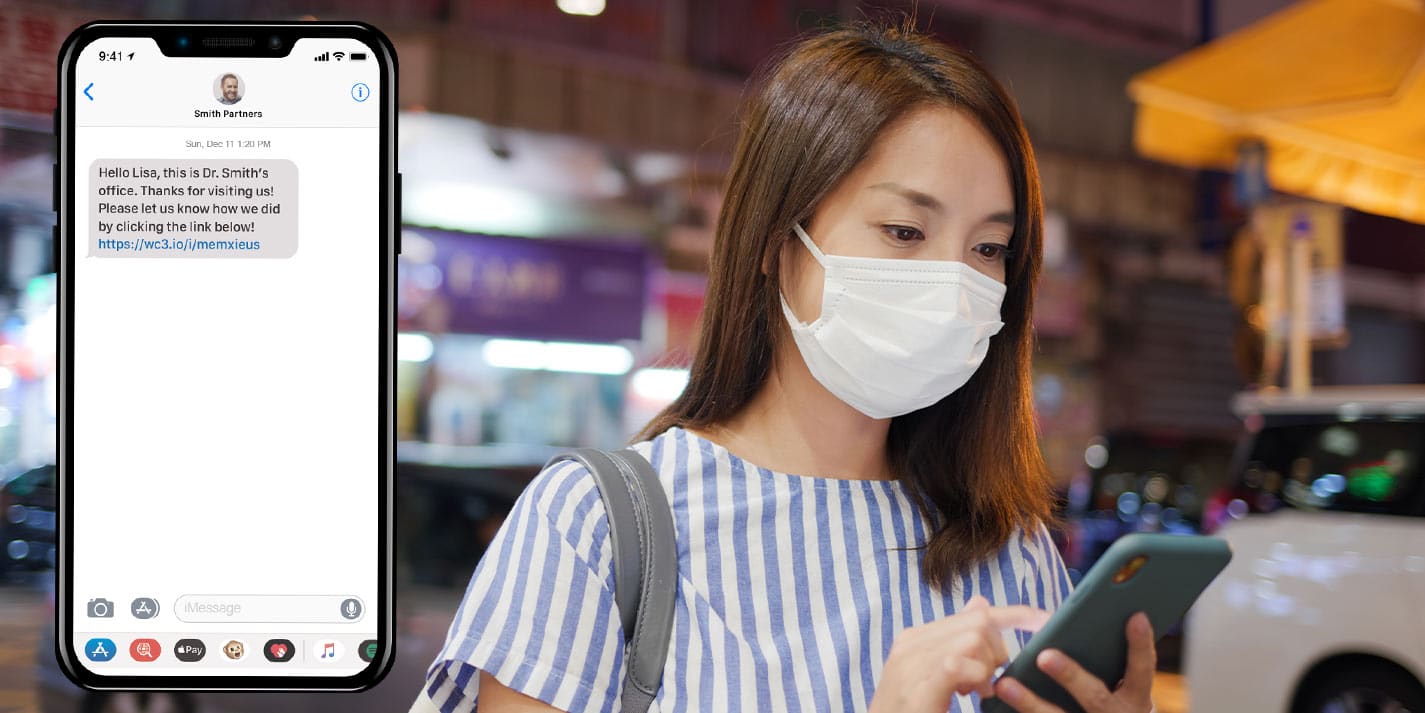 Why text these review requests? 38% of the patients in the survey say they have given feedback to healthcare providers by text compared to 24% who have given feedback by phone. Texting review requests lets you include a link to review sites and saves your front office from having prolonged conversations about customer reviews.
Within an integrated communication system, your practice can view its online review status using an easy-to-navigate interface. Administrators can regularly check your standing on review sites, making sure no one posts slanderous reviews and handpicking the best reviews for repurposing on your website or office literature.
Creating Social Distancing with Weave
The healthcare providers and patients in our survey say they want to use calls, texts, and emails, along with online reviews, to communicate during pandemic events. These lines of communication are not a departure from how practices have communicated over the past decade. However, the social distancing that can be created with them is a recent phenomenon that doesn't seem to be going away anytime soon.
Weave offers healthcare providers the opportunity to consolidate their communication using VoIP phones. With this foundation, offices can begin to send more text messages than ever before, allowing for social distancing through curbside waiting rooms, effective screening, and faster response rates. Email Marketing lets healthcare providers share vital updates with their entire customer base in a professional format. And Weave Reviews enables your office to request, collect, and monitor online reviews, a key for marketing your business during a pandemic.
Contact us today for a free demo to learn more about our communication solutions for social distancing.