The COVID-19 pandemic has created widespread concern about frequenting public places. In order to understand how healthcare practices are handling their patients' potential fear of visiting providers, Weave recently commissioned an independent survey of 750 providers and patients.
The results of the survey indicate surges in the amount of clients that are afraid to visit healthcare practices. 93% of healthcare patients from the survey said they're delaying care until the pandemic eases. 78% of clients are reluctant to go into healthcare practices right now. This level of hesitancy is a major obstacle for providers.
The type of care most often being delayed includes dental cleanings, elective surgeries, and eye exams. Although these aren't necessarily "essential services," this sort of care fuels a lot of the growth and revenue for dentists, optometrists, and other healthcare specialists. Helping customers move past their fear by demonstrating the lengths your office is going through to ensure their safety will keep your practice running smoothly in tough times.
In order to calm some of your patients' fears, your office can adopt more sophisticated and user-friendly communication technology. The right tools will allow your practice to implement optimal social distancing and alleviate concerns regarding safety during a pandemic.
Below are ten tips for addressing the fear of visiting healthcare practices due to COVID-19:
1.Learn about brand new techniques
Concerns surrounding community spread have led to all sorts of new innovations in both the public and private sectors. While methods like mask-wearing, handwashing, and social distancing aren't entirely novel, their prevalence and emphasis around the world have changed expectations for healthcare practices. According to our survey, 57% of clients say they won't visit a healthcare provider unless masks are mandatory.
There are similar expectations around social distancing. No one wants to visit a crowded doctor's office in the present conditions. That's why healthcare practices are setting up curbside waiting rooms by asking patients to check in from the parking lot instead of at the front desk. Providers are also sending wellness forms to their customers before appointments to screen them for COVID-19 symptoms, exposure to potentially-infected household members, and recent travel.


Want contact-free payment options from Weave?
43% of healthcare patients fear touching payment portals
Weave helps you safely & easily collect payments.


&quot I used to spend three days a month printing off and mailing out invoices. Now, it takes me less than a day to text them to all our patients with outstanding balances.

"-Emily Lott, Billing Specialist, Children's Clear Vision

Schedule Demo
2.Set up a VoIP phone system
In order to establish curbside waiting rooms and share wellness forms, it's best practice to convert your office to a VoIP phone system. 70% of healthcare practices said they could provide a better customer experience by improving their client contact rate. VoIP (Voice over Internet Protocol) phones utilize the internet to connect your phone system with other lines of communication, including text messaging, emailing, social media, and a team chat.
VoIP phones let your office contact patients according to their personal preferences. Giving your clients a variety of communication options makes it more likely that you'll be able to contact them and get them updates on how your office is handling the pandemic. A starting point for addressing patient fear is simply getting ahold of them.
3.Use texting to its fullest potential
Many healthcare practices have added business texting to their outgoing communication. However, only 18% of the healthcare providers in our survey said they're using text messages to their fullest potential. In addition, over two-thirds of these same practices said they expect the majority of their patient communication to happen via text in the next three years.
Text messaging is an asset for healthcare practices because it increases worker efficiency along with the ability of your office to reach its clients. Texts work in tandem with VoIP phones. For instance, when your administrative team fails to answer an inbound call, software can send out a missed call text to the caller. The patient then has the opportunity to start a two-way text conversation, which serves as an alternate way to address concerns over COVID-19.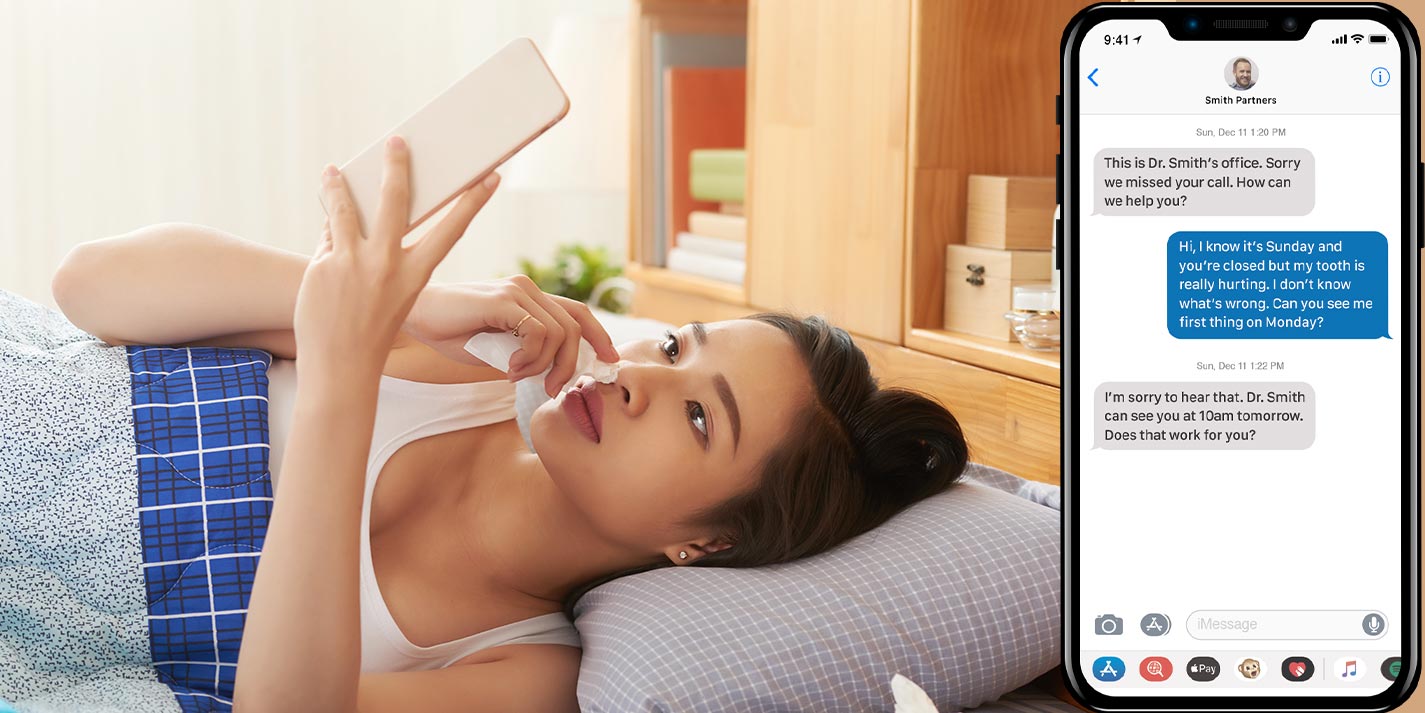 4.Schedule appointments by text
The convenience of text messaging offers improved efficiency for practices trying to fill their schedule. The patients from our survey said they typically respond to text messages from providers within 13 minutes, but don't get back to voicemail messages for half an hour. This means that clients are scheduling visits twice as quickly thanks to texting.
Beyond missed call texts and two-way conversations, scheduling software allows offices to distribute appointment reminders automatically at specific dates and times. These pre-scheduled reminders can be customized and save administrative teams large amounts of time. They increase the speed at which your office can get through to customers and are an easy way to let your patients know about social distancing protocol in your practice.
5.Don't forget about email
Calling and texting were the two most-preferred methods of communication for clients in our survey. Still, clients admitted to forgetting about calls and texts from providers 33% of the time. Besides increasing contact rates, practices can also rely on effective email outreach to make sure they're letting their entire clientele base know about what they're doing to make the office safe to visit during a pandemic.
Email marketing software is now available to help healthcare practices professionalize their emailing. It includes pre-written templates for easy composition and free images to catch readers' attention. CTA (Call to Action) buttons let patients act on the information in a given email by scheduling appointments, paying outstanding balances, or exploring educational materials.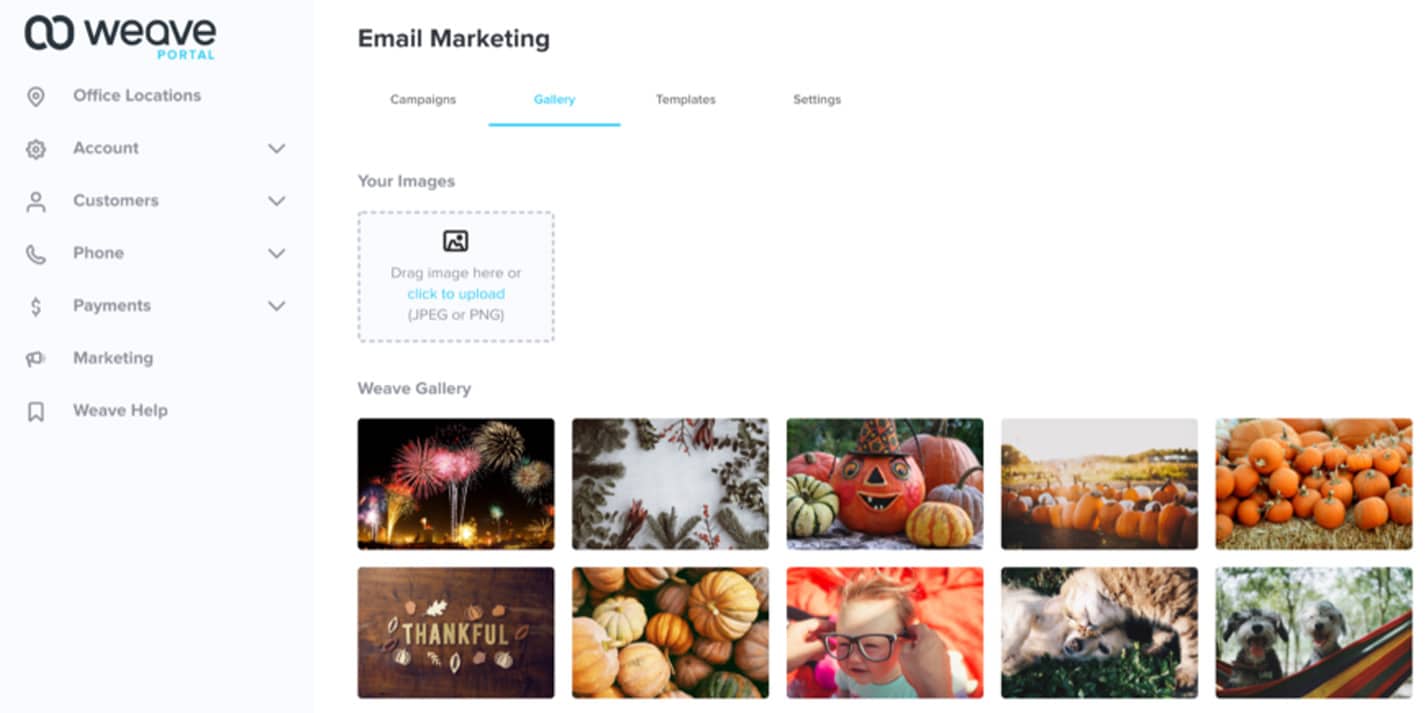 6.Gather feedback via text
In order to understand which tools and protocols are successfully helping customers move past their fear of visiting healthcare practices, your office should collect feedback from customers in the form of reviews. 38% of the healthcare patients from our survey have given feedback by text, compared to the 24% that have provided feedback by phone. Your office is most likely to get feedback from clients when it's requested by text.
Texting review requests prevents your staff from having to break social distancing guidelines. They can simply send requests to customers following appointments that they fill out from the parking lot or from home. By sharing a link to popular review sites like Google and Facebook, your office is collecting valuable feedback and building its online reputation by amassing positive reviews.
7.Be personable with customers
Sending generic messages to patients that are already paranoid about getting COVID-19 is a recipe for further alienation. 73% of the healthcare providers in our independent survey said personalized communication performs better than generic outreach. Customer insight software is now available that works within VoIP phone systems to put the personal histories of clients at your fingertips.
Most patients don't want to interact with providers that have no memory of their individual needs. Customer insight software connects with phones to populate patient names, medical histories, upcoming appointments, and outstanding balances on the screen as soon as the phone rings. This option keeps your team from searching through paper or electronic files for customer information and lets you build rapport before addressing patient fears.
8.Offer contactless payments
Many customers and providers are concerned about the hygiene of payment portals right now. 68% of patients in our survey said they prefer contactless payments. Contactless payments include both mobile wallets from companies like Microsoft, Apple, Google, and Samsung and text payment options.
The main appeal of contactless payments is not only that they're convenient, but that they let your office avoid in-person payment processing. Traditional payment options, including cash, checks, and credit cards involve a physical transaction, whether it's handing over money, writing a check, or swiping a card. Weave has developed its own text payment option called Text to Pay, and it's becoming a favorite feature among our customers.
*Weave Payments Feature Currently Only available in the US. Coming soon to other markets. *However, be sure to check out our other available features.
9.Transition to contactless
The preference for contactless payments doesn't extend to every single customer. The process of converting your office to contactless payment processing will take time. 67% of the practices in our survey said they'd like to transition from credit cards to Text to Pay. This transitional phase requires a complete payment platform.
Weave Payments allows your healthcare practice to continue to accept a wide array of conventional payments while moving toward more contactless payments. Your office can placate client fears by sharing Text to Pay as a new payment option. With Text to Pay, your front desk can simply send a payment request to customers following appointments, letting them pay from anywhere without sacrificing social distancing measures.
10.Add a complete business toolbox
69% of healthcare practices want all their payment processing and merchant services to be available from one platform. Weave Payments gives providers the ability to handle all their payments with one tool. It offers competitive meet or beat pricing and no upfront or monthly fees.
Payments fits within a toolbox that provides offices with all the communication technology discussed in this blog post. Your practice can address fears surrounding COVID-19 by implementing the tools and tactics mentioned here. Consolidating your calls, texts, emails, reviews, insights, and payments is a great way to optimize your communication in the new normal. Contact Weave today for a free demo of our complete business toolbox.