There's a growing trend toward touchless communication tools for healthcare practices. These sorts of tools were already becoming commonplace before today's pandemics. In light of recent government regulations and changing customer preferences, the incentive for doctors to impress patients with touchless communication tools is greater than ever.
What are touchless communication tools? Essentially, these tools allow doctors, other healthcare professionals, and patients to discuss and coordinate appointments, treatments, and payments without sacrificing social distancing measures. Touchless communication is made possible by harnessing the power of the internet.
Touchless communication lets healthcare practices have some of their employees work remotely. It also creates new ways to keep clients out of risky situations that might threaten their health. These communication tools also show customers that their providers are aware of changing public health conditions and are willing to address them head-on.
Weave recently commissioned an independent study of 750 healthcare professionals and clients in order to understand how they're responding to conditions in the age of social distancing. Their responses highlight the value of having touchless communication tools in a healthcare practice right now.
Let's look at five touchless communication tools doctors are using to impress patients in the age of social distancing.
1. VoIP Phones
It may seem odd that this list starts with phones, which are constantly in people's hands. However, the developments in business communication over the last decade or two make it possible to do some unexpected things with office communication. In addition, phones are the basis for better touchless communication and social distancing.
70% of the healthcare practices in our survey said they could provide a better experience if they could improve their client contact rate. VoIP (Voice over Internet Protocol) phones are foundational for a unified communication system and an improved client contact rate. By using the internet to link all your office's various lines of communication, you can reach more clients in less time.
Missed Call Texts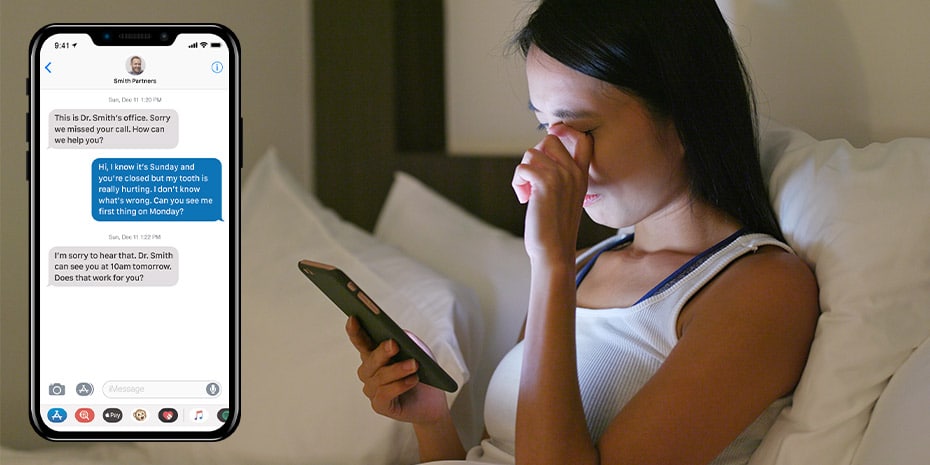 VoIP phones connect with text messaging services to cover for your front desk team when they're swamped or when you get calls after hours. If a call doesn't get through to one of your employees, software automatically sends a text to callers, letting them know that your office will get back to them. This missed call text also opens up the possibility of a two-way text conversation.
Customer Insights
VoIP phones also impress customers by being linked with customer insights. When clients call your office, their name, photo, medical history, upcoming appointments, and overdue balances populate on your staff's computer screen. With all this information available, it's less likely that patients will have to approach the front desk with questions. They can communicate with your team from a good social distance.


See how Weave improves doctor/ patient communication
Contact Clients in their Preferred Way
&quot It's a busy world nowadays and people don't always have time to answer their phones. One quick text with Weave and we are able to communicate with our patients "-Jess Bacci ~ Bacci & Glinn Physical Therapy.

Schedule Demo
2. Text Messages
We think of text messaging as something people like to do with friends and family, but it's increasingly a powerful communication tool for healthcare practices. Texting is especially popular among clients under the age of 35, a demographic that's the future clientele base for providers. With the right system, calling and texting link seamlessly to promote proper social distancing.
68% of the healthcare practices in the study said most of their outgoing client communication will be via text within 3 years. High-growth practices are emphasizing communication by text now, anticipating even more texting in the near future. During the pandemic, a couple of texting innovations have occurred for medical practices.
Curbside Waiting Rooms
In order to keep patients from potentially transferring germs and viruses to each other in the waiting room, offices are using text messages to set up curbside waiting rooms. Administrative team members send out texts prior to appointments asking patients to check in from the parking lot. Once your team is ready to receive a client, they can notify them by text and bring them straight back, avoiding the waiting room altogether.
Wellness Forms
Along with curbside waiting rooms, practices are also screening customers before they step into their office. This screening is done with simple wellness forms that are texted to clients. These electronic forms include questions about the patient's physical condition, exposure to potentially sick individuals, and recent travel.
3. Email Marketing
Our study showed that email is the third most popular way for doctors to communicate with their patients. Unfortunately, many healthcare practices aren't using email to its fullest potential. Upgrading to a professional email marketing tool makes emailing more aesthetically-pleasing to customers and effective for providers.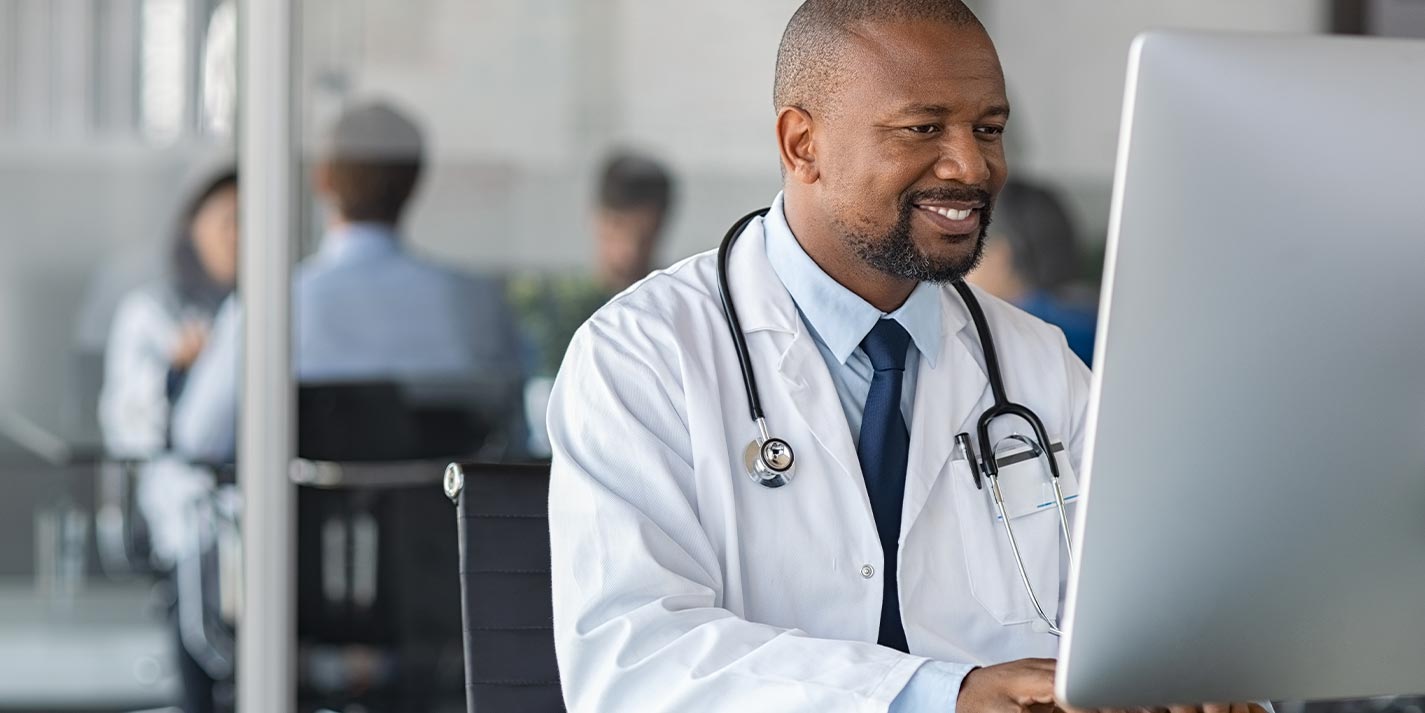 Patients forget about calls and texts from their healthcare providers 33% of the time according to our survey. Practices can increase the client contact rate by optimizing their calls and texts, but they can also use emailing as their third touchless communication option. Emailing is the easiest way to reach your entire customer base regarding essential information and upcoming promotions.
Templates and Images
Email marketing tools let administrative teams develop professional-looking emails quickly. Pre-written templates get them started on the body of their email if they're not up to the task of writing an entire message. Free image libraries make it simple to add photos to your emails and fit them seamlessly into the body of text.
CTA Buttons
CTA (Call to Action) buttons are fancy links that allow patients to immediately engage with the message of your email. This touchless feature lets customers take care of scheduling needs, make payments, and respond to educational opportunities by clicking the CTA button in your email. This way, patients can respond to your office's calls to action without stepping foot in your office.
4. Contactless Payments
We don't very often think of payments as a form of communication. However, there's frequently more discussion and in-person communication centered around payments in medical offices than there is about actual medical conditions. During a pandemic, these prolonged conversations are best to be avoided.
64% of the healthcare patients in our study said they feel safer at healthcare facilities that offer contactless payments. Contactless payments don't require the physical exchange, tapping, or swiping of traditional payments. Instead, customers use their mobile wallets or text payments to take care of their medical expenses.
Text to Pay
Text payments are as easy as they sound. After appointments, simply send a payment request by text to customers and have them pay from the parking lot or the comfort of their own home. Text to Pay mirrors initiatives like curbside waiting rooms; keeping patients out of the waiting room is key for good social distancing.
In the video below, you will see how Text to Pay is efficient in all situations, including receiving payments remotely.
Watch How Quickly Patients Respond to Text to Pay
A Complete Payment Platform
Though Text to Pay should be central for healthcare practices hoping to encourage social distancing, there's still going to be plenty of patients that prefer more conventional payment processing. A complete payment platform accepts cash, check, and cards while allowing providers to transition toward contactless solutions, including mobile wallets and text payments.
5. Online Reviews
The four tools already listed focus primarily on impressing existing patients. There are also ways to impress potential clients using touchless communication tools. One of the best methods for getting the attention of prospective patients is developing your online review strategy.
19% of healthcare practices say they're not using text messaging to its fullest potential. With a unified communication system, offices can text review requests to customers following appointments. Amassing positive reviews on popular review sites like Google and Facebook makes it possible to market your practice without wasting funds on traditional advertising.
Review Requests
Online review requests are text messages that include a link to popular review sites. These texts are customizable and make it easy for patients to click the link and share their rating of your practice in minutes. Gathering a high number of positive reviews boosts your rating in search engine results, which is where 95% of consumers now go before making a purchase.
Review Management
As your office develops online reviews as a tool for communicating with the general public, it's crucial that you manage your online reputation. Integrated communication software lets you view your status on multiple review sites from a user-friendly interface. With this feature, your team can keep track of your office's review status, and, therefore, its marketability.
Weave's Touchless Communication Tools
At Weave, we believe our complete business toolbox was designed to make healthcare practices resilient in moments such as the current public health crisis. Providers can adapt to the demand for touchless communication by implementing the processes facilitated by Weave's combination of hardware and software solutions.
Our VoIP phones sync with text messages to improve client contact rates and enable social distancing through curbside waiting rooms. The Email Marketing tool makes sure you get through to your entire customer base and encourages them to take action on your invitations. The Payments and Reviews tools let your team send payment and review requests by text instead of gathering them in person.
If you're interested in impressing your patients with touchless communication, as well as protecting your clients and employees through proper social distancing, contact us today to watch your free demo.