Jeff Lyman's Bio
Jeff is the Chief Product Officer @ Weave, the complete business toolbox for service-based businesses. Jeff's responsible for strategy and execution across Weave's comprehensive suite of communications, payment processing, collaboration, marketing, and analytics products.
Prior to joining Weave, Jeff served as both Chief Product Officer and Chief Marketing Officer at Vivint Smart Home where he led the company's technology, product strategy, and new business development. In his CMO role, Jeff increased the company's brand recognition and channel development, generating tremendous interest from consumers, media, and partners.
Before joining Vivint in 2013, Jeff spent nearly a decade at Nike, Inc., most recently as Senior Director for Mobile and Web Design at Nike+, Nike's industry-leading activity tracking service. Jeff has worked across the landscape of the Nike Brand, including leading digital and marketplace communication for NIKEiD (Nike's custom footwear experience), Nike Basketball, and the LeBron James brand.
Jeff has a bachelor's degree from Brigham Young University and an MBA in Marketing from the University of Oregon.
Product Development in the time of COVID-19
The biggest challenge is getting everyone in the room. Just like pencil and paper may never be eliminated, so too the in-person meeting may never be eliminated. With whiteboard and body language, being in the same room can still be invaluable to great strategic discussion.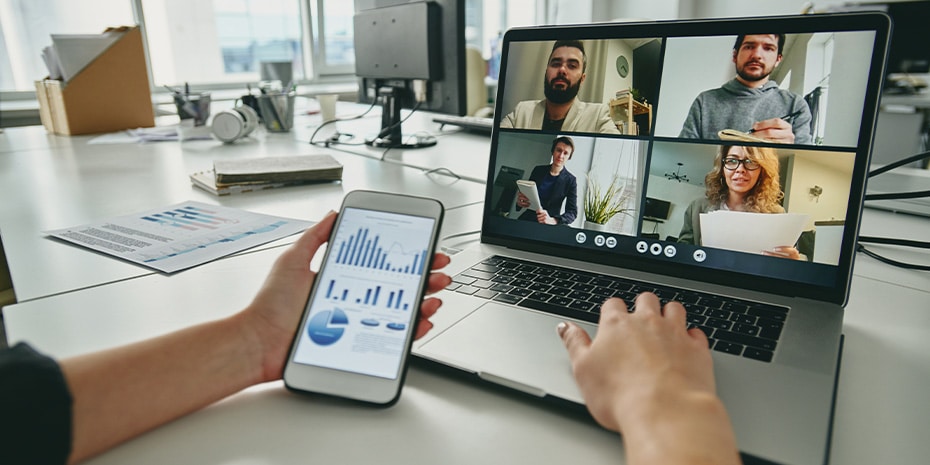 On the other end of the spectrum, one of the biggest opportunities now with product development in the time of COVID-19 is how funding has become so democratized. There isn't as large of a barrier to entry to talk to venture capitalists, so no matter where someone is they have a better chance at getting their idea seen. As a result, we see a wider more diverse range of ideas entering the market.
We're also now experiencing a context that highlights some of the suckier parts (to quote Jeff) of our experiences. While we're removing a large part of human interaction, we're left to focus on the logistical aspects of our interactions, and most of those can leave you feeling frustrated, unimpressed, or even dissatisfied. As a result, people are getting creative with how they address those sticky areas and provide an even better experience even though humanity has been largely removed from the process.
Intrapreneurs– Jeff's experience as an "entrepreneur" in Nike
When working for an existing organization, you have the ability to be focused and build skills around one area of the business. As you build those skills and exercise your creative muscles, you'll find you need to be a good salesperson. While not holding the role or job title of Sales Associate or Account Executive, you will still be presented with opportunities to see as long as you A) perfect your craft and B) come up with creative solutions.
No matter if you're an entrepreneur or an intrapreneur, the most important part of a pitch or sale is the emotion. How are you pulling heartstrings, bringing things close to home, to make an effective sale?
Because the people who think they are crazy enough to change the world are the ones that do."- Steve Jobs
This implies a great level of passion. You yourself are emotional about the thing you're pitching, because, like Steve Jobs says, you're "crazy enough" to believe that idea can change the world! It's mutually exclusive. There is no good idea, no stellar pitch, without passion.
Jeff & Lebron
While Jeff was at Nike, he worked on the Nike ID line. That line was not what it is today. But to take it to the next level, Jeff had this idea to allow Lebron's shoes to be customized within Nike ID. But when you have a star like Lebron who grew up in a day and age when limited supply Jordan's were all the rage, you have a hard time convincing him it should be another way. There's that emotion there. Nostalgia. And that is a powerful emotion to fit. But in order to sell the idea, Jeff had to find a comparable emotional example or context.
In order to do that, Jeff had to reference something personal to Lebron. He knew that Lebron and Jay-Z were friends. Turns out, not long before Jeff was to pitch this idea to Lebron, that Jay-Z released his recorded lyrics without a beat and challenged mixers and DJs to put their beats to his song. That was Jeff's entry point. Lebron's friend was doing something different, something like what Jeff wanted Lebron to do.
This example allowed Jeff to show that Lebron's shoe could still be his, but it would open up the product in a vulnerable way that would help buyers feel ownership, like they were shoulder to shoulder with Lebron designing their shoe.
It's this emotion that you provide in turn for your customers that gets them to be lifetime customers. Customers that buy tiny shoes to put on their baby even though that baby isn't walking.
3 Takeaways
Learn from those who have trod the paths before you. Podcast. Books. Articles. Some of Jeff's recommendations:

Secrets of Sandhill Road¹
Lean Startup
Hard Thing About Hard Things
From Zero to One
The Innovator's Dilemma
The Innovator's Solution

You need that first thing that thrusts you into motion. Jeff's recommendation: write a pitch deck for your idea. What are you selling, but most importantly, what's the emotion behind it? What is the TAM? Why is this idea right?
Sell! Practice with your friends. It'll suck a few times. But after a few tries, you'll be able to make it concise and easy to follow.