The quality of your phone system speaks volumes about your business. Unanswered calls, busy signals, and poor connections leave a negative first impression, scaring off potential customers and alienating current clients.
If you're relying on traditional landlines or trying to do business from your cell phone, you have likely hit a crossroads as your business grows. It's time to get a "real" phone system, but what about all the equipment that's required and the expense to set it up and run it?
Or, perhaps you already have a business phone system, but you're wondering if additional features could help you run your business more efficiently.
Whether you're looking for your first professional phone system or you're thinking of switching from your current provider, Weave's business toolbox offers you a host of features to help optimize your business.
You are about to discover why businesses across the country are switching to Weave to optimize their customer communication.
Why Weave is a Great Solution for Your Business Phone System
What if you could receive customer phone calls from any device? Welcome to Weave! With Weave, you get cutting-edge technology and seamless business communications. And, you don't need a big communications budget or in-house technical expertise to get these benefits.
Let's examine the top reasons that Weave is a great option when compared to other business phone systems.
Weave Enhances the Customer Experience
Traditional phone systems don't come with a lot of bells and whistles unless you want to pay extra. By contrast, Weave's services will give you features that make your business communication more professional.
Here are some of the features that Weave customers love:
Auto-attendant
Hold music
Voicemail to email transcriptions
Missed call texting
Internet faxing
Call waiting, forwarding, and parking
Caller ID
Mobility and portability
Call recording
Call analytics
Softphone capabilities (turn any Internet-connected device into a business phone, including tablets and computers)
Scalability (add extra lines with ease)
Customer review texts
Text to pay
These features can be game-changers for a business, especially smaller businesses. They give small companies the ability to seem much larger than they are. Instead of being greeted by a staticky-sounding answering machine, you get a live person, or you get a text that opens up lines of communication.
Your office communication becomes faster and more flexible than it could ever be with a landline. As a result, callers receive five-star service and are more likely to view your company as credible and trustworthy.


Want to see how Weave can help you?
Weave Helps Streamline Business Communication
"Amazing technology has simplified our patient communication immensely! We are fairly new and can't wait to learn even more Weave features... customer service and tech support is SPOT ON and can't be beat! " - The Eye Station

Schedule Demo
Weave Gives Freedom to Your Team and Makes Them More Productive
A well-known industry statistic is that the average employee saves 32 minutes per day when a company switches from a traditional business phone system to VoIP. This time-saving feature is attributed to being able to reach team members on the first try and making communication more seamless.
Weave virtually eliminates the game of phone tag because you can reach people in real-time. If the person you need to speak to isn't available, you can easily send a text message to schedule a time that is convenient for both you and your customer.
Even more helpful, especially for distributed teams or businesses with remote employees, is the flexibility that a VoIP system provides. Instead of being dependent on a landline in the office, an employee can take a business call from anywhere. Even though they're on a mobile device, calls can be made and received as if they were the office-based business line. This feature gives teams the freedom to leave the office but still get things done.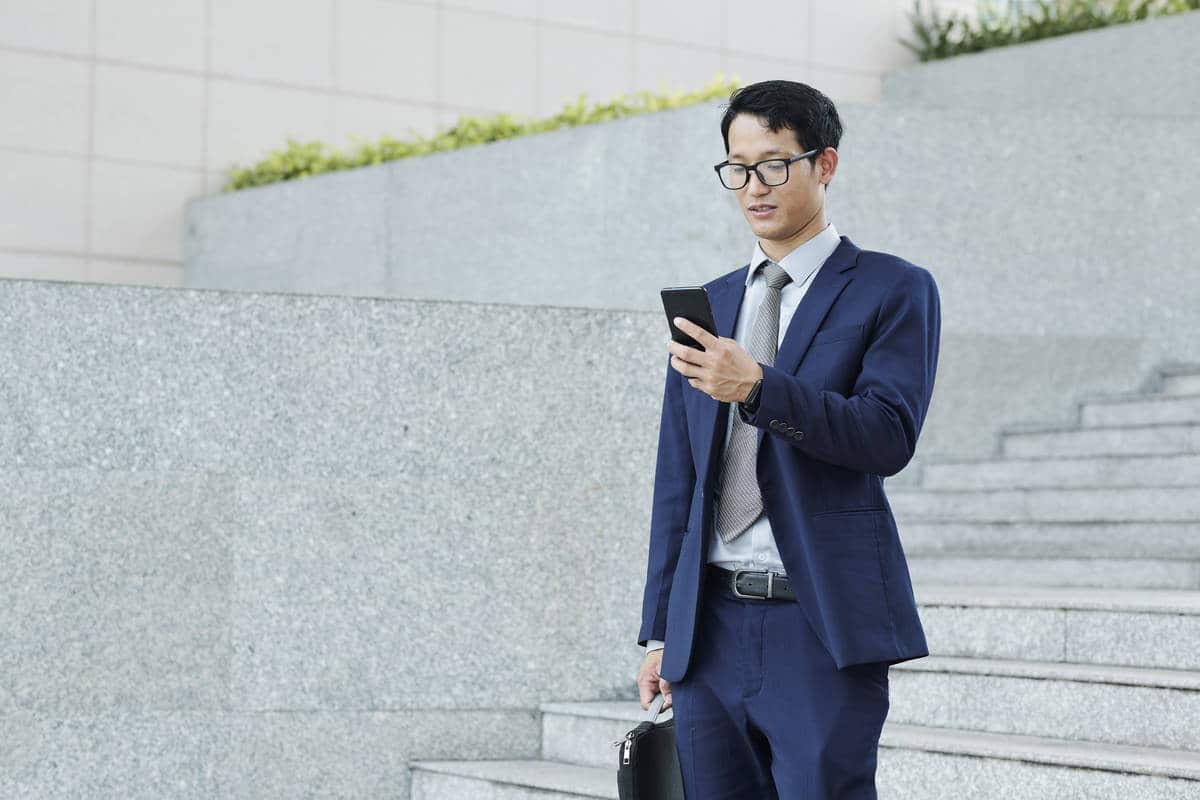 Weave has a mobile app as well as a desktop client that allows you to manage your phone system from any connected computer or mobile device. All of your business communications from these devices can go through your business phone line!
In the case of a power or internet outage, you could also transfer your phones away from your office location and re-route calls to a mobile device that can still send and receive data.
Weave Requires Less Equipment
Traditional phone systems can be expensive to set up and maintain, requiring sophisticated equipment and skilled technicians. The initial investment can be staggering, and the fees to make changes to the system or perform repairs can also induce sticker shock. Even something as simple as adding an employee can require an overhaul to your system, including adding another phone line and restructuring a phone tree.
VoIP is the Way of the Future
One of the main challenges companies face with landline phone systems is that the infrastructure is no longer being updated. As an increasing number of companies make a move to VoIP, the technology that supports traditional systems becomes more outdated every day.
When you combine the difficulty of finding a technician with the hassle of repairing equipment that is bound to break, it becomes apparent that VoIP is a more convenient and logical solution, especially for resource-restrained small businesses.
Instead of continuing to invest in outdated technology, many smart businesses are embracing Weave's suite of communication tools that can boost productivity and streamline communication. Weave is adding new features regularly, and traditional setups can't integrate the way that Weave does. If you want your phone system to do more for your business, it is time to explore Weave!
At Weave, we are confident that our solution helps businesses optimize communication. Are you ready to see for yourself what Weave can do for your business? Schedule a live demo today.