One of the primary benefits of modern communication tools is that they allow small businesses to personalize their customer messages. In the past, these messages could be personalized, but with much less efficiency than the messaging created by newer communication methods. Moving on from traditional phone calls, notes, mailers, and newsletters lets businesses engage their customers more quickly, safely, and effectively.
The communication tools that have become popularized in today's market reach customers almost instantaneously. Consumers now engage with businesses by text on a regular basis, and they open text messages 98% of the time.¹ Using business texting gets personalized, essential information out to customers in record time.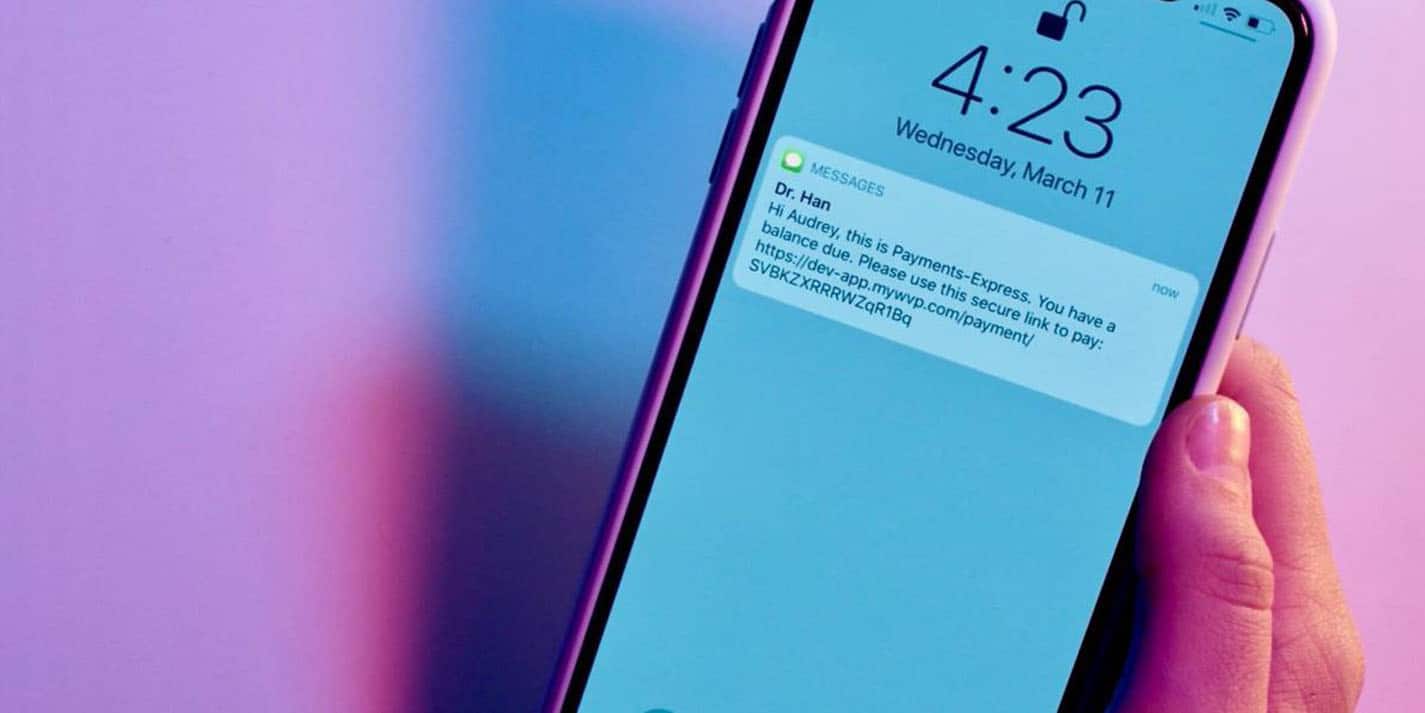 In an era where health safety concerns are heightened, switching to VOIP (Voice Over Internet Protocol) phones is imperative for keeping customers and employees safe. This type of phone system allows small businesses to coordinate with their clients remotely while maintaining the rapport they've established with them over the years.
Emailing gets detailed information about business updates and promotions to customers in a way that yields one of the best returns on investment of any marketing outreach. Studies have found that email generates $38 of new business for every $1 spent.² Personalized messaging is not only quick and safe; it's also cost-effective and profitable.
Let's take a look at the features within text messaging, VOIP phones, and email marketing that make them the best tools for personalizing customer messages.
1. Text Messages
As mentioned in the introduction, text messages are a powerful tool because they allow small businesses to contact their customers quickly. Increasingly, texts are helping businesses protect their customers from public health concerns like Covid-19. Texts can also be personalized with the help of communication software to keep customers coming through the doors of your office and boost your office's revenue.
Here are five features of text messaging that personalize your customer outreach:
Two-way texting
Texting isn't designed to be simply an information dump. It's meant to start conversations with customers that they wouldn't otherwise have, and in a non-intrusive way. When offices add two-way texting to their communication network, they can distribute scheduling reminders, payment notifications, and even birthday congratulations to their customers, then respond on a person-to-person basis that opens up opportunities for further engagement.
Missed call auto texts
Most businesses have certain call peaks during that day that prevent them from talking to everyone that's trying to reach them. With texting software, businesses can program their system to automatically send a text message to missed callers, assuring them that they will be contacted and also creating the possibility of relaying information by text. The immediacy of these texts let customers know that their personal concerns will be resolved.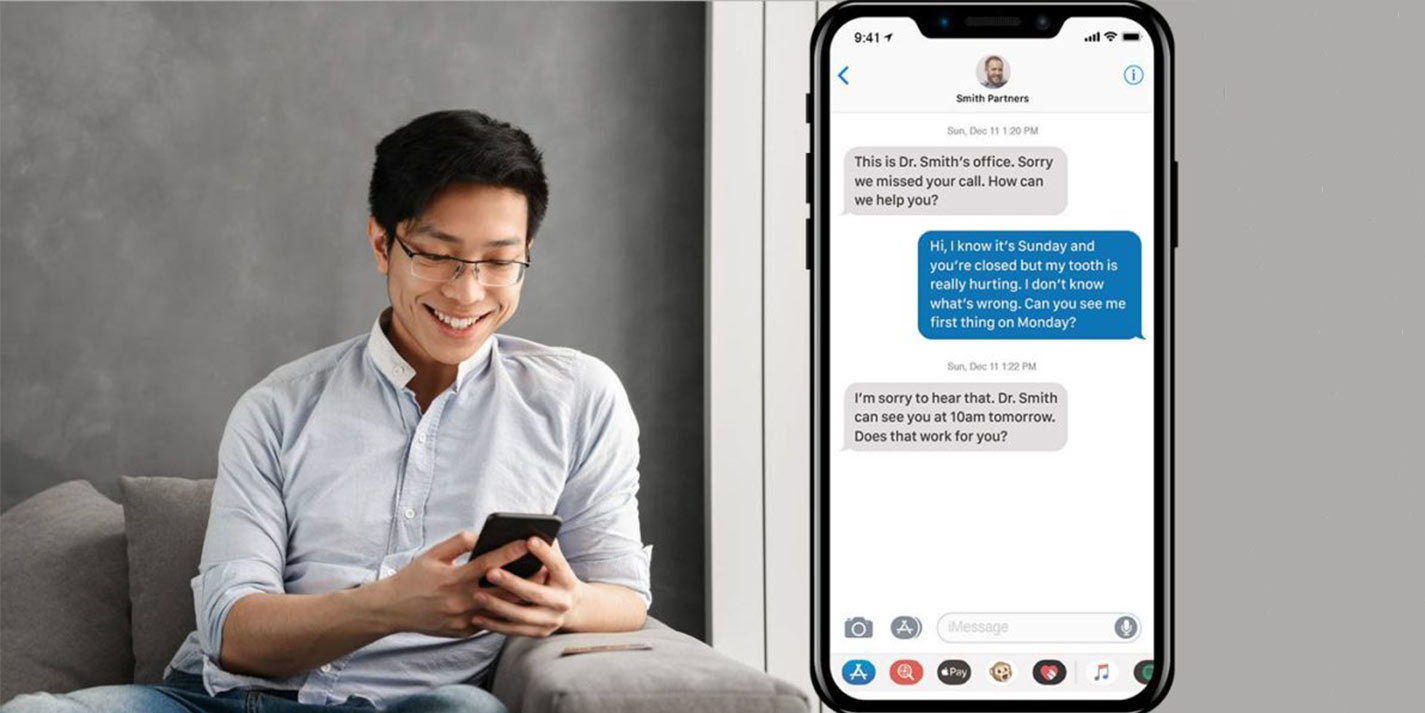 Auto reminders
Administrative teams have spent massive amounts of time going through the list of customers to remind them of their upcoming appointments. This communication is optimized with automated reminders, which can be scheduled and sent through powerful software. The templates for these auto-reminders can be personalized with the names of clients, effectively taking care of reminders using a fraction of the time and energy required by manual calling.
Smart confirmations
Confirmation texts can also be automated, and smart technology interprets confirmation texts and notifies your administrators about changes and cancellations by customers. By allowing customers to respond to text confirmations with informal language and even emojis, smart software lets customers communicate with your business in their own personal style.
Quick Fill lists
Quick Fill lists are designed to fill your appointment schedule when your office encounters unexpected cancellations. After your team finds clients that are likely to jump at the chance to get into your office, they can send text blasts to up to ten clients in order to avoid having gaps in your schedule. Extending surprise schedule openings to eager individuals lets your customers know that you're aware of their personal needs.
2. Phone Messages
Many small businesses still rely on traditional phones to take care of the majority of their communication with customers. By switching to a VOIP phone system, offices greatly expand the potential for personalized messaging to their customers. VOIP phones put the personal histories of customers at the fingertips of your employees to allow for better communication and improved rapport.
Below are five features of VOIP telephony that make your messages more personal:
Call recording
Traditional phones keep a limited number of voicemail messages and a basic call history. Modern phones go beyond these functions to record your team's phone conversations. Having this capability lets administrators go back and find personal details without having to nag customers about missing information.
Customer notes
It's not uncommon to see administrative areas plastered with sticky notes about the particular needs, appointments, and payments of customers. VOIP phone systems provide an interface for taking notes during and after phone conversations, which are then added to the profile of customers for future use. Saving these notes allows other employees to stay up to date about the personal updates of every customer.
One click actions
Through VOIP systems, your other communication lines are integrated with your office phones. This way, if you're not able to reach customers by phone, it's easy to click on texts or emails within the system to attempt another outreach. Non-integrated systems are much slower and fail to make it clear to customers that your communications are coming from one source.
Voicemail overrides
Missed call auto texts are effective for letting customers know that your office is aware of them and will respond quickly. However, it's also important that customers can get vital information regardless of whether or not they're able to reach one of your employees. A well-constructed phone tree, along with a voicemail override that's designed to keep customers informed about holiday and emergency closures, establishes a level of personal trust with your clientele.
Customer insights
One of the greatest gifts small businesses can give their customers is an understanding of their individual needs and histories. Customer insight software brings the personal history of customers onto your computer screen when they call your office. Knowing the names, upcoming appointments, family members, payment balance, and specific needs of every customer sends the message that your office cares about people more than profit.
3. Email Messages
Although small businesses have utilized emailing as a communication tool for a couple decades, they're learning that email marketing software is crucial for helping them personalize and optimize their email campaigns. Emailing allows offices to exhibit more creativity and offer value to customers in ways that they wouldn't be able to with only calls and texts.
Here are five features of professional email marketing to help you personalize your customer messages:
Customized templates
It's impossible to convey large amounts of information as quickly with calls and texts as you can with professional emails. Email marketing software gives businesses the ability to rely on pre-written templates in order to develop emails that reach customers on a personal level. By adjusting templates to fit your particular clientele base, your office can connect with customers in a way that suits their specific needs and tastes.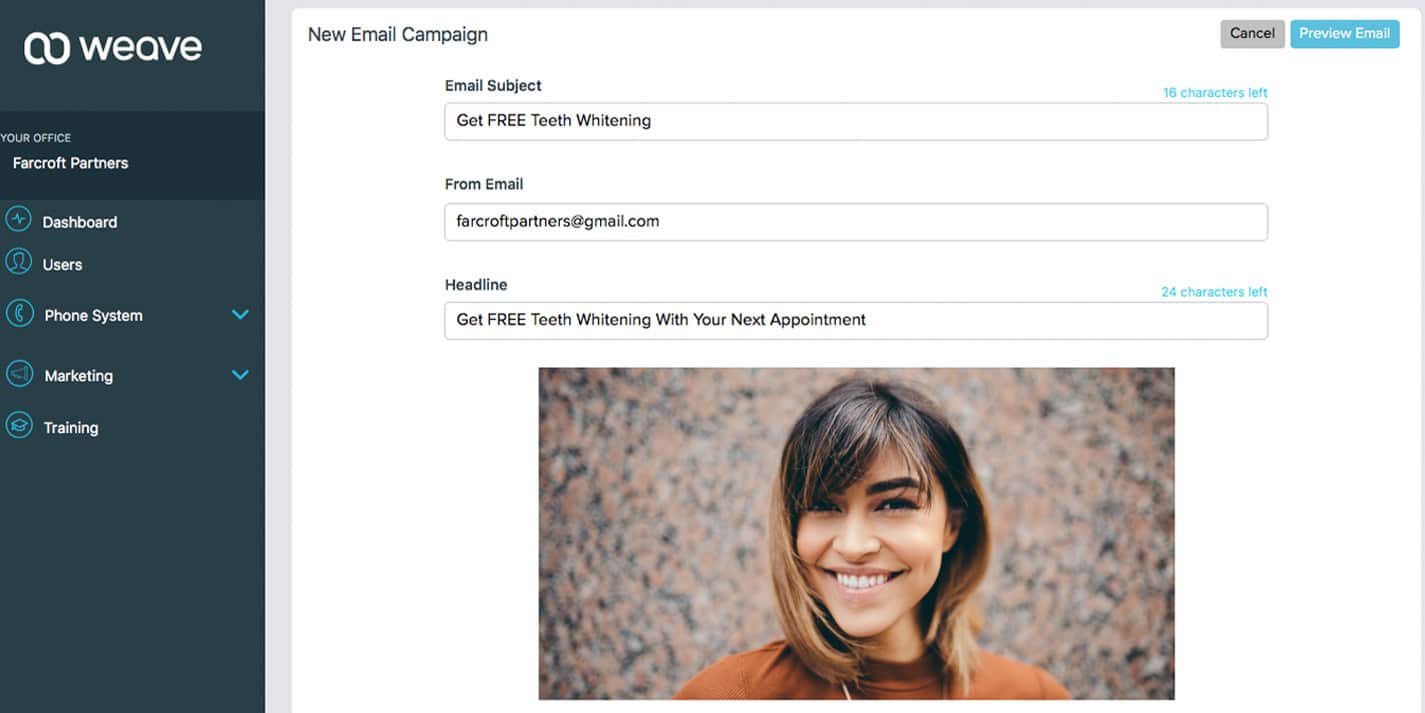 Image libraries
Including quality images with each email helps customers develop a visual recognition of your business. Email marketing software provides a library of photographs and images that are easily formatted within templates. Emails should always combine strong writing with striking images, such as your company's logo.
Calls to action
Emails are designed to increase customer engagement. Along with the updates, promotions, and educational opportunities presented in your emails, be sure to share a CTA, or Call-to-Action, button. These buttons are eye-catching links that bring customers to a page for scheduling appointments or making payments.
Internal testing
Part of a personalized email campaign is ensuring that your emails are functioning properly. Emails without spelling and grammar mistakes, distorted images, and faulty links are much more likely to appeal to customers. Eliminate sloppy emailing by running test emails with email marketing software before sending out your customized campaigns.
Actionable analytics
Data-driven analytics are a powerful tool that's utilized by businesses of all sizes. Gathering data, like open and click rates, is made possible by software analysis. When small businesses have modern analytical capabilities in their communication toolbox, they're able to scrutinize their campaigns and better understand how to appeal to the particular needs of their customers.
Personalize your customer messages with Weave
At Weave, our complete business toolbox is designed to personalize customer text, phone, and email messages. It gives small businesses access to all of the features described in this blog post, plus many more, including online reviews, fax, and payments.
If your business wants to improve its individual messaging to customers, Weave will provide you with dozens of ways to do so while also helping you increase your staff's efficiency, your office's safety, and your organization's revenue.
Schedule your free demo today to learn more about how to personalize your customer messages.
Resources: