Recent events have created a new normal for businesses across the country and around the world. Covid-19 has changed the way owners manage their businesses and altered the expectations and preferences of consumers. One of the main adjustments businesses are making is a transition to more remote work.
As optometry practices deal with the demand for remote work, it's important that they explore the tools that are available for implementing effective work from home. After a few months of navigating the regulations imposed by the threat of Covid-19, it's apparent that those offices with strong communication networks are best suited for surviving the crisis and flourishing in the future.
So, how can optometrists and their administrative teams successfully manage their practice in the new normal? There are plenty of routes to consider, but a modern communication system is a great place to start.
Those spending at least part of their time working from home realize that their job is made significantly easier by the many avenues for communication provided by the internet. With a combination of hardware and software solutions, optometry offices can establish a network that keeps clients coming back through their doors and brings in a steady flow of new customers.
Here are ten steps for successfully managing your optometry office in the new normal:
1. Install VoIP phones
The acronym "VoIP" stands for Voice over Internet Protocol. Essentially, it means relying on the internet for your office's phone system instead of traditional landlines. Some optometry offices still use landline telephones, and this outdated form of communication prevents them from consolidating all their various methods for connecting with patients.
As you'll see in this blog post, VoIP phones allow optometrists to link their phones with software that connects calls with texts, customer insights, analytics, emails, and more. A VoIP phone system is foundational for businesses trying to manage their office remotely because these different communication methods can be handled from a smartphone.
Watch How VOIP Makes Patient Communication Easy from Anywhere
Optometrists and their staff can take calls from home with a VoIP phone system, letting them promote social distancing in their office. They're also able to set up phone trees and create backup voicemail messages in order to be prepared for future temporary closures. VoIP phones give optometry practices unlimited calls and unlimited rollover lines, alleviating them of the need to worry about phone bills and missed calls.
2. Start texting with patients
A majority of consumers now prefer texting with businesses instead of calling. The job of optometry offices is to find ways to facilitate texting as an alternative to phone calls. Once your practice is set up with a VoIP phone system, it can build on this foundation by starting to text with patients from the office or remotely.
Texting is convenient for both optometrists and their customers. It doesn't require the same urgency as phone calls, allowing both practitioners and patients to take care of their more essential tasks while keeping in touch. When administrative team members are working remotely, they can bounce between text messages instead of frantically moving from call to call.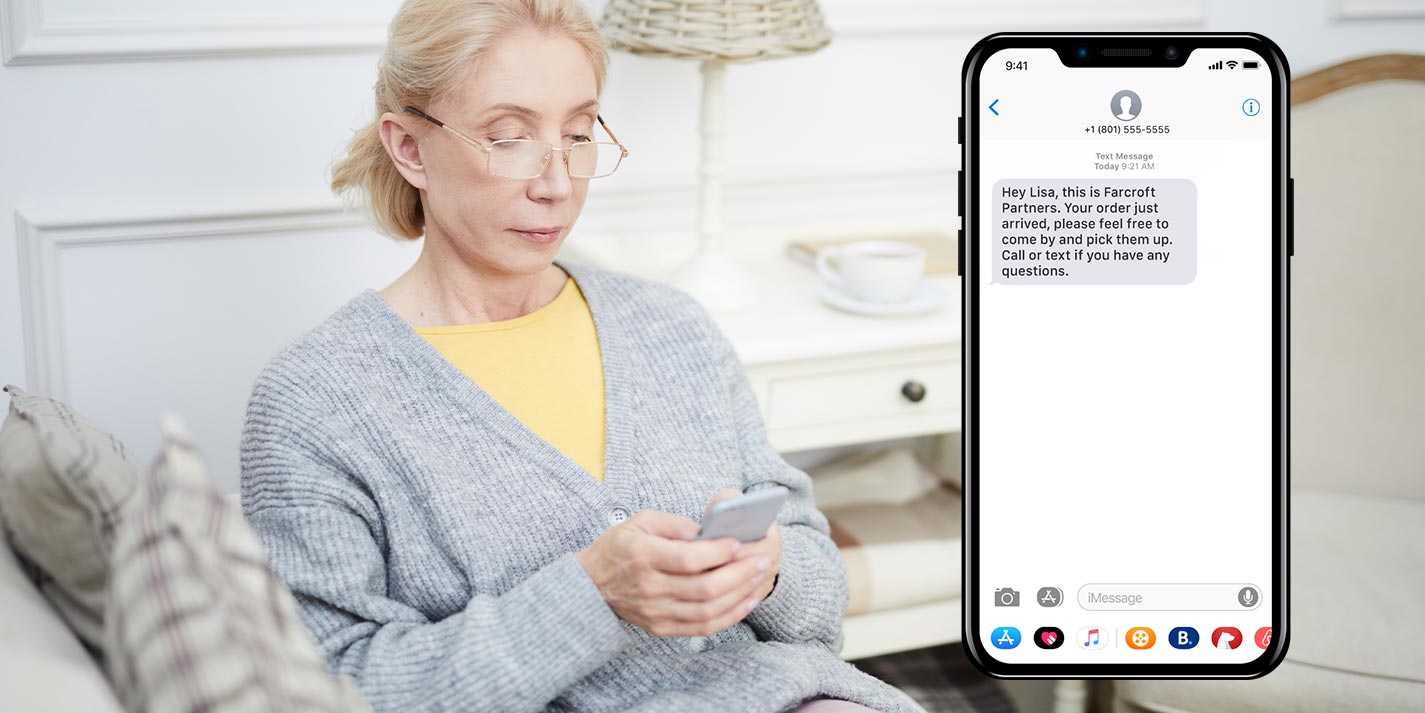 Additionally, texting can function in tandem with your office phones. If no one is able to accept a call, software can be programmed to send out missed call texts to customers, notifying them that your lines are busy. These missed call texts open up the possibility of a two-way text conversation, which are often easier to handle in a work-from-home situation.


Want to manage your office remotely? Ask Weave
Manage your Office from Anywhere with Weave
I couldn't have been as effective nor efficient without Weave. We, like a lot of offices, had to close down and thanks to Weave I could text everyone, send out email blasts, work from home, answer patients questions and concerns quickly. Although as an OM this has been the most stressful 2 weeks of my career, Weave has made it more manageable. - Weave Customer

Schedule Demo
3. Customer Insights
If optometrists or their staff are working remotely, they probably don't have the same access to patient histories as they would in their office. They might be able to view this information from their laptop, but that can require some digging. Having customer insights tied to phone calls is a much more effective way to manage communication from home.
With a VoIP phone system, software recognizes a caller's number and populates it onto your screen once the call is accepted. This simple feature makes it significantly easier to answer questions and take care of a patient's needs during a call. It also lets your office feel more comfortable with implementing social distancing measures.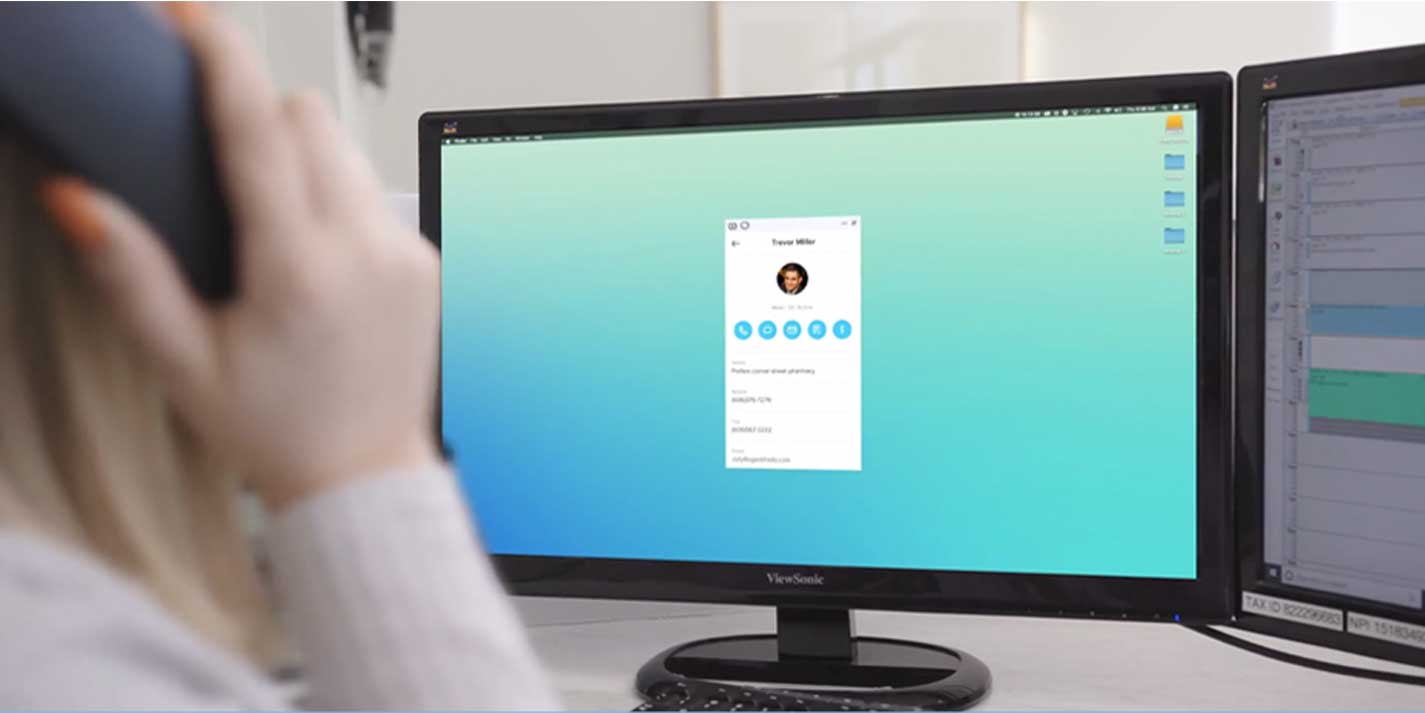 These customer insights include everything from customer names, the status of their vision, their medical history, upcoming appointments, and outstanding payments. Employees can make notes within the app to help out on future calls. Most importantly, optometrists and their team don't have to sort through analog or digital files while they're out of the office. The information they need is already on hand.
4. Automate your scheduling
As we've discussed with missed call texts and customer insights, smart software is a major advantage for optometry practices using VoIP phone systems. By automating functions that you and your staff would typically have to accomplish manually, you free yourself up to focus on more essential work. Thanks to this same software, many of your practice's scheduling needs can be addressed with automation.
Rather than automating calls, it's best practice to distribute scheduling texts. Automated calls come across robotically and aren't very responsive to customer questions. Scheduling texts can be pre-programmed to go out at specific times and then convert to two-way text conversations when necessary.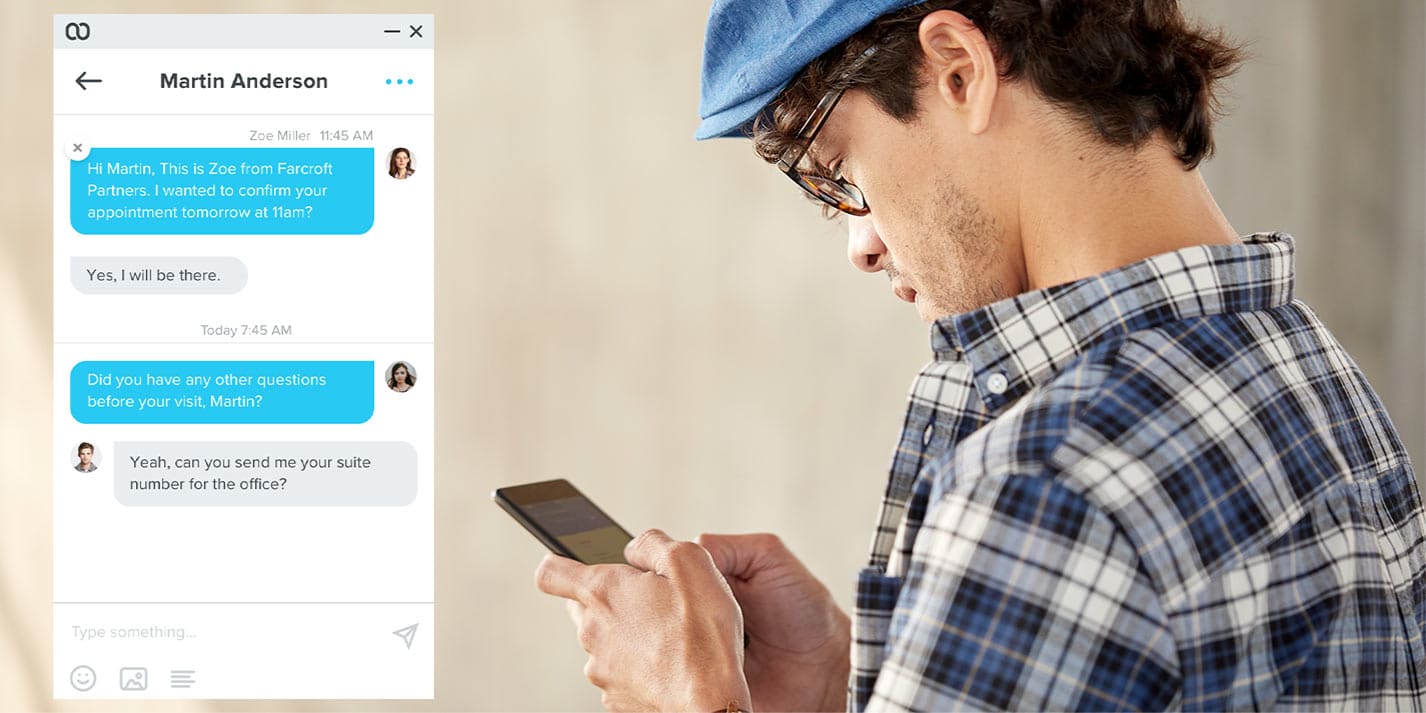 Automated appointment reminders keep customers aware of their upcoming visits to your office. They also save receptionists working remotely from having to spend all their time filling your schedule. In the event of cancellations, this same technology can be utilized to send text blasts to patients that are likely to come in for an appointment on short notice.
5. Collect digital payments
Successful remote office management doesn't only mean communicating and scheduling appointments with patients. It also includes making sure that your office is financially stable through consistent payment collection. It's becoming increasingly popular to take care of payments digitally in place of traditional cash, checks, and cards.
This trend toward digital payments suits the needs of remote work in a number of ways. First, it promotes social distancing by getting rid of the exchanges required by conventional payments. Digital payments also let optometry practices send out payment requests by text, letting patients pay from the parking lot or from home.
Digital payments and traditional payment methods are not mutually exclusive. They work in conjunction with one another in the same way calling and texting do. With a complete payment platform, optometry offices can gradually transition toward digital payments while continuing to accept other forms of payment.
6. Text with your team
If optometrists or their employees are working remotely, they need to be able to text each other in order to maintain organizational cohesion. It's possible to text from personal devices, but it's more effective to use an app that lets you easily connect with every employee from your office. 86% of employees cite a lack of collaboration or ineffective communication for workplace failures, and this phenomenon is exacerbated by remote work.¹
With an effective team chat, optometry practices can match their external communication outreach with internal coordination. Even though your team may be working from scattered locations, they can utilize group texting to ensure that no messages or information fall through the cracks.
7. Look at the numbers
Because the amount of remote being done by optometry offices has been notably changed by Covid-19, it's important to take time to study how your business is coping with the new normal. This process isn't merely qualitative; it also requires harvesting and understanding concrete data. Software analytics that can be accessed remotely lets your office break down the statistics and see quantifiable results.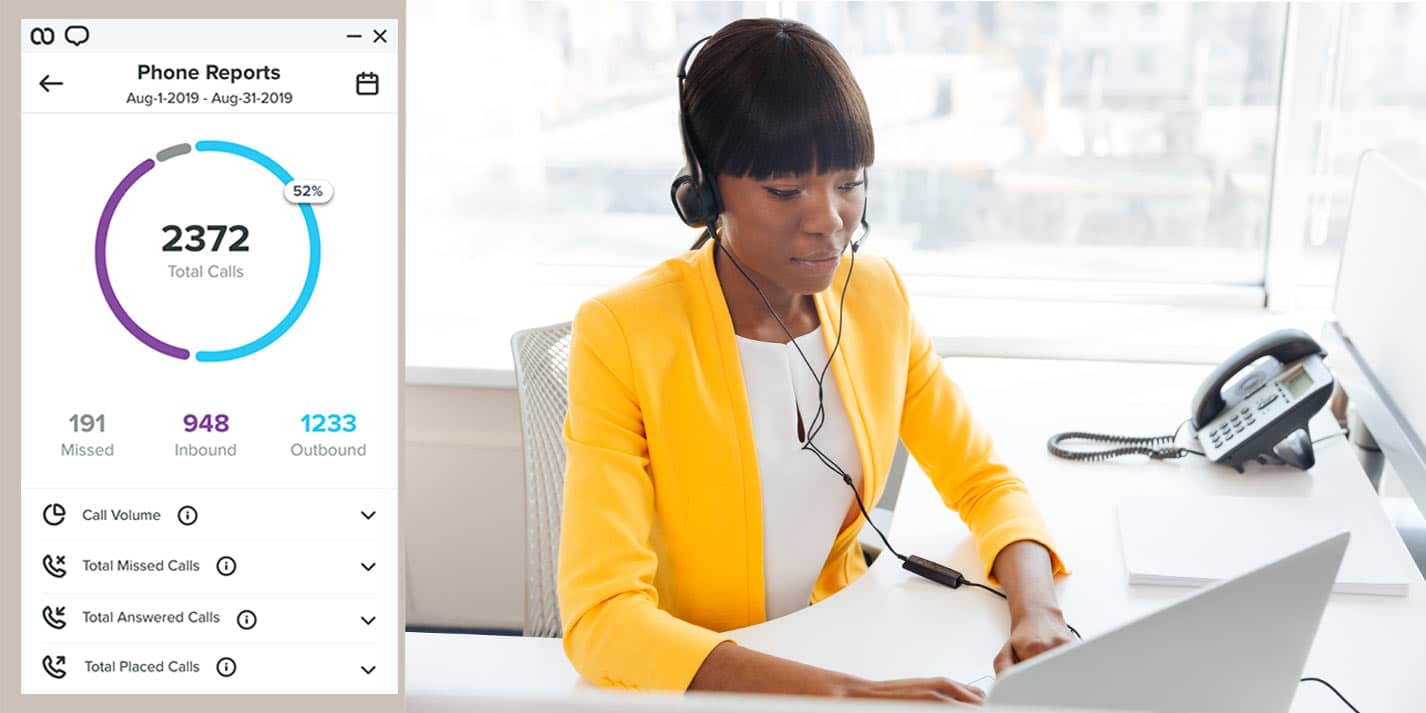 It's hard to know how the new normal is affecting your optometry practice without looking at the numbers. Analytical software shows how remote work is going within your organization by identifying busy call times. It also helps you recapture customers you haven't seen in a while by identifying those customers and allowing you to easily message them.
8. Establish an online presence
With many consumers actively trying to socially distance, it can be more difficult for optometry practices to use word-of-mouth advertising to promote their business. If customers are spending as little time as possible in your office to protect themselves from community spread, your team has less of a chance to gather testimonials or reviews from them. Sending out review requests by text is a way to market your business remotely.
Prospective optometry patients, and consumers in general, get most of their information about practices from the internet. If you want to improve your practice's ranking on sites like Google, it's crucial that you amass a high number of positive reviews online. Sending out review requests from your remote workspace allows you to build a base of reviews while respecting customers' social distancing preferences.
9. Improve your emails
Calling and texting have their limits. It's tough to remember everything that needs to be said in a call, and wordy texts usually get ignored. Emails are an appropriate place to share detailed information with customers about upcoming events, promotions, and opportunities.
Unfortunately, many optometry practices send out amateurish emails that fail to grab the attention of customers. Implementing a professional email marketing tool in your office lets you compose well-designed, visually-appealing, and customer-engaging emails that flesh out the communication you get across by phone and text. Cut down on the amount of time you spend putting emails together with pre-written templates, an image library, and Call-to-Action buttons.
10. Talk to Weave about remote management
Our team at Weave has put together a complete business toolbox for managing your optometry practice remotely. We started with VoIP phones, and have expanded to eight other tools that are designed to help your office succeed in spite of the problems caused by Covid-19. Remote work can be greatly enhanced by consolidating your office's communication network.
Schedule a demo today to find out more about successfully managing your optometry practice remotely.