In today's society, information moves at astonishing rates. The internet has transformed the way we communicate and brings us text messages, news updates, and social media notifications at an unprecedented rate. This rapid communication isn't limited to our personal lives; businesses of all shapes and sizes have embraced the need for communication at lightning speed.
Optometry practices have to adapt to new modes of communication in order to remain competitive and maintain a growing and loyal patient base. Those offices without advanced communication tools will experience difficulty attracting new customers, keeping their current clients, and expanding their organization to new markets.
Cutting-edge communication is essential for optimizing the patient experience, organizing your practice's internal processes, and making your business profitable. What's notable about the latest communication technology is how easy it's implemented; your entire optometry practice can be brought up to speed in an incredibly short period of time.
Below are thirteen tools for helping your optometry practice communicate with its patients at lightning speed.
1. Integrate your communication
Most optometry practices have a few different lines of communication for getting in contact with their patients. Offices use phones, text messages, emails, and postcards to communicate with customers, but frequently don't have these outreaches unified in a single system. Upgrading to a consolidated communication system is a key first step toward improving your customer outreach.
The foundation of an integrated communication system is VoIP (Voice over Internet Protocol) phones. VoIP phones allow optometry practices to handle calls, texts, and emails from one location, increasing the speed at which they're able to communicate with all their existing and prospective customers. A VoIP phone system also gives offices unlimited long distance calls, unlimited rollover lines, and a host of call tracking, call forwarding, and call recording options.
→Watch How An Upgraded Phone System Quickly Tracks All Callers 
2. Have a strong text outreach
Because many consumers now prefer texting over calling with businesses, including healthcare services, it's critical that your optometry practice offer patients the ability to text. Text messages have a 98% open rate¹, meaning they're more likely to be received by your patients than emails and voicemails. A text messaging outreach that's connected to your phone system makes your communication with customers even faster.
When texting works in conjunction with calling, it can support your front desk team at its busiest times of day. Callers that aren't able to get through to your office can receive missed call texts, notifying them that your practice will return their call as soon as possible. These missed call auto texts open up the opportunity for two-way text conversations, creating opportunities for patients with an established preference for phone calls.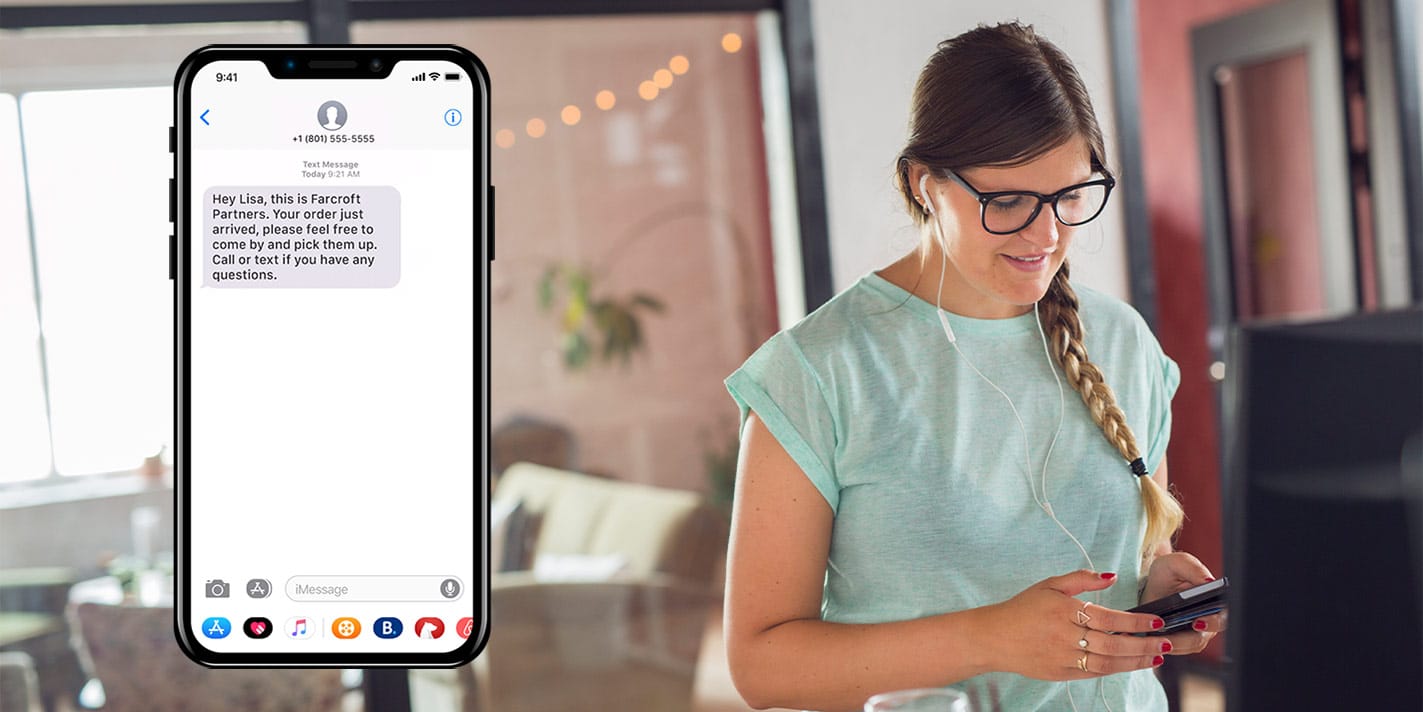 Want faster patient communication? Ask Weave
A Flexible & Modern System Makes a Difference
&quot I couldn't have been as effective nor efficient without Weave these past two weeks. We, like a lot of offices, had to close down (rather quickly) and thanks to Weave I could text everyone, send out email blasts, work from home, answer patients questions and concerns quickly. Although as an OM this has been the most stressful 2 weeks of my career, Weave has made it more manageable. &quot-Arden Jolley- Office Manager.

Schedule Demo
3. Make patient profiles easy to access
Optometry practices need to have patient information at the ready in order to answer questions, verify scheduling, and collect payments. If your office is relying on physical files or digital files that aren't connected to your communication network, finding the right information for customers is a clumsy process. To empower your employees to answer questions and complete tasks more quickly, attach customer profile software to your VoIP phones.
With an integrated communication system, a caller's personal history with your optometry practice populates on your screen as soon as you take a call. This information includes names, birthdays, family members, upcoming appointments, and overdue payments. Add notes to a patient's record to ensure that future customer service is aware of a client's particular needs.
4. Send reminders and confirmations by text
There's more to business texting than simply holding two-way conversations. By linking your text outreach to automated software, you can use text messages to remind patients of their upcoming appointments at predetermined times and dates. Get your clients to visits with your optometry practice on time by implementing scheduling texts.
Scheduling texts can be customized with the right software, letting your office cater to the needs and tastes of its optometry patients. Thanks to sophisticated sentiment analysis, this same software interprets customers responses, whether they're using slang or emojis. Leaning into texts as opposed to calls, emails, and mailers speeds up the process of securing your schedule.
5. Reactivate customers using texts
Optometry practices take a hit each time a patient cancels or fails to show up for an appointment. Instead of having receptionists frantically call everyone they can think of in the event of a cancellation, find a more calculated approach. Quick Fill lists are a more efficient solution to the problem of last-minute cancellations.
A Quick Fill list is a grouping of your patients that have been identified as most likely to accept an appointment on short notice. Software creates these lists and makes them available to your office team. They can then select to distribute mass texts to these clients, a much more effective way to let people know about openings in your schedule.
6. Make payment processing part of your communication
Most people and even businesses think of payment processing as an activity that's limited to a single location in each office. However, a complete payment platform for today's optometry practices should offer both traditional payment options and more contemporary ones. Complete payment platforms give your customers the full gamut of payment options and help you incorporate payment collection into your outgoing communication. By offering both traditional payments (cash, checks, and cards) together with digital payments (mobile wallets and Text to Pay), your office can maximize its opportunity for revenue. Push for more digital payments to make payment collection easier, more flexible, and more secure.
7. Protect patients with contactless payments
In addition to giving optometry patients greater flexibility, contactless payments allow your office to promote social distancing. Payment portals are hotbeds for spreading germs and diseases. Having your patients pay with mobile wallets provided by Samsung, Apple, Google, or Microsoft keeps them from touching these portals.
Another effective contactless payment is text payments. After appointments, send a personalized payment request to customers, letting them pay from the parking lot or from home. Once you have a patient's card information on hand, these text payments can be processed in mere seconds.
8. Set up a team chat
86% of employees cite lack of collaboration or ineffective communication² for workplace failures. Optometry offices are busy places, and optometrists can't always coordinate efficiently with their assistants, administrators, and receptionists. An internal team chat is a great way to speed up your communication and ensure that the right messages get across.
A team chat saves employees from running around the office, looking for the right person. Having an established place for connecting as a team means better collaboration and quicker coordination around customer concerns.
9. Apply analytics
A fundamental way to speed up communication in your optometry practice is to add an analytical component. Businesses are putting more and more emphasis on the importance of gathering data and studying the numbers to understand where inefficiencies exist. Adopt analytical software to see how to optimize your calls, scheduling, and payments.
Analytics make your communication with patients better by identifying your busiest call times and showing you where to add staffing. Analyzing your schedule can enhance your ability to fill open spots in the calendar. Looking at how your optometry patients are paying for services helps you arrive at strategies for collecting at higher rates.
10. Request online reviews
Prior to the last two decades, optometrists advertised through local media, word-of-mouth, and billboards. These options are still useful, but most optometry practices are switching their marketing focus to their websites, social media accounts, and online reviews.
Strengthening your online presence with reviews is one of the best ways to reach prospective customers in your area. After successful eye appointments, send your patients a review request that lets them quickly write a review, give a star rating, and post it on popular review sites like Google and Facebook.
11. Professionalize your emails
Emailing has become a common method of communication with optometry patients. However, many optometry practices aren't taking advantage of professional email marketing software designed to speed up their ability to compose eye-catching emails.
An email marketing tool for optometry offices should include pre-written templates for helping the composition process along. An image library and CTA (Call to Action) buttons give emails a visual component that enhances their readability.
12. Establish curbside waiting rooms
The Covid-19 pandemic has impacted virtually every optometry practice. To mitigate the effect of the crisis, many offices have used text messaging to set up curbside waiting rooms, smoothing out the process of getting clients into your office. Before appointments, send a message to patients asking them to check in from the parking lot. Once they're checked in and the staff at your practice is ready to receive them, bring patients straight back without having them stop at the front desk.
13. Upgrade to electronic forms
As part of the check in process, have your optometry patients fill out electronic forms rather than traditional paperwork. Converting your paperwork to digital formats lets your staff file information more quickly and gives patients more time to fill out their responses. During the pandemic, optometry practices are asking their patients to fill out a wellness form prior to appointments. These wellness forms include questions about the patient's physical health, exposure to potentially infected individuals, and recent travel.
For more information on how your optometry practice can communicate more quickly with patients, watch a free demo.