Business communication technology serves a number of purposes in today's world. It allows organizations to provide better customer service to their clients. It increases efficiency and cooperation within the organization itself. And, because it benefits both customers and employees, technology lets you make a higher profit.
Technological advances also impact how businesses are collecting payments. In recent years, there's been a dramatic shift toward no-touch payments. Businesses are realizing that options like mobile wallets and text payments improve the customer experience, optimize internal processes, and lead to profit gains.
In order to see how healthcare practices are handling payments during the COVID-19 pandemic, Weave recently commissioned an independent survey of 750 providers and their patients. Among the survey findings are some interesting statistics about how no-touch payments are helping offices gain a competitive advantage.
70% of the healthcare practices interviewed said no-touch payments are a competitive advantage for them. Let's take a look at nine ways your own practice can gain a competitive advantage by using no-touch payments.
1.Respond to patient preferences
The first way you can gain a competitive advantage with no-touch payments is by learning what types of contactless experiences they want. In our survey, the top ways healthcare clients want to go no-touch are credit card tap options, mobile payments, and plexiglass dividers. Setting your office up with these touchless tools meets the demand for greater social distancing in the new normal.
Credit card tap options are an upgrade from payment portals that ask you to swipe or insert your credit card. Due to concerns about COVID-19, customers are looking for payment options that eliminate excess physical contact between their person and a potentially-dirty payment portal.
Mobile payments are taken care of through your patients' smartphones. These are true no-touch options that include mobile wallets provided by companies like Apple, Google, Microsoft, and Samsung. Weave offers a text payment option called Text to Pay.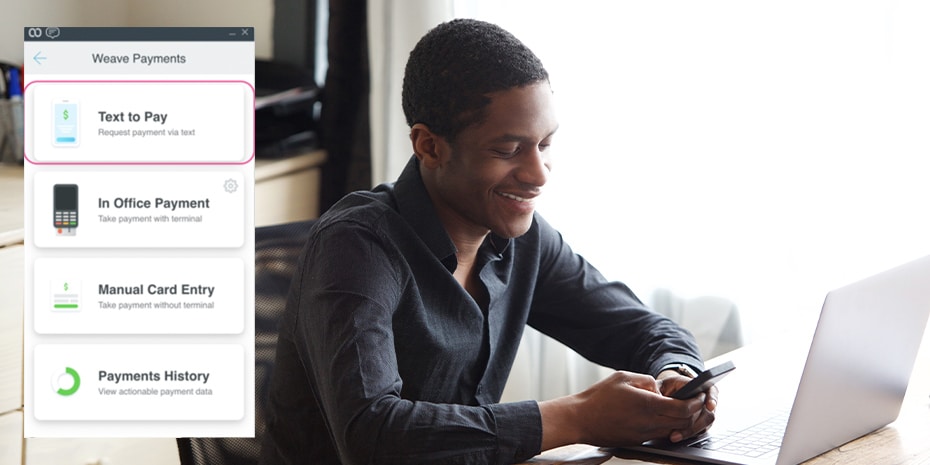 Plexiglass dividers have become standard among businesses of all sorts. They are part of basic COVID-19 preventative measures, along with things like frequent handwashing and mask wearing.
2.Recognize inherent risk
Healthcare practices have always been trying to keep their employees and patients safe. However, the COVID-19 pandemic has brought up new concerns regarding the potential for disease spread in medical facilities. 43% of healthcare clients say it's riskier touching payment portals in a healthcare setting.
This belief may be unsubstantiated, but it's important to realize that people have heightened paranoia and fear about stepping into a healthcare practice. Understanding these concerns should give your office the motivation to adopt no-touch payment options. Bringing aboard no-touch payments demonstrates to patients and prospective patients that your team wants them to have everything they need to be comfortable and safe in your office.


Want contact-free payment options from Weave?
43% of healthcare patients fear touching payment portals
Weave helps you safely & easily collect payments.


&quot I used to spend three days a month printing off and mailing out invoices. Now, it takes me less than a day to text them to all our patients with outstanding balances.

"-Emily Lott, Billing Specialist, Children's Clear Vision

Schedule Demo

Weave Payments Feature Currently Only available in the US. Coming soon to other markets. *However, be sure to check out our other available features.
3.Adapt to the climate
The current health crisis has caused governments to take swift measures against the potential for further outbreak. Almost everyone in the industry has been forced to alter their processes in order to function under new regulations. Although some of these measures have eased, the climate surrounding COVID-19 has perhaps permanently changed the way payments are made at healthcare facilities.
63% of the healthcare providers in our survey said the pandemic has increased the need for Text to Pay. It seems likely that no-touch payments are not simply fashionable; they will be a necessity for businesses going forward. By implementing Text to Pay in your office, your team is preparing itself for a broader trend toward touchless payment options and gaining a competitive advantage for the future.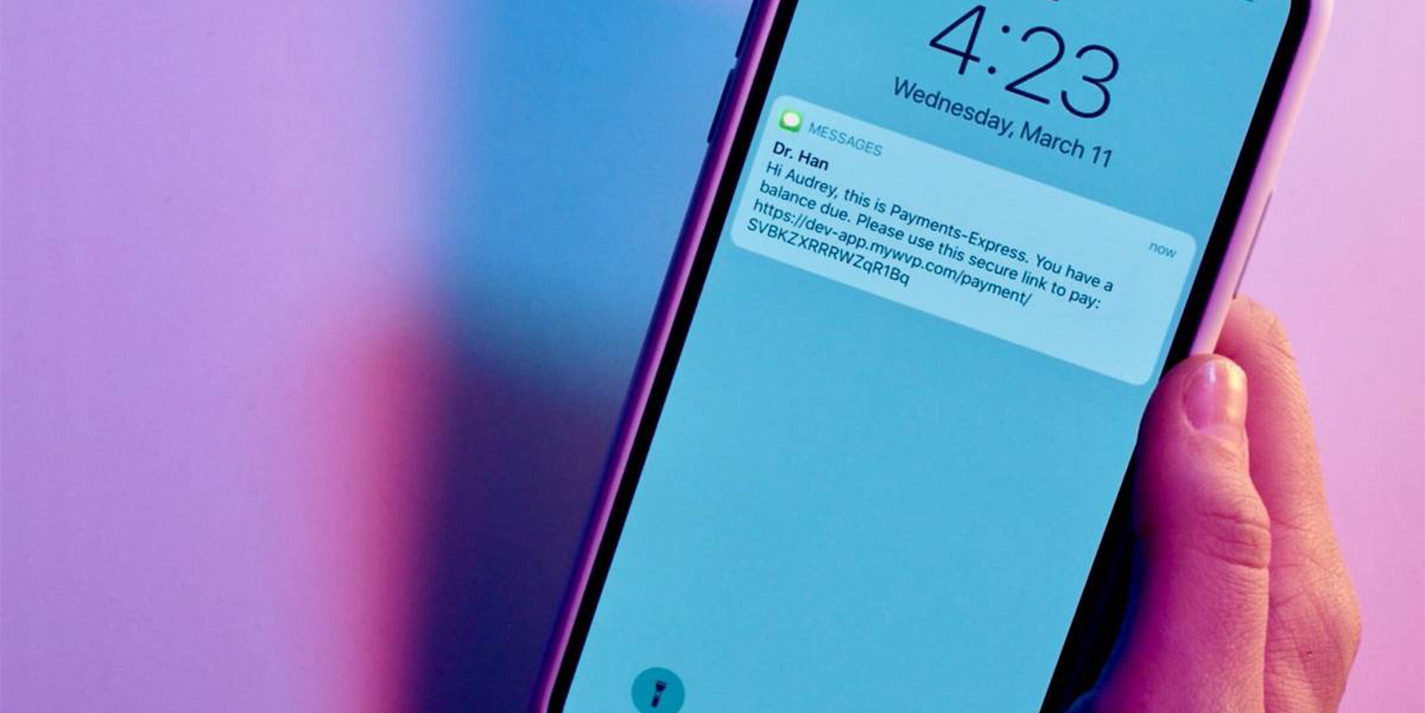 4.Embrace the younger generation
In another section of our survey, we learned that, unsurprisingly, younger customers prefer to text with healthcare providers as opposed to conversing over the phone. The younger demographic includes those patients under the age of 35. These clients are the future of many healthcare practices.
Overall, 68% of patients prefer contactless payment options to traditional ones. So, even when older clients are lumped together with young, text-centric customers, there's still a preference for mobile wallets and Text to Pay.
Text to Pay gives your office the ability to text with patients instead of settling payments at the front desk. Simply send patients a text after appointments, including a link to a payment site. This way, clients can pay from the parking lot or from home. Embracing the younger generation of patients by offering no-touch payments will give your office a competitive advantage down the road.
5.Transition to contactless
While no-touch payments are growing in popularity, they're not for everyone. The process of converting your office and your patients to contactless payment options is going to take time. It's best to think of the adoption of no-touch payments as transitional rather than an abrupt abandonment of cash, checks, and cards.
In our survey, 67% of healthcare practices said they want to transition from credit cards to contactless payments. The ambition to move away from credit cards is a great start for offices looking to gain a competitive advantage, but be careful not to become overzealous in your quest for contactless payments.
Weave Payments offers businesses the ability to accept credit card brands, including Visa, AmericanExpress, Discover, and MasterCard, all while transitioning to more payments with mobile wallets and Text to Pay. It's not limited to credit and debit cards, either; Weave Payments accepts HSA, FSA, and prepaid cards as well.
6. Go no-touch with a complete payment platform
Although credit cards and contactless payment options account for a significant portion of the payment processing healthcare practices do each day, they don't tell the whole story. Cash payments and checks are still fairly common among healthcare clients. Your touchless payments should be integrated with the ability to continue to accept cash, checks, and cards.
69% of providers want to take care of their payment processing and credit card processing from one payment platform. Using multiple platforms can be confusing for administrative and accounting purposes. Bouncing between platforms can result in upfront and monthly fees, as well as other complex pricing.
With Weave Payments, your office can handle all its payment processing and merchant services with one payment platform. We offer competitive meet or beat pricing, and there are no upfront or monthly fees. One single platform for full payment processing and merchant services is a competitive advantage in today's market.
7.Have a high-growth mindset
There is a strong correlation between no-touch payments and high-growth practices. No-touch payments lead to high growth because they attract new customers and offer more efficient methods of payment processing. High-growth practices recognize that no-touch payments are the future of payment processing and merchant services.
In our survey, high-growth providers were 40% more likely to say that Text to Pay improves the patient experience. In other words, high-growth healthcare practices can see how no-touch payments enhance customer service, and, by extension, give them a competitive advantage.
Text to Pay improves the patient experience in several ways. It doesn't require them to stop by the front desk after appointments, therefore giving them more time to get to their next destination. It provides them with the freedom to address payment issues on their own watch. Text to Pay also offers customers greater hygiene and safety.
8. Be more hygienic
Payment portals see a lot of traffic on a daily basis. They're covered with all manner of skin, oil, germs, and bacteria. The healthcare practices we spoke to said they're doing their best to clean portals between users, but this approach is by no means a foolproof solution.
Customers recognize the hazards of payment portals as well. 68% of them consider Text to Pay to be more hygienic than using credit cards. The reason for this widely-held opinion is obvious: credit card processing frequently involves touching dirty surfaces, while text payment processing happens entirely online.
Weave's Text to Pay feature wasn't initially marketed toward avoiding potential contamination. The COVID-19 pandemic has shown us how the hygienic properties of Text to Pay are an additional advantage of using this feature. Your employees and customers deserve to keep their hands clean and germ-free when dealing with payment processing.
9.Socially distance with Weave Payments
Social distancing is a term that's become ubiquitous in 2020. It's central to the guidelines provided by public health officials and governments everywhere. Creating an office culture that promotes social distancing is a must for today's healthcare practices.
72% of providers say no-touch payments support social distancing. There's a major difference between exchanging cash, handing over checks, swiping credit cards, and simply opening a text and paying for services online. Social distancing with traditional payments requires a delicate juggling act. Social distancing with no-touch payments is a piece of cake.
Weave Payments lets you cater to those who want to continue paying by conventional means, but also allows you to transition to contactless payments. Features like Text to Pay protect your clients and employees, optimize your payment processing, and offer you a competitive advantage over those unwilling to explore no-touch payments.
Contact our team today for a free demo of our no-touch payment options.