With businesses operating in a back-to-normal mode across the country and around the world, it's time to take a look at how to handle our new reality. Coronavirus has changed how some consumers think and act in public and the job of businesses is to meet the new expectations of these customers, along with conforming to public health requirements.
This reimagining of business practices demands a commitment to optimizing already-established protocols as well as the creativity to develop novel solutions. Our society has more sophisticated communication tools at its disposal than ever. Some small businesses are still grappling with how to implement these tools in their regular business activities, while others have embraced them and discovered new additional sources of revenue. Figuring out how to improve your business communication is one of the surest ways to fill your schedule with appointments.
This blog post explores three ways to optimize your business communication and shows how essential they are to helping you re-engage with customers in any economy, even one altered by the COVID-19 pandemic.
1. Optimize your online reviews
Many small businesses continue to rely on word-of-mouth references to discover new customers. It's always important to have your customers evangelize for you, and their putting in a good word with family and friends has been crucial to small businesses establishing themselves in communities.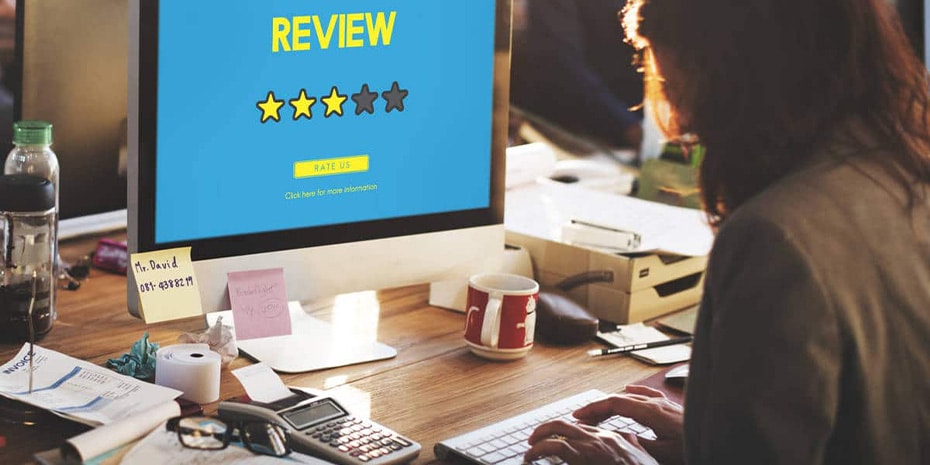 Reputation management has become more expansive with the advent of the internet. Your business's reputation can spread much more quickly through cyberspace than from person to person. In fact, with internet access at their fingertips via smartphones and tablets, many people go online to research businesses instead of asking for the opinion of their peers.
When consumers look up a product or service through a search engine like Google, the results they see are affected by online reviews. Websites like Google, Facebook, and Yelp use online reviews to create a rating for businesses. Those businesses with a high number of positive reviews are best positioned to get attention from potential customers.
Your office should be crafting a reputation management strategy that focuses on reviews. Collecting, monitoring, and sharing online reviews is a key method for bringing traffic to your company website and into your business. Remembering that consumers now live online, aspire to build a strong base of positive reviews on popular review sites.
Send review requests
Gathering reviews doesn't have to be a slow, clumsy process. By texting customers after each appointment to ask for reviews, you and your team can speed up the process of collecting a critical mass of reviews. Place links to Google or Facebook in these texts to further optimize your review requests.
Monitor reviews
As your online reputation grows, monitor your progress by checking in with these same crucial review sites. If you're getting negative reviews, reach out to customers and find out what went wrong with their experience. If you're receiving positive marks, build your rapport with customers by thanking them for taking the time to promote your business.
Share reviews
The best reviews you gather can turn into material for personalizing your website or sharing testimonials on social media. You'll find that as you engage with online reviews, your understanding of customers will be enhanced and your ability to identify areas for improvement will be sharpened.
On top of all that, you should hear from a higher volume of potential customers. Online reviews are one of the best marketing tools available to small businesses getting back to work after a period of closure.
Want to collect
more reviews?
Ask Weave
9 out of 10 people check online reviews before choosing a business
Weave helps you easily collect and monitor reviews on Google and Facebook. These reviews can be some of the best marketing for your business.
Schedule Demo
2. Optimize your email campaigns
Emailing is another communication channel to optimize as part of your reopening efforts. While emailing is incredibly commonplace and has been for decades, many small businesses are just now discovering how powerful this tool can be. The power of email is further unleashed by email marketing software.
Though it may seem like other lines of communication are replacing email, 78% of professional email marketers saw an increase in engagement last year.¹ Many consumers have expressed a preference for marketing campaigns distributed by email and the numbers show it. For every $1 spent on email marketing, businesses see a $38 return on investment.²
Now that you have a better grasp for why email marketing is vital for small businesses, it's time to consider ways to improve your emails to your customers. There are a number of methods for optimizing your emails, and most of them are facilitated by email marketing software.
Professionalize your text and images
Most small businesses don't have the budget to hire professional email marketers. However, with the help of an email marketing tool, your staff can access template and image libraries that save them time and make your emails look more professional. Improving the quality of your emails will attract more attention and should increase engagement with customers.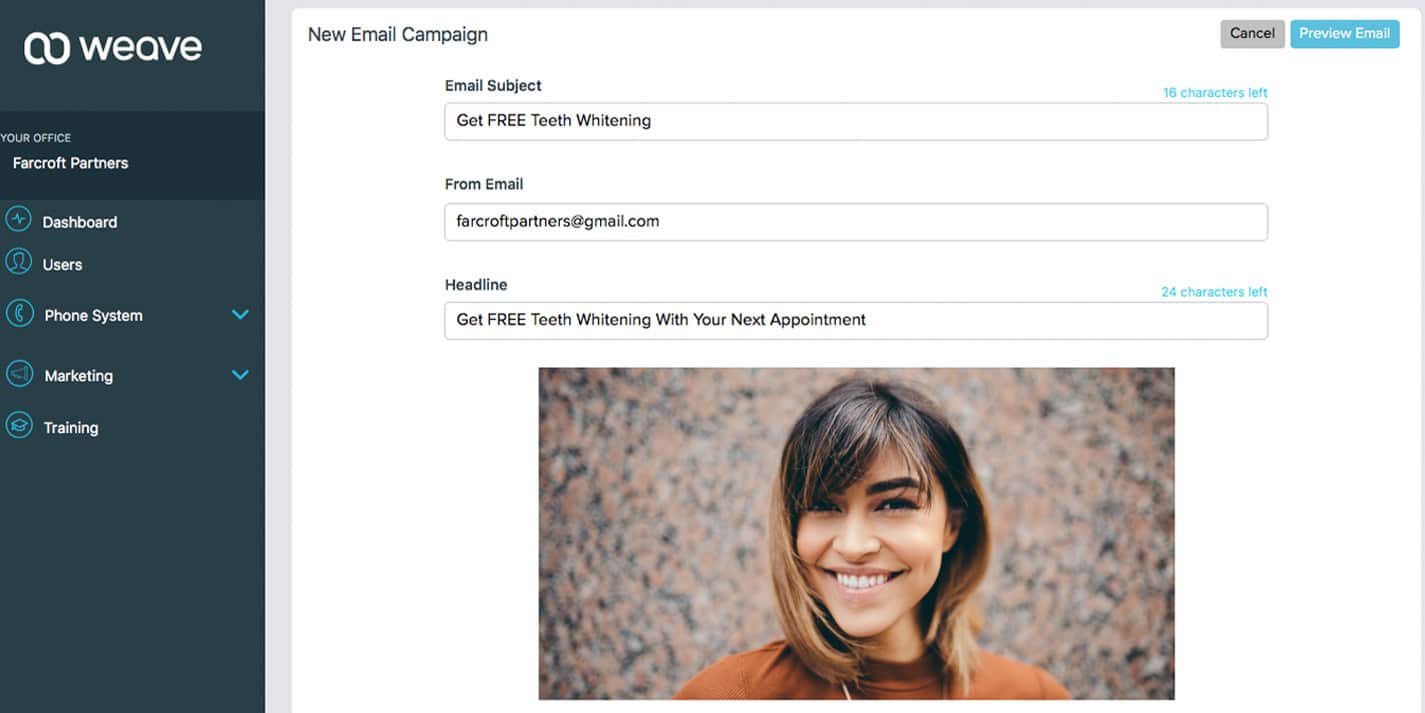 Pre-written templates prevent your team from spending hours trying to develop subject lines, introductions, and body paragraphs for every email. If you have a staff that's creative enough to write their own material, they can make and save their own templates using email marketing software. Image libraries allow businesses to add to the aesthetic appeal of their emails without having to worry about an image fitting properly.
Use calls to action
Though some might think of email marketing as a passive approach to filling your schedule, utilizing tools like Call-to-Action buttons can get customers to be proactive about returning to your office. Businesses should go beyond simply providing information to customers in their emails. They need to invite their clientele to take action.
CTA buttons are essentially links that are strategically placed in emails to bring customers to another page for scheduling appointments or making payments. These buttons are crucial to include in all of your emails, from newsletters to updates to promotions. By offering value through your email and asking for customers to get in touch with your business, you increase the likelihood of customers returning to your office.
Run test emails
Your team already proofreads its emails, but mere proofreading isn't sufficient for optimizing your email marketing. With email marketing software, you can send test emails to see what your text, images, and links look like to your customers. Running these internal tests saves you from dispersing spelling errors, poorly sized images, and faulty links.


Want to see how Weave can help you?
Weave Helps Streamline Business Communication
"Amazing technology has simplified our patient communication immensely! We are fairly new and can't wait to learn even more Weave features... customer service and tech support is SPOT ON and can't be beat! " - The Eye Station

Schedule Demo
Emails are capable of bringing lots of attention to your business and are especially important as you're recovering from coronavirus closures. Your customers want to hear about critical updates and upcoming promotions. Make sure your emails maintain a high professional standard by implementing an email marketing tool in your office.
3. Optimize your analytics
Gathering positive customer reviews and developing powerful email campaigns are qualitative approaches to optimizing your business. Taking advantage of analytics through the right software makes key data readily available to you and your team. Developing a data-centric approach to running your business is just as important as social and creative approaches.
Collecting and viewing meaningful data is virtually impossible without sophisticated software. If your business is going to focus on optimizing its analytics, it will need to find communication software that has great analytical capabilities. As you're looking for the right software, keep in mind that it should allow you to analyze your calls, appointments, and payments.
Compare call analytics
Compare the call numbers from your busiest time to those of your least busy business hours. These figures include missed calls, call times, call volume, and total calls. This sort of comparison isn't meant to discourage your team, but rather to help you gauge what is impacting your business. Seeing these statistics side by side can help you understand how to staff your front desk during reopening, optimizing your phone communication.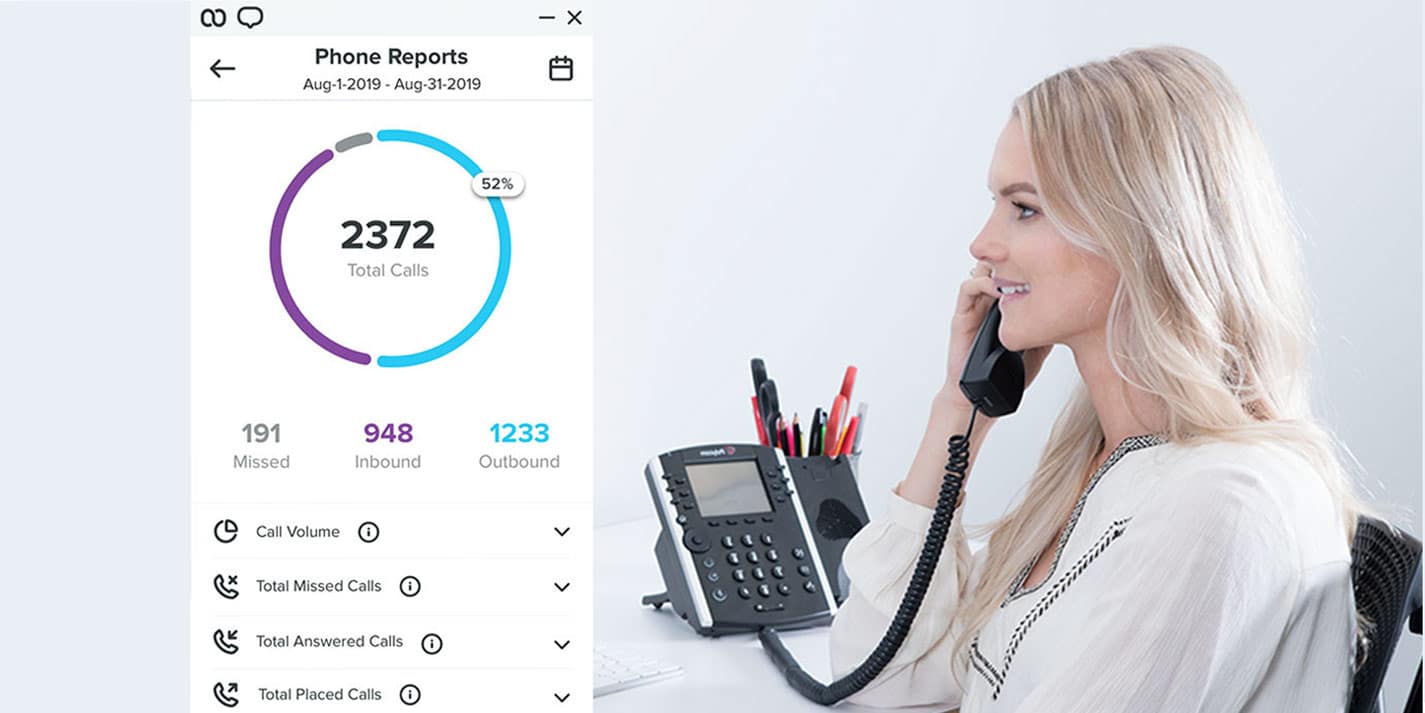 Study payment analytics
Though your focus should primarily be on customers themselves, looking at payment histories can also give you direction on how to handle your reopening. Good payment analytics allow you to see which customers have overdue balances from before or during your closure. By identifying customers that need to take care of a past payment, your office can reach out via call, text, or email to collect payments and even schedule new appointments.
Optimize your business with Weave
Online reviews, email marketing, and payment analytics are three tools to be reimagined as your business tries to meet the changing demands of consumers. This reimagining is made possible by a combination of hardware and software solutions that optimize the way your team approaches reviews, emails, and payments.
Weave offers a complete communication toolbox for businesses that are actively trying to increase their bookings.
This toolbox includes review management that allows you to send review requests by text and monitor multiple review sites from one easy-to-use interface. Our Email Marketing tool enables businesses to create emails with professional templates, free images, CTA buttons, and internal testing. Weave Payments lets you collect data on your office's payments and then makes it simple for you to analyze this data.
Book a demo today to understand how Weave can optimize your business.
Sources: