How do you know whether your dental practice is successful?
Many practice owners are surprised by this question and not fully prepared to answer. It's not uncommon to think that if revenue is in the "comfortable" range, you're doing pretty well. You might also point to a steady flow of new patients along with an impressive collection of five-star reviews to bolster your case.
However, these metrics don't tell the full story.
To truly understand how well your practice is doing and identify areas to improve, you should track several KPIs with your dental software. KPI is an abbreviation for "key performance indicator," and it's a measure of how well you're meeting a business objective.
Not every dental practice will necessarily want to track the same KPIs. Some of the KPIs you monitor will be unique to your business and your goals. We've also seen dentists and office managers get caught up in tracking too many KPIs. While we applaud this attention to detail, following too many metrics can render them meaningless.
Our goal is to help you understand what you should be tracking so that you can continue providing your patients with quality care while also ensuring your business is growing and profitable.
If you want a simple way to know more about how your practice is performing, request a free demo with Weave today to see how we can help you track your practice's success and growth with Practice Analytics, office phone system, full payment processing, and more, (click here to schedule a free demo today).
Want to see
more about
Weave?
Maximize every treatment and revenue opportunity with Weave Practice Analytics.
Get deeper insights into your practice to help boost profitability, improve treatment acceptance rates, identify areas of improvement and trends, and create better experiences.
Schedule Demo
We'll get you started with the four dental KPIs that every business owner should track. Once you get a handle on these, you can begin adding others to your reporting dashboard.
1. Profitability
If your dental practice is like most, you probably already have a revenue goal. While it's smart to have a clear picture in mind as to how much money your practice should bring in each year, that number isn't nearly as meaningful as your profit.
The issue with measuring only revenue and not profitability is that you could be spending more than you make. If that's the case, you're putting your practice in a precarious financial position without even realizing it.
The formula for calculating profitability is likely one you've seen before. Still, we'll repeat it here and then unbox it so that you have an even clearer understanding of its significance.
In this formula, we'll calculate the gross profit margin. This is how much money you have left before taxes, depreciation, and some other expenses that your accountant will claim when it's time to file taxes.
Gross Profit Margin = (Revenue – Cost) / Revenue x 100
The average dental practice has a gross profit margin of 40%. While there are several circumstances that could affect your margins, this figure should give you a benchmark.
It can also be helpful to know your profit margin for each procedure. For example, do you know how much profit you earn from a procedure like a crown or a tooth extraction? Expenses, such as your hourly rate (as well as your assistant's rate), materials, and lab fees will help you pinpoint this figure.
You might also want to consider your fixed costs such as your office rent to determine how much it costs to be open at all, regardless of which procedures you're doing. Many doctors learn that it can make a substantial difference to their bottom line if they combine procedures when it's logical to do so.
2. New Patient Conversion Rates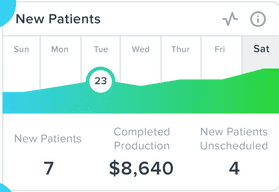 One of the most-watched statistics in many dental practices is new patients. While new patients are certainly the lifeblood of your business and bring a steady stream of revenue, a patient's first visit is not their first interaction with your practice.
One alarming statistic shows that for every 100 patients that call a dental office, only 23 become new patients. This presents a massive opportunity for dental practices that focus on lead generation and patient conversions.
To calculate your new patient conversion rate, use this straightforward formula:
New Patient Conversion Rate = Number of New Patients/ Number of Patient Inquiries
Weave's phone system records your phone calls so that you can audit those phone calls and make sure that your new patient flow is as high as possible based on your call volume.
Often, we see offices focused solely on marketing tactics that drive phone calls, such as SEO, generating reviews, and buying advertising, but they fail to consider what happens next. How is a prospective new patient greeted when they call your office? What does your receptionist do to persuade the patient to schedule an appointment?
Once you know what your conversion rate is, you can start looking at ways to improve it. Staff training and scripts can help you improve your percentages. Find out from your team what the top inquiries are. Are prospective patients asking for pricing? Instead of saying, "we don't quote prices over the phone," consider working on scenarios that help your front office team build rapport and encourage patients to come in and meet with the doctor.
3. Cancellation or No-Show Rate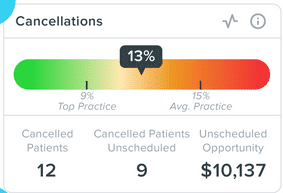 This dental KPI tells you how often patients are dropping off the schedule. Cancellations or no-shows are one of the fastest ways to lose profitability. When your office is open and staffed, any patient who cancels or no-shows takes money right from your bottom line (aside from the variable costs associated with the appointment like dental supplies).
This means that if you are the dentist, and you have patients dropping off of your hygiene schedule, or out of your restorative schedule, they are essentially taking money right out of your pocket.
Dental practices that don't have a good grasp on cancellations and no-shows, or that don't have a system in place to minimize broken appointments often struggle with profitability.
This is something that you can track manually, but Weave also has an analytics tool that will help you track this automatically. Furthermore, when you identify patients who have fallen off the schedule due to a broken appointment, you can see if they rescheduled, and even contact them right from the analytics tool.
If you have a last-minute cancellation or no-show, Weave also has a quick fill option to help you fill those broken appointments. This can make a substantial difference in your practice's profitability.
4. Hygiene Reappointment Percentage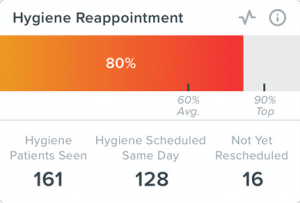 It's normal for dentists to focus on how many new patients they're getting while forgetting to take into consideration how many patients are leaving the practice. If you have a healthy inflow of new patients, but your practice doesn't seem to be growing, then you have what many people refer to as a "leaky bucket."
Dentists suffer from one of the highest churn rates in the medical profession, more than 20%. The high churn can be attributed to one or more of the following:
Cost competition
A relatively high concentration of dentists
Lack of service distinction
If you are trying to figure out your hygiene reappointment percentage, you can track it manually by seeing what percentage of your hygiene patients scheduled their future hygiene appointment, or you can use an application like Weave to track it automatically for you.
Weave also gives you the option to follow up with hygiene patients who did not get scheduled by either calling them or sending them a text message.
A Note about KPIs vs. Metrics
It's important not to confuse KPIs with metrics. We see this error repeated time and again, and it can muddy your data collection and reporting capabilities.
To review, a KPI measures your overall performance and success (usually over a set period), and it includes metrics that aid in the calculation. A KPI can be considered a metric, but a metric is not necessarily a KPI. To help you make the distinction, think of a metric as a measurement that helps you calculate a KPI.
Let's look at an example of one of the KPIs from this article. New Patient Conversion Rates is one of the most highly tracked KPIs, and to calculate it, you need to know the number of new patients that contact your office.
As you might have guessed, the number of potential new patients that contact your office is a metric, not a KPI. The difference is that the number of new patients doesn't necessarily indicate performance, but the number of them that converts does. You can exert much more control over the conversion rate than you can over the number of people that contact you.
You should still track the number of people contacting you, however, because it is an important metric. It can help you determine whether your advertising is effective, whether you're showing up well in Google, and whether you're visible in the community. For a list of the metrics you should be tracking in your practice, take a look at our article 5 Dental Metrics Every Dentist Should Know. For actionable help on how to measure your practice success, watch a free demo with Weave.
Want to see
more about
Weave?
Maximize every treatment and revenue opportunity with Weave Practice Analytics.
Get deeper insights into your practice to help boost profitability, improve treatment acceptance rates, identify areas of improvement and trends, and create better experiences.
Schedule Demo
Check out the other articles in our "Improving Your Dental Operations " series:
---