Have you ever thought about what annoys your customers most about your business?
You might worry that they don't like your on-hold music, or the paint color in your office doesn't suit their taste. You might wonder if they think your parking lot is a nightmare to navigate, or the temperature in your office is too hot or too cold.
But, have you ever asked your customers what they wish they could change about your business? Have you ever wondered if your payment options (or lack of them) had an impact on your bottom line?
We decided to find out. We commissioned an independent market research firm to survey a random sample of small business owners and customers to understand their behaviors and perceptions about payment options.
Here's what we found out:
The number of small businesses that have lost a sale because they didn't provide enough payment options outweighs the number that has lost a sale because of bad reviews. Surprising, isn't it?
And that's not all. We also learned that small businesses that offer more payment options increased revenue by 29%. It turns out that the easier you make it to pay you, the more often you get paid.
If you're a small business owner, here are some eye-opening statistics you need to know that emerged from our survey:
38% of small business customers have encountered a situation where they couldn't make a purchase because their form of payment wasn't accepted.
35% of customers want to be able to submit payment via text message. That percentage climbed to 62% when only younger customers under the age of 35 were surveyed.
Despite 35% of small business customers being interested in paying with a text from their phone, only 4% of small businesses offer it as a form of payment.
When surveyed about which businesses they want to be able to pay with text, customers answered:
Grocery store
Restaurant
Gas station
Doctor's office
Movie theaters
Being able to pay via text is increasingly becoming a requirement among customers in all demographic groups. And, flexibility is also a priority. People want to be able to use a payment method that is convenient for them. However, only 16% of small businesses offer more than three forms of payment.
Which Forms of Payment Should You Accept?
We've identified six forms of payment you should evaluate for your business. To help you decide whether each is relevant, we've included statistics about customer preferences as well as some pros and cons to consider as you prioritize your payment options.
1. Cash
Only 36% of your customers consistently carry cash. Those that do only have an average of $80 in their wallet. However, cash is still king for small transactions and among older age groups that might not have a credit card or trust them for everyday use.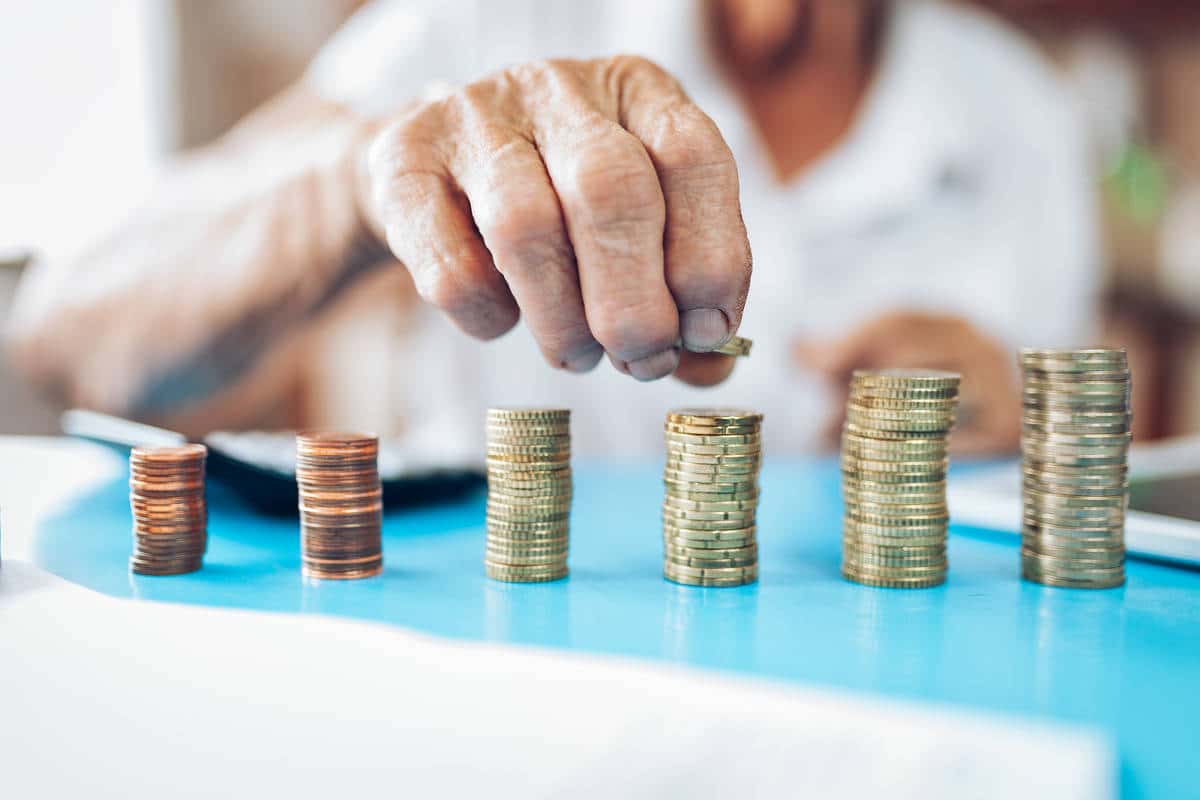 The only legitimate reason to avoid accepting cash is if your business is susceptible to theft or robbery. However, most service-based businesses should leave cash as an available payment option, even if they know that most of their customers won't use it.
The larger the payment, the less likely a customer is to want to use cash, but that doesn't mean that it should be removed as an option for dental offices, optometrists, auto mechanics, and other businesses with high-value transactions.
Further, 10 million U.S. households don't have bank accounts, making not accepting cash a hardship for this group.¹
2. Checks
Though checks are a nuisance at the grocery store, they're still a convenient payment method for service-based businesses with high-dollar transactions. Checks are also a preferred method of bill payment, at least among 20% of the U.S. population.²
Checks allow customers to conduct large transactions without having to carry a wad of cash or risk incurring a large credit card balance. As a pro for business owners, checks don't come with the transaction fees that credit cards do.
Despite these pros, businesses have to beware of checks bouncing due to insufficient funds as well as stop payment orders. Though it sounds like something out of a movie, $50 million in bad checks is written every single day. Businesses not only lose the balance of the check, but they may also be subject to a bad check fee and collection costs.³
If you do accept checks, you can mitigate your risk by posting (and enforcing) a bad check policy. You can also protect yourself from getting fooled by ensuring you know your customers. Verify their identification, current address, and contact information. Also, approximately 90% of rubber checks are written from new accounts, so take a look at the check number and be wary of anything under 125.
3. Credit Cards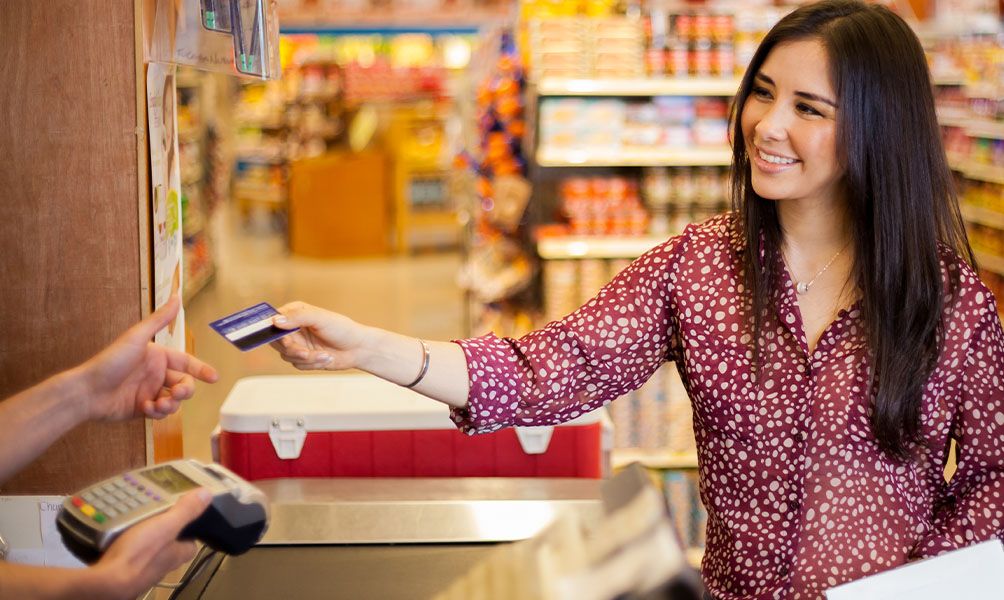 If your business doesn't accept credit cards, you're missing out. 71% of small business customers say they avoid companies that charge a fee to use a credit card. Surprisingly, 55% of small businesses don't accept credit cards, even though most know that it's what their customers want. The reason? They don't like paying fees.5
In a somewhat bold move, 19% of small businesses charge a fee for using credit cards, especially if a customer fails to meet a minimum purchase threshold. In today's day and age, where 78% of Americans have at least one credit card, accepting this form of payment is not optional.6
You already know that a significant number of people don't carry cash, and those that do don't tend to have much in their wallet. If your product or service is more than a few dollars, it's unfair to expect your customers to carry enough cash to pay for you on the spot. Accepting credit cards is a courtesy that is no longer optional.
4. Mobile Payments
About half of the population has used some form of mobile payment, with millennials and Gen Z leading the charge.7 A mobile payment is when you use your smartphone to make a payment.
Mobile payments can also refer to paying for a good or service remotely, meaning you are not at the business's physical location, or you're not using a physical POS (point of sale) terminal.
The most popular types of mobile payments include:
 Apple Pay
Google Pay
Microsoft Pay
Samsung Pay
Paypal
Venmo
Square
In the world of mobile payment solutions, you might see the abbreviation NFC, which is short for near field communications. This technology allows your smartphone to connect with a POS terminal using radio frequencies to transfer payment information.
Another type of mobile payment is an Internet payment. This solution allows a customer to log on or visit your website and make a payment using their credit card, bank account, or an online payment system like PayPal. Internet payments aren't just meant for e-commerce stores. Service-based businesses can still collect payments online and invite people to pay their balances on their website after hours.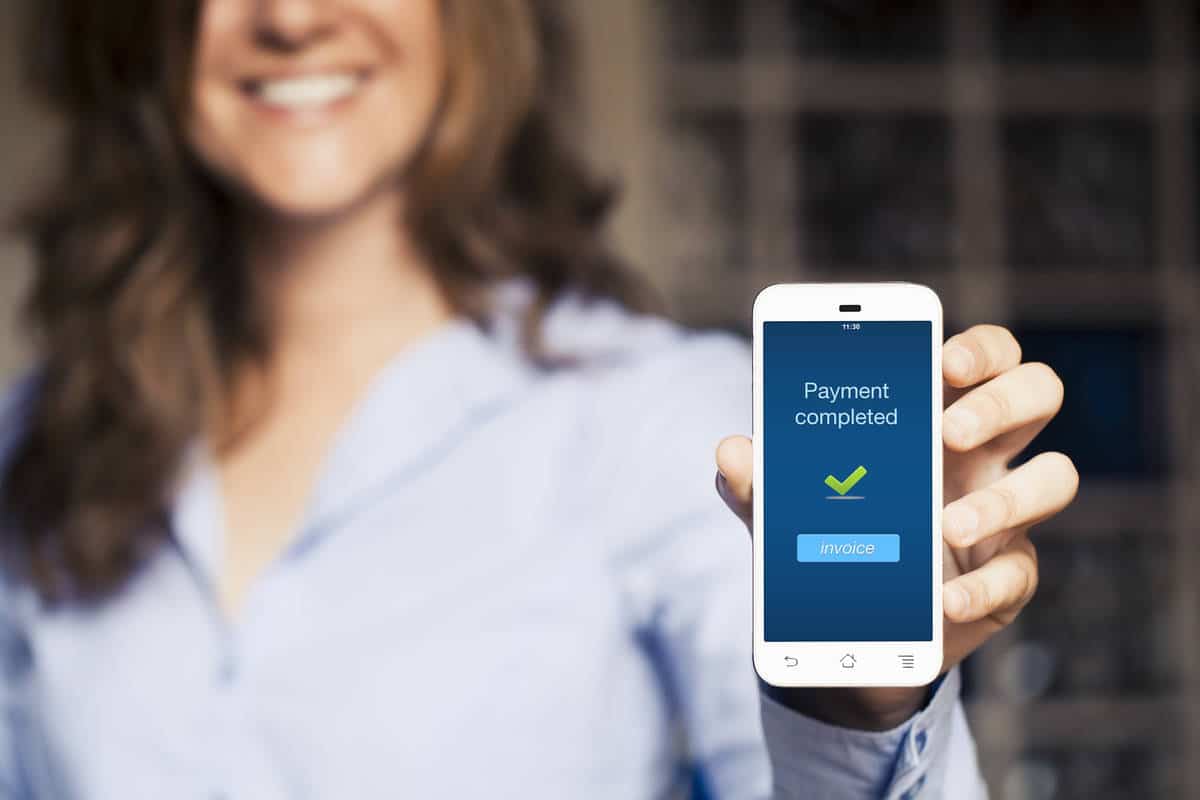 Text to pay is yet another type of mobile payment that doesn't require your client to be at your facility to pay a balance. Also referred to as SMS payments, paying via text is convenient for both small businesses and their customers.
Here's how it works:
 A business sends a customer a notification about a balance that's due and can be paid at their convenience. The text will usually include a secure link that the customer can click on to begin submitting payment information.
 When the customer clicks on the link, they'll be taken to a secure, mobile-friendly form to enter their payment information. The business may elect to offer options like saving the credit card for future transactions or setting up a subscription or autopay.
Once the payment is complete, the customer will receive a payment confirmation and may also receive an email or text with the receipt.
5. Cryptocurrency
Bitcoin and other cryptocurrencies have made headlines, and their values have spiked up and down in volatile waves. There are scenarios where cryptocurrency can be incredibly useful, particularly for international transactions and sales that are spectacularly large. For most small businesses, accepting cryptocurrency is not necessary.
6. ACH
Short for Automatic Clearing House, this payment system connects a customer's billing account to your merchant account, which allows you to accept payments automatically. There are other payment methods that accomplish the same thing by attaching to a credit card, but some businesses prefer ACH because of its lower transaction fees and faster processing.
Your customers might also prefer ACH payments because it allows them to use their checking account to pay you without having to carry a checkbook around with them. They can also set up recurring payments, streamlining the payment process as well as your collection efforts.
7. Buy Now, Pay-over-time
45% Buy Now, Pay-over-time users say that they use these services to make purchases that won't otherwise be feasible. Offering financing helps drive more business by letting customers pay for care, services, or products over time.
Drive more business and avoid sticker shock by letting customers pay for care, services, or products over time with Buy Now, Pay-over-time.
Conclusion
At the end of 2019, Weave introduced a payment system that helps streamline your collection process while providing unprecedented convenience and flexibility for your customers. Want to learn more about it works and how you can use it in your business? Watch a demo of Weave today.
References:
1. http://theconversation.com/if-cash-is-king-how-can-stores-refuse-to-take-your-dollars-63516
2. https://www.cutoday.info/THE-boost/20-Of-People-Still-Write-Checks
3. https://www.bankrate.com/finance/checking/protecting-your-small-business-from-bounced-checks.aspx
4. https://www.thebalance.com/avoid-taking-a-bad-check-315218
5. https://www.forbes.com/sites/tjmccue/2013/08/16/why-dont-more-small-businesses-accept-credit-cards/#3ba7f90b15b4
6. https://www.crnrstone.com/insightvault/2018/03/04/many-americans-credit-card/
7. https://thethrivingsmallbusiness.com/customer-payment-processing-options/