You might have heard the story about a young girl who came home from school to find her mom cutting the ends off of the pot roast prior to cooking it. When the girl asked her mom why she cut the ends off, her mom responded that she didn't know why– it was just the way that her mom had done it. She told the girl to call her grandma and ask. So the little girl called her grandma and asked. Her grandma responded that she didn't know why she always cut the ends off the pot roast, but that it was just the way that she had seen her mother do it. So the little girl, determined to know the answer, called her great-grandma and asked why she cut the ends off of the pot roast before she cooked it. The great grandmother told her that she cut the ends of the pot roast off because their pot was not big enough to fit the entire pot roast without cutting the ends off.
You can probably see where this is headed. We often do things because we learned something a long time ago, or because someone we respect told us to do it that way. In business, this is not always the best strategy because you might end up cutting off the ends of the pot roast for no reason.
So what does this have to do with reviews? Many small businesses invest time and money into gathering reviews. Their hope is that these additional Google Reviews will help them get more customers into their business. Many business owners are under the impression that more reviews automatically means a higher ranking in Google Maps because that is the way things work for a large part at one point.
The truth of the matter is that IF the quantity of Google Reviews has any influence over rankings at all, it is VERY minimal. This means that exerting effort into getting as many reviews as possible might be similar to cutting the ends of the pot roast off. Or at least that would be the case if you didn't figure out how to get more people to see your reviews.
Weave offers an awesome solution for getting Google Reviews, so we are definitely not saying not to get reviews. Just make sure you are doing other things to help your reviews be seen.
Make the Most Out of Your Reviews by Making Them More Visible
Let's approach the million-dollar question. How do we get more people to see our Google Reviews?
Getting more people to see your Google Reviews requires getting people to your Google My Business (GMB) listing. This means that your business needs to rank higher for more keywords in the maps. This will, in turn, move your business into the coveted space in Google referred to as the snack pack or the map pack.
There are dozens of strategies and factors that go into moving your maps listing up the rankings. Some factors and strategies are complex, while others are more simple and straightforward. This article is going to outline one straightforward method that has shown tremendous results in driving more traffic to your Google My Business listing, which means more eyes on your reviews.
As you might have guessed based on the title of this blog article, the strategy we are going to be going over is Google My Business posting.


Want to see more about Weave?
9 out of 10 people check online reviews before choosing a business
Weave helps you easily collect and monitor reviews on Google and Facebook. These reviews can be some of the best marketing for your business.

Schedule Demo
What Are Google My Business Posts
First things first, let's make sure that we are all on the same page as far as what Google My Business Posts are.
Google My Business posts happen inside your business's Google My Business dashboard.
Start by logging into your Google My Business dashboard. Once you are logged into Google My Business, you will see an option on the side menu called Posts. This is what you should see if you are in the right place: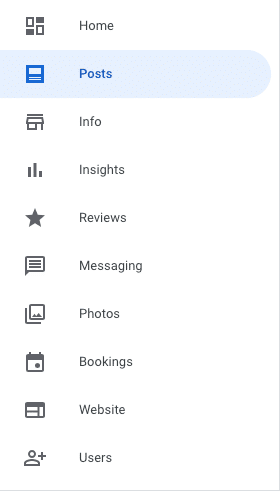 In posts, you will be able to compose a post that can consist of videos, pictures, words and even links to your website. These posts will show up on Google in a place that most SEOs refer to as the Knowledge Panel. This is what a knowledge panel looks like for a business: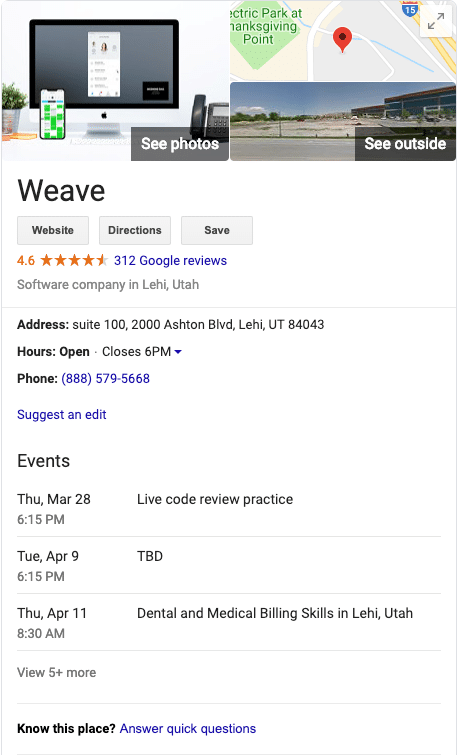 This usually shows up on the right-hand side of a Google search if you search for your business name.
When you have an active post, it will show up in this knowledge panel and will contribute to the keyword relevance of your Google My Business listing, which leads to better rankings in Google Maps.
What is the Best Strategy for Posting?
Now that we understand the reason behind writing Google My Business posts, let's talk about the strategy. We want to theme the GMB for keywords that we want to rank in maps for, as well as for the location that we are trying to rank for. Ideally, this is the city where your business is located. You will have a difficult time ranking for a city where your business isn't located unless there is no competition in that city. So how do we do this?
Write Posts About Local Events and Places of Interest
Since one of the themes you are trying to add to your Google My Business is the city, it is a good idea to post on a regular basis about the city. The easiest way to do this is by posting about city events, popular places, or even less popular places that you and your staff love.
Be sure to include the city name a couple of times, but don't overdo it. You get 1,500 characters in your post. You should use as many of them as possible. If you use 1,500 characters, 2-3 times is plenty to mention your location.
You have the option of adding a link and an image to your post. You should do both. Choose a nice image that will attract people's attention.
As far as the link goes, this will get a little bit more complex for this location post. If you are writing about a place of interest, you are going to link to a driving directions map from that place of interest to your business. If you are writing about an event, you will link to a driving directions map from the location of the even to your business. Since Weave is located in Lehi, Utah, we are going to demonstrate this concept using Thanksgiving Point, which is a place of interest in Lehi. Start by going to maps.google.com. Once you are there, type in your business name and it should pull up your location. Here is the example for Weave: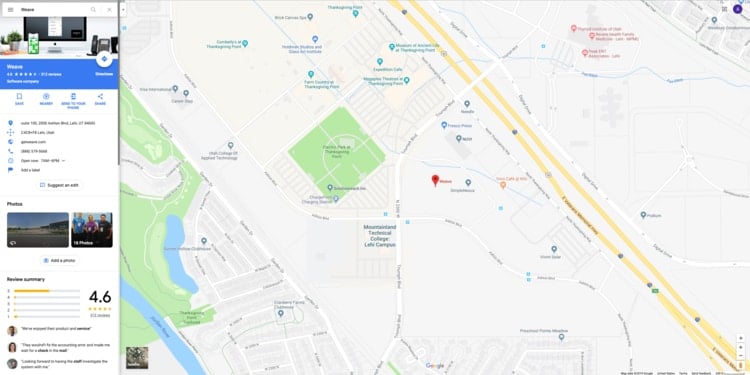 Now click the circle with the arrow in it to turn this into a directions map. This will give you the option to enter a starting point. This should be the place of interest that you are writing about. As soon as you enter a starting location you should see a driving directions map. This is similar to what you should be seeing at this point: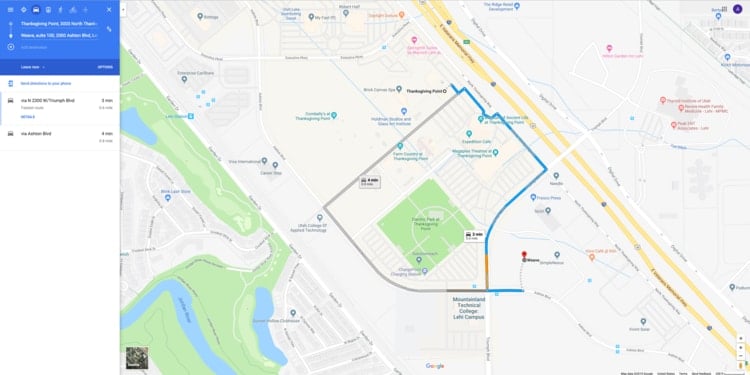 Now all you need is a link to this driving directions map to link to from your post. To get this link you are going to click on the menu in the top left of your screen. That should drop down a menu that looks like this: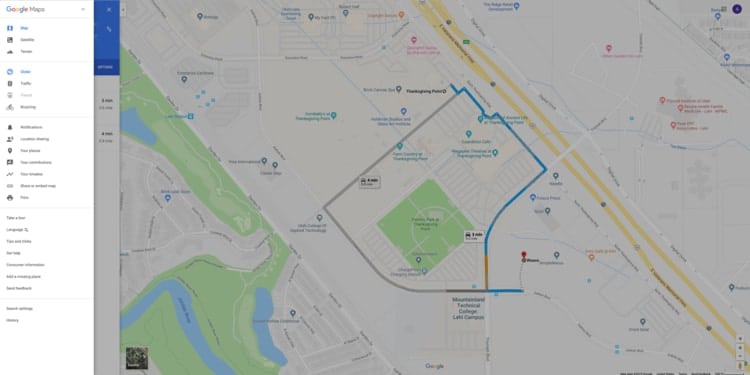 Click the option that says "Share or embed map" and it will give you a link to your map. Copy that link to use in your post. Now go back to the 1,500 character post that you wrote, so you should be looking at a screen that looks like this: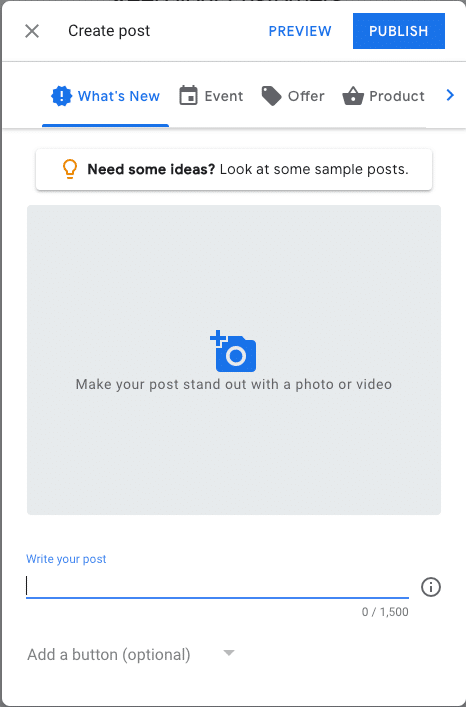 Click "Add a button (optional)" and select the "Learn more" option. You should now see a placeholder that says "Link for your button". Paste the link to your driving directions map there. Once you have your post written, your image added and your button linked to your map, click "publish" at the top of the post screen.
How Often Should You Post Location Posts?
You want to be publishing a post of some sort on a daily basis. Since we are discussing three types of posts in this article, you should aim for posting a location post 1-2 times per week.
Service Posts
Service posts start the same way as the location posts. Login to your business dashboard in GMB and click posts. Now you are going to write a 1,500 character post about a service that you offer. Ideally, you will have a page on your website that covers this service as well. Once you have written the post and added an applicable image, you are going to click the "Add a button (optional)" option again. Then choose "Learn more". This time, you are going to link to the page on your website from the post, so insert that where it says "Link for your button". Now you have the roadmap to location posts and service posts.
How Often Should You Post Service Posts?
Just like the location posts, you want to aim for posting a location post 1-2 times per week.
Review Posts
The last type of post you want to do on a regular basis is a review post. This is a simple one, and will likely not be as long as the other posts. For a review post, you are going to navigate to the Google Reviews for your business and pick one you want to highlight.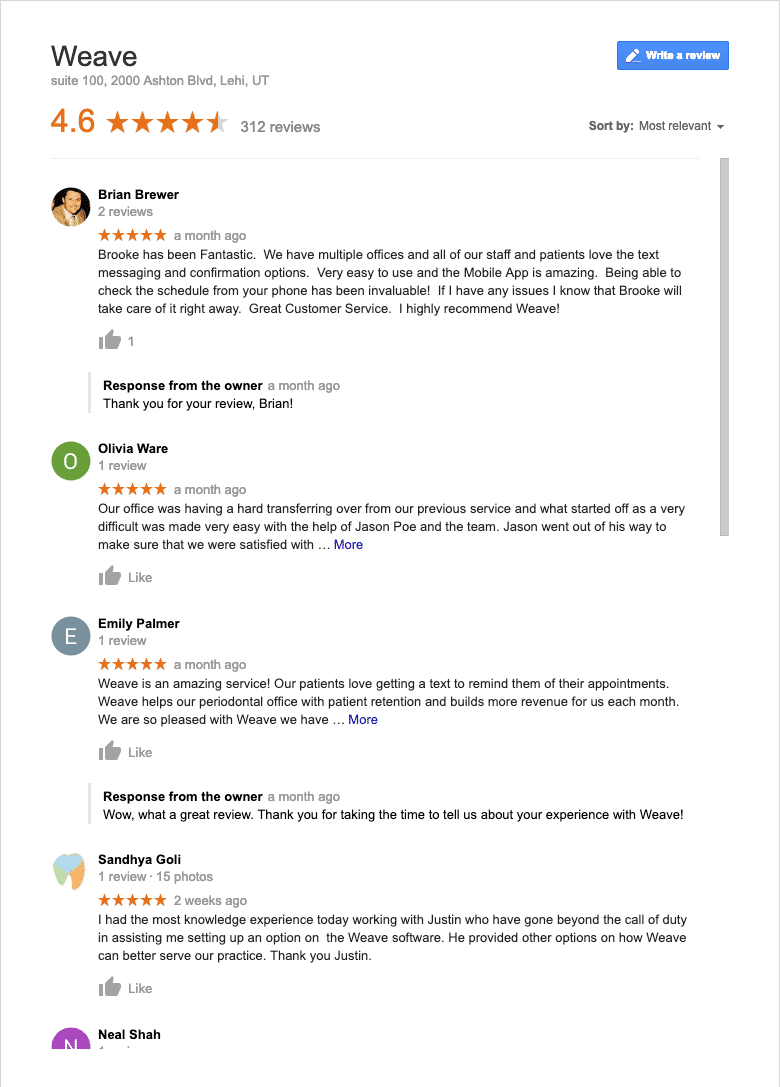 Once you have selected the review you want to highlight in your post, click on the reviewer's name. This will pull up a list of all of their reviews. Navigate to the review about your business, and you will see a share option. That should look like this: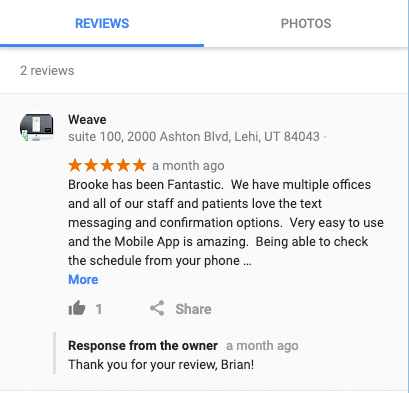 Click share and you will get a link that you can add to your post.
As far as writing the post goes, find a good image that depicts reviews. You can use the same image every time you post a review if you want. You can either use part or all of the review that you selected. You are going to say something along the lines of, "We love getting great feedback from our customers! Here is what Jeff had to say about Weave". Then just add the review text that you want to use.
Once you have this formatted, you are going to add a button as we did in both of the options above by clicking "Add a button (optional)". Add a learn more button and insert the link that you copied from the review. Then click publish. That is it for the review post.
How Often Should You Post Review Posts?
The answer to this question depends on the number of reviews you have. Ideally, you would be doing one of these per week, but if you only have a few reviews, you may want to make this less frequent.
Putting the Pieces Together for Posting on Google My Business
In summary, you want to be posting on a daily basis if possible. This can be a combination of location posts, service posts, and review posts.
Add keywords to the posts, but don't overdo it.
Add the appropriate link as shown above.
Do not expect to see changes within a day, but as you do this on a regular basis for several weeks, you will see an increase in the insights portion of your Google My Business. Watch a free demo to see how to make your business reviews more visible.