If you are a small business owner, there is a very high likelihood that someone has told you about the value of getting Google Reviews from customers. The person who told you this is right. There is significant value in getting Google Reviews. What they most likely didn't tell you (probably because they didn't know) was that there are certain reviews that are going to help your business a lot more than others. So how can you make the most of your Google reviews? This article will show you.
Learn more about Weave's review software that can help you get more online reviews.
What Kind of Reviews Matter To Google?
In the early days of Google Maps, the number of reviews was a major ranking factor. In recent years, quantity has become less of a ranking factor, but reviews are still a factor in conversion. We are by no means saying that you don't need to try to get as many reviews as possible. However, if your goal is for your Google Reviews to help you get more customers, there is something else you should be focusing on– quality.
Getting more specific reviews that mention services that your business offers will go a lot further than just getting 500 reviews that say, "this place is great". This is true both in Google Maps rankings and in conversion. Here is an example to demonstrate why specific reviews are important. If a plastic surgeon offers rhinoplasty, that is not a category that they can tell Google they should put them in, so Google looks for other cues. One of those cues is the reviews about the business. You can see in the image below that two of the top listings in the maps have pulled quotes out of patient reviews that mention rhinoplasty. This is a lucrative search term with high search volume. This is going to be the same with any service that you offer in your business that does not fit directly into a Google My Business category. Ask clients that you have performed that service for to leave a review of that specific service.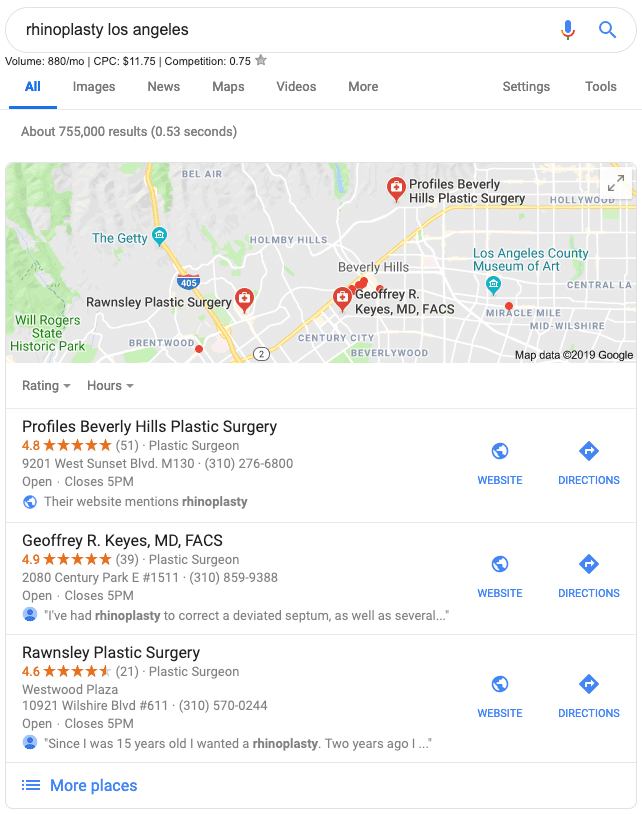 Get Reviews With Features That Google Gives the Most Value For
Many people are not aware of the fact that Google has already assigned a value to different things that people can add to Google. Take a look at the following table: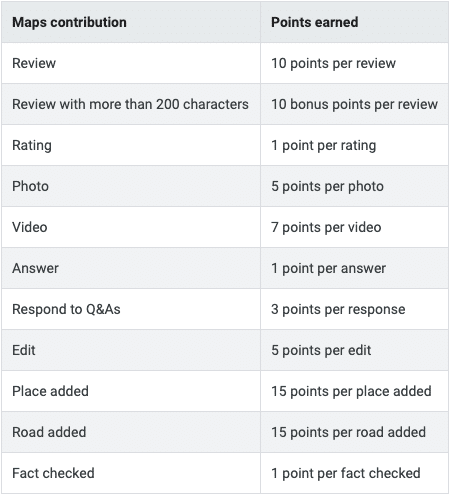 These are point values that Google gives to Google Local Guides for different contributions to Google Maps. Based on the table shown above, the ideal review would have the following features:
Rating
Review with more than 200 characters
Video
Photo
As often as possible, try to get customers to leave a review containing a combination of a few of these features. If you can get them to include all of them, even better!
Want to improve the quality and quantity of your google reviews ? Ask Weave
9 out of 10 people check online reviews before choosing a business
Weave helps you easily collect and monitor reviews on Google and Facebook. These reviews can be some of the best marketing for your business.
Schedule Demo
Google Local Guide Reviews
Google has a program for people who have provided a lot of input on maps. It is called Google Local Guides. While there is not a way that you can target these Local Guides specifically, there is a way that you can increase the likelihood that you get reviews from Local Guides. The strategy here is to teach your customers why Google Reviews are so important to the businesses they frequent. The hope is that they will become more active in leaving reviews after reviewing your business, which will allow them to become a Local Guide.
You might be wondering why a business would care about reviews coming from Local Guides. There are two reasons. First, Google gives more weight to Local Guide reviews. Especially those who are high-level local guides. Second, when a potential new customer is reading through your reviews, the ones written by Local Guides stand out by using a Local Guides badge and some orange text that says Local Guide. It looks like this:

Local Guides reviews will naturally attract the attention of a potential customer, so good reviews from Local Guides are extremely important in the conversion process as well as the ranking process.
How to Ask Customers for the Right Kind of Reviews
As a business owner, it is actually quite easy to ask customers to leave the kind of reviews that are going to make a difference in Google.
Let's assume that you are a dentist who wants a patient to leave a review about porcelain veneers (great idea). First, you would pick a patient that you have done veneers for. Second, let them know how important Google Reviews are to your business, and that it helps other people find your business. Third, ask them if they would be willing to write a review about their experience getting veneers in your office. Fourth, send them an easy review link. Most people will happily write a review, and even include specifics if you give them a reason why specifics are important. That willingness increases when you make things simple for them with review software.
Key Takeaways
Ask for reviews about specific procedures or services. Talk to customers about the impact that Google Reviews have on small businesses in an effort to get them to be more proactive about writing reviews. Give customers a simple way to leave the review. If you implement these things in your business, you will start to see your Google My Business getting more traffic, and it will convert into additional customers for your business. Schedule your free demo today, to see how you can multiply and improve the quality of your Google reviews.