If you've begun the process of evaluating VoIP systems, you've probably had to consider several factors, such as your call volume, business size, and organizational structure. But have you wondered whether you should use hardphones or softphones?
This guide will help you understand the differences and make a decision that's right for where your business is now and where it will be in the future.
Both hardphones and softphones are a type of VoIP (Voice over Internet Protocol) communication system that allows you to make phone calls using the Internet. Companies choose VoIP to reduce their overall phone bills, upgrade their communication features, enhance client communication, and simply conference calls.
On the surface, the features are often similar, but the significant differences lie in cost, mobility, and the user interface. You can think of a hardphone as a physical device and a softphone as a software application.
Click here to learn more about the benefits of a VOIP system for your business.
Everything You Need to Know About VoIP Hardphones
Hardphones are the most similar to traditional phone systems because the phones look nearly identical. The phones are typically plugged in at a workstation, and they connect to the business's IP network. Therefore, they make calls using the Internet, not traditional underground copper wires.
They also have built-in screens for video calls and conferencing and other advanced features associated with VoIP like auto attendants, call recording, DND (do not disturb), and call forwarding.
Just like a traditional office phone, a hardphone has all the familiar components. There is a handheld receiver and a base, as well as buttons. There's also likely to be a touchscreen display, though its size and intended functionality will depend on the phone and VoIP provider. However, underneath, a VoIP hardphone functions almost like a computer. You can think of it similarly to your smartphone, except it plugs into the wall (usually).
Because hardphones are so similar to a standard desk phone, there's no steep learning curve. A glance at a manual or a walkthrough from another person at the organization, and you'll know everything there is to know about the phone system.
Everything You Need to Know About VoIP Softphones
Softphones, on the other hand, allow you to communicate via software. You don't need a traditional desk phone. Instead, the software can work over any device that's capable of making or receiving VoIP calls. This includes your computer or laptop, a smartphone, tablet, or any Internet-connected device. As long as you have a microphone, speakers, and an Internet connection, you're in business. And of course, you can also use an actual telephone, too!
You've probably used VoIP softphones without even realizing it. The most well-known softphone systems are Skype and Zoom. These applications allow you to call, chat, and do video calls and conferencing from anywhere in the world for one low price.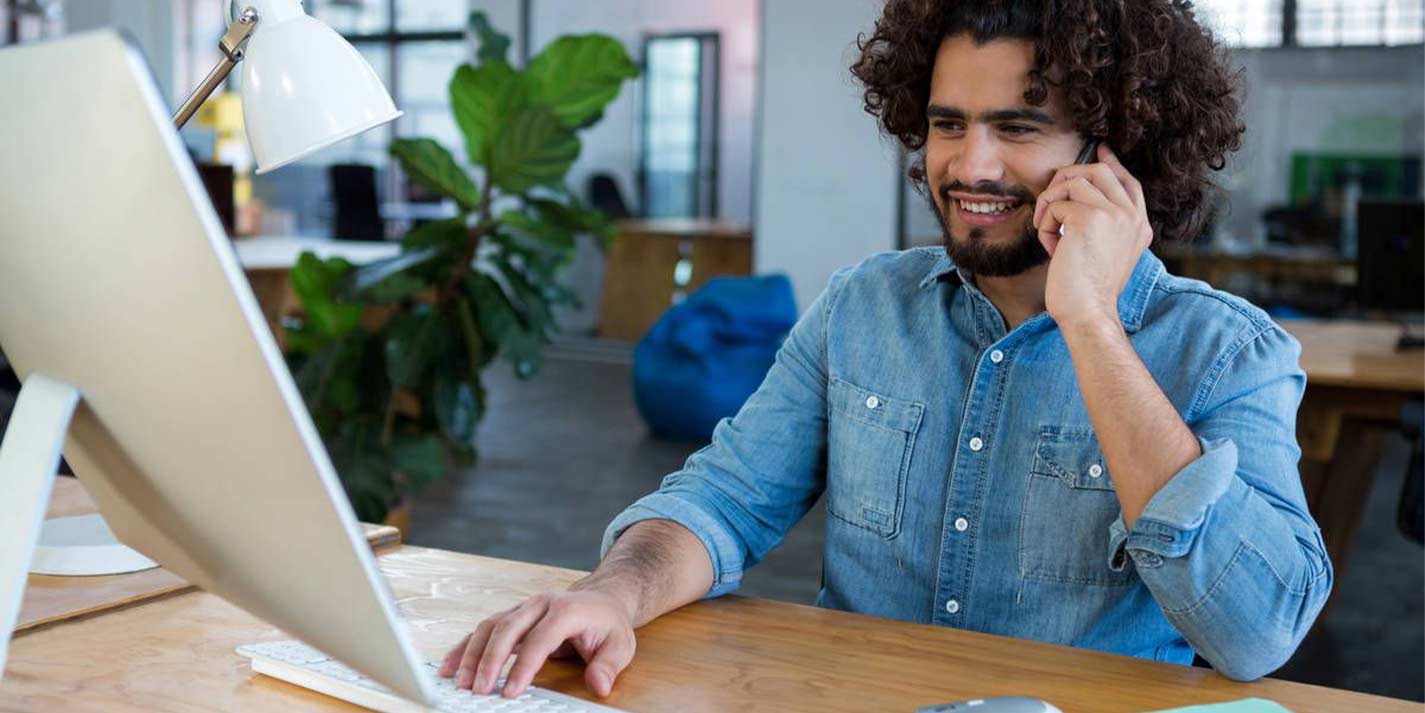 However, businesses often find they need more than just phone and conferencing capabilities. As more companies have adopted this technology, it's resulted in advanced systems that integrate with your business. In addition to the standard functionality of receiving, transferring, and placing calls, an integrated softphone system also gives you the power to:
Manage your contacts (even across multiple locations)
Customize greetings, tree menus, and hold music
Send missed call texts
Send automated texts for appointment reminders, office closures, payment requests, etc.
See a client's complete history with your organization before you answer the call
Collect payments
Chat with team members from anywhere in the world
Businesses of all shapes and sizes often turn to VoIP softphone solutions for mobility and flexibility. Unlike a VoIP hardphone that keeps someone stationary at their desk, a softphone can work on any Internet-capable communication device. This means that you can take company calls when you're out in the field, traveling, at home, or in a part of the building that's not near a telephone.
Not only that, but your entire contact database is in the palm of your hand and integrated with your business's system. No matter where you are or what you're doing, you can communicate with your customers. The result is more efficiency and a better overall experience.
Using your cell phone, you would be able to check your schedule and call a client from your business number without having to be in the office. This feature is especially helpful for businesses that work with clients outside of the traditional 9 to 5.
☎️ Want to improve
client communication?
Ask Weave about VOIP
Have Client's Info Populate with Each Call
Amazing technology has simplified our communication immensely! We are fairly new and can't wait to learn even more Weave features... customer service and tech support is SPOT ON and can't be beat! - Weave Customer.
Softphone Use Case Scenarios
Let's say you're a dentist, and you need to make an after-hours care call. From your smartphone, you can pull up the patient's record, review their information, and make the phone call. Your patient would see the call as coming from your office, not your cell phone. From there, you can update your patient's records, collect payments, and more.
Another helpful example that demonstrates the power and flexibility of a VoIP softphone is an auto mechanic shop. Let's say that you've finished working on a customer's vehicle. With a traditional (or even a hardphone) system, you would have to leave your workstation and go to an area of the office with telephones. You'd have to wipe your hands and call the customer. Chances are you'll go to voicemail. You leave a message, but the customer has questions about the repairs and calls back, but you're working on another vehicle. A game of phone tag ensues, and you end up staying late to give the customer her car, answer her questions, and collect her payment.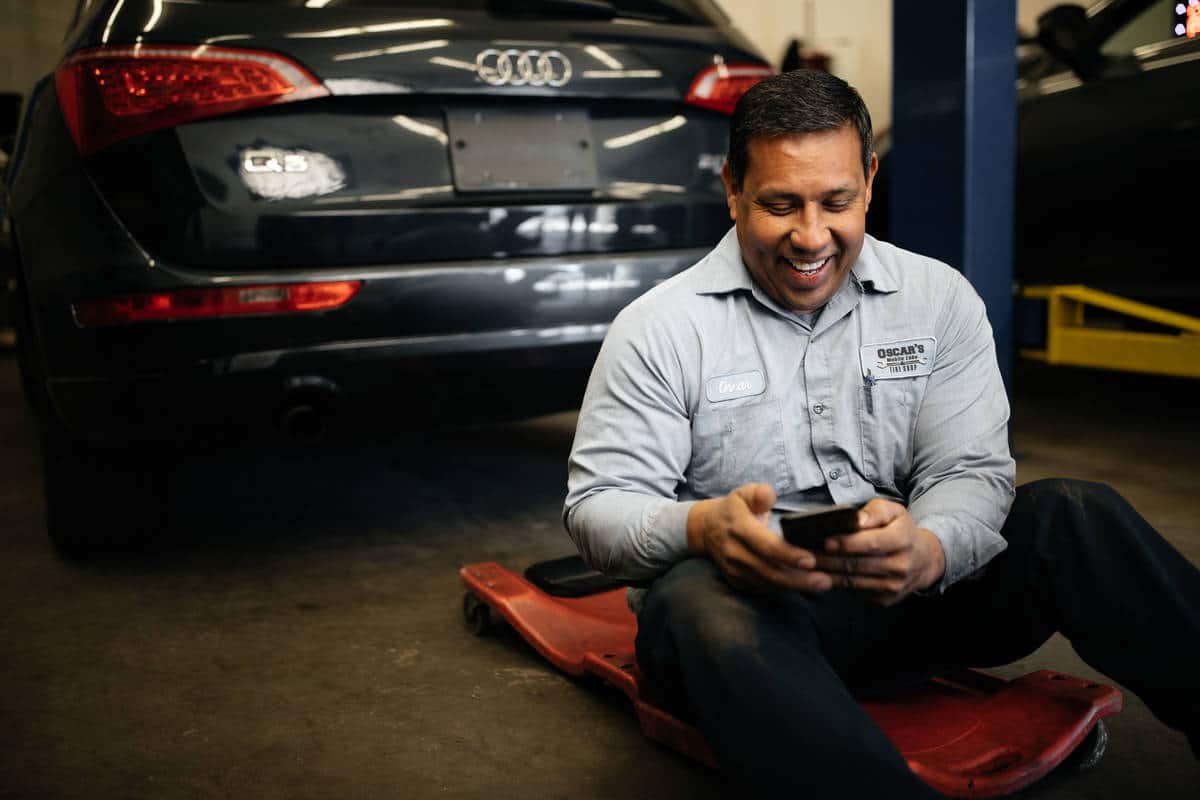 Here's an alternative to this scenario: You finish working on the customer's car and send her a text directly from your workstation, notifying her that her car is finished. She texts back immediately and says she's held up at work and can't pick up her car until after closing. She also has a question about another part she wants you to look at. You text her back, answering her questions and confirming that she can pick up her car late. As long as she pays her balance (which she can do directly from her phone), you'll leave her keys in a coded lockbox. You don't have to stay late, the customer got her questions answered, and she didn't have to rush out of the office to pick up her car.
Pros and Cons of Hardphones vs. Softphones
Organizations that adhere to tradition and prefer standard-looking desk phones are likely to be most comfortable with a VoIP hardphone solution. However, there are softphones that can be integrated with more traditional office phones, so that's a possibility that traditionalists should consider.
Hardphones are also a smart solution for organizations that rely on call quality and don't want to tarnish their firm's reputation with even one instance of spotty reception. And because hardphones run independently of another device (like a computer or a smartphone), their functionality won't be bogged down by too many programs running in the background.
When it comes to softphones, the key advantages are a lower cost and more flexibility. The price is more economical because you don't have expensive hardware to install and maintain. Softphones are also ideal for employees that aren't always in the office and need to be able to communicate with team members and clients remotely.
Some companies prefer to add some hardphones to work in conjunction with their softphones. For example, you might want a hardphone in a couple of departments in your organization, like at a front desk, in an executive office, or a conference room, so you could end up having a blend of hardphones and softphones with an emphasis on softphones.
Comparison at a Glance: Hardphones Vs. Softphones
Call Quality
Both rely on an Internet connection, but hardphones have a slight edge because there is a dedicated device handling the call. As computing power increases, call quality is not usually an issue. However, an overworked system with multiple software programs running could potentially compromise quality.
Dependability
Because the system is powered via Ethernet, hardphones are reliable, and downtime can often be planned for after hours. Mostly dependable, but a system reboot or Internet outage without backup could present an issue.
Ease of Use
Incredibly easy to use, especially for those already familiar with traditional phone systems. Those familiar with software programs will find softphones easy, but there is usually some onboarding or training involved.
Interface
The interface could vary between physical buttons like a regular phone system or a GUI (graphical user interface) that resembles a softphone. GUI, but often with additional options for mouse and keyboard shortcuts.
Mobility
Not mobile, especially for desk phones plugged into the wall. Cordless devices are optional (and an excellent choice for call centers), but you're still limited to in-office use. Mobility is where softphones shine. You have full communication capability from laptops, smartphones, tablets, and other devices.
Deployment Implementation requires company-wide involvement and new hardware installation. It can be slow and complicated. Relatively easy to deploy. The installation can be rolled out simultaneously, once the software is set up.
Cost
More expensive than softphones due to hardware requirements. Pricing is variable but tends to be lower due to limited hardware requirements.
Who It's Best For
Larger organizations with executive teams that conduct operations primarily in-house and need 100% uptime and guaranteed call quality at all times. They are comfortable upgrading hardware regularly. Companies that want a flexible communication solution and have employees who may be remote or mobile. Also ideal for cost-sensitive organizations.
Why Weave is a Smart Softphone Solution for Businesses of All Sizes
Weave is a VoIP softphone system that also has hardphone capabilities. We furnish up to 10 Yealink phones to help you maintain a professional appearance without sacrificing the functionality and flexibility that comes with a softphone solution.
But that's not all. Weave is more than just a phone system. We provide business growth tools and customer relationship management features that help you market your business, generate referrals, monitor call analytics from a single dashboard, and more.
Our clients say that we're the "Rolls Royce of phone systems." Watch a demo to witness the power of Weave firsthand.