You can think of VoIP applications in a couple of different ways…
On the one hand, there are VoIP applications that allow you to make and receive phone and video calls over the Internet as well as transmit data. Skype, FaceTime, Whatsapp, Zoom, and Google Hangouts are all examples of VoIP applications that small businesses can use for their everyday communications.
These VoIP applications are convenient and inexpensive, but they're more of a "one-off" application. What we mean by that is that they're best used for a quick meeting on the go, but they're not the best way to manage your business communications, especially once you grow beyond a couple of employees.
Though they can be accessed anywhere, they don't integrate with your business systems, making them a less-than-ideal solution for the long-term.
The other type of VoIP app is the one that's a part of your VoIP system. These apps integrate with your business. For example, there are VoIP apps that send faxes, track your inbound and outbound call stats, send text messages, and more.
The key is to ensure that these apps can also be integrated with your business systems, which will allow you to track activity, serve your customers, and improve efficiency.
For example, let's say a customer calls your office. Without an integrated VoIP application that connects your client database, you'll have no idea who's calling you. Caller ID can only tell you so much. In the scenario of a VoIP app, the client record will open automatically, and you can see pertinent client details.
Though all VoIP systems are different, most worth their salt will provide a suite of applications that are meant to grow and improve your business.
Here are the most popular:
Call Analytics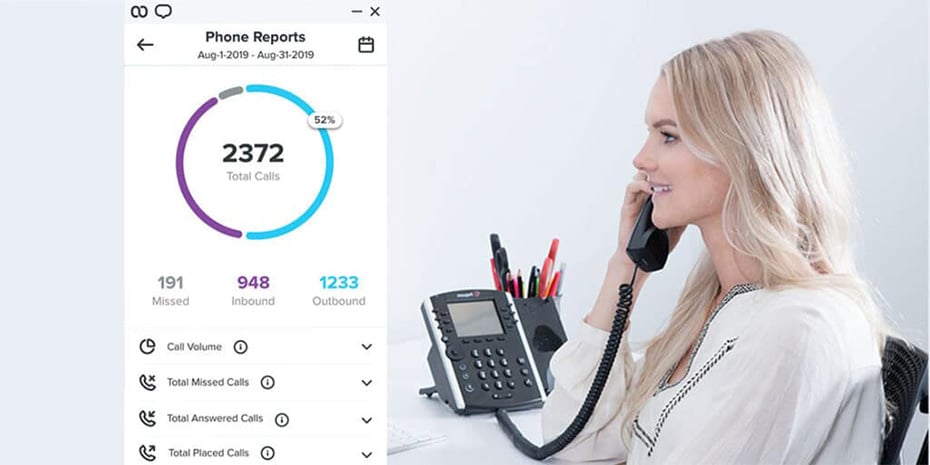 Have you ever wondered which of your employees are on the phone most, how many calls you receive, and what your peak calling times are? An analytics app answers those questions, and so many more!
The most sophisticated analytics apps will show you both inbound and outbound call data as well as recall analytics. View data for a day, week, month, or even a custom date range. You can even see how many calls went unanswered, which can give you an idea of missed opportunities and help you improve your bottom line.
Recall analytics allow you to see who has received recall reminders, and you'll also know which ones were undeliverable. If you have several undeliverable recalls, then it's a sign that you need to update your client database. This app also helps if you're trying to collect payment from a client or patient, or you're trying to reactivate someone who hasn't been into your office in a while.
Email
If you want to reach someone in your client database, you don't have to dig around for their email. A VoIP email app will allow you to click on the person's name, and you'll draft your email directly from the app.
When you choose to send your message, you'll be connected to your default email service, where you can add attachments and continue editing your message. When the client responds, their answer will go directly to your email inbox.
Fax
Now that we've long passed the 1900s, you can say goodbye to clunky fax machines and glitchy software. A fax app lets you send a digital fax directly to any contact in your database (or enter a new fax number) You can send files and photos, and view the delivery status of each fax.
Want to see
how Weave
can help you?
Weave Helps Streamline Business Communication
"Amazing technology has simplified our patient communication immensely! We are fairly new and can't wait to learn even more Weave features... customer service and tech support is SPOT ON and can't be beat! " - The Eye Station
Schedule Demo
Messages
You can text existing clients as well as people not in your system using a VoIP messaging app. Instead of the text thread being isolated on a single employee's mobile phone or workstation, the entire sequence will be shown in the app. This allows for flexibility, accountability, and organization.
New apps now allow you to use emojis, which add a personal touch!
Missed Call Texting
Small businesses miss almost 50% of their phone calls.¹ Even if you have the best voicemail system in the world, you can't count on everyone to leave a message, especially if it's a new potential client looking for a service provider.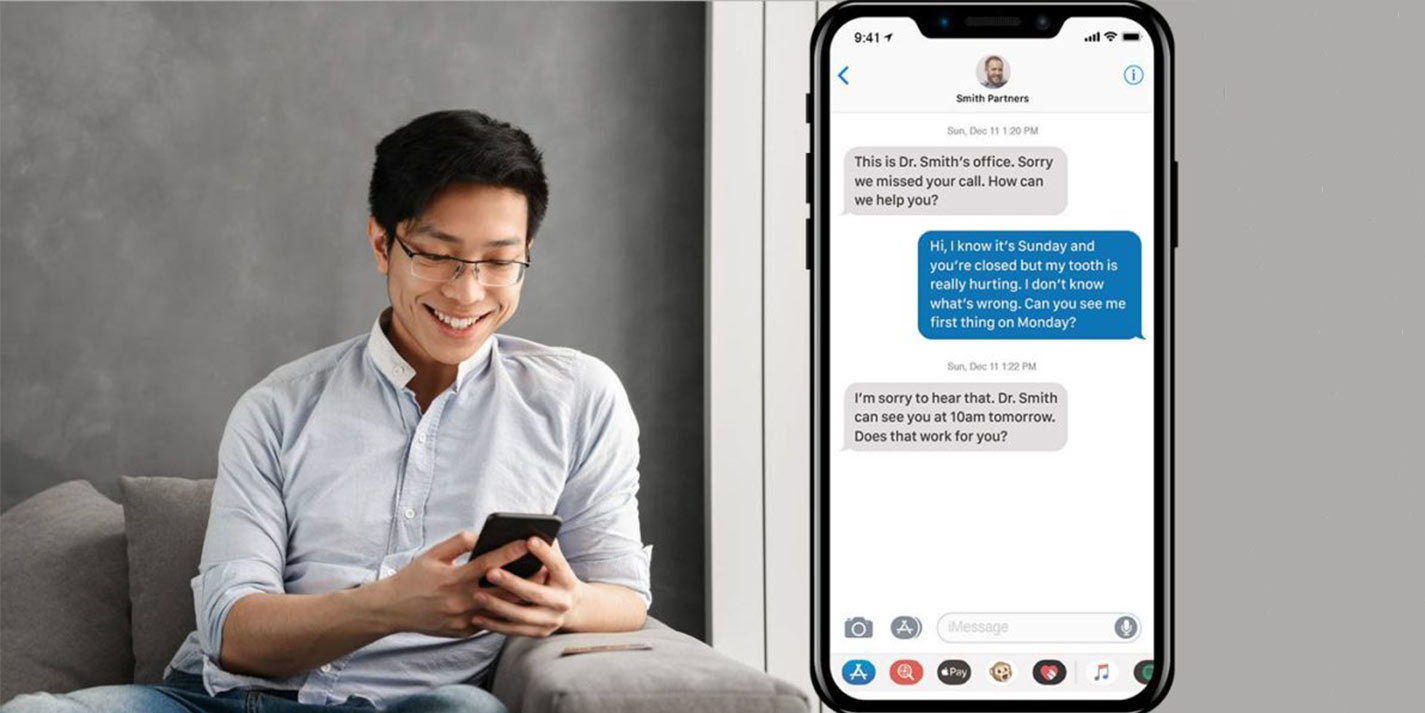 Missed call texting allows you to send an immediate, automated response to any caller. You can give the person more information about your business, tell them when they can expect a return call, or give them an alternate way to reach you. Now, you can turn those missed calls into opportunities.
Mobile App
A VoIP mobile app puts your entire business in the palm of your hand. Not only does it give you a backup plan in case your Internet fails, but it also provides you with the flexibility to manage your business from any smartphone or tablet.
These mobile apps will include your entire client database and their history. You'll see their birthday, insurance provider (if applicable), their payment history, and any data that's a part of their record.
From the app, you can also call, text, email them, or listen to any of their voice messages. You can also view company and personal calendars and schedule meetings and appointments directly from the app.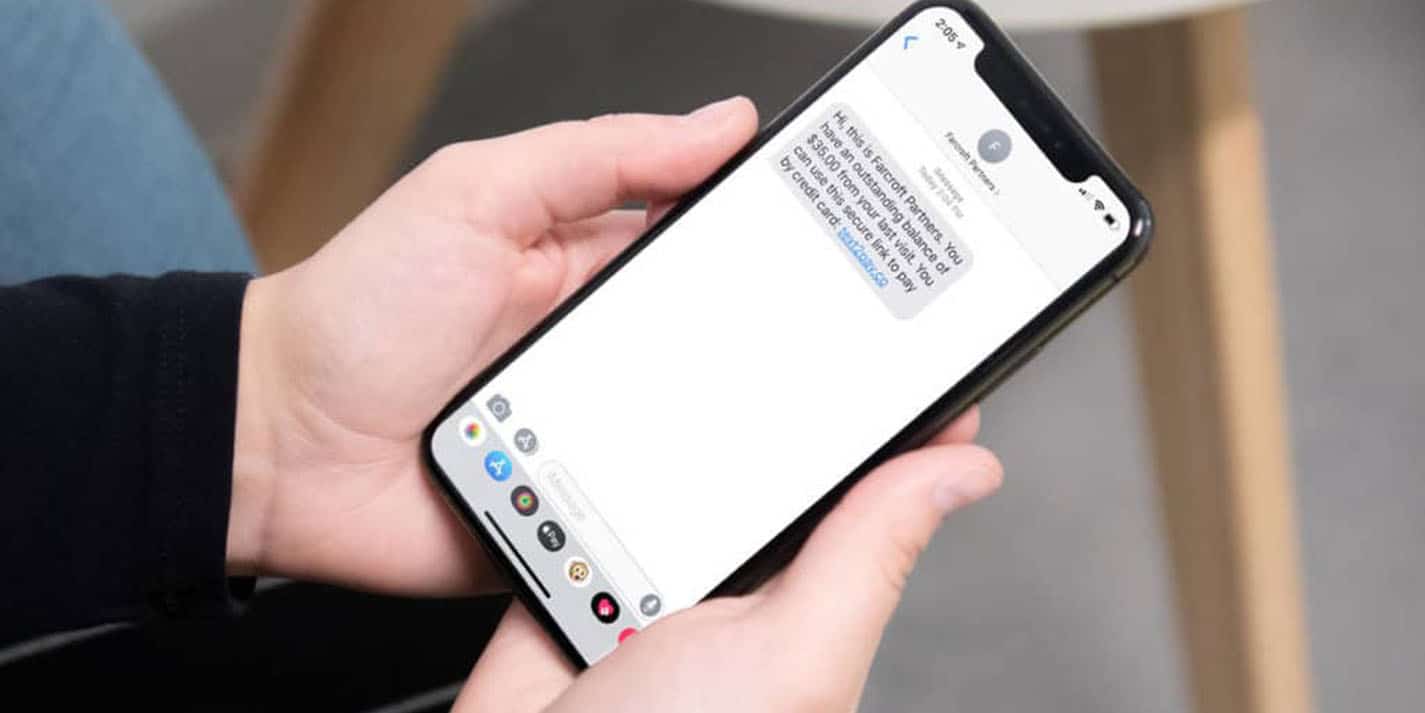 The exact functionality will depend on your VoIP provider, but Weave includes all of this and more. The app provides the same features as the desktop client, even allowing you access to team chat and direct messages, review software, call recording, incoming call settings, and analytics.
If you have more than one office location, you can also access each site from the mobile app.
Client App
A VoIP client app functions similarly to CRM (Customer Relationship Management) software. You'll see a list of all your clients, and each record will have a complete history as well as options for outreach.
This type of app often outshines a traditional CRM because it's directly connected with your phone system. This means that as soon as someone calls you, their record is immediately pulled, and you'll know exactly who the caller is and all of their details.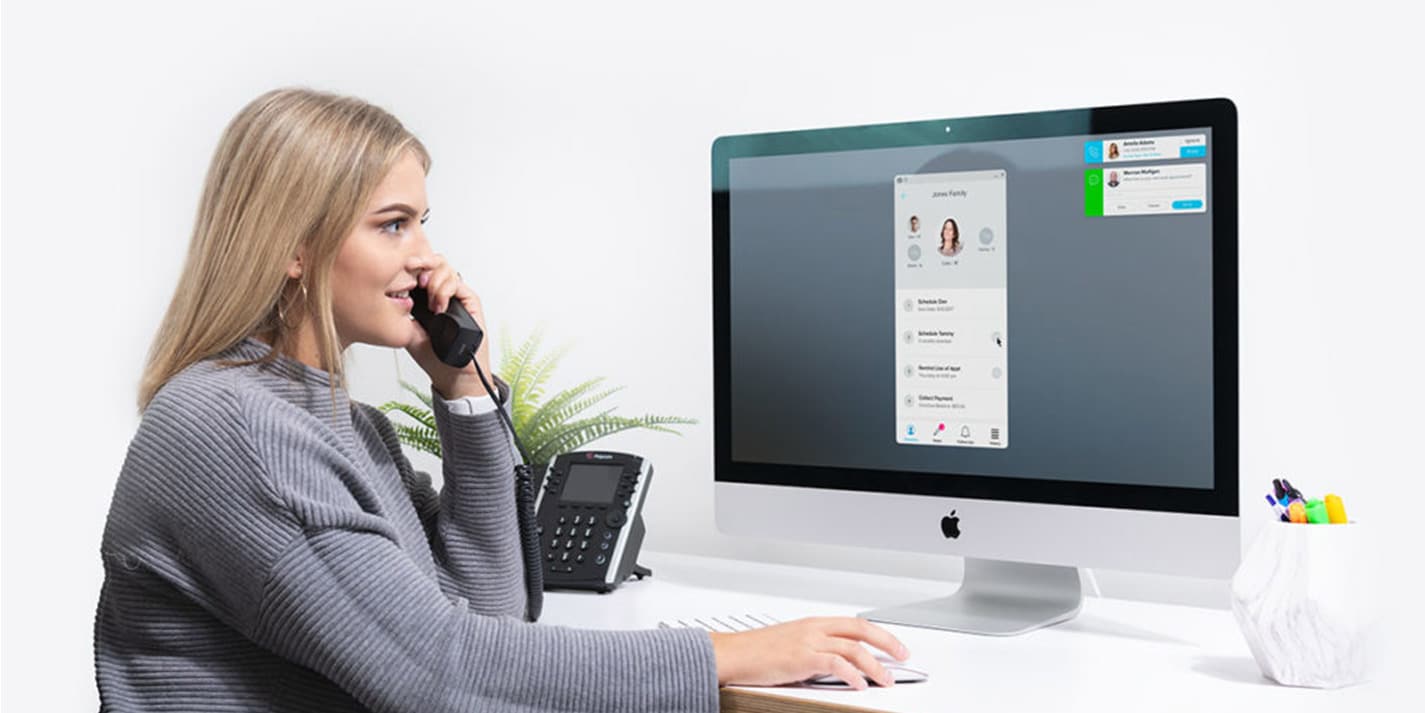 If a client is making an appointment, for example, you won't have to confirm the spelling of their last name, and you can inform them of outstanding balances, family members that are overdue for the appointments, and more. You can even wish them a happy birthday!
The follow-up feature is also valuable because instead of writing tasks and reminders on a sticky note, you can keep every assignment in one place – in the client record! This feature is especially valuable for teams because it eliminates redundancy and allows everyone to be on the same page.
Phone App
With a click of a mouse or the press of a button, you can easily reach out to your clients via a phone call, text, or email. You'll also have a full history of the client, so you'll know all of their details when you're on the call or composing an email.
From the phone app, you'll also be able to view your missed calls and review voicemails. You no longer have to dial a complicated voicemail system or navigate through dozens of old voicemails. Instead, you can view the transcript of the message (or listen to it) directly from your screen.
Reviews
Online reviews are like the 21st-century version of word-of-mouth, and they're vital to the growth of your business. Some VoIP applications now include the ability to collect reviews by sending out automatic or manual invitations to clients to write a review on Google or Facebook.
Depending on your VoIP provider, you'll have a variety of customization options, including scheduling review invitations, as well as editing which review sites you include and the order that they appear.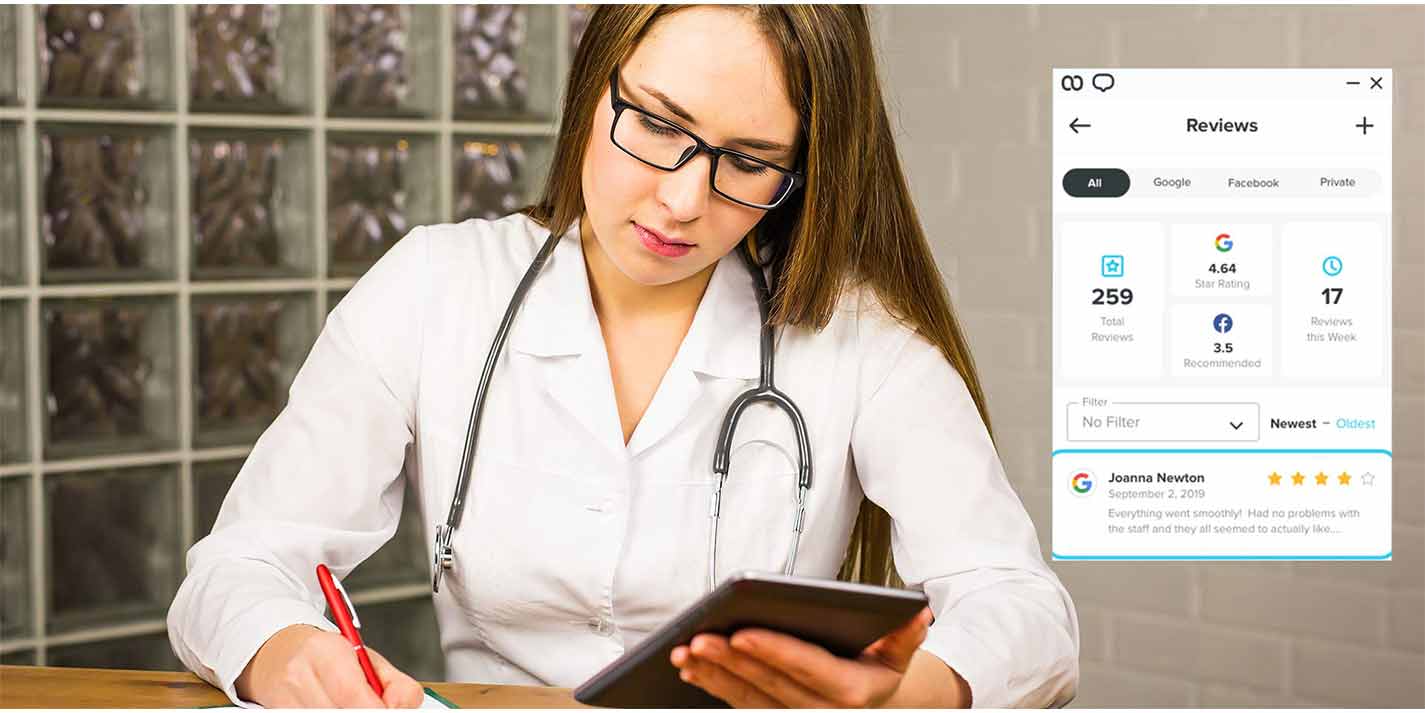 Schedule App
If your business is client-facing, then having access to an editable calendar is a must-have feature. VoIP scheduling apps often have a user-friendly interface that's easy to read and manage.
Many apps include features that allow you to see which appointments have been confirmed. It's also helpful when the calendar connects to your client database so that you can view the full client history on each appointment date. From the calendar, you may also be able to reach out to the client directly, and, of course, that correspondence will sync with your client app.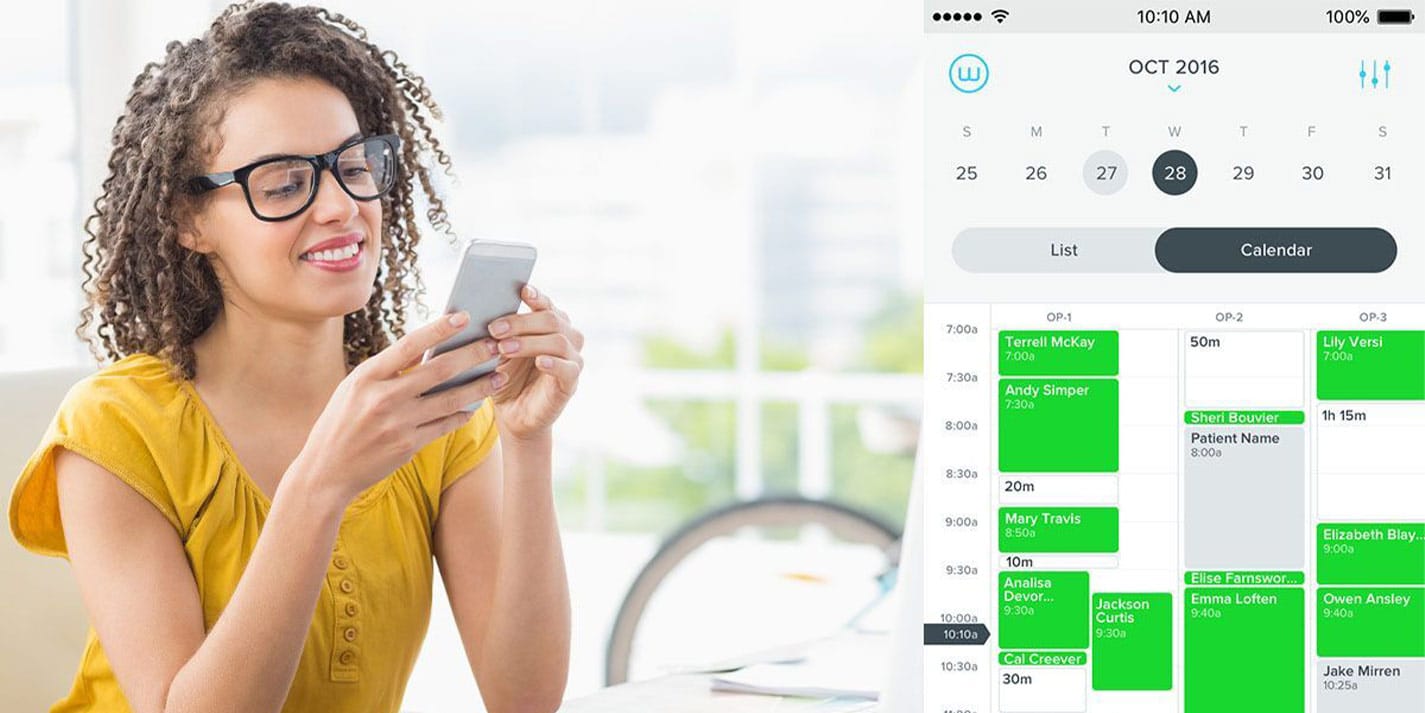 Call Recording
Being able to record your calls is helpful for training purposes as well as tracking client records. For example, if a client claims that you or an employee said something on the phone, you'll be able to immediately confirm whether or not that happened. This feature is also invaluable for training employees and elevating customer service.
It can be time-consuming to listen to calls, but if you have a specific purpose in mind, then you'll be glad to have the recordings!
Team Chat
This app is an internal communication tool that allows teams to take quick action and keep a client's sensitive information confidential. Chat messages can be targeted to specific employees or groups, cutting down on email communication clutter and encouraging immediate action.
Conclusion
Many modern VoIP providers now offer a suite of applications that connect with your business. To learn more about Weave's suite of applications, schedule a demo today.
Resources: