Growth is an area of emphasis for businesses of all sizes. Growth can be either quantitative or qualitative in nature. Some dental offices are looking to open new offices and discover new markets, while others are hoping to stay local and grow by constantly improving their processes and services.
No matter the type of growth you're aiming to achieve within your dental practice, updating your dental practice's phone system can yield important improvements for your organization. Communication technology has changed in significant ways over the last few decades, and those dental practices that fail to utilize these tools are at a major disadvantage.
Innovative phone systems are a meaningful departure from traditional phones because they integrate the various lines of communication in your office's network. Instead of having to bounce between devices in a disjointed manner, your office can bring all its communication together: phones, texting, online reviews, emailing, and even payments combined in one network.
This unity allows dental practices to optimize their administrative process and to provide better care to their patients. By honing your office's efficiency with a modern phone system, you're able to focus more intently on taking care of patients and potentially find new clientele. The up and coming generation of patients is looking for dentists with responsive and up-to-date communication channels.
Before discussing some of the features of an innovative dental phone system, let's consider some of the common communication problems facing growing dental offices today.
1. Maintaining familiarity with patients
Many dental practices start off as small, local offices that take care of a select number of patients. As they grow, these practices can lose their personal relationships with customers, focusing more on the business side of the practice than the customer service component. This lack of connection causes patients to look for other practices.
Keeping clear and accurate records of each patient should be a priority for every dental office. It's also crucial that patient information is readily accessible to administrative staff and not buried in some file folder or outdated piece of software. New dental phone systems connect the personal history of patients with the rest of the network to ensure the whole office understands exactly what each individual patient needs.
2. Encouraging social distancing
Recent events have made it standard practice for dental offices to have to create conditions for proper social distancing. This cultural shift comes from governmental guidelines and regulations, but also from the preference of patients worried about the spread of disease. Requiring masks and providing hand sanitizer are crucial in protecting patients, yet more can be done to ensure their safety.
Waiting rooms have become an area of concern for some dental patients. With more sophisticated phone systems, patients can be given the option to avoid sitting in a waiting room altogether. However, getting rid of conventional waiting rooms is quite difficult without converting to an integrated phone system.
3. Overworking the front desk
Good dentists understand how essential their administrative teams are to their success. Unfortunately, these teams can sometimes get overwhelmed by their workload, especially if they're part of a growing practice. Dentists have the option of hiring additional employees to curb workloads. They also can ease the burden on their team by updating their phone systems.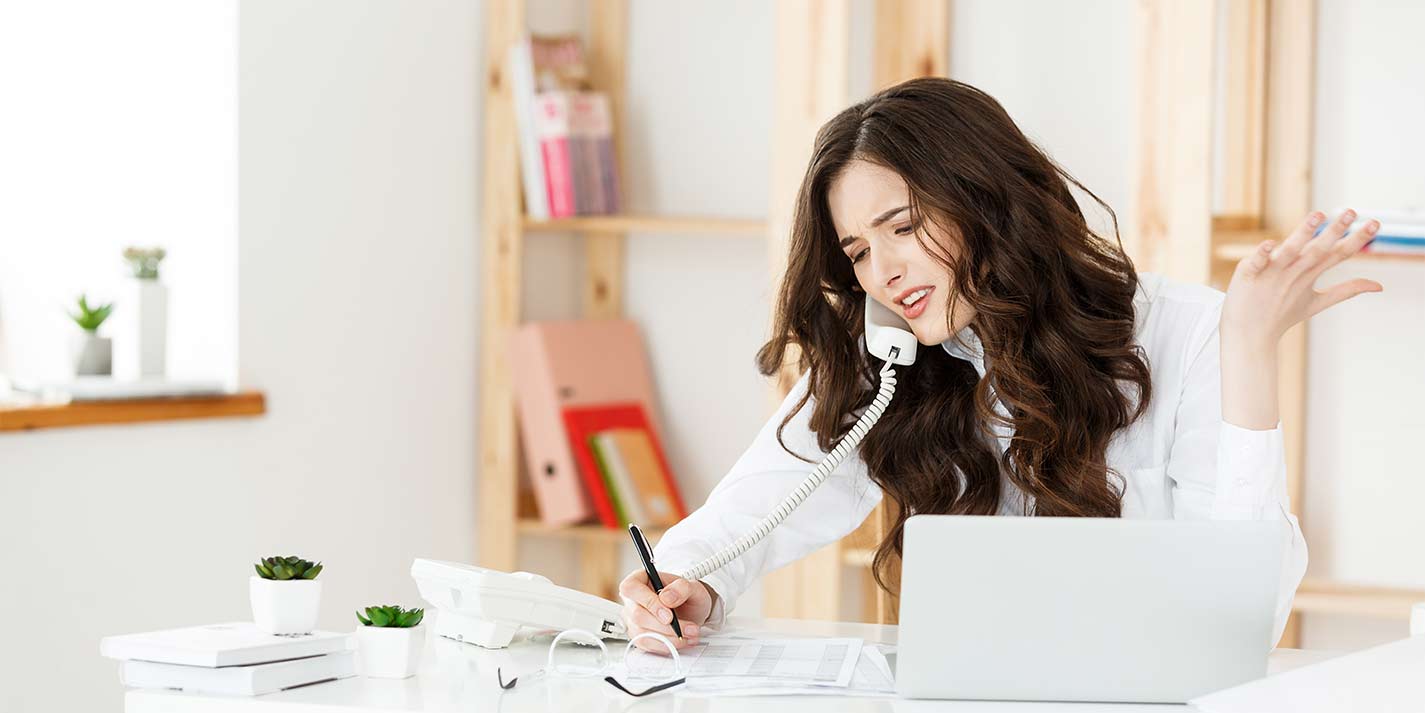 If a dental office is relying on traditional phones, they're asking a lot of their employees. Conventional phones require secretaries to be tethered to their desk almost around the clock, preventing them from taking care of other tasks. Modern phone systems automate a host of communications, freeing your front desk to focus on patients that are already in your office.
4. Finding new patients
A fairly basic need for any dental office attempting to grow and expand is finding new patients. This growth comes from establishing a good reputation in the community through word-of-mouth advertising. Most offices also pay for marketing and advertising in local publications, on signage, and over the airwaves.
These marketing strategies have their place, but it's becoming more common and necessary for dental practices to focus their attention online. Because people spend such a large amount of their time online, creating a strong website and building your online reputation is essential for growth. Modern phone systems are foundational for growing an online presence.


Want to see how Weave can help you?

Weave Helps Streamline Business Communication
"Amazing technology has simplified our patient communication immensely! We are fairly new and can't wait to learn even more Weave features... customer service and tech support is SPOT ON and can't be beat! " - The Eye Station

Schedule Demo
5. Gathering data
In today's business world, there's a premium placed on the collection and analysis of data. For small dental practices, the move toward data may still seem like a distant reality. Data analysis sometimes sounds like an endeavor for huge governmental agencies or multi-national corporations, rather than a tool for expanding a small business.
However, dental phone systems are now capable of gathering insightful data regarding your call history, patient scheduling, and upcoming treatments. Without an integrated communication network, this type of data simply isn't available. Adding an analytical component to your dental practice is a critical part of identifying data-driven opportunities for growth.
The Features of an Innovative Phone System
Now that we've identified some of the reasons for upgrading to an integrated dental phone system, it's time to consider how specific features within a modern communication network lead directly to practice growth.
Customer Insights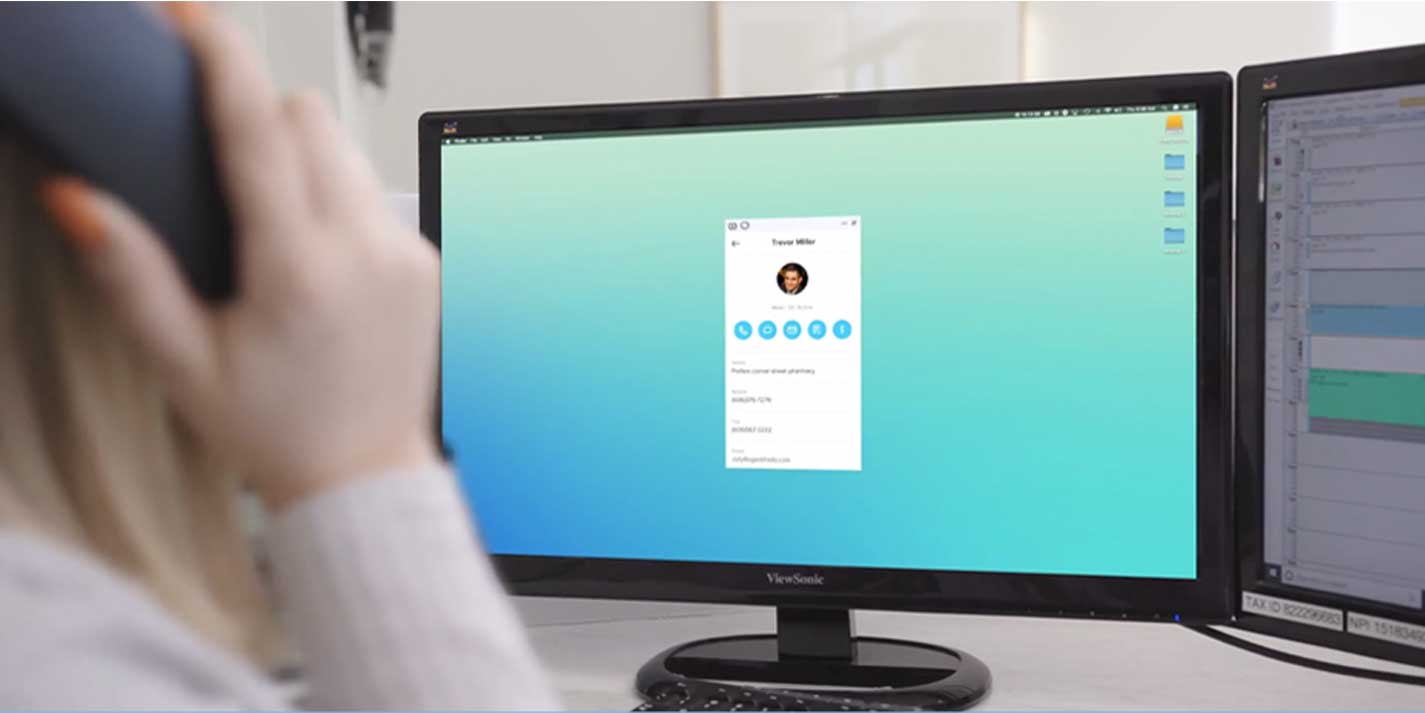 With an updated dental phone system, the personal history of each caller populates on your computer screen immediately upon answering a call. This history includes names, profile pictures, birthdates, family members, upcoming appointments, and outstanding balances. There's also a place for the notes secretaries and practitioners have jotted down during recent visits or calls.
No matter who is speaking to a patient, they're able to view the caller's history with your practice and show dedication to their specific dental needs. This way, your practice keeps up with individual patients even as it's opening new locations and adding clients. It also allows administrators to remember to take care of as many tasks with patients as required in a single call.
Messages
Texting is becoming a fundamental of dental practice communication due to its popularity with many patients. Having a phone system that's linked with a text messaging service opens up new lines of communication that save time for administrative teams and provide customers with alternative methods of talking with the front desk.
When administrative teams are tied up with phone calls and aren't able to respond to patients, dental phone systems are able to send automatic missed call texts to them. These messages allow dialogue to take place by text, which is often more convenient for secretaries, who can go between text conversations at their own pace. There's even sentiment analysis in the phone system that's able to interpret patient responses, from colloquial language to emojis.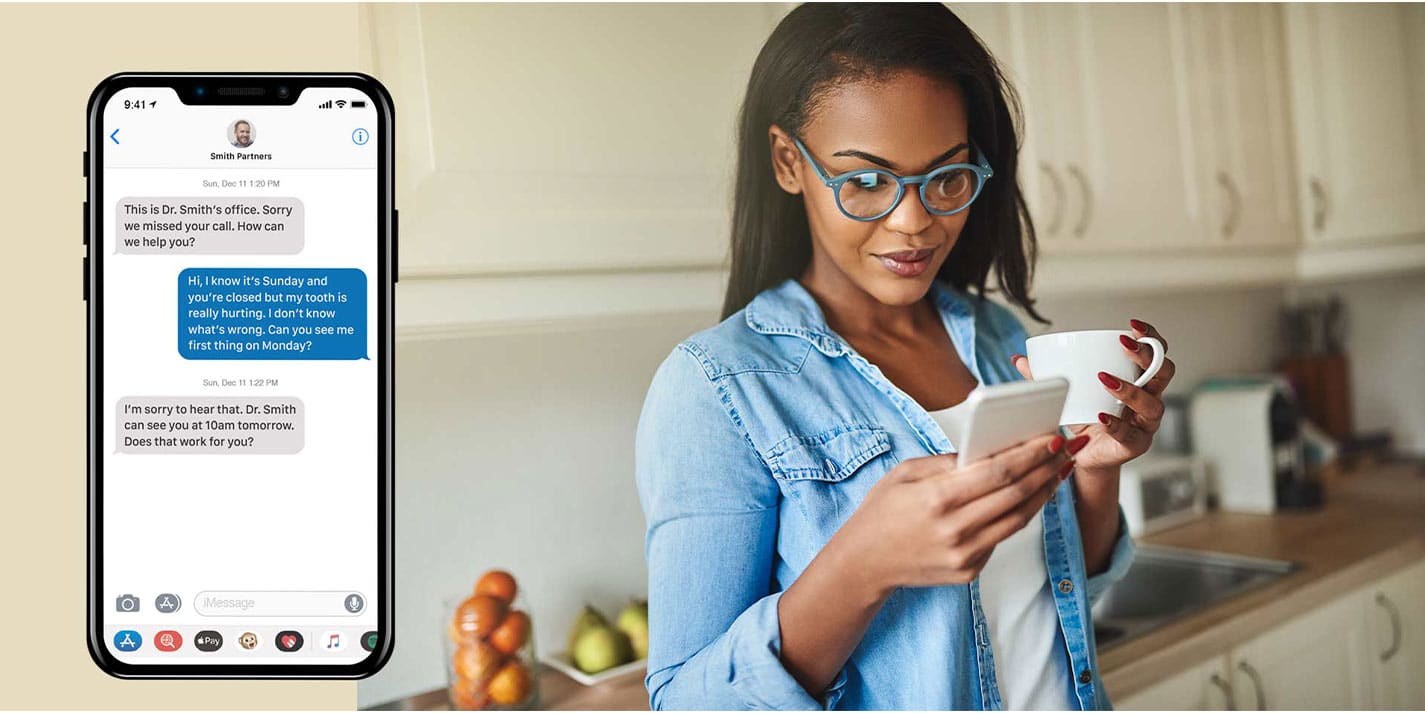 Text messaging is also being used to establish virtual or digital waiting rooms. Secretaries can encourage customers to text them upon arrival in the parking lot to avoid having to sit in the waiting room. Once the team is ready to receive a patient, the front desk can text them and bring them directly back to see a hygienist or dental assistant.
Scheduling
As previously mentioned, administrative staff have a lot on their plates. They're responsible for setting up appointments, sending out reminders and confirmations, and filling cancelled spots at the last minute. Instead of spending hours on the phone to handle these responsibilities, it's best practice to allow phone system software to relieve your team of these necessary but tedious tasks.
Scheduling software makes it possible to automate these processes and distribute reminders and confirmations in advance through texting.
Quick Fill features send out text blasts to patients who might be willing to visit your office in the event of cancellations. Modern dental phone systems aren't simply about improving the caller experience; they also reduce the amount of calls your office takes.
Review Requests
Innovative dental phone systems also incorporate your online strategy into the network. Because it's imperative to stockpile reviews on sites like Google and Facebook, dental practices should be trying to collect as many positive reviews as possible. Through an advanced phone system, practices can text patients after their appointments and ask for these reviews.
Review requests provide patients with a link to popular review sites. With a few clicks, their reviews are registered on the site and go toward building online credibility. Dental phone systems let practices automate the distribution of these review requests, which improves efficiency and systematizes part of their online strategy.
Analytics
Data collection and analysis are increasingly becoming an option for even the smallest of dental practices. The right dental phone system includes software designed to gather data and make it accessible to administrators and practitioners. It indicates room for improvement in how calls are handled, how the schedule is filled, and which patients are due for appointments.
Call Analytics identifies busy call times and lets dentists know that staffing needs to be increased around those times.
Learn about Weave's dental phone system
If your dental practice intends to grow, by adding new offices and patients or simply optimizing its customer service and communication network, Weave's phone system is a great place to start. It brings together your various lines of communication and provides customer insights, two-way texting, automated scheduling, review requests, and analytics software. These features allow you and your team to focus more on essential dental services and administrative tasks.
To discover more about Weave's innovative system, contact us today for a free demo.