At Weave, our goal is to serve as your business's complete toolbox. We initially focused all our energy on using both hardware and software solutions to integrate communication networks. Over time, however, we realized that there were opportunities to expand into bringing greater efficiency to all aspects of the customer experience.
Why Focus on Payments?
Billing and payment processing are vital to the success of your business. They're also an important factor in customer satisfaction. We set out to design a platform meant to make payments simple, convenient, and secure for you, your staff, and your customers.
Working with traditional merchant processors as a small business is often a confusing and complex process. They have lengthy contracts, complicated compliance issues, and multiple processing fees depending on the card brand, card type, or payment method.¹ Navigating the complicated world of merchant service providers is made even more difficult by the amount of time office staff typically spend each month on billing, creating invoices, mailing them, and doing collection calls.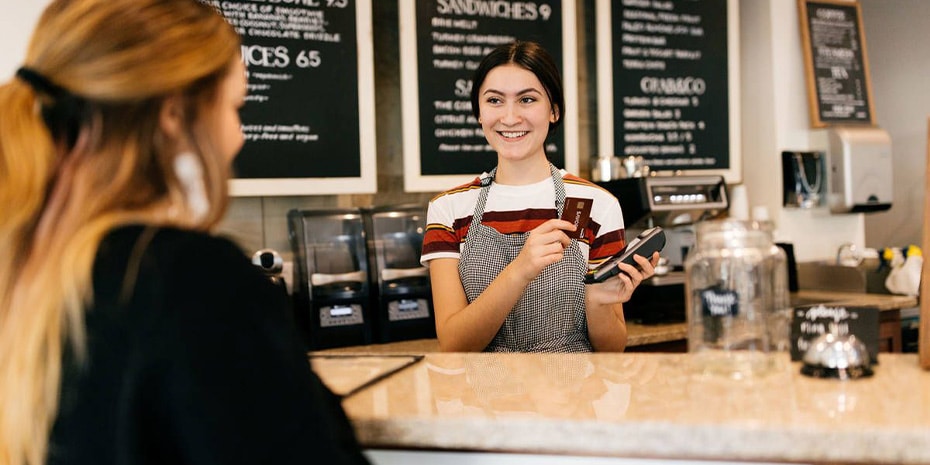 After making these observations and listening to the experiences of our customers, we started to investigate the data and statistics that have been gathered on payment processing. Here is some of what we found out:
Patient check-outs and daily financial reports are done much more quickly when businesses use a payment processor with a comprehensive dashboard. Instead of waiting until the end of each month to review your processing statements, businesses can benefit from up-to-the-minute data on their outstanding and completed payments.
One in three Americans think their healthcare providers can improve the billing process according to a 2019 U.S. Healthcare Consumer Experience Study. In fact, billing issues are often the reason why patients don't pay their medical bills.
According to the 2015 HCAHPS (Hospital Consumer Assessment of Healthcare Providers and Systems) survey results, patient satisfaction ratings fall by an average of more than 30% due to the post-discharge billing process, even if the rest of their experience was positive. Negative payment experiences significantly impact overall impressions of healthcare organizations.
The same HCAHPS survey indicated that patients who are happy with billing are five times more likely to recommend a provider. When billing is clear, patients are satisfied.
Why Offices Can't Survive Without Weave Payments
Once offices switch to Weave Payments, they wonder how they ever survived without it. Below is an exploration of the main reasons why Weave Payments is essential to the survival and flourishing of your business.
Simplicity: Your One-Stop Shop
Weave Payments is a full payment processing solution bundled into one seamless experience with Weave's powerful business toolbox. This new feature syncs perfectly with Weave's other functions and is automatically included for free. This level of uniformity simplifies work for administrative staff by harmonizing the entire payment experience for customers and staff alike.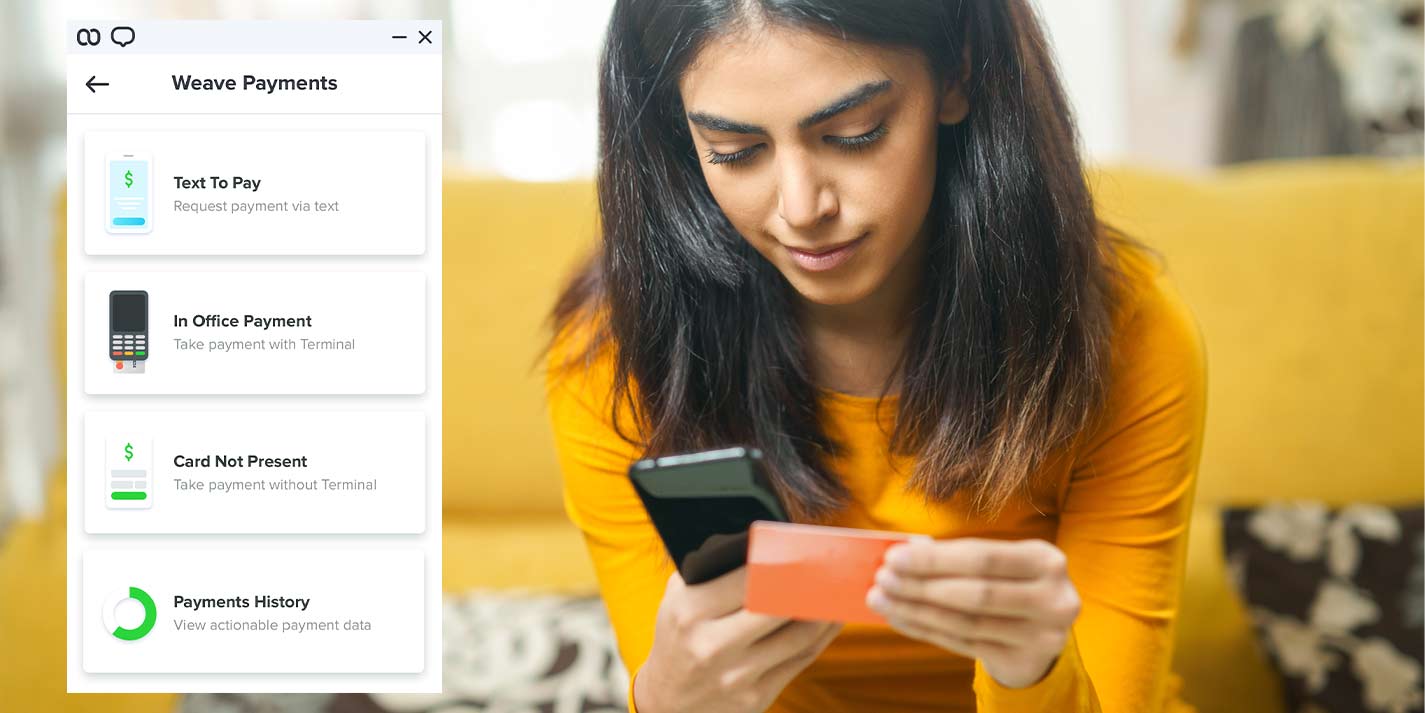 Weave Payments helps businesses save money by offering them one flat rate and processing cost for ALL transactions, no matter the card brand, card type, or payment method.¹ We also cut out a lot of the complexity by not charging upfront, recurring, or hidden fees. By simplifying our pricing we're often able to meet or beat your current overall processing rates.
Convenience: Easy-to-Use Processing
A second benefit of Weave Payments is the ability to collect more payments with less time, effort, and hassle. Our platform gives your customers the option to pay using debit, credit, HSA/FSA, prepaid, and rewards cards. On top of that, we accept all major credit card brands and types, as well as most major mobile wallets, such as Apple Pay, Google Pay, and Microsoft Pay. And our platform allows your customers to pay the way they want, whether they pay with a swipe, a chip, or a tap.
Office staff members are particularly fond of the Text To Pay option. In a time when concerns about public health and COVID-19 abound, Text To Pay offers business owners an easy and convenient method for continuing to manage payments even when customers are miles away.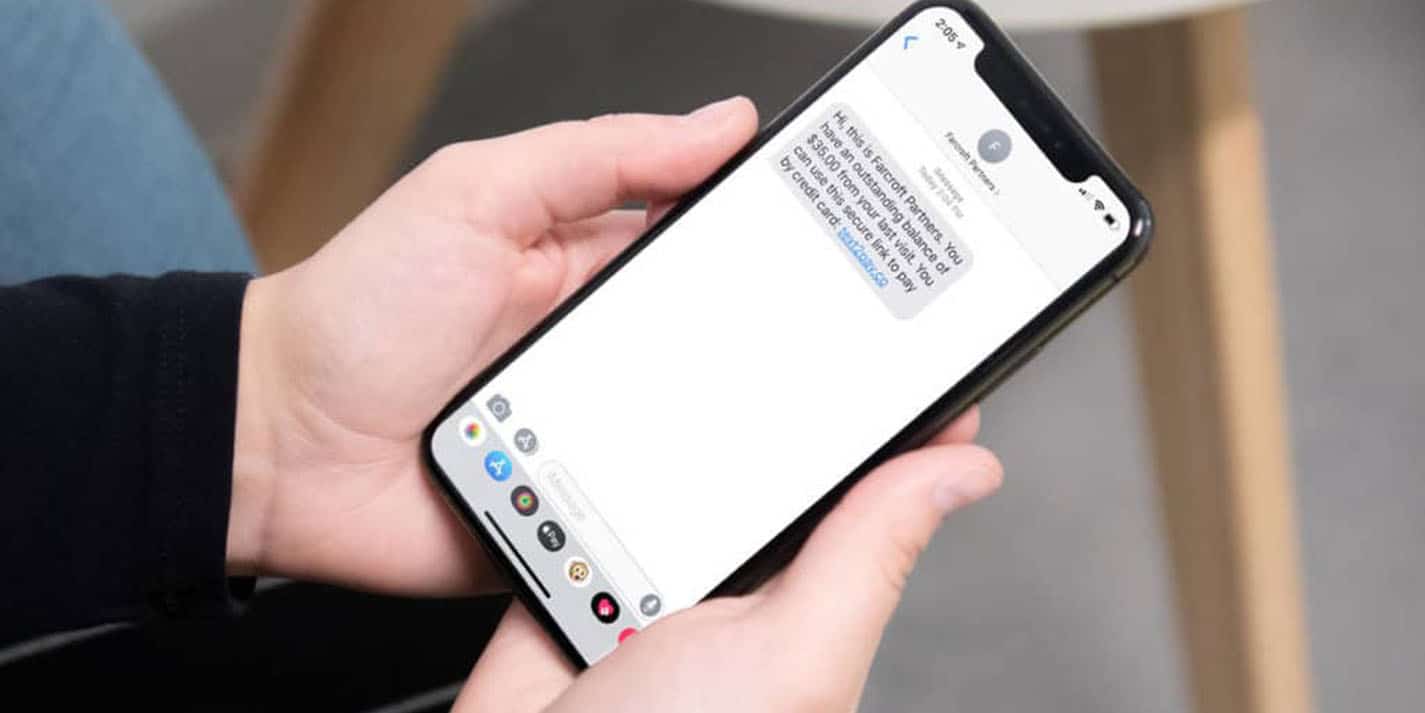 These texts and payment requests can be customized with your billing information, company name, and even your logo. We also give you the ability to personalize messages to customers using pre-filled message templates and shortcodes.
Security: Total Transparency
When it comes to payments and financial data, security is our priority. That's why we partnered with Stripe, one of the best and safest platforms for running and managing payment processing.
Our platform lets you view, monitor, and manage any customer's billing history, including unpaid, paid, canceled, and recorded invoices. When they're charged, encrypted card data passes through Weave's system and onto Stripe, which has the highest level of PCI certification.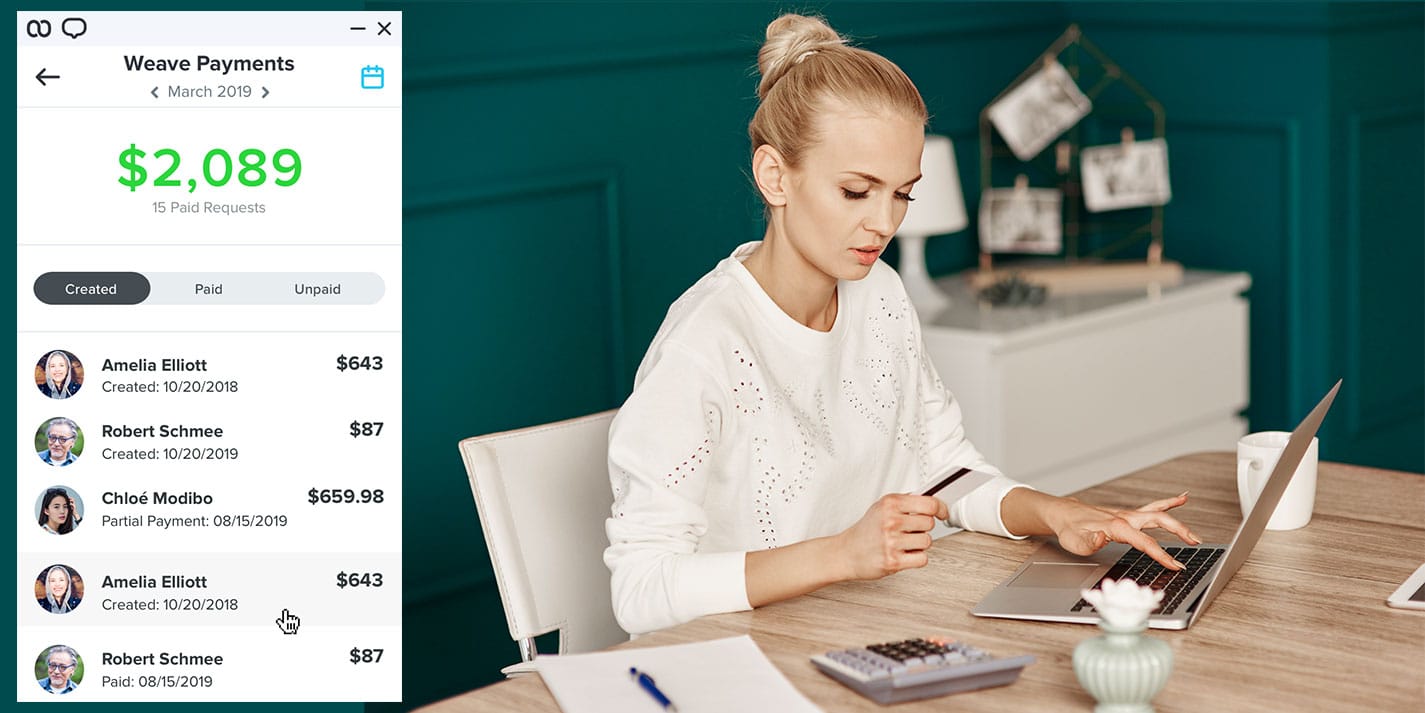 Get Weave Payments Today
Our primary objective at Weave is to give your business all the tools it needs to succeed. If you're a current customer, you've seen how our unique approach to business solutions improves and optimizes the way your business functions. If you're hearing about us for the first time, we invite you to learn about our combination of hardware and software solutions.
Weave Payments is our latest addition to your business toolbox. We recognized the inefficiencies involved in payment processing and created a full payment processing solution that's simple, convenient, and secure.
Contact us today to see why Weave Payments is essential to your office's success.