The ideal for most veterinarians would be something out of Dr. Doolittle: talking with the animals. While vets and their staff usually have an uncanny ability to understand and even communicate with the animals they serve on a daily basis, they still have to coordinate their visits with human owners. And humans, like it or not, are verbal creatures.
Because they make their living on payments from pet owners, veterinarians have to perform the juggling act of emphasizing their love and knowledge of animals with the social skills and business practices that are valued by consumers, especially pet owners. Even if they are equally adept at dealing with the wants and needs of pet owners, veterinarians will often fail to garner consistent business without effective solutions.
Luckily, business solutions are developing to help vets meet the particular demands of pet owners. Since pet owners are often harder to reach due to their dedication to their animals, it's important for veterinary offices to utilize modern communication tools to connect with them. These tools are most effective when they're integrated.
Unified communication solutions bring together all of your organization's outreaches: phone calls, databases, text messages, scheduling, and even online marketing. With your vet clinic's phone system as its foundation, integrated communication makes it easy to speak with pet owners in order to ensure that animals get the care they deserve.
This post breaks down some of the primary issues associated with contacting pet owners, then explains how advanced communications resolve these issues.
Obstacles to Connecting with Pet Owners
Disjointed lines of communication
All veterinary clinics have specific ways of communicating with pet owners. Some only rely on phones, while others have implemented texting services and emailing. As newer, alternative forms of communication are added to your practice, however, information can often slip through the cracks because these approaches aren't unified.
So, when an owner sends a text to a vet about scheduling an upcoming appointment, this request doesn't always make it to the secretary for an appointment. Or, if someone calls the clinic in an emergency situation and the office is closed, vets aren't always notified. Bringing communication into one, unified network is key for ensuring that pet owners and vets are connected.
Missing important pet details
Maintaining the personal history of pets can be more challenging than keeping a medical record of human patients. Because they're non-verbal, animals' history of ailments and individual preferences aren't out in the open. Some owners are great about remembering what's happened to their animals in the past, while others care but don't keep a detailed record of their pet's sicknesses and traumas.
Regardless, owners are disappointed when vets and their staff fail to remember their animals' particular needs, let alone their names or breeds. A digital record of animals that's readily available keeps veterinary clinics connected with pets and their owners. These insights can be synced with a modern phone system for optimal use.


Want Weave to help you reach pet owners faster?
Weave Helps Streamline Business Communication
"Amazing technology has simplified our patient communication immensely! We are fairly new and can't wait to learn even more Weave features... customer service and tech support is SPOT ON and can't be beat! " - Weave Customer

Schedule Demo
The busy lives of pet owners
Most people have busy lives and schedules, but pet owners have an added layer of busyness due to their devotion to their animals. When they finish work, they're often out walking their dogs or taking care of their horses. They often don't have time to chat on the phone and sometimes forget to check their voicemails.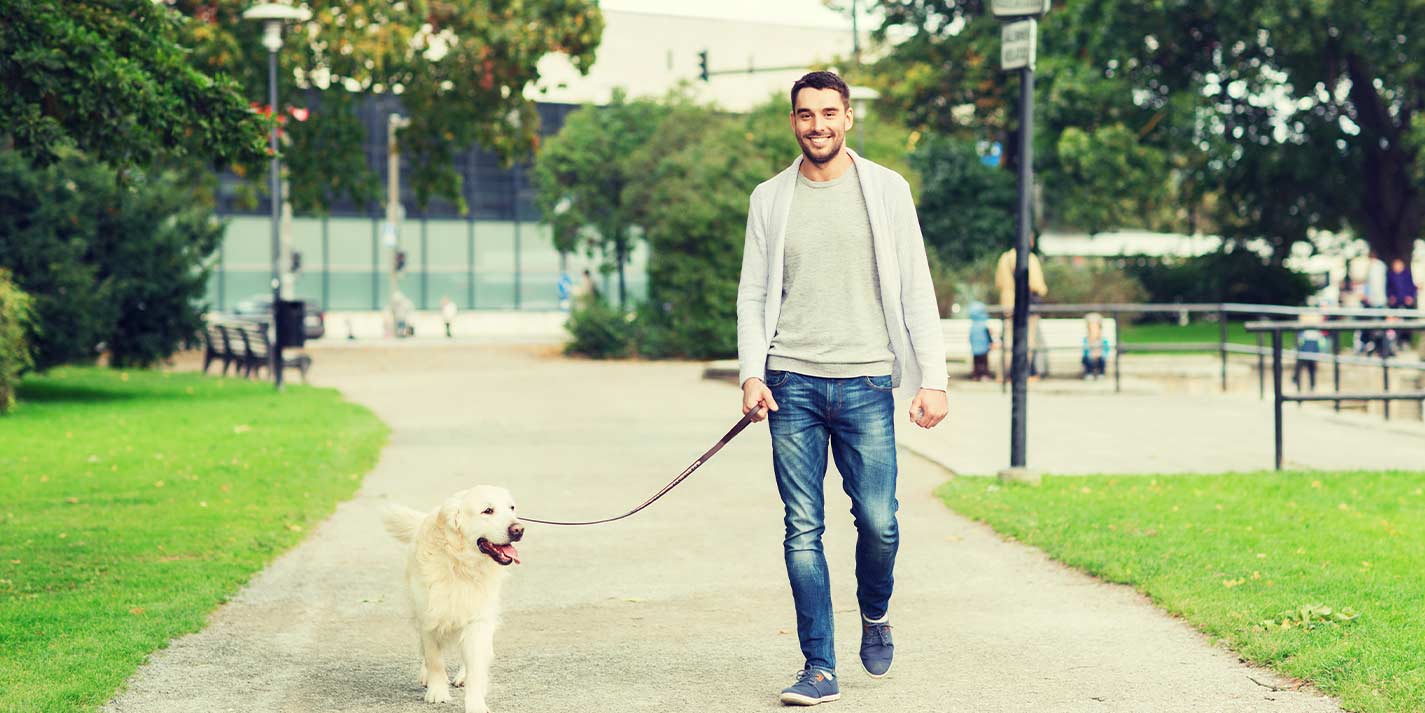 Although texting isn't as direct a form of communication as calling, it gives pet owners more freedom to respond at their own pace. Because of smartphones, pet owners are often taking advantage of technology to photograph or record their animals. This means that even if you can't get through with a call, they're likely to see a text the next time they get ready to post a picture of their favorite animal on Instagram or Snapchat.
Frequent cancellations and schedule changes
Pet owners are also prone to cancel their appointments or want to reschedule. Their busy lives unfortunately prevent them from getting to appointments on occasion. In the event of schedule changes, administrative teams in vet clinics are forced to find other pets to fill the schedule.
With all that's going on in the waiting room of a veterinarian's office, managing to fill a schedule at the last minute can be pretty chaotic. Secretaries and administrators are often tied up with maintaining a clean and orderly waiting area and helping comfort animals that are upset about having to visit the clinic. Automated scheduling software that's combined with phones and texting services save them on time and stress.
Getting feedback from pet owners
After appointments, pet owners are unlikely to want to discuss the quality of the service or provide testimonials to the clinic. That's unfortunate, because today's marketing strategies are centered on getting reviews from real customers and posting them on prominent review sites. There needs to be an alternative to having pet owners write their reviews down on paper after an appointment.
In addition, having administrators post reviews to online sites is another distraction from their other important duties. If pet owners are given links to review sites and really believe in the service your clinic is providing, it's a much more efficient approach to send them review requests by text. Again, with an advanced phone system, these review requests can be both automated and monitored using business software.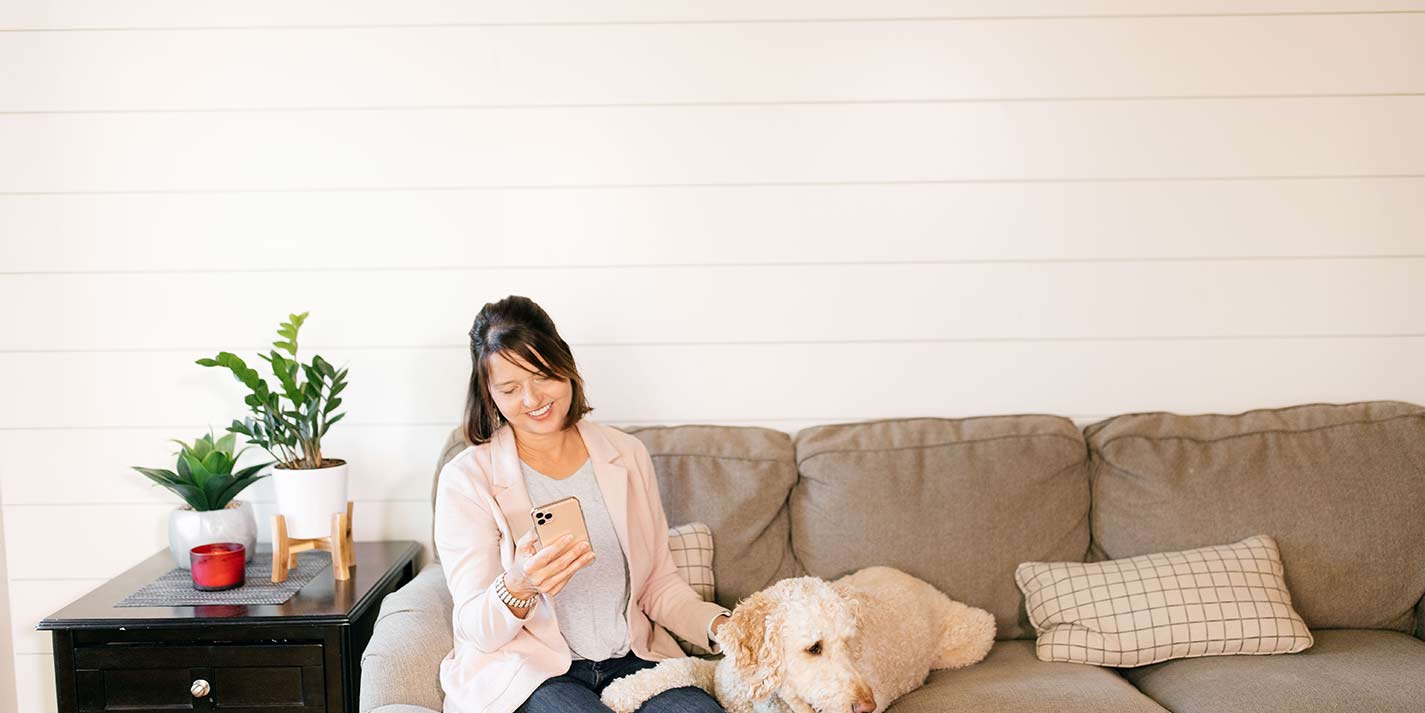 Solutions for Connecting with Pet Owners
VoIP Phone Systems
A VoIP phone system is one which uses the internet rather than traditional landlines. This type of phone system is the foundation for modern business communication. Without connecting your phones to the internet, it's virtually impossible to unify it with other lines of communication.
The first step for improving your clinic's connection with pet owners is adopting VoIP phones. Once you have this system in place, you're ready to link it with all the other ways you converse with pet owners. Your practice will also be able to diversify how employees connect with pet owners by allowing them to work remotely.
Customer Insights
Your office almost certainly has detailed records of each pet owner it supports, whether these records are digital or analog. The problem for many offices is that these records aren't easy to access when a pet owner calls. Linking pet owner profiles to your VoIP system allows you and your administrative team to have a description of a pet owner's history on hand as soon as a client contacts your clinic.
These profiles are connected to phones so that they populate on your computer screen upon receiving a call. You can easily scroll through a pet owner's history, including names, birthdays, and other notes, or check upcoming appointments, outstanding balances, and specific requests by their owners. This level of detail helps owners feel that they and their animals are safe in your hands.
Text Messages
Though many veterinary clinics have started to text with their customers, their messages aren't always connected with their phone system. This scenario puts secretaries and administrators at a disadvantage when they have to jump between devices to keep the practice running. Implementing a unified phone system lets clinics keep track of their calls and texts from one place.
If your office is too busy to answer a call, pet owners receive a missed call text notifying them that your clinic will be in contact with them shortly. These missed call texts open up an opportunity for a two-way text conversation. This way, office staff and pet owners can enter a dialogue that allows them to respond at their own pace.
Automated Scheduling
Manual calling and texting have their limits. Missed call texts are a precautionary measure for when your clinic is swamped with calls. It's even better to cut down on this call volume in advance by automating your scheduling.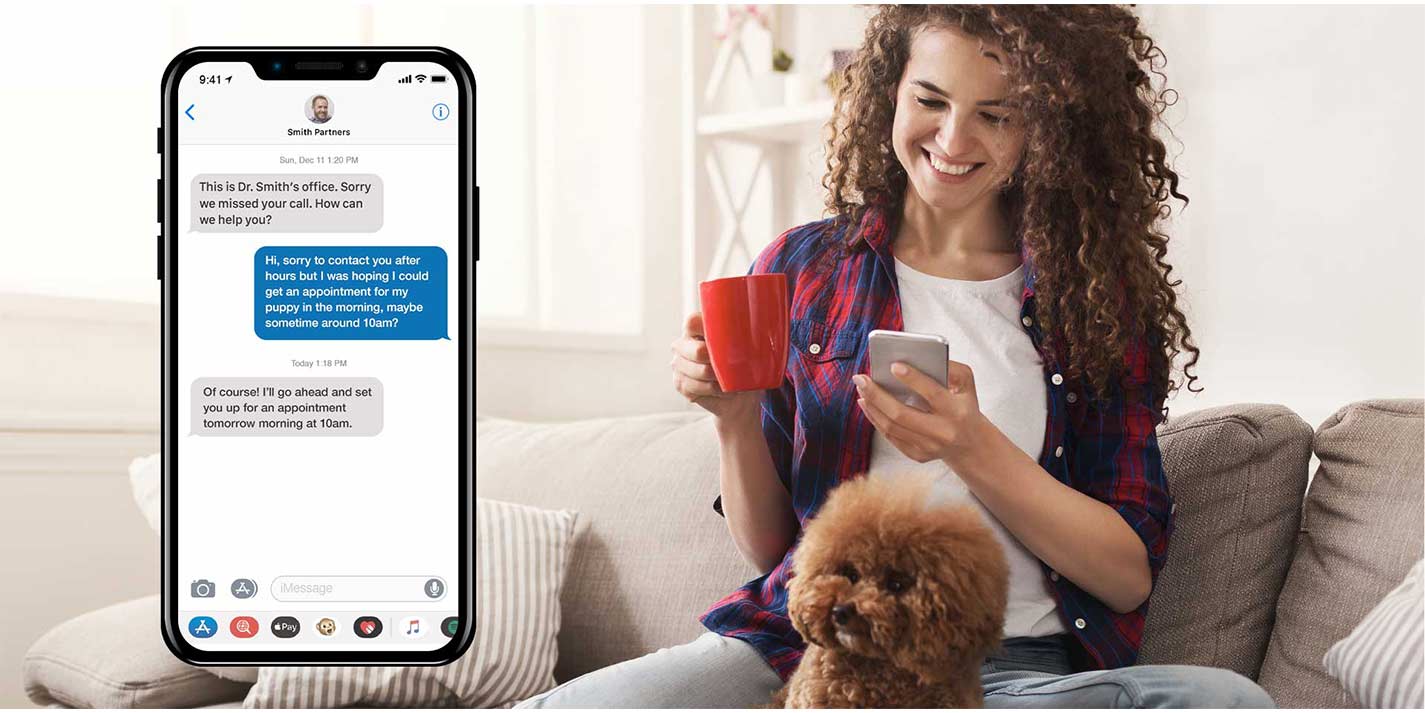 With the right scheduling software, your clinic's front desk can schedule appointment reminders and confirmations to go out to pet owners automatically. They then can answer pet owner's questions on a case-by-case basis, or wait for notifications from sentimental analysis that interprets owner responses. There's also a feature that lets secretaries send out text blasts when they get last minute cancellations from pet owners.
Online Reviews
Just like scheduling notifications can be automated, review requests can be too. Software that's coupled with a VoIP phone system allows you to distribute review requests after every appointment. Pet owners don't have to stop in the waiting room to provide their reviews; they can type something up in the parking lot or simply wait until they get home.
Once pet owners have posted their reviews on prominent review sites like Google and Facebook, vet clinics can view these new reviews through a user-friendly interface. Connecting online reviews with your phone system opens up opportunities for organic marketing campaigns.
Weave's Veterinary Phone System
In order to better connect pet owners with veterinarians, Weave has designed a complete business toolbox for vet clinics. Among the features are all of the above solutions for improving your clinic's communication with pet owners. Switching your office's communication network to Weave's phone system will change the way you connect with pet owners, not to mention how frequently and consistently you're able to help and serve their pets.
Contact Weave today for a free demo of the connectivity that's possible with our phone system.