Recent events have incentivized healthcare practices to promote social distancing in their offices. As providers attempt to institute social distancing in the new normal, it's important that they minimize unnecessary human contact while maintaining effective communication. It's also critical that they create a personal touch in their communication despite reduced in-person contact with patients.
Payments aren't an exception to social distancing. Practices that aim to minimize human contact with their payment processing are better situated to thrive in the new normal. Social distancing your payments is possible through effective communication tools, such as text payments. These payment options allow businesses to keep a personal touch with their clientele base.
Weave commissioned an independent survey recently to determine how healthcare providers and patients are responding to the COVID-19 pandemic and the social distancing measures that have become commonplace because of it. The study asked 750 healthcare professionals and clients about a number of topics, including payment processing.
This blog post discusses the do's and don'ts of payment processing in the new normal. You'll see from the statistics gathered in the survey that by optimizing your current payment processing system, you'll be able to protect your employees and patients and attract new customers in the future.
The Do's of Payment Options When Physical Distancing
1. Make your clients feel safe
For many patients, the need to socially distance has become standard practice in the last few months. People are rightfully concerned about protecting their health. This concern affects their approach to payment processing.
64% of the clients interviewed in the study commissioned by Weave said they feel safer using contactless payments. Contactless payments are methods for payment processing that alleviate employees and customers of the need to make a physical transaction. Traditional payments involve handing over cash, writing checks, and swiping credit cards. Contactless payments, like Text to Pay and mobile wallets, lessen the chance of community spread.
2. Transition to contactless payments
Contactless payments have grown in popularity over the last few years, and the COVID-19 outbreak has made these payment options even more relevant. Mobile wallets, provided by companies like Apple, Google, Microsoft, and Samsung, let customers avoid touching potentially contaminated payment terminals. Text payment options make it possible for customers to get around going to the front desk for payments altogether. In fact, your patient can pay from the safety of their home via a text link sent to them by your office.
67% of the healthcare practices in our survey indicated they want to transition to contactless payments. Providers are realizing that contactless payments not only keep employees and customers socially distanced, they also free up time for office staff to focus on more essential tasks.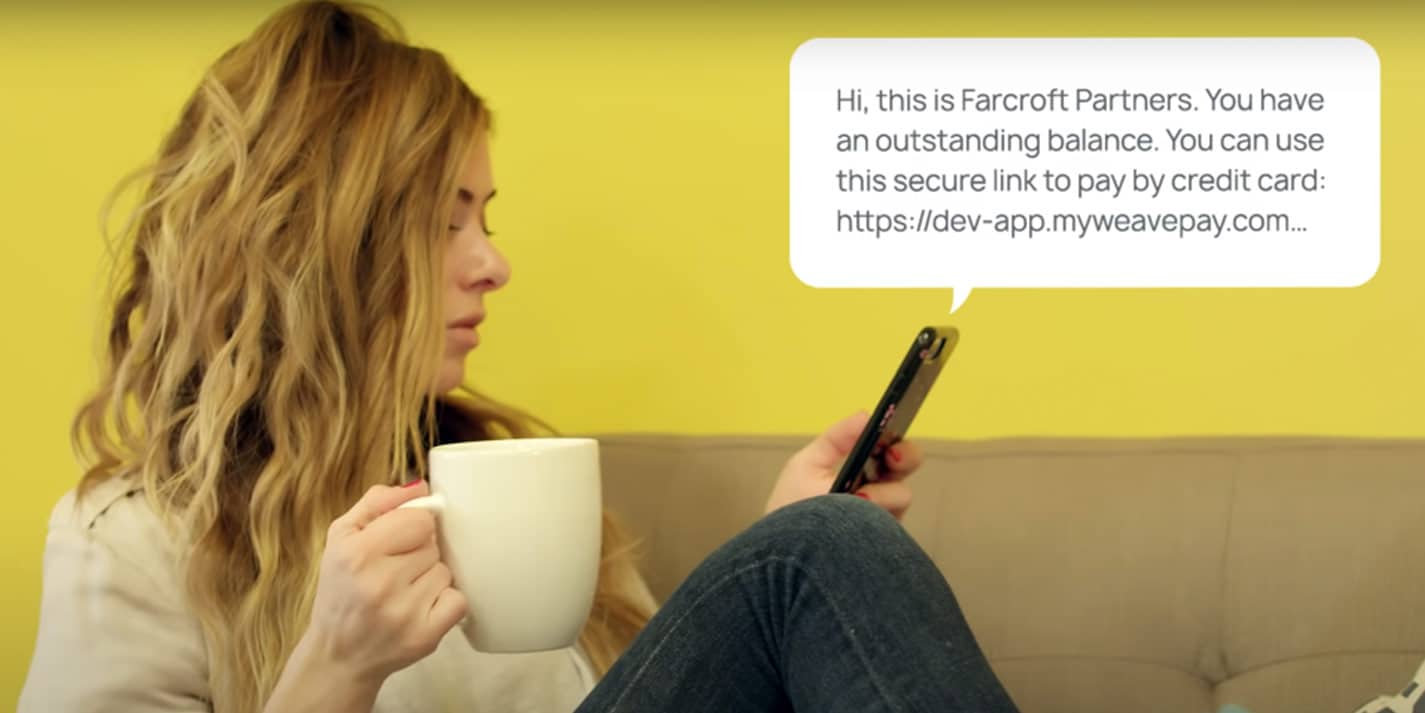 3. Optimize your text outreach
Texting has proven to be a great way to encourage social distancing. Clients can wait in their cars before appointments and check in by text. Employees can text patients about upcoming appointments instead of going through a huge call list. Texting can also be used to safely collect customer payments.
Unfortunately, only 19% of the healthcare professionals we interviewed felt like they were using texting to its fullest potential. Texting is preferred by the younger generation of patients, and implementing a robust text outreach is preparatory work for the future of customer communication. Text to Pay is an extension and benefit of a fully realized text outreach.


See how Weave's Contactless Payments can help you
Weave Helps Streamline Business Communication
"The patient caller ID is wonderful, text-to-pay is life-changing, and the customer care we have received is phenomenal. Our patients love the two-way texting as much as we do! " - Emily Lott

Schedule Demo
4. Gain a competitive advantage
Adding payment options to your business allows you to properly socially distance while making your practice more viable in today's marketplace. 70% of the healthcare practices interviewed in our study said contactless payments are a competitive advantage.
Contactless payments are a competitive advantage for providers for a number of reasons. They appeal to the preferences of younger clients and those looking to protect themselves through social distancing. They also strengthen your text outreach, which builds rapport through engagement, increases office efficiency, and makes your services more marketable.
5. Improve the patient experience
The high-growth practices in the study were 40% more likely than low-growth practices to say that Text to Pay improves the patient experience. High-growth practices are typically more in-tune with market trends and technological developments. They're also more interested in attracting new customers by optimizing their current systems.
This article has referenced Text to Pay a few times already. Text to Pay is a contactless payment feature within Weave Payments that lets healthcare practices text customers after appointments to collect payments. The text can be customized and includes a link to payment sites for payment processing.
Text to Pay is a do for any healthcare practice looking to promote social distancing with contactless payments.
The Don'ts of Payment Options When Physical Distancing
1. Don't use credit cards if possible
Credit card processing often involves a lot of touching and handling, and frequently violates social distancing measures. Whether patients or employees are swiping or inserting credit cards in a payment terminal, they're likely exposing themselves to germs from other terminal users.
Getting a credit card on file and sending a payment request by text gets rid of the traditional stop at your front desk after appointments. 68% of the patients interviewed in the survey said they prefer contactless payments to credit cards. Credit card processing isn't going away any time soon, but transitioning to more contactless payments is a step toward better physical distancing and customer satisfaction.
2. Don't expose your patients to unhygienic surfaces
Some businesses have been incredibly diligent about wiping down surfaces during the pandemic. They ask their employees to clean terminals after each use, decreasing the risk of community spread. However, this meticulous approach to hygiene isn't foolproof.
68% of the patients in the study said it's more hygienic to use contactless payments than credit cards. Mobile wallets let customers avoid touching payment portals by scanning. Text to Pay gets rid of in-person payments by allowing patients to simply pay from the parking lot or the comfort of their own home.
3. Don't take risks with payments
43% of the patients we surveyed said they consider touching a payment portal to be risky. Going out into public and especially into a doctor's office is inherently risky during a pandemic. Customers weigh out this reality each time they step into your office. The job of healthcare providers is to eliminate unnecessary risk.
Traditional payment methods like cash, checks, and credit cards are riskier than contactless payments. While some patients will want to continue paying with conventional methods, healthcare practices can minimize the risk of contagion in their office by adopting and promoting contactless payments.
4. Don't neglect social distancing
As concern about the COVID-19 pandemic ebbs and flows, some practices may begin to get casual with their social distancing. Patients do it, too. It's crucial that providers encourage their clients to continue to social distance with the threat of a second wave looming on the horizon.
73% of the practices in the independent study said contactless payments support social distancing. Although adding mobile wallets to your merchant services prevents clients from having to touch payment portals, they still require customers to visit a terminal before leaving your office. Text to Pay lets customers walk straight out the door and pay from another location.
5. Don't ignore the demand for contactless payments
Contactless payments have been around for a while now, but COVID-19 has brought them to the attention of healthcare practices hoping to optimize their payment processing and merchant services. In fact, 71% of healthcare professionals say the demand for contactless payments has increased due to COVID-19. Those offices that want to meet this demand should consider Weave Payments.
Physical Distancing with Weave Payments
Weave Payments is a complete payment platform that allows healthcare providers to minimize human contact with contactless payments. It achieves this social distance by relying on effective communication lines, such as texting. Text to Pay is a key feature within the Payments tool that lets healthcare practices send personalized payment requests to patients after appointments, protecting both employees and clients from disease transmission.
Payment processing is quick and easy with Weave Payments. There are no upfront or monthly fees associated with our digital payments and terminal, just a competitive, one-time processing fee for each transaction. Payments includes a terminal for secure point-of-sale transactions.
Weave Payments simplifies every aspect of merchant services by unifying all your payment processing. Credit card processing, though less ideal during a pandemic than contactless payments, can still occur. Our Payments tool accepts Visa, AmericanExpress, Discover, and MasterCard.
We encourage healthcare providers to optimize their payment platform by adopting Weave Payments. The contactless payment options like Text to Pay offer a competitive advantage in the new normal. Even though customers won't be stopping by the front desk after appointments, these payment requests can be personalized with text templates in our software.
Payments is connected with all the other tools in our suite, including Phones, Messages, and Email Marketing. By having all these tools in one place, your employees and your practice as a whole can attain greater efficiency while social distancing.
Watch a demo to discover how contactless payments promote and optimize physical distancing for healthcare practices.