In modern societies, veterinary clinics play a much different role than they did in the past. At the beginning of the 20th century, people contacted vets to save their horses and cows from disease because these animals were part of their economic livelihood. As machines took over as the primary means of assisting humans with agriculture and transportation, pets such as cats and dogs became the preferred animal relationships for the majority of people in developed countries.
The type of pet being taken care of by veterinarians isn't the only thing that's changed; communications have changed drastically as well. In the 20th century, business communications advanced from word-of-mouth conversations to conventional postal service to telephony. Things never grew much more sophisticated than plain old telephone service. Even when the internet became popular in the 1990s, vet clinics and small businesses in general still relied almost exclusively on phones to communicate with clients.
21st-century communications have begun to diversify rapidly. While consumers still regularly use basic telephony, they also have multiple social media accounts, check their email obsessively, and prefer text messaging in a number of situations. Businesses that ignore these alternate lines of communication are lagging behind and missing clear opportunities to establish customer loyalty, improve communications, and gain competitive advantages.
Not only do vet clinics need to provide alternate communication options, they need a way to unify these various options. Voice over Internet Protocol (VoIP) is the best way to unify business communication in the contemporary marketplace. VoIP allows modern communication, including calls, texts, social media, emails, and conferencing, to be consolidated into one system.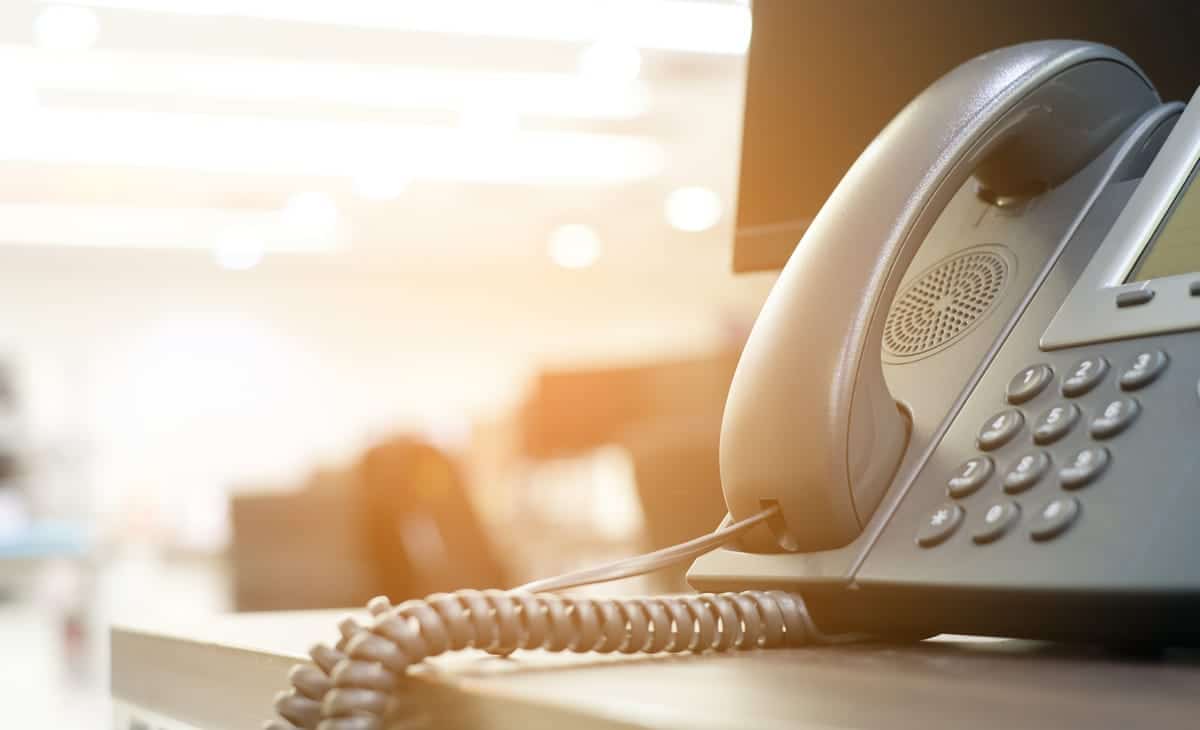 Weave's integration of hardware and software solutions utilizes VoIP technology to bring vet clinics to the forefront of modern business communication. The enhancements Weave provides help veterinarians grow their business, retain clients over the long-run, and communicate more efficiently with both customers and staff.
Here are some ways Weave's system uses VoIP technology to enhance client communications through phone calls, social media, text messaging, other digital options, and office interactions. The bulk of the data below comes from a study of millennial pet owners conducted by Weave's team of statisticians.
Phone Calls
While vet clinics should adopt and integrate alternate modes of communication, the standard telephone call is still foundational for any business. In fact, millennial pet owners told Weave that they prefer phone calls for their most essential communication with vets. 87% of them prefer to schedule appointments by phone, 73% of them prefer to ask questions about their pet's health by phone, and 76% of them still prefer to request prescriptions by phone.


Want to improve client communication? Ask Weave
Have Client's Info Populate with Each Call
Amazing technology has simplified our communication immensely! We are fairly new and can't wait to learn even more Weave features... customer service and tech support is SPOT ON and can't be beat! " - Weave Customer.

Schedule Demo
Having all the information about a pet owner on hand also shows interest in the human-pet bond. Our data indicate that millennials are willing to give up fun experiences, new technology, and even their jobs in order to take care of their animals. 81% of them want their vet to know who they are, and having specifics like names, history, and service preferences readily available during phone calls makes these conversations more friendly and personable.
Weave's system also collects information on the times when vet clinics are missing phone calls. Identifying these problem areas can lead to adjustments in office staffing that reduce missed calls. If clients are still relying on phone calls for their most essential forms of communication with veterinarians, cutting down on inefficiencies in taking these calls yields more set appointments, more effective answers to customer questions, and more prescriptions filled.
Switching from old-school phone service to VoIP technology improves phone calls themselves, even without the added benefits of integrating other lines of communication.
Social Media and VoIP
Our study of millennial pet owners let us know that the majority of veterinarian clinics still don't have a social media presence. This lack of social media is a significant missed opportunity for vets to build their popularity and attract new customers.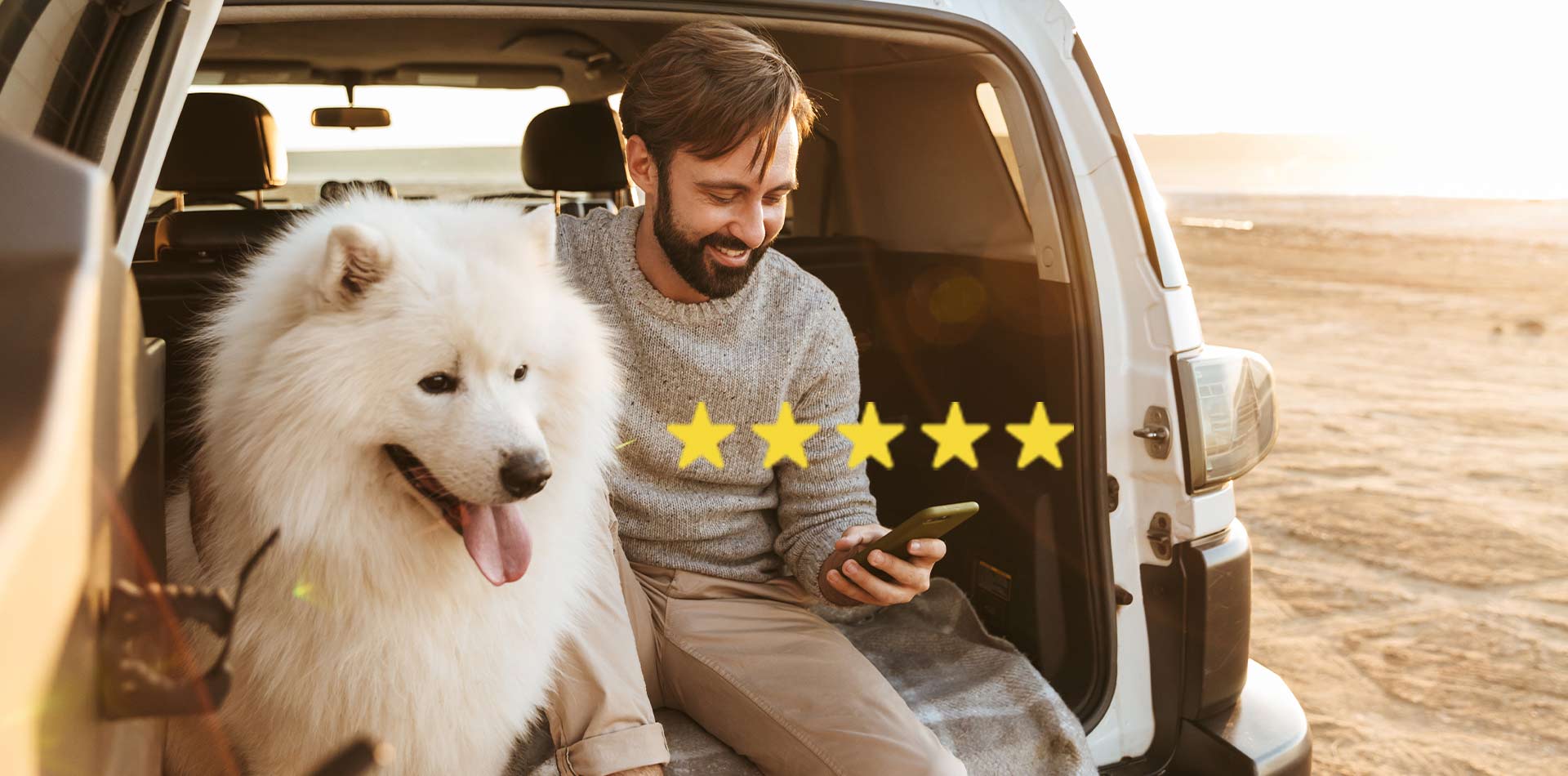 Once your clinic establishes a presence on important social media sites, VoIP technology allows your office staff to collect positive reviews from these sites. With customer permission, these reviews can be posted on review sites or the company website for public consumption. Garnering positive reviews improves standings in search engines and attracts attention on social media.
Reviews can even be collected from voicemails and text messages. VoIP makes it easy to convert these audio and text files to a format that's able to be posted online. Additionally, you and your office staff have the ability to monitor all your social media accounts for negative reviews that might impact your clinic's reputation.
VoIP Texting
Texting is an important part of any business communication model in today's marketplace. VoIP technology allows businesses to use automated texting. This style of texting reaches a broader group of customers in a much shorter period of time than sending out conventional individual or group texts.
86% of millennials today want their vet clinics to text them appointment reminders. Reminders are meant not only to keep clients in the loop regarding their pets' health but also to keep your business from losing valuable time due to no-shows.
59% of millennials also prefer that their veterinarians provide texting in order to schedule checkups. With the right system in place, this scheduling via text saves office staff massive amounts of time and simplifies coordination for pet owners.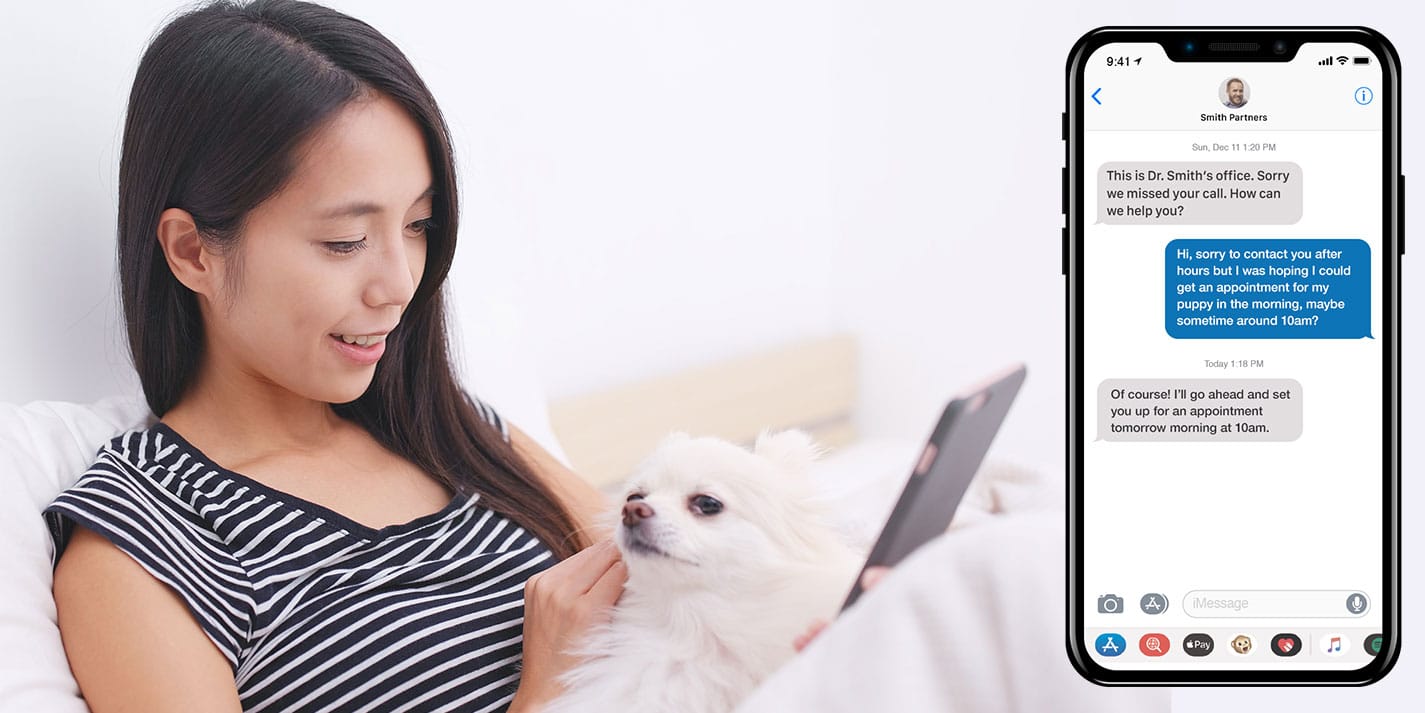 Additionally, 48% of young pet owners would like the ability to refill prescriptions by text. Many vet clinics do not offer communication lines that are sophisticated enough to give their clients this sort of text option. What business owners don't know is that texting to refill prescriptions is entirely possible through integrative communication technology.
VoIP and the Digital Experience
It's clear that millennial pet owners hope to be able to connect with their veterinarians by phone, social media, and text. They obviously want these communication lines open during normal working hours, but they increasingly would like vet clinics to respond to their questions and inquiries at all hours of the day.
68% of veterinarian clients want their vet to offer online appointment scheduling. Setting up an easily-navigated website that's equipped with online scheduling cuts down on office staff's time spent finding time slots for pet owners.
66% of these same pet owners want fast, friendly help over the phone. Weave's system allows calls to be allocated to office staff effectively in order to reduce wait-time in call queues. Even when calls are made after working hours, voicemails can be converted to text and sent to secretaries and veterinarians by email. This benefit of VoIP makes it possible to reach healthcare providers in an unintrusive way.
61% of millennials consider after-hours support to be a necessary part of a good digital experience with their vet clinic. By integrating phone calls, social media, texting, and email, Weave gives vet clinics the luxury of responding to after-hour communication in an immediate and direct way.
VoIP and the Office Experience
A hyper-personalized office experience is also a crucial component of good service for young pet owners. Over 70% of them want their vet to know their personal history with the office going into an appointment. Weave's system makes this type of personal information readily available, thus allowing vets to scan over a pet owner's history before meeting with owners.
56% of this demographic considers extended hours and 24/7 help part of a good office experience, as mentioned above. The same percentage values a quick check-in, a process facilitated by Weave's system, which pulls up all important information pertaining to pet history at the click of a button.
This same information can be viewed during phone calls and accessed by vets during appointments. This access creates uniform and personal communication with customers in all interactions with the clinic, from routine appointment scheduling to in-office visits to emergency calls.
VoIP and Old-fashioned Values
An integrated communication system like Weave's streamlines all interactions between veterinarians and their clients.
VoIP phone calls go more smoothly than traditional landline communication. Social media becomes a more powerful marketing tool when coupled with VoIP technology. Texting simplifies communication and reduces other phone traffic. VoIP makes after-hours communication more efficient and responsive to client needs. Finally, VoIP technology personalizes clinic visits in a way that suits the upcoming generation of pet owners.
Weave found that the keys for the best pet healthcare among millennial pet owners are clear communication of a pet's condition, knowledge of a pet's history, and a safe waiting room. When paired with old-fashioned values such as a friendly staff, personalized service, and a clean office, VoIP technology becomes a huge advantage over the other vet clinics using 20th-century communication techniques.
Contact Weave to find out how to enhance client communication with VoIP technology.