In order to better understand how healthcare practices and patients are coping with the effects of pandemics, Weave commissioned an independent survey of 750 providers and their clients. The survey questions focused on the ways organizations are instituting social distancing to prevent the spread of viruses.
When asked about the riskiest payment portals to touch, customers listed three places that they consider particularly risky: grocery stores, big box stores (Walmart, Target, etc.), and mass transit kiosks. The high traffic seen in these types of public settings is understandably of concern to consumers during a pandemic.
However, another revealing insight unearthed by the survey was that 43% of healthcare patients say it's riskier to touch a payment portal in a healthcare facility than in most other public settings. If you're a healthcare provider that's done as much as possible to reduce worries about payment portals by cleaning them and following other public health guidelines, you might object to this paranoia from clients.
What else can healthcare providers do to address patient concerns surrounding payment portals? At Weave, we have some additional suggestions beyond some of the commonplace measures suggested by governments and public health officials.
Here are ten ways to mitigate the risk of using payment portals during a pandemic:
1. Add contactless payments
70% of the healthcare practices from our survey said contactless payments are a competitive advantage in today's environment. So, adding contactless payments provide you with safer conditions for your employees and staff while increasing your office's value and efficiency. But what are contactless payments?
Contactless payment processing is an alternative payment method that diverges from traditional payments, which include cash, checks, and cards. Mobile wallets and text requests are common contactless options for healthcare practices in today's market. Mobile wallets are available through tech providers like Apple, Google, Samsung, and Microsoft.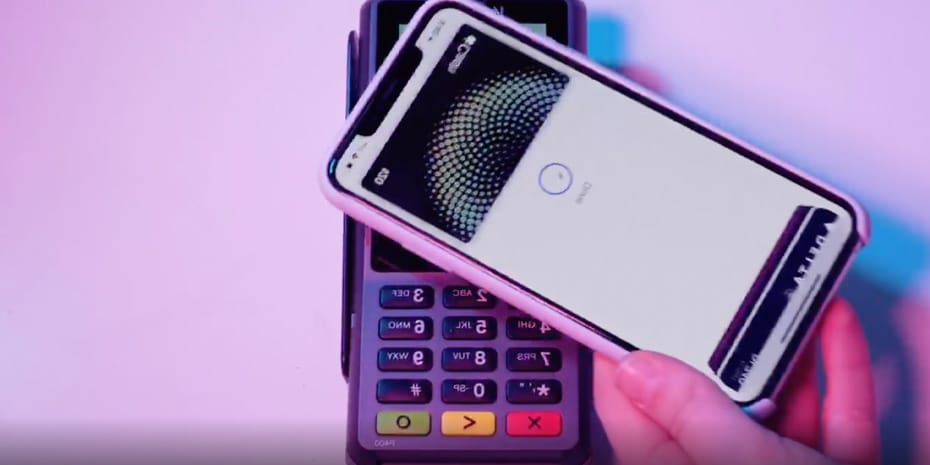 *Weave Payments Feature Currently Only available in the US. 
2. Implement no-touch options
It's crucial that your office not only have contactless options available but that you integrate them into the customer experience. 70% of providers say contactless payments improve the overall patient experience. By demonstrating to clients how contactless payments alleviate the concerns surrounding risky payment portals, your office can enhance its customer service.
With traditional payments, patients usually have to stop at your front desk after their appointments. Contactless payment methods get around this interaction entirely by allowing patients to pay from their phones, whether it's from the parking lot or from home. Weave's text payment feature is called Text to Pay.
In the video below, you will see how offices use Text to Pay to collect payments, from patients remotely.
Watch How Quickly Clients Respond to Non-Contact Options
3. Emphasize social distancing
Public health officials have repeatedly asked citizens to socially distance as much as they can during pandemics. 73% of healthcare practices say contactless payments help support social distancing policy. Providers that want to show their commitment to social distancing in order to reduce patients' fears should add contactless payment options.
Text to Pay allows for good social distancing by getting rid of in-person payments altogether. After appointments, your administrative team can send a quick payment request to patients that includes a personalized message and a link to an online payment site. In addition to protecting employees and customers from community spread, Text to Pay saves your front desk from spending all its time on collections.
4. Adopt a complete payment platform
Although your office may want to avoid patients' using payment portals, some customers still prefer traditional payment options. Bringing aboard contactless payments alongside your already-existing options sounds complex initially. Still, 69% of healthcare providers would like all their payment processing and merchant services on one platform.
Weave Payments is a complete payment platform that simplifies the way your office collects payments. It requires no upfront or monthly fees, so your team doesn't have to worry about surprise costs. Importantly, your practice can take care of cash, check, credit card, debit card, mobile, and text payments from a single platform.
Want contact-free payment options from Weave?
43% of healthcare patients fear touching payment portals
Weave helps you safely & easily collect payments.

&quot I used to spend three days a month printing off and mailing out invoices. Now, it takes me less than a day to text them to all our patients with outstanding balances.
"-Emily Lott, Billing Specialist, Children's Clear Vision
Schedule Demo
5. Explore customer preferences
The survey we commissioned asked about how clients want healthcare practices to go contactless or "no-touch." The ways they mentioned are mobile payments, which we've begun to discuss, as well as credit card tap options and plexiglass dividers. Again, while your office is moving toward more mobile payments, it can take other actions to make clients feel secure.
Plexiglass dividers became more commonplace due to the pandemic events and can be seen at some convenience stores, grocery stores, and any number of other public places. Most vendors provide customers with credit card swipe or insert options, but a tap option gives some clients an extra layer of security.
6. Transition to Text to Pay
Credit card tap options are incremental improvements that still require proximity to a payment portal. That's why 67% of the healthcare practices from our survey said they would like to transition from credit cards to Text to Pay. In-person credit card payments simply can't provide the social distancing created by features like Text to Pay.
So, while it's important that your payment platform accepts credit card swipes, inserts, and taps, it's perhaps more critical that you transition to contactless payments. This transition aligns with what practices are saying about text messaging in general, which is that most of their outgoing client communication will occur via text within the next three years.
7. Collect by email
Most healthcare patients prefer to communicate with their provider either by phone or by text. However, the third-most popular communication preference in our survey was email. The majority of offices have an email outreach, but many of them are yet to optimize their emailing.
Weave's Email Marketing is a software tool that allows your office to share links for payment collections through email. These dress-up links are called CTA (Call to Action) buttons. They're designed to fit into pre-written templates and catch customers' attention, leading to better collection rates. Emailing with the right tools is an alternative to mobile payments.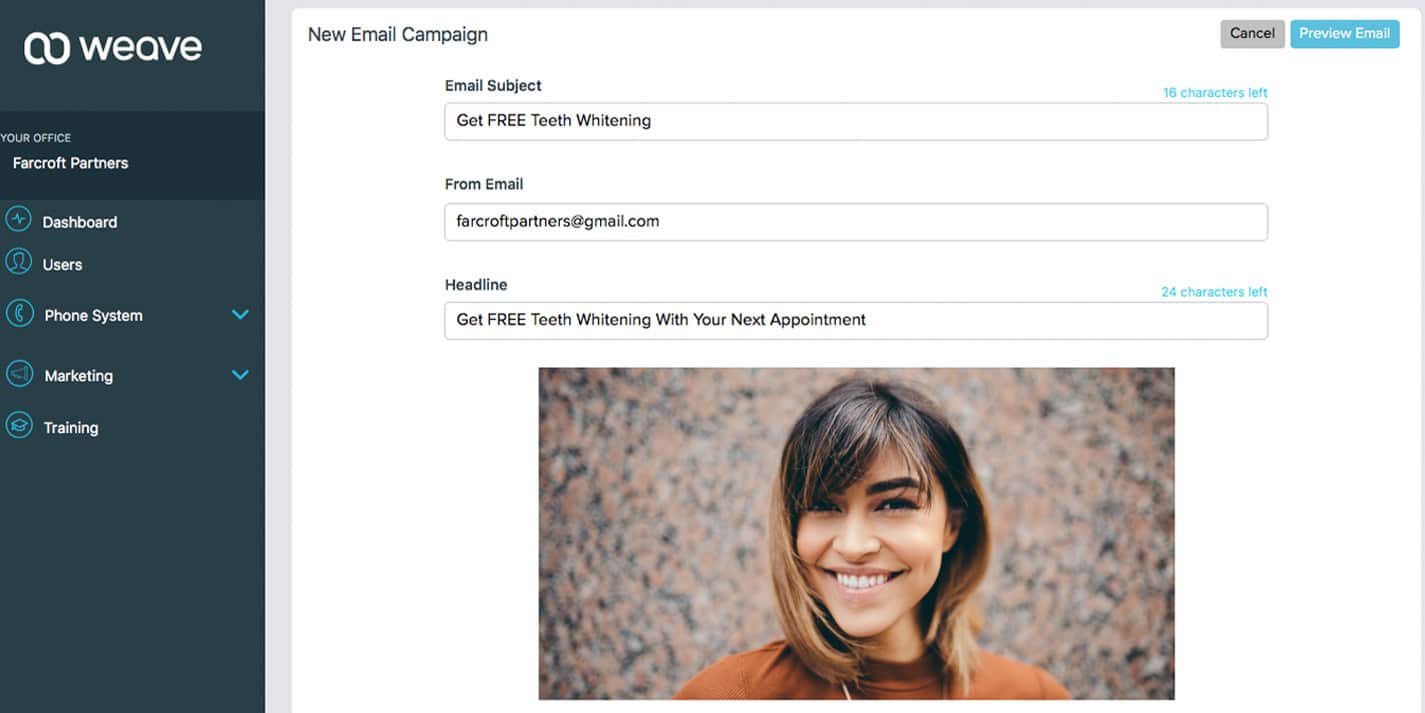 8. Have a high-growth mentality
In our survey, healthcare practices that consider themselves "high-growth" were 41% more likely to want to transition to more contactless payments. There's a correlation between contactless payments and high growth. Practices aimed at adding customers and maximizing efficiency should investigate and add mobile payment options.
Because text messaging seems to be the primary mode for communicating with patients, at least in the near future, offices can normalize and transition to contactless payments by using other texting tools. Healthcare practices can establish virtual waiting rooms before appointments using texts. They also can utilize messaging software to send out appointment reminders, review requests, and other notifications.
9. Integrate contactless payments with your communication system
If your practice wants to keep track of all its outgoing communication, it needs an integrated communication system. By consolidating your lines of communication, which include text payments, your business can do a better job cutting down on the risk of contagion for both clients and employees. In order to get consolidated communication, your office needs to set up a VoIP phone system.
VoIP (Voice over Internet Protocol) phones are different from traditional landlines because they rely on the internet. This cyber connection allows your phone system to sync with text messaging, emailing, and even payment portals. Adding VoIP phones or increasing your activity on this sort of communication system can create an office environment that's conducive to social distancing and mitigates the risk of community spread.
10. Protect your patients with Weave
Although Weave wasn't initially designed with the challenges of pandemics in mind, we have seen how communication technology can help healthcare practices overcome the obstacles presented by global viruses.
For those businesses hoping to minimize the risk associated with running an organization amidst this challenging situation, our complete toolbox can help you adjust to the new normal by promoting social distancing. Our phone system serves as the basis for consolidating your various lines of communication, from text messaging to emails to online reviews. We also provide other tools, such as Customer Insight, Team Chat, and Analytics.
Weave Payments works in conjunction with this suite in order to help you give patients more convenient, safe, and secure payment options. At a time when there's a high demand for contactless payments, Weave is ready to equip you with a complete payment platform that gives you the ability to transition from conventional payment processing to contactless options.
Perhaps the most useful feature of Weave Payments is Text to Pay. This feature eliminates the need for in-person payment processing and allows customers to submit payments from a proper social distance. It prevents both your clients and your employees from having to use potentially-contaminated payment portals, a concern for almost half of all healthcare patients.
If you would like to find out more about Weave Payments and its various features, including Text to Pay, contact us today for a free demo. Our team is prepared to demonstrate the product's value in the new normal and get you set up with a complete business toolbox.