Many businesses rely on the customer's prompt confirmation of appointments to ensure a smooth workday. This is especially true in the healthcare industry; medical practitioners and other small business owners usually see dozens of clients go in and out of their offices every day. Staying on top of those appointments can be a difficult task, but an absolutely necessary one if the business is to maintain great client relationships
You may be keeping track of your patients the traditional way—by having an assistant pencil them into your schedule and call them one by one to confirm their appointments. This may work well to a point, but it's not the best way to manage your time, especially as your business grows bigger and you take on more and more patients. Automated appointment confirmation is here to stay.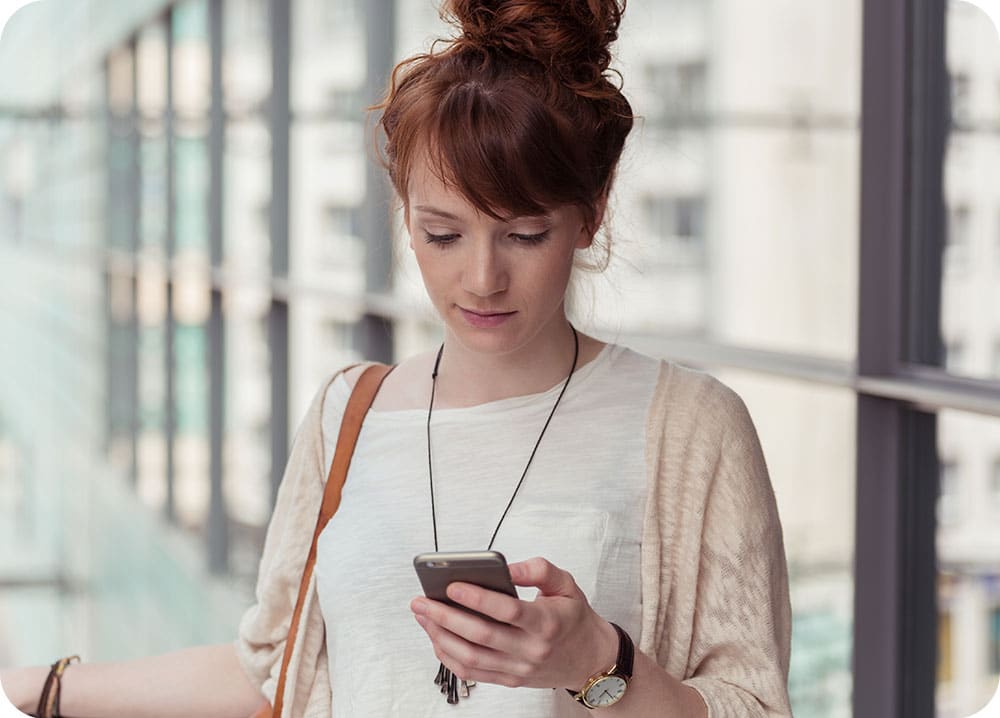 In our increasingly busy lives we seem to prefer to confirm appointments via text rather than the traditional phone call. Since 95% of Americans have a smartphone, the ability to confirm most appointments via text is achievable.
If you want to simplify how you manage your appointments, it's time to look at Weave—a powerful patient communication tool that helps you provide effortless service and meaningful customer experiences.
Appointment Scheduling & Customer Communication: Introducing Weave
Weave is an all-around customer communication and management system that aims to simplify your business processes. With Weave, you can consolidate customer relationships, improve your online reputation, boost productivity, streamline operations and keep your practice running smoothly.
Any client-facing business can benefit from Weave's helpful features. From automated texts to VoIP phone services, Weave makes it easier to connect and share information with your team and your customers. You also get instant access to all the information you need to identify problem areas and stay on top of workflows.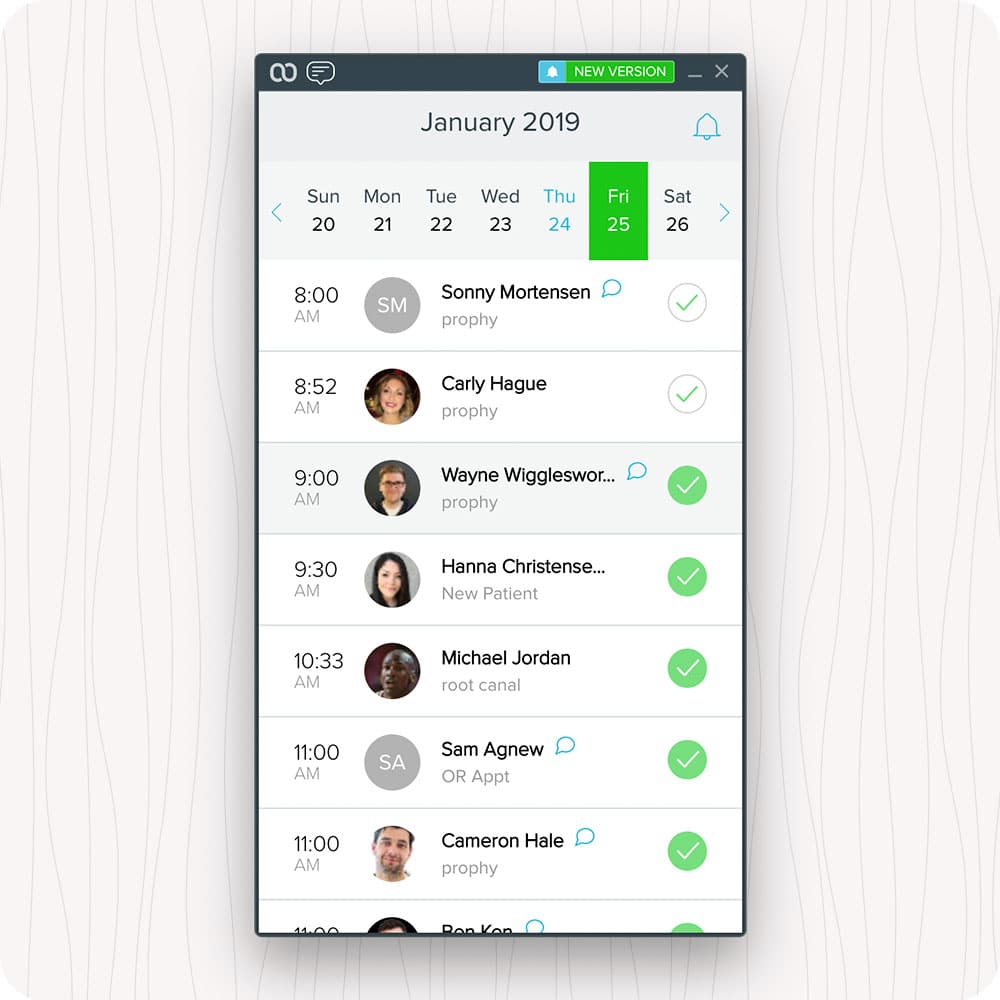 Because everything is at your fingertips, scheduling and following up with your customers is a breeze. You'll also be better equipped to make business decisions, thanks to the program's detailed reports and metrics. Most of all, Weave gives you the tools to interact with your customer in a way that feels efficient, genuine, and thoughtful.


Want to reduce time spent managing appointments?
Ask Weave about Automated Scheduling & Quick Fill tools

? "Weave has been critical to managing the office and scheduling patients. I save between 2-3 hours a day confirming appointments, and I'm able to fill more last-minute cancellations."-Maggie Blackwell, Office Manager, Gerlecz Dentistry.
Processing, Confirming, Confirmed: Who Should Use Weave
Weave was designed with the modern healthcare provider in mind, but is making a major transition into small businesses of every kind. The platform is mostly used by hospitals, clinics, and doctors to improve efficiency and communicate better with patients. However, as Weave has grown, it has become apparent that the features that Weave offers business owners would prove valuable in any small business setting. This is why Weave introduced its small business solution. The Weave Training Portal caters specifically to the dental, optometry, and medical/wellness industries, but the software is actually quite helpful for any business that makes appointments with their customers on the regular.
If you are a doctor, dentist, optometrist, chiropractor or small business owner, Weave could be just the tool you need to automate your manual business processes.
Confirm Appointments Automatically With Weave: What Are The Benefits
Here are some of the highlights of how the Weave dental communication software can help your medical practice stay modern, smart, and effective.
Appointment Confirmation Makes Life Easier For Your Customers
Weave opens up different channels through which your patients can contact your business. Customers can send a text, or call your office to book or cancel an appointment. Your patients can even text "yes" or "I'll be there", and the Weave smart technology will automatically recognize the response and confirm their appointment. Plus, no matter which channel they go through, they'll be getting the same, consistent, high-quality service across the board.
Weave's Smart Notification system tells you when their last appointment was and if they're overdue for a new one, so you can reach out to them when you need to, or better yet, you can set Weave up to do it for you. Also, because you don't have to cross-check and update schedules yourself, you can give your clients accurate information instantly.
Fewer barriers, more convenience, and quicker turnaround time—these are things that your clients will surely appreciate.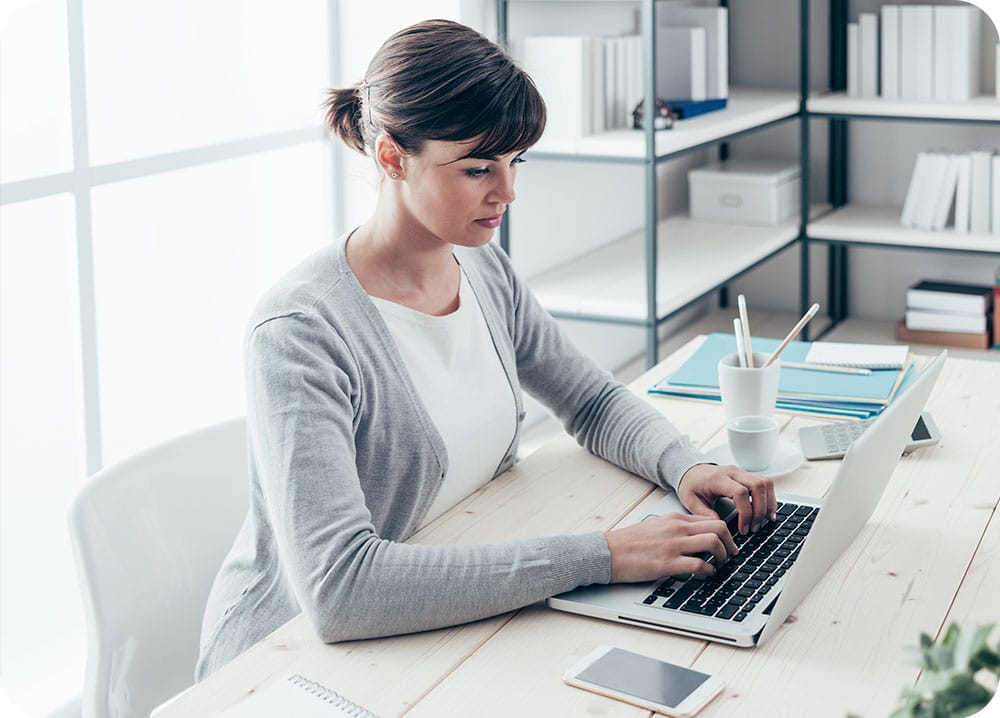 Builds Relationships With Your Patients After Their Appointment
What if we said that Weave can actually improve client rapport, inspire customer loyalty, and enhance your brand? With this program, you can create positive and genuine interactions outside of your appointments.
Weave can set up automatic appointment reminders, follow-ups, and thoughtful messages on birthdays and holidays. It's this consistent and non-invasive contact that helps create stronger and more meaningful connections with your clientele.
You can also improve customer experience with Weave's review collection feature. Ask patients what they think of your service after their appointment or in a follow-up message, then tweak your processes to improve customer experience.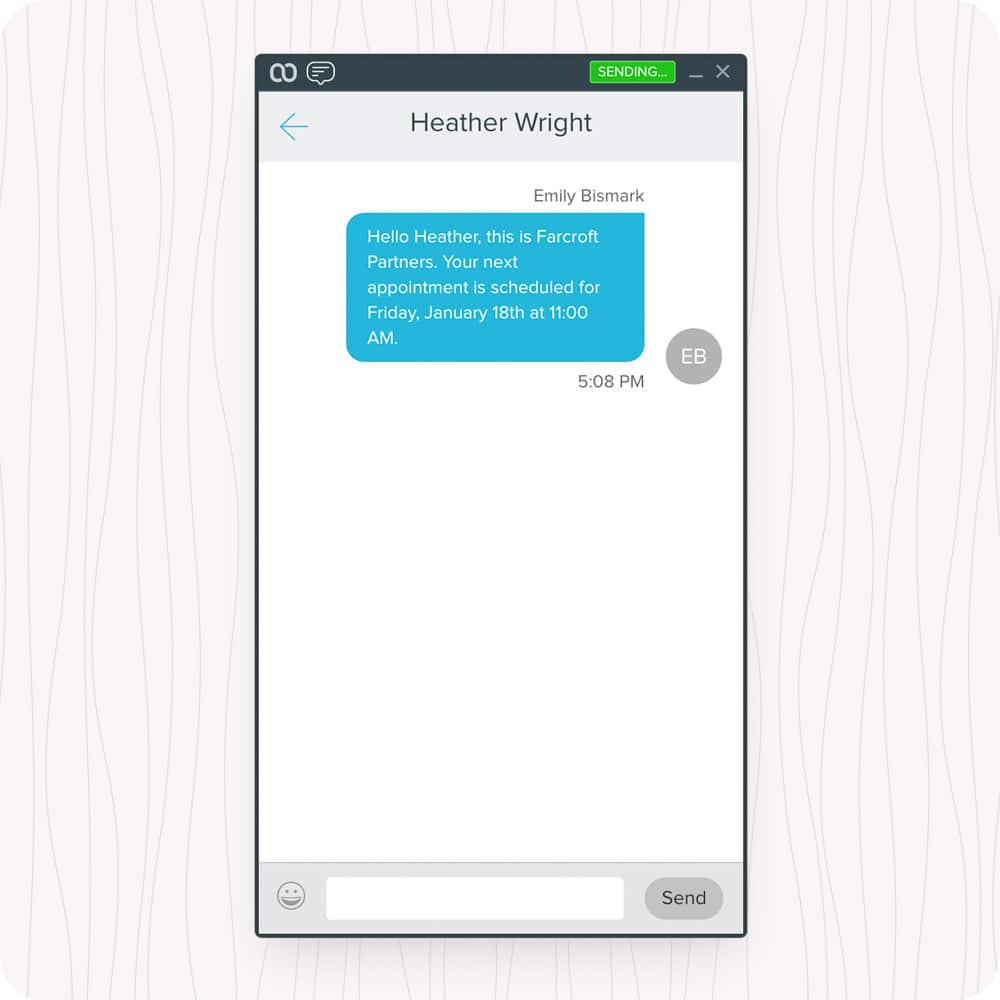 Automatically Confirm Appointments To Work Smarter, Not Harder
Weave boosts employee productivity and efficiency because your people can focus on other work while the software does most of the heavy lifting. You'll start to notice that those previously time-consuming processes, like calling clients to confirm appointments, pretty much take care of themselves.
This lets you really maximize your team and do more in the same amount of time. While Weave syncs to most schedules and reaches out to clients to confirm appointments, you and your staff can do more value-adding work. Weave frees up your time and mental energy so that you can focus on innovation, planning, and success.
Improves Your Employees' Morale With Weave's Appointment Confirmation Process
Nobody likes doing boring, repetitive, and mundane work. Weave does all of that automatically, freeing up your employees to take on responsibilities that are a better use of their time, energy, skill, and creativity. This, in turn, boosts their motivation and job satisfaction.
Weave also saves you money by making your team more productive. Those cost-savings can go into improving the work environment, expanding your team, or promoting staff that contribute the most. When your employees feel valued, they're more likely to stay onboard.
Appointment NOT Disappointment: Save Time AND Money Using Weave's Innovative Appointment Booking System
Weave cuts down on operating costs by increasing service, performance, and functionality, all for an affordable price. The automated system bundles several important processes into one brilliant, efficient, and powerful tool.
Weave understands that each business is unique and therefore has unique needs and has invested thousands of hours into understanding those needs so that Weave's software solution can meet and exceed expectations.  
Weave also promotes a more cost-effective use of space and resources. Everything is digital, reducing paper waste and the need for bulky, space-wasting equipment.
Automated Appointment Confirmation Reduces Downtime
An assistant calling in sick or your computers going out no longer signal the end of the world. You can rely on Weave to still keep your business running even when no one's watching. Plus, all of the information is backed up on the cloud, so you can access your schedules remotely from wherever you are.
Weave also makes your business much more resilient in the long run. Scheduling mistakes and inefficient processes can cause costly downtime for your practice. Weave removes human error, making your business much more accurate and reliable.
Helps You Make Strategic Decisions
Weave updates your schedules automatically so that you always have an accurate and complete view of the day's, week's, or even month's calendar any time you want to access it. You can see from a distance which weekdays are generally the most heavily booked or what time of day you often get calls, then you can use this information to adjust your business around those patterns.
Because you have all the information you need readily available, Weave removes the guesswork that many small practices do when making business decisions. It lets you maximize profits by planning ahead and forecasting your workload for weeks to come.
Grows With Your Business
Finally, a digital patient communication software that can scale up as you need it to. Weave adapts and improves even as your requirements and workload change. You don't need to train new people, buy new hardware, and experience those pesky growing pains. Maintain the same level of reliable service no matter how big your business gets!
Stand Out From The Competition
Move into the 21st century and leave your competitors behind. Weave helps you become more reliable, more consistent, and more effective. Your customers will have no problem confirming appointments and receiving regular reminders to book their next one. 
If you take advantage of the systems most powerful features, Weave could be the thing that you need to get the competitive edge in your industry.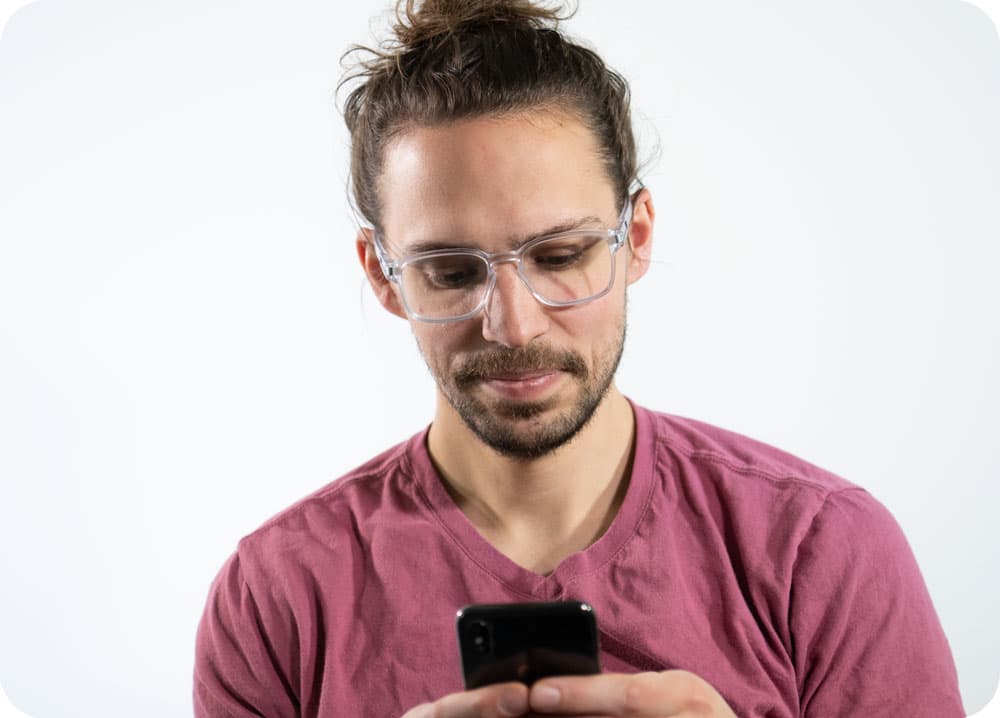 Make Confirmation A Breeze: Get Weave Today
With its innovative smart technology, managing your clients and your schedule has never been easier. The system automatically recognizes your patients' confirmations, sends updates of your patients' statuses directly to your practice management system, and reduces the workload of your team all in one go.
Weave revolutionizes how your patients confirm appointments. Experience this game-changing system yourself and watch a practice demo!