It's been over 100 years since the world has seen pandemics like COVID-19. Societies deal with pandemics to varying degrees of success. What's certain, however, is that the alarm surrounding these outbreaks has created a new normal for healthcare practices trying to thrive in contemporary conditions.
On the one hand, practices are having to adjust to fluctuating government regulations. Initially, many practices had to close their doors to all but the most essential of healthcare services. As public health measures have loosened a bit, providers are still grappling with the need to meet the altered expectations of their patients.
During pandemic events, some patients follow the news surrounding the pandemic closely, and are hyper-aware of the threat of subsequent waves, while others are indifferent to the possibility of contracting the virus. The task presented to healthcare practices is to ensure that patients are protected from viruses while feeling comfortable in their office.
Weave recently decided to commission an independent survey of 750 healthcare professionals and clients about how they're coping with the pandemic. The results revealed a number of ways to improve business communication and processes in order to promote social distancing and optimize patient safety.
This blog post focuses on the responses and preferences of patients during the pandemic. Let's take a look at seven different statistics we gathered from healthcare clients.
1. Patients expect improved service
Despite more strenuous and stressful conditions for healthcare professionals, patients want to see improved care during a pandemic. In our survey, clients were 5x more likely to expect the quality of care at healthcare practices to improve because of the pandemic. This expectation, reasonable or not, puts a lot of pressure on you and your team to perform.
Actual healthcare isn't going to change much due to a pandemic. Doctors, nurses, and other professionals are going to continue to do their best to help their patients heal, with perhaps a bit more personal protective equipment and a renewed emphasis on hygiene. Providers can demonstrate improved service more noticeably by changing their habits in waiting rooms and through their communication outreach.
VoIP phones
To improve your communication outreach, a VoIP (Voice over Internet Protocol) phone system is foundational. Healthcare practices that rely on landlines for their phone calls are at a significant disadvantage compared to those using VoIP phones. That's because internet-based telephony allows you to connect your phones with a host of other communication tools.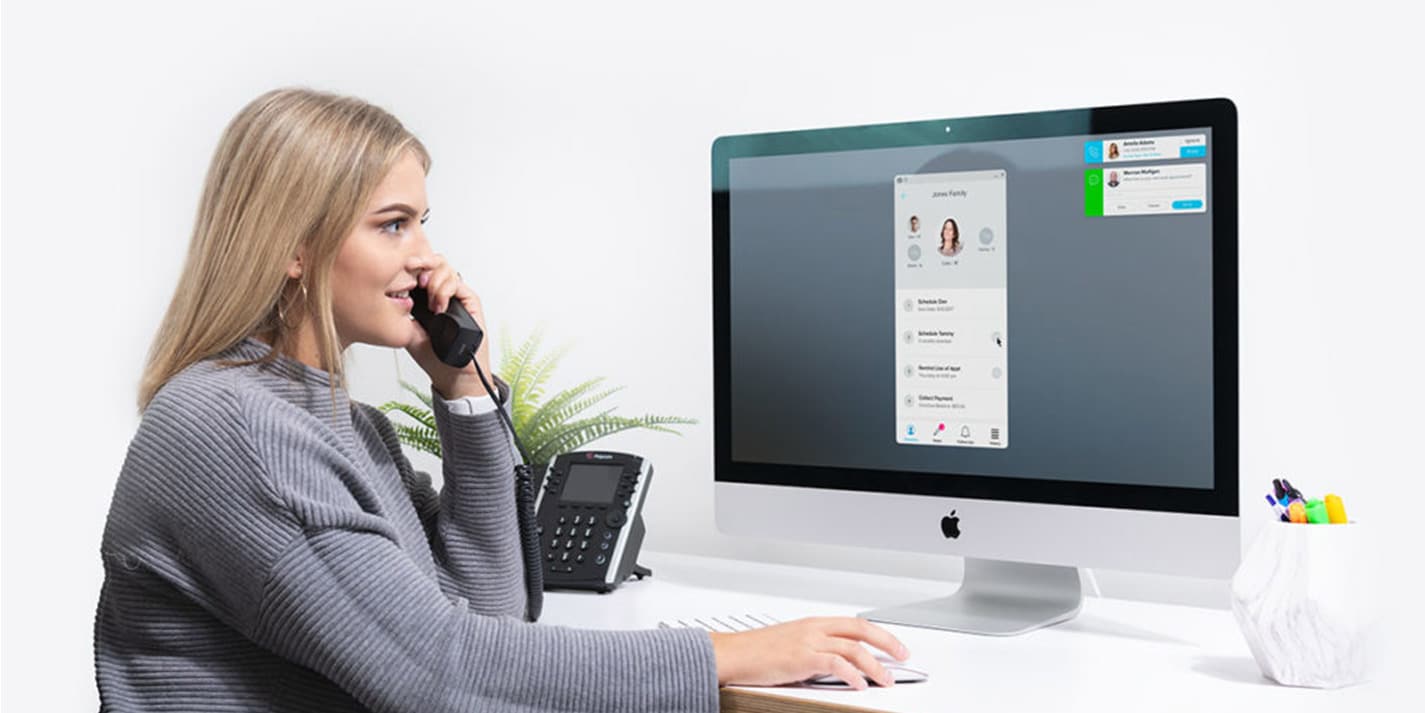 VoIP phones can be integrated with text message, customer insights, a team chat, scheduling software, analytics, emailing, online reviews, and even your payment platform. All these different components facilitate stronger communication and better social distancing. You've probably seen how the internet has enabled video conferencing, telehealth, and remote work. Explore further by setting up VoIP phones in your office.
2. Texting is preferred by nearly half of your clients
It's becoming increasingly prevalent for healthcare providers to text with their patients. And what's more, 43% of healthcare clients say it's easier to reach them with a text message than with a call. When nearly half of your patients want to be texting as opposed to talking on the phone, it's best to adopt text messaging for your office's communication outreach.
Our survey showed that the patients most keen on texting are younger ones. Clients under the age of 35 are much more likely to want to text with your office. Since this demographic is going to be the base of your practice in the coming years, adding text messaging now will prepare you to garner their business in the future.


See how Weave
Messages helps
client relationships
Weave Helps Streamline Business Communication
"We have been using Weave as our office phone system for about 3 years now and we love it! It integrates seamlessly with our software and constantly updates. We use the text feature all day long. Patients love being able to text back and not have to answer a phone call. I highly recommend this system "-Barb Paz
Text messages
Texting works in conjunction with VoIP phones. For instance, if your team is swamped and can't get to a call, text messaging software is able to instantly send a missed call text to customers, letting them know your office will get back to them as soon as possible. These missed call texts open up the opportunity for you to start two-way text conversations.
Beyond conducting two-way conversations over text, software is also capable of distributing appointment reminders to clients. Administrative staff can customize these text reminders and schedule them to go out to patients at specific times. Software also comes with sentiment analysis that can notify your office of patients that cancel or reschedule appointments upon receiving confirmation texts.
3. Patients are reluctant to visit healthcare facilities during a pandemic
Due to the pandemic, many healthcare clients are avoiding going to the doctor unless it's absolutely necessary. 78% of the patients we surveyed said they're reluctant to go to their healthcare provider due to the pandemic. As the economy gradually opens up, practices have the job of helping patients move past this reluctance.
Adopting a VoIP phone system and a strong text messaging outreach are preliminary steps toward dispelling patient concerns about their safety during a pandemic. More nuanced and unprecedented solutions are also available after you bring these solutions on board. Two of these solutions are curbside waiting rooms and wellness forms.
Curbside waiting rooms
Using pre-appointment texts, your office can cut out the threat of community spread in your waiting room. Ask patients to notify your staff upon arrival in the parking lot, then bring them back for essential services with a text once your team is ready to receive them. This practice gets rid of paranoia regarding waiting areas altogether.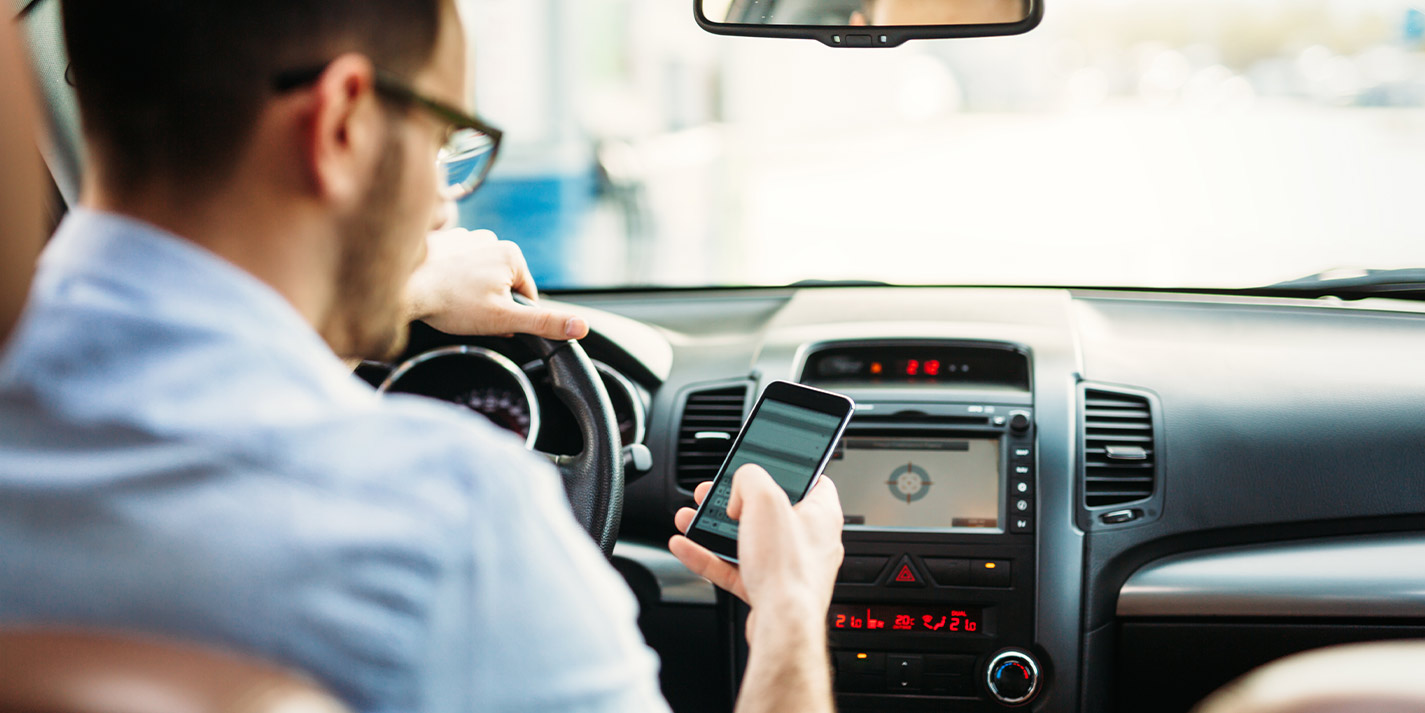 Wellness forms
Many healthcare practices have begun sending wellness forms to clients before appointments in order to screen for potentially infected individuals. These electronic forms are attached to text messages and ask a few brief questions about a patient's physical condition, living situation, and recent travel. Having patients fill out wellness forms demonstrates to your clientele base that you're taking precautionary measures to protect them.
4. Patients forget to text and call back
Even at a time when getting information about healthcare seems more vital than ever, patients forget to return the calls and texts from their providers. In fact, patients are equally likely not to remember to return phone and text messages. The clients we interviewed said they forget about provider calls and texts 33% of the time.
Calling and texting were the two most popular forms of communication among the patients in our survey. The third most preferred form of communicating with healthcare practices is emailing. Along with being a strong third option for providers, emailing has some benefits that calls and texts don't offer.
Professional emailing
The vast majority of healthcare practices use email, but not all of them have optimized their email outreach. It's important to improve emailing because it's the best and fastest way to communicate with your entire patient base in one go. Calling every single customer is a time suck, and text blasts only contain a limited amount of information.
With professional email marketing software, providers can deliver detailed information about health and safety updates, as well as promotions and educational materials. Pre-written templates greatly simplify composition for administrators, and an image library provides a striking visual component to your emails. CTA (Call to Action) buttons make emailing more than an information dump, but a way to effectively engage with customers.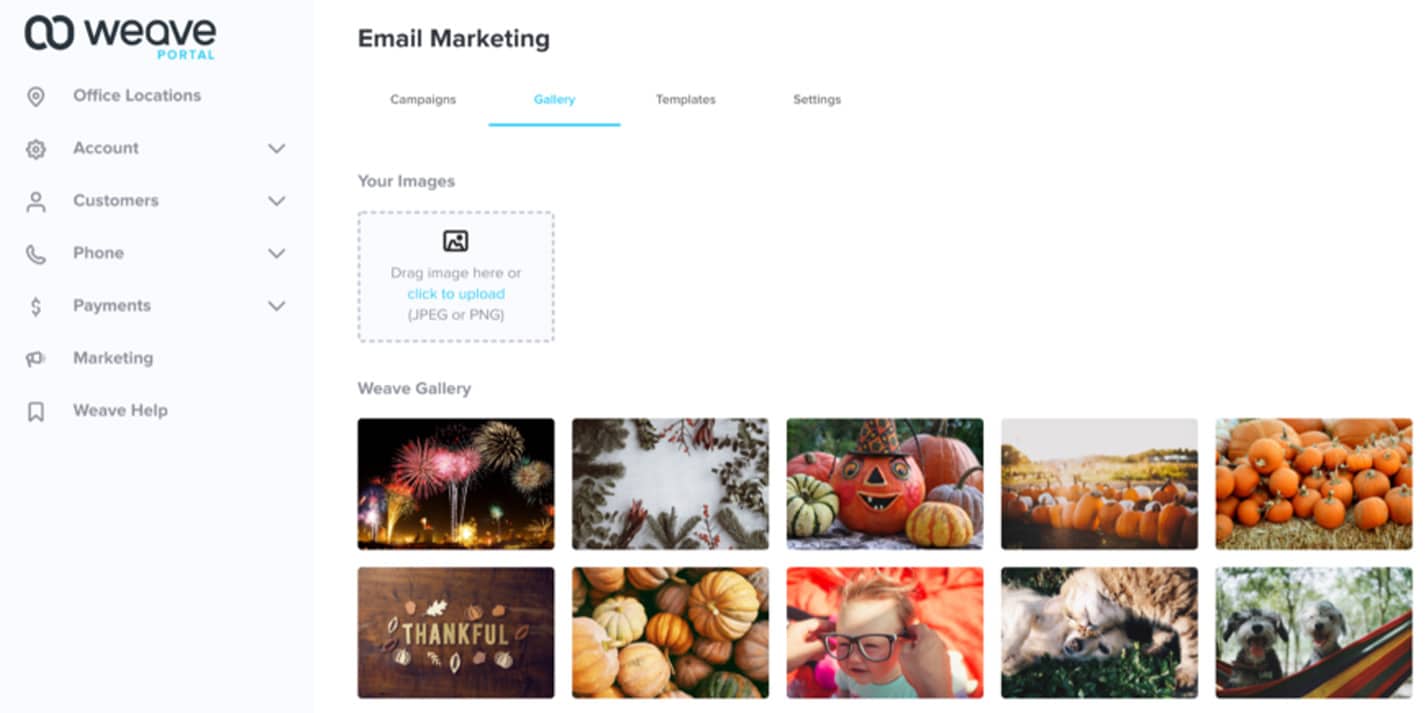 5. Generic communication annoys patients
As your office engages with patients during a pandemic, be sure to personalize your calls, texts, and emails. 48% of the healthcare clients in our study indicated they've been annoyed by impersonal communication with providers. Part of offering a higher standard of service is keeping in touch with the individual circumstances of your patients.
Customer insights
With the right software, personal insights can be linked to your communication system for enhanced understanding of your clients' needs. When you get a call, these insights automatically populate on your screen, whether you're in the office or working from home. These customer insights include names, photos, birthdays, medical histories, upcoming appointments, and outstanding balances.
6. Clients feel safer with contactless payments
In recent years, businesses have gradually added payment options to the traditional methods of paying with cash, checks, and cards. During the pandemic, 64% of patients feel safer at facilities that use contactless payments. Contactless payments include both mobile wallets, like those offered by Google, Apple, Microsoft, and Samsung, and Text to Pay.
Text to Pay
This form of contactless payment mirrors the initiative to establish curbside waiting rooms. Instead of having patients stop by your front desk after appointments for payment processing, send them a text request with a link to a payment site. This simple, secure payment method ensures good social distancing and lets patients pay from the parking lot or in the comfort of their own homes.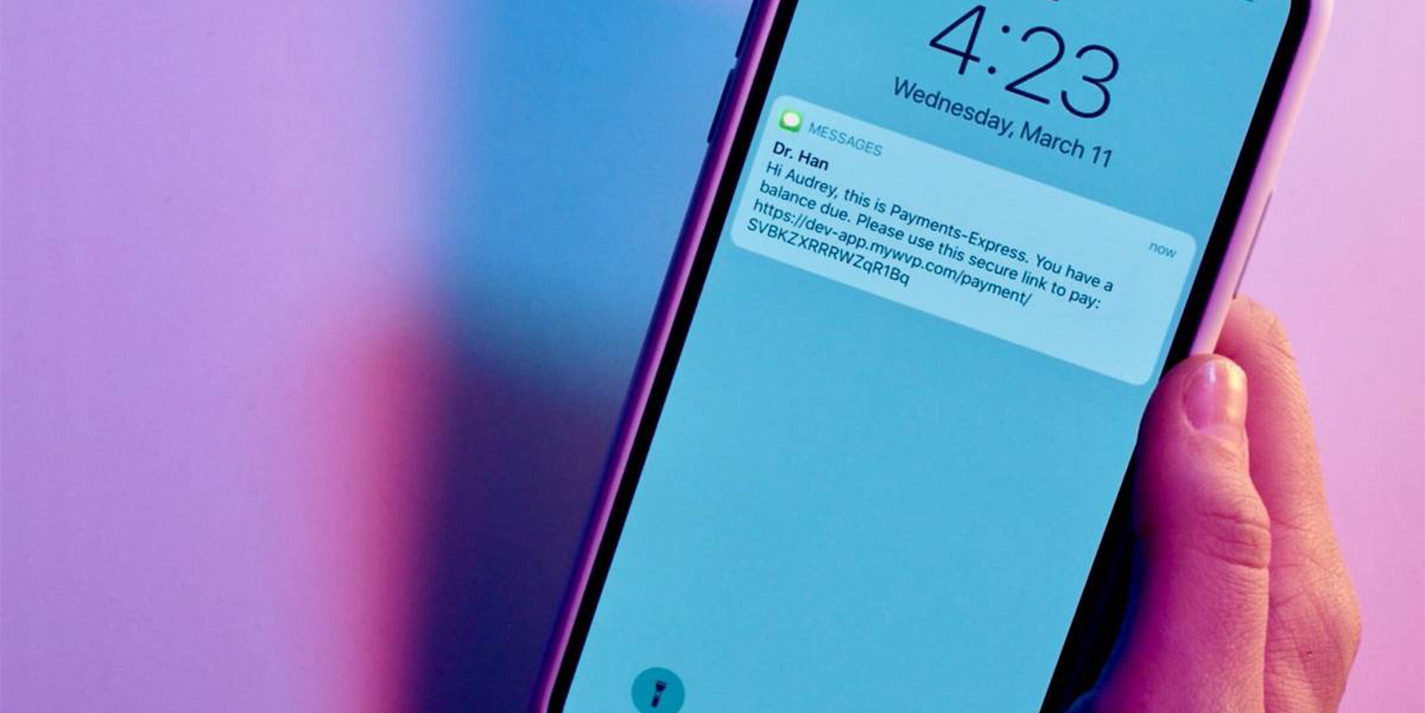 7. Patients want to transition to contactless payments
Clients don't only feel safer using contactless payments, they've developed a taste for them. Of the patients we interviewed, 50% of them want to see payments transition from credit cards to Text to Pay. Healthcare practices shouldn't eliminate credit cards completely; they should adopt Text to Pay while continuing to offer conventional payment methods.
Weave Payments
Our team at Weave has developed a complete payment platform for healthcare providers. It makes it possible for offices to collect traditional payments, including all major credit cards, at the same time they're pushing for increased text payments. Text to Pay is more hygienic, safer, and more versatile than credit cards. It's one more way to respond to the demands and preferences of patients during a pandemic.
To find out how Weave's complete business toolbox can help you optimize the quality of your care in the new normal, contact us today for a free demo.