Businesses are gradually reopening after the sudden lockdown measures taken in response to the COVID-19 pandemic. Whether your business changed its practices, reduced its hours, or closed entirely due to coronavirus, you're now faced with the task of communicating with customers about new hours and protocols as regulations are loosened. A major part of recovering from this crisis is communicating safely and effectively.
Safe and effective communication factors directly into how your business is booking appointments upon reopening. By using the right communication tools in an informed way, you can simultaneously fill your schedule for the coming months and notify customers about what your business is doing to follow new public health guidelines.
Good communication tools and a solid framework of health practices let you and your team focus on rendering quality service instead of spending your time booking appointments and repeating safety protocol to each and every customer. Effective communication, including scheduling, has never been more important to small businesses.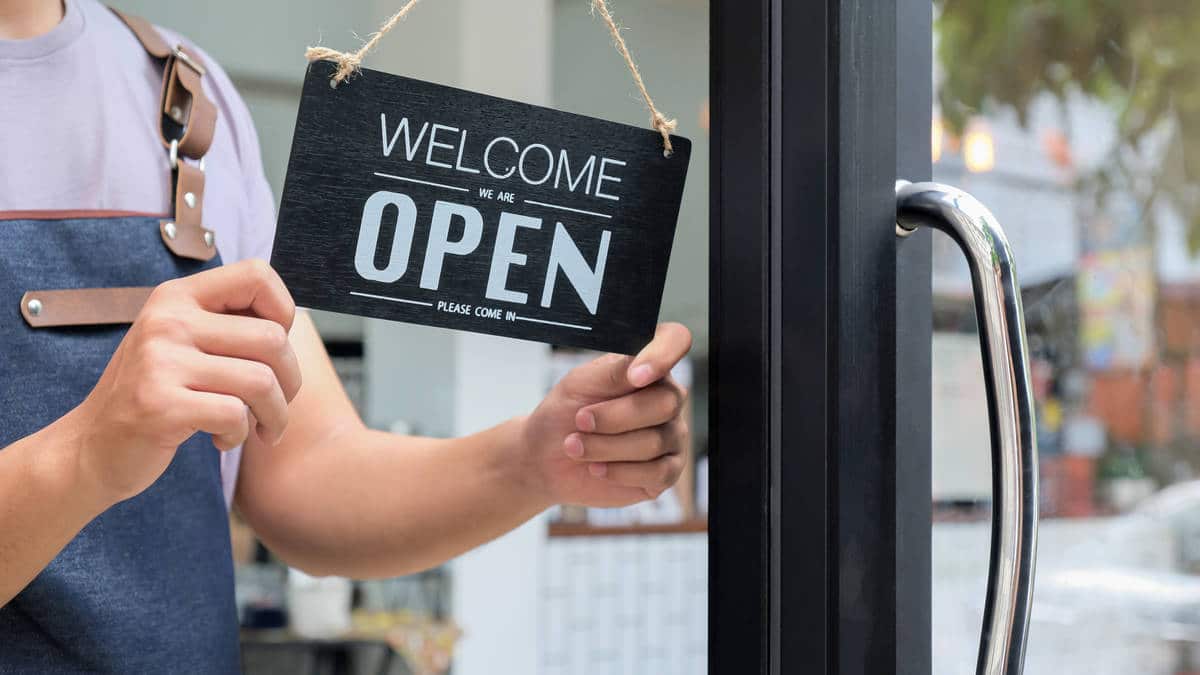 Weave's Get Back to Business initiative is focused on sharing tips for adjusting to business practices in the wake of COVID-19 and demonstrating how integrated communication technology can meet the demands of this new era.
Below are five tactics for booking appointments while your business is recovering, as well as five necessary communication tools to match these tactics.
1. Update your voicemail and phone tree
It may seem like common sense, but updating voicemails and phone trees is critical to businesses trying to book appointments in the aftermath of coronavirus. As your customers get ready to venture back out into the world following stay-at-home and lockdown measures, they will be calling into your office to find out about openings in your schedule. Updating your voicemail and phone tree will help you be ready for them.
If you're a small business, it's unlikely that your staff will be able to take every call made to your office. Setting up an informative phone tree gives you the best chance of helping customers reach the right member of your team and can function as a mechanism for notifying customers about the health practices you're following, like wearing masks, social distancing, and using hand sanitizer. Voicemails should contain abbreviated versions of these messages while also promising that you will get back to customers by call or text for scheduling purposes.
2. Contact cancellations
Since many businesses reduced hours or closed abruptly in March, they lost out on business that had already been scheduled. Contacting those customers who missed out on appointments due to lockdown measures should be a priority as your office reopens. Although some customers might be hesitant to get back out into the community, others have been eagerly awaiting the chance to visit your business.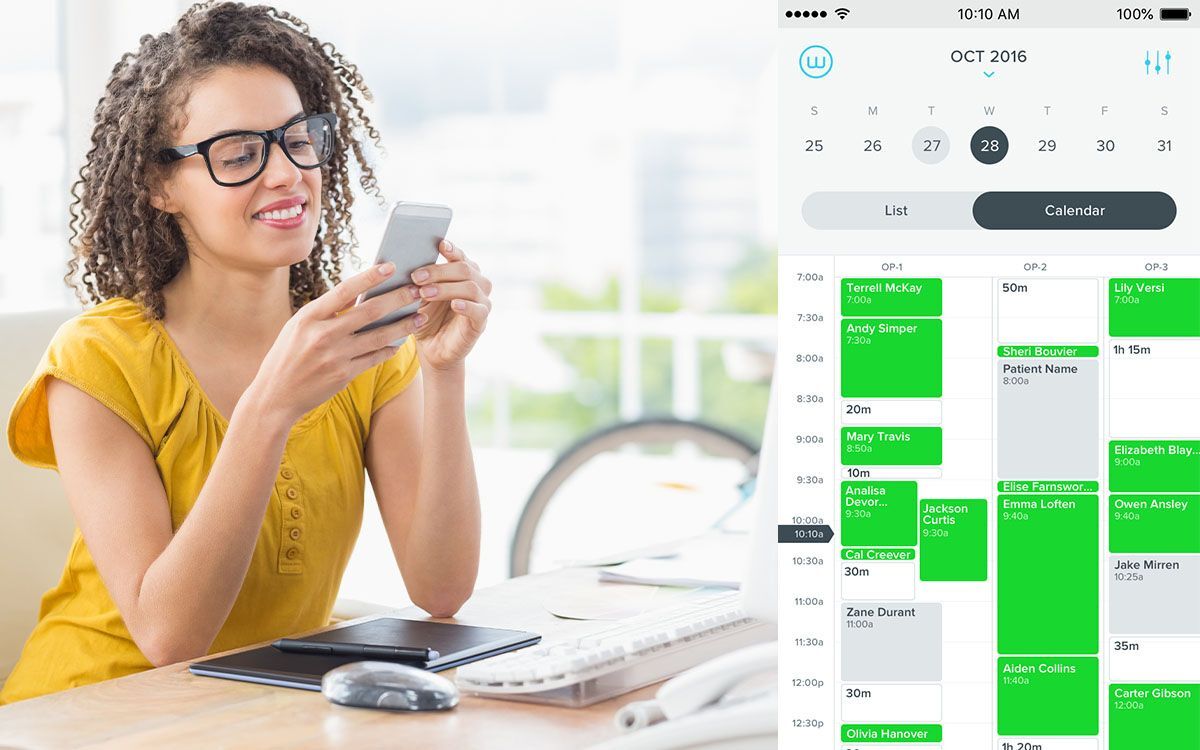 Going through the list of cancelled appointments and contacting these priority customers can be a hassle for administrative team members already swamped by the other demands of reopening. Placing calls to the dozens or hundreds of customers who missed appointments because of COVID-19 isn't realistic or effective. Using communication software to text priority customers is one of the best ways to fill your schedule upon reopening.
3. Contact overdue customers
Other customers may never have scheduled appointments during the pandemic, though they were due for a visit to your office. They should be your next priority after going through the list of cancellations. These customers perhaps forgot about their appointment during your closure or simply didn't bother to reschedule.
Sending out text messages is a quick and efficient way to contact overdue customers. With the right communication tool, it's easy to automate scheduling texts and appointment reminders to all your overdue customers. Communication software also lets you develop templates that your team can customize to relay information about health practices you've implemented in response to coronavirus.
4. Announce extended hours
Almost every business has endured shortened hours or outright closures due to coronavirus. As your business reopens, consider extending hours to make up for lost time. Though you definitely don't want to overexert your staff, extending office hours can help you recover from the decreased revenue and numerous missed appointments resulting from COVID-19.
As previously mentioned, your updated office hours should be recorded on your phone tree and voicemail. Additionally, texting all your customers with your new hours is an essential practice for getting the word out and prompting customers to schedule appointments. Two-way texting allows your business to not only disperse this information quickly, but also answer customer questions regarding your reopening.
Want to see
how Weave
can help you?
Weave Helps Streamline Business Communication
"Amazing technology has simplified our patient communication immensely! We are fairly new and can't wait to learn even more Weave features... customer service and tech support is SPOT ON and can't be beat! " - The Eye Station
Schedule Demo
5. Announce promotions
A final tactic for booking appointments while your business is recovering from the effects of coronavirus is announcing promotions. Promotions create excitement and ideally inspire customers to reconnect with your business. These promotions can include discounts, incentives for scheduling appointments, new products or services, and educational materials like webinars, newsletters, and ebooks.
The other four tactics on this list involve scheduling by calling or texting. Promotions, however, are best shared by email. Research shows that 77% of consumers want to receive marketing emails from the businesses they frequent. Equipping your business with an email marketing tool that notifies customers of your reopening promotions will make your campaign more professional and effective.
Communication Tools for Booking Appointments
Now that you're aware of some of the tactics that will serve your business best as it reopens, let's take a closer look at the tools we've briefly discussed.
VOIP Phones
If your office doesn't yet have a VOIP phone system in place, installing one can help you schedule appointments for new and current customers. Phone trees, also known as auto attendants or interactive voice response (IVR), make it possible for businesses to direct customers to the right employee while also communicating essential information about health practices. This feature saves administrative staff from having to direct each call and focus more on filling your schedule.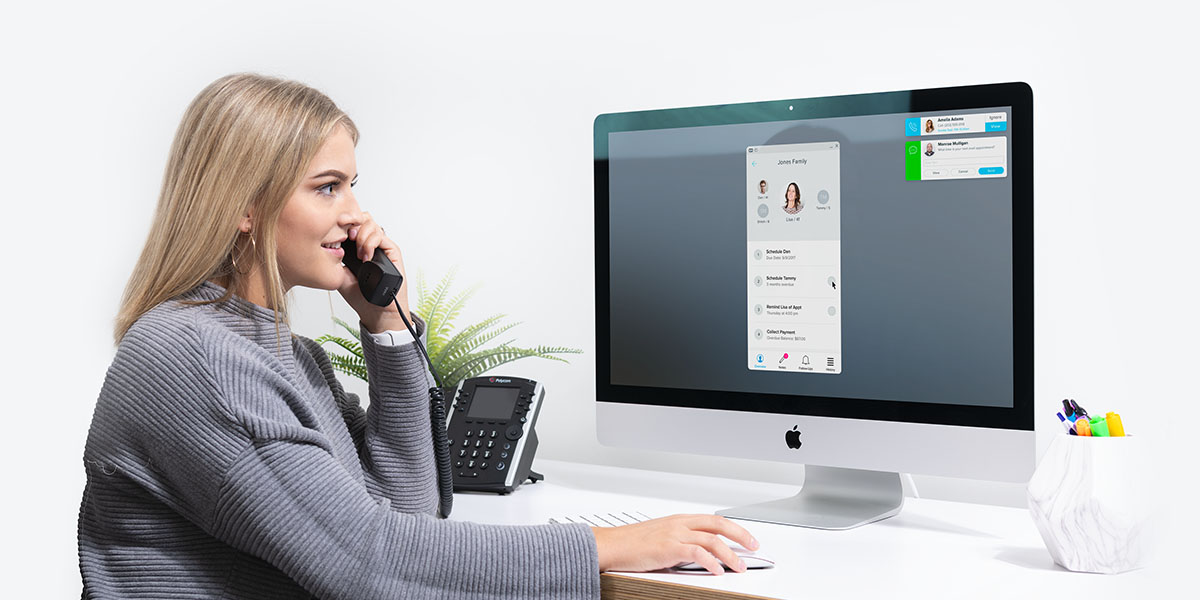 VOIP phones give businesses the ability to create voicemail overrides, which are basically emergency voicemail messages that can be activated for emergency or temporary closures. Businesses using this feature were able to update their voicemail almost immediately in response to COVID-19. Voicemail override will serve businesses well in the uncertain future.
Quick Fill Lists
We've established that contacting cancellations is crucial as you reopen your business. However, your office may not have the right tool to efficiently go through these cancellations. A Quick Fill list allows you to send text blasts to customers who had appointments cancelled due to coronavirus measures.
Contacting these priority customers by text saves your team significant amounts of time. Instead of placing a call to each individual, text blasts reach clients quickly and prompt them to set up a new time by phone or by clicking on a link. Good software actually indicates to you and your team those customers who missed appointments due to your closure, keeping you from having to sort through your calendar and find cancellations manually.
Appointment Reminders
By sending out appointment reminders by text, your business can ensure that overdue customers show up for their scheduled appointments. Much like Quick Fill lists, texting reminders saves your front desk team from spending all its time calling customers as your office reopens. Once overdue customers are booked, reminders can be automated to notify customers of their upcoming appointment.
Your appointment reminders should contain some basic information about health and safety measures your business is taking to help customers feel comfortable. Though some of your clients may walk into your office without hesitation, others will want to know you're doing everything in your power to conform to public health guidelines. Customizing your appointment reminders to include a brief description of your office's safety measures is easy with the right communication software.
Two-way Texting
Quick Fill lists and appointment reminders don't need to be one-way conversations. Making sure your business has the ability to hold text conversations with customers increases the chances of them booking appointments with your office in its reopening season.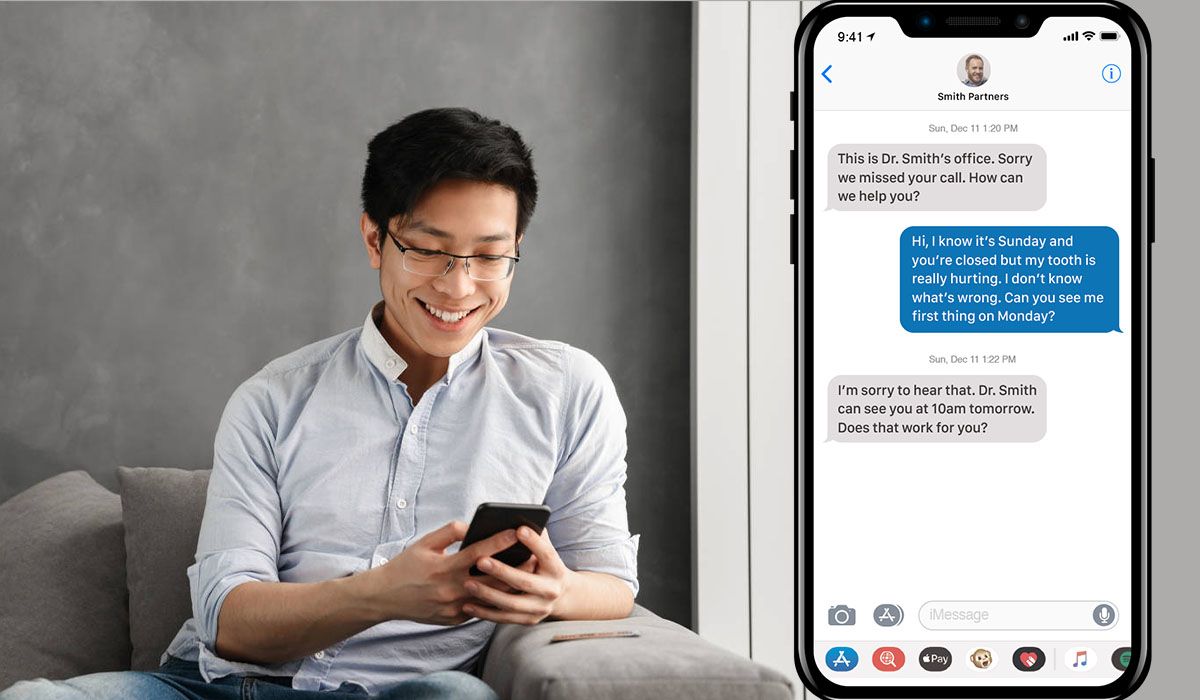 As we mentioned, some customers may have concerns about returning to your business after a lockdown phase. Two-way texting lets your team address concerns at a pace that works for them and your customers. It also allows you to engage with customers in a way that's more likely to help them find a time slot that works for them.
Email Marketing
Many businesses utilize emailing on a regular basis, but some might not yet realize all the ways an email marketing tool can help them book appointments. Emailing is a great form of communication for spreading the word about promotions. Email marketing tools let you quickly and effectively compose professional-looking emails using templates, image libraries, and call-to-action buttons.
If your business wants to utilize promotions as a tactic for booking appointments, a powerful email marketing tool is an essential tool to ensure you succeed. A big part of booking appointments is helping customers get excited about your reopening. Effective email marketing lets you build anticipation and eagerness around your new hours.
Weave's Business Toolbox
Tactics are one step toward filling your schedule in the coming months, but it's critical that your business gets the right set of communication tools to employ the tactics we've discussed in this post. Weave provides small businesses with all the tools listed above and more.
Watch a demo to learn more about how our complete business toolbox can help you book appointments while your business is recovering.