Historically, veterinary offices have relied on their reputation in the community and some conventional advertising to discover new clients. Times have changed. Although word-of-mouth marketing, promotions on local media and billboards, and print ads still have their place, veterinary clinics should increasingly be focusing on their online presence to find customers.
95% of consumers now read online reviews¹ before making a purchase. This statistic means the vast majority of your prospective clients are googling veterinary offices in your area in order to make a decision about whom to trust with their pets' health. A modern marketing strategy has to involve a push for a high number of positive reviews on sites like Google and Facebook.
Some small veterinary practices may believe they can continue to stick to their old strategies for adding customers, like personal recommendations. However, 84% of customers now trust online reviews as much as recommendations from their peers.² It's become easier for pet owners to simply search for vets online than for them to ask friends about their favorite clinic.
Collecting online reviews for your veterinary office requires strategy. The goal of this blog post is to give you some ideas for building your practice's online reputation with reviews. Below are thirteen ways to boost your clinic's online review status.
1. Make a profile on Google My Business
The first step for ensuring that your office gets online reviews is registering on key sites. Google is the most widely used search engine in the world, so setting up a profile with them is a great place to start. Registering with Google builds your online credibility and makes it easier for potential customers to see your business in Search and on Maps.
Once Google has your physical address, website, and other significant information about your veterinary practice, its search algorithm is more likely to make your business visible to the public. From here, you want to increase the amount of positive reviews you have on Google Reviews. Real customer reviews further authenticate your business and boost its visibility in search results.
2. Strengthen your communication system
As you go about collecting reviews, using communication technology will greatly improve your efficiency. Formerly, vet clinics and other businesses gathered reviews and testimonials by recording tapes or videos and having customers write down their thoughts on paper. Digital tools now make it possible to collect reviews with much less effort.
A VoIP (Voice over Internet Protocol) phone system is foundational for offices hoping to upgrade their communication. VoIP phones allow your practice to utilize the internet instead of landlines, thus increasing the speed and flexibility of your network. It also lets your office gather online reviews with modern approaches like text requests.
3. Ask for online reviews
An obvious holdup for veterinary offices looking to collect online reviews is simply not asking. When you forget to ask customers for reviews or avoid the conversation, you cost your business the opportunity to build its online presence. Be sure to emphasize the importance of online reviews to other practitioners, administrators, and receptionists.
Asking for online reviews doesn't require you to antagonize or annoy customers. People are happy to share their opinions, and many consumers choose to post reviews without any prompting from businesses. Politely request reviews after successful appointments. Studies show that the best time to ask for reviews is directly following a satisfactory visit.


Struggling with reviews? See how Weave makes it easier
9 out of 10 people check online reviews before choosing a business
Weave helps you easily collect and monitor reviews on Google and Facebook. These reviews can be some of the best marketing for your business.

Schedule Demo
4. Request reviews by text
Text messaging is becoming a favorite form of communication with businesses, especially among the younger generation of customers. If your office is set up with VoIP phones, it can use these phones and associated software to text review requests to customers. Texted review requests contain a short message and a link to a popular review site.
Review requests sent by text allow your customers to post their reviews at their own convenience. They also save your front office team significant amounts of time to focus on more pressing tasks. Texted review requests open up the opportunity to have a two-way conversation with customers and discover their thoughts on your practice.
5. Automate your review requests
With the right software, your staff won't have to worry about asking each pet owner to share an online review. They can set up review requests to go out to customers in advance, protecting them from forgetting about requests after appointments. Automation is a powerful tool when it's employed properly, and using it in your text outreach is a great place to start.
6. Reduce front desk visits
During the COVID-19 pandemic, veterinary offices have attempted to cut down on the number of people in their waiting rooms by implementing curbside waiting rooms. A curbside waiting room keeps pet owners out of your office unless their animals are being seen by your staff. Offices ask customers to check their pets in from their car, then bring them back with a text once the practice is ready to receive them.
Texting review requests allows your clinic to mirror the curbside waiting room protocol. Instead of having clients stop by the front desk after appointments, your team sends them a simple text message. Contactless payments are an additional tool for those practices hoping to eliminate unnecessary traffic in their waiting room.
7. Personalize your review requests
Personalized messaging performs better than generic communication. As your office sends out review requests by text, try to include references to your veterinary practice. Match the tone of your other communication, and, if you have time, bring up the pet owner's recent visit to your office.
Text messages can be customized using templates in communication software. These templates let your team compose personalized messages in a short period of time. Thanks to automation, personalized review requests are able to be saved and scheduled to go out to customers at specific times on specific days.
8. Get notifications about online reviews
As your veterinary practice garners more and more reviews, you'll want to keep tabs on your rating across various review sites. Asking administrators to regularly bounce between your profiles on review sites is a bit time consuming. The job of checking your review status is simplified by notifications.
Your office should set a weekly or monthly goal for reviews. Using review monitoring software to get notifications on newly posted reviews will make sure you have an accurate idea of how your business is faring. Review notifications will also help your clinic keep an eye on extremely positive or negative reviews.
9. Share positive reviews on social media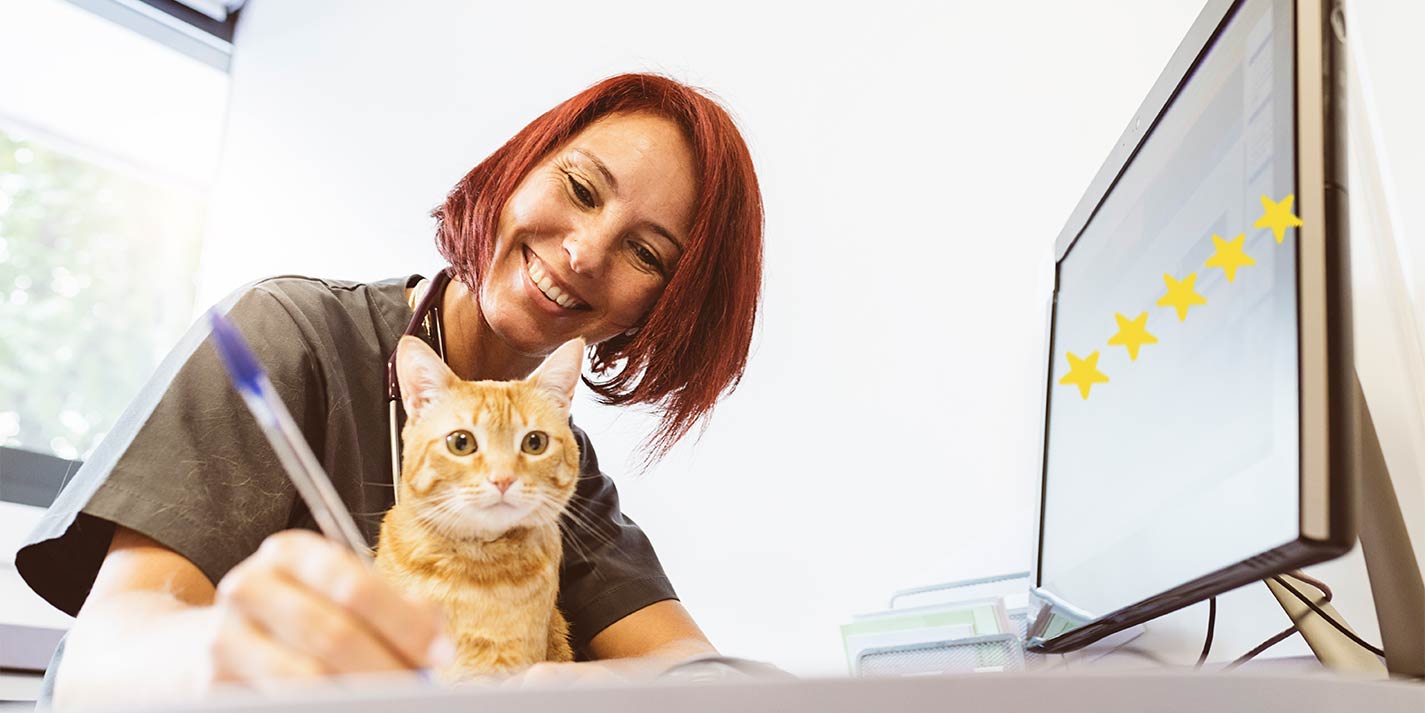 In the process of monitoring reviews, you will come across some remarkably strong reviews that capture exactly what your veterinary practice does for its clients. These sorts of testimonials are great fodder for social media posts and website quotations. This is the point where online reviews begin to inform and shape your other marketing efforts.
Before you share a customer's review on social media, please be certain that you have their permission to publish it. Don't offer benefits or prizes for positive reviews, either. Giving clients discounts or free services for their opinion is seen as a violation of protocol on most ethical review sites.
10. Respond to negative reviews
Negative reviews also require your practice to take action. Negative reviews are a necessary part of the online review game, and you shouldn't be discouraged by a few bad opinions. In fact, consumers are more wary of businesses with perfect star ratings online than those that score closer to four stars on average.
A trusted member of your team can reach out to negative reviewers to ask how to improve your customer service. This practice can yield new insights and possibly inspire the unsatisfied client to remove the negative post. If you encounter false or libelous reviews of your veterinary clinic, the best course of action is to report those reviews to Google or the administrator of the review site you're using.
11. Find a user-friendly interface
All this monitoring of online reviews necessitates an interface for ease of use. Just as notifications help your office keep on top of its review progress, the right interface can save team members from having to bounce between review sites. This interface should give you concrete statistics and analytics for understanding trends across sites like Google and Facebook.
13. Use CTA buttons
CTA (Call to Action) buttons are fancy links that catch the attention of email readers. Emailing is a supplemental option for veterinary practices trying to gather online reviews. Your email marketing campaigns can be enhanced by providing customers with professional-looking emails that ask them to share their reviews online.
Check out Weave Reviews
Weave Reviews is a tool developed to empower veterinary practices to bolster their online presence. Using our unique combination of hardware and software solutions, an office in Oklahoma increased its new client flow by 324%, going from 17 new clients and 10 online reviews per month to 76 new clients and 200 online reviews.
With VoIP phones as its foundation, our complete business toolbox makes it easy for clinics to request, gather, and monitor online reviews. Our review requests can be personalized and automated for maximum convenience and efficiency. Alternative tools like Email Marketing offer vet offices other ways to build a strong online presence.
To discover how Weave can optimize your practice's online reputation, bringing in more customers and revenue, watch your free demo.