Medical professionals know that the processes, tools, and medicines they use on a daily basis are constantly being refined and updated. Communication systems aren't any different. Just as outdated techniques hurt patients, old-fashioned communication can harm your healthcare practice.
Providers relied on conventional forms of communication for a long time. Things like traditional telephony, mailers, and print advertising carried practices for most of the 20th century. However, the advent of the internet permanently altered the way our society communicates. Medical practices that fail to adapt to modern communication systems won't only be left in the dust; they run the risk of hurting their employees and patients.
Weave recently commissioned a study of 750 healthcare practitioners and clients in order to understand how they're reacting to the COVID-19 pandemic. This survey revealed a number of important statistics regarding the communication and payment systems used by current healthcare providers. These data points show the shortcomings of systems that aren't evolving, as well as the merits of adopting new, optimized technologies.
Here are 11 ways your current systems are hurting your medical practice:
1.Failure to comply with public health guidelines
Communication networks are harming your practice when they fail to inform patients about the regulations and guidelines you're following to keep staff and customers safe. 57% of the patients interviewed said they won't visit a healthcare facility unless masks are mandatory. Most healthcare providers understand and conform to public health measures like handwashing, mask-wearing, and proper social distancing. Sometimes the problem is that they're not letting patients know about these expectations in advance.
A landline phone system makes the process of informing clients about health and safety protocol incredibly laborious. It requires a whole slew of individual calls that take up the precious time of your front office staff. Switching to a VoIP (Voice over Internet Protocol) gives your practice the dexterity needed to reach your entire clientele base in a short period of time.
2.Not enough social distancing
Outdated systems aren't able to integrate social distancing and touchless solutions into your office's processes. According to our survey, the top ways healthcare practices are going "contactless" are reducing the number of patients in the office, spacing out appointments, and using mobile payments. Spacing out appointments is doable with smart scheduling, and this blog post will discuss mobile payments in later sections. Let's talk about reducing the number of patients in the office.
Traditionally, healthcare patients check into their appointments at the front desk, then sit around the waiting room, skimming through magazines. At a time when social distancing is vital, waiting rooms are to be avoided. A VoIP phone system allows you to text customers before appointments and ask them to check in from the parking lot, effectively implementing curbside waiting rooms and reducing the number of people in your office.
3.Unrealized texting potential
Many offices have started texting with their patients, but most have yet to fully embrace texting's potential as a line of communication. In our survey, only 19% of practices said they're using texting to its fullest potential. Some healthcare practices might not even know what they'd be able to do with an optimized text outreach.
Watch How Enabling Your Computer With Texting Capabilities Can Help Your Practice
See how Weave Will Fully Optimize Your Practice
A Flexible & Modern System Makes a Difference
&quot I couldn't have been as effective nor efficient without Weave these past two weeks. We, like a lot of offices, had to close down (rather quickly) and thanks to Weave I could text everyone, send out email blasts, work from home, answer patients questions and concerns quickly. Although as an OM this has been the most stressful 2 weeks of my career, Weave has made it more manageable. &quot-Arden Jolley- Office Manager
Schedule Demo
We already mentioned how curbside waiting rooms can be set up using text messaging. In addition to this social distancing measure, offices can text their patients wellness forms that screen for COVID-19 symptoms in advance. By clicking a texted link, customers can indicate their physical condition, exposure to sick household members, and recent travel.
4. Inability to integrate new technology
It's hard to keep up with the constant technological innovations that are happening in our society. However, getting a VoIP phone system can prepare your practice to adapt to trends and developments. 68% of healthcare providers say that most of their outgoing communication will be via text in the next three years.
Setting up a VoIP phone system will allow your office to begin moving toward more text messaging with clients. With a consolidated communication system, phone calls easily turn into text conversations. Missed call texts go out to customers that aren't able to reach your front desk, giving them the opportunity to either converse via text or wait for a call back.
5.Over-reliance on phones
We've already discussed how relying primarily on phone calls can hamper your practice's functionality. Besides, 43% of patients say it's easier to reach them by text rather than by phone. The younger generation of healthcare clients, those age 35 and younger, are fixated on texting and looking to text with businesses instead of calling.
Many of the processes that were formerly dealt with using office phones can now be handled with software that automatically texts customers. For instance, appointment reminders can be scheduled in advance to go out to patients at specific dates and times. Your office team doesn't even have to respond to client confirmation texts; sentiment analysis within this software interprets and records responses, notifying your administration if patients reschedule or cancel.
6.Unprofessional emailing
While calling and texting are the two most basic ways to communicate with patients, they're not foolproof methods. 33% of healthcare clients admit to forgetting about calls and texts from their providers. In the survey commissioned by Weave, patients said their preferred line of communication outside of calling and texting is emailing.
Most offices have an email outreach already, but haven't taken steps toward optimizing their email marketing. Professional email marketing tools allow providers to use pre-written templates and an image library to improve their emailing outreach. CTA (Call to Action) buttons are sharp-looking links that let customers take immediate action by scheduling appointments, making payments, or viewing educational materials.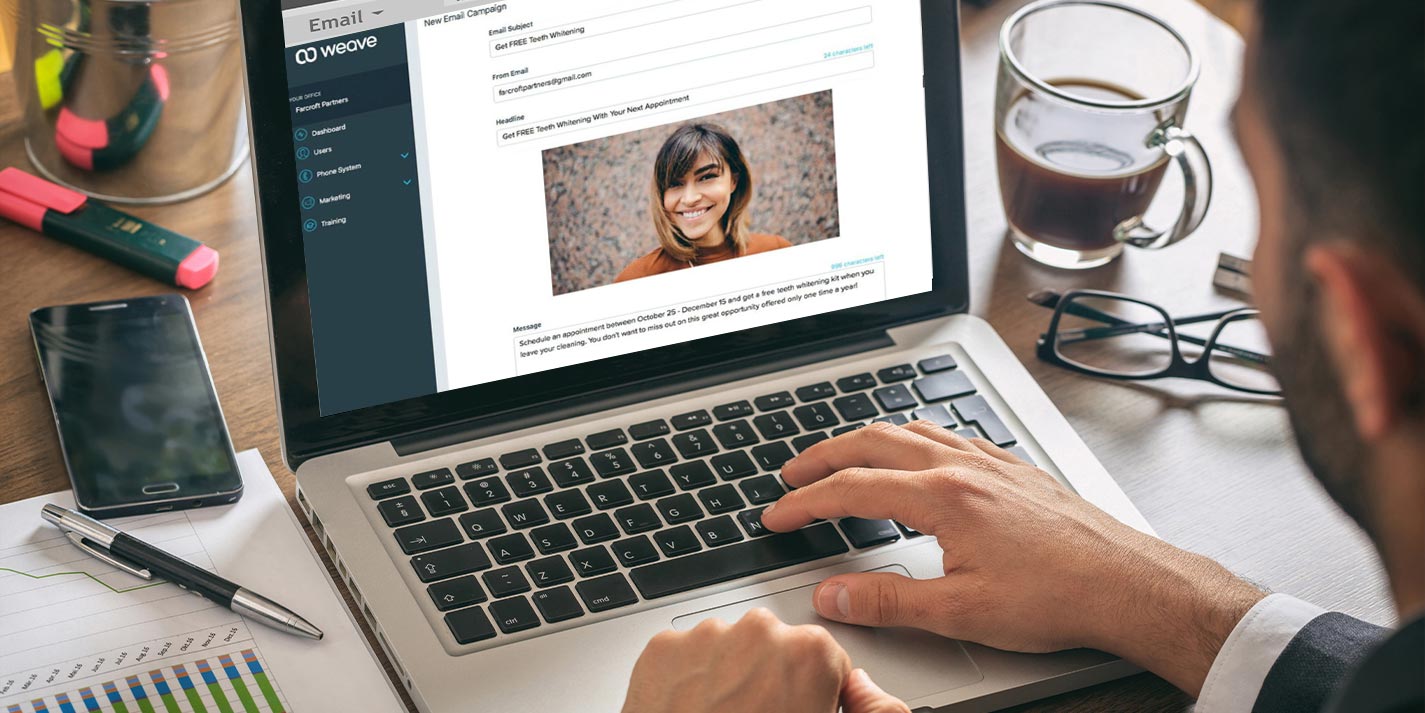 7.Unstrategic feedback
Although healthcare practices tend to ask for feedback from customers, it isn't always put to good use. Simply reading over patient reviews is somewhat effective, but it doesn't offer the same utility as an online review strategy. Since clients prefer to give feedback via text rather than via phone (38% vs. 24%), offices should send review requests by text.
Within these texts, include a link to popular review sites such as Google and Facebook. Amassing a high number of positive reviews on key sites boosts your office's visibility in search engine results. This visibility is crucial because 95% of consumers now read online reviews before making a financial decision.
8.Generic communication
Without a modern communication system, it's easy to fall into the trap of dispersing generic communication to patients. 48% of the healthcare clients from our survey said they've been annoyed by generic communication from providers. Impersonal messaging hurts medical practices by alienating customers.
In order to counteract the tendency toward generic communication, offices need to bring insight-driven software on board. Customer insights put details including patient names, birthdays, medical histories, upcoming appointments, and outstanding balances at your employees' fingertips. When they're answering calls or composing texts, the particular needs of each client are easily accessible.
9.Lack of contactless payment options
Medical practices sometimes overlook how their medical payment processing system affects patients. According to our recent survey, 68% of clients prefer contactless payments. Contactless payments include the mobile wallets provided by Google, Microsoft, Apple, and Samsung, along with text payment options.
Mobile wallets allow customers to scan their phones instead of handing over cash, writing checks, or scanning credit cards. Payment processing is also possible with a text payment option. For example, Weave's Text to Pay feature lets providers send a payment request to clients by text after appointments, giving them the option to pay from the parking lot or from their own homes.
10.Incomplete payment platforms
Some providers might mistakenly think that payments are an either/or scenario. Either your office collects payments by traditional means or converts entirely to contactless payment processing. 67% of healthcare practices want to transition from credit cards to Text to Pay, and the big secret is how seamless this transition can be.
A complete payment platform allows your office to continue handling conventional payment processing by accepting cash, checks, and cards, yet at the same time pushing for increased contactless payments. In fact, accepting the whole gamut of payments makes your office more attractive to prospective clients.
11.Unhygienic payment options
It's wise to continue to have the ability to collect payments by cash, checks, and cards, if only because these are deeply entrenched forms of payment processing. However, the COVID-19 pandemic has shown the need for adopting more hygienic merchant services. 68% of healthcare patients say Text to Pay is more hygienic than credit card processing.
Text to Pay mirrors the curbside waiting room process by reducing the amount of patients in your office at one time. Customers no longer need to drop by the front desk after an appointment. Instead, they can maintain social distancing by making payments via text.
To find out more about Text to Pay and other ways to modernize your medical practice's communication systems, contact Weave today.