Does your office spend a lot of time individually calling clients when there's an opening in the schedule? Do you go down the list, make calls, leave messages, and hope that within an hour or two, that open appointment will be filled?
Chances are your practice has a myriad of other, more productive ways, to spend that time. But how can you condense that task, when filling schedule gaps is an important part of keeping your practice running? Weave can show you how with Appointment Quick Fill.
By utilizing Weave's Appointment Quick Fill, you'll simply send a text message and let the scheduling take care of itself.
Our new Appointment Quick Fill feature enables your office to communicate an opening to patients waiting for an appointment by texting up to 10 patients at a time from your Weave Quick Fill list. In other words, instead of calling each patient one by one, you'll send out a text (with up to three available appointment times) for Quick Fill patients to choose from. As patients schedule, they're automatically removed from the Quick Fill list, and your gap is filled.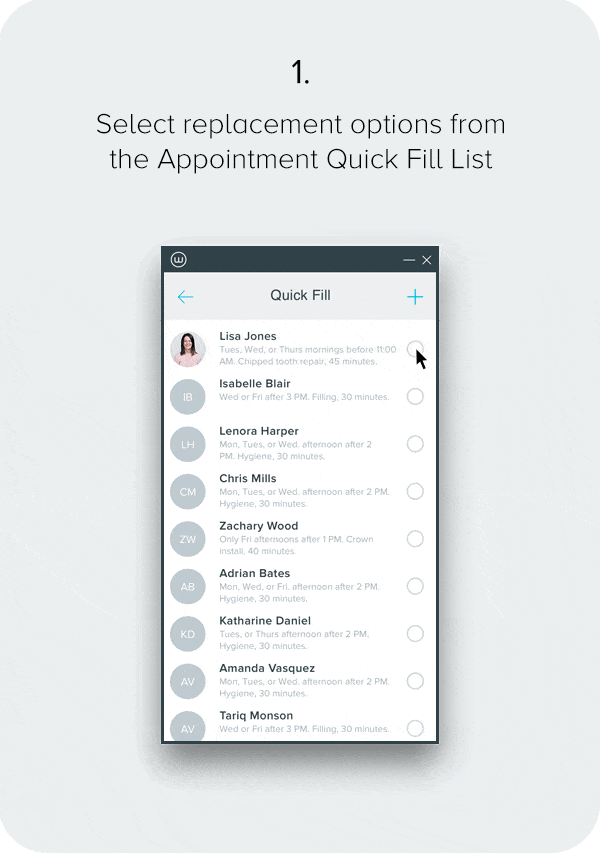 Little House of Smiles Children's Dentistry relayed that they now solely use Weave, when before they utilized the cancellation list in their practice management system. "As soon as we send out the text messages we get responses in twenty minutes where before it would take us an hour to call all of the people."
Adding text message recipients can be done from the patient's profile or the Quick Fill list, and what's more, the text is editable in the settings section to be as personal as you want. Also, when adding a patient to the list, there is the option to add notes to the patient for the office's reference.
"Quick Fill is the thing we use the most. Text messaging patients in general is really convenient for us, too, because we have on record what they say. It's a more convenient way for us to communicate with them."
In addition to Little House of Smiles, Blue Valley Vision of Overland Park's office can attest: "We've used Quick Fill several times already and it works really well and is fast. The messages seem to get sent immediately."
We think you'll like this proactive approach for unplanned cancellations.