Accidents and emergencies are an unfortunate possibility for every small business. The effects of human and environmental catastrophes can devastate businesses just as they're getting off the ground. Luckily, there are ways to prepare your business for the unthinkable.
Adopting the right communication platform is one such way. A Weave user, Angel Mejia, recently wrote to us about how Weave kept Creedmoor Road Animal Hospital in North Carolina running after a severe thunderstorm, where she worked as an office manager.
Lightning strikes
Shortly after adopting Weave as its communication platform, Angel's clinic was hit by a severe thunderstorm. Angel told us that when the storm rolled through their area, lightning struck their building, frying their breaker boxes and causing the office to lose power.
"In all of my years in veterinary medicine," Angel said, "I had never experienced anything like it."
Anyone who has managed an office understands that, in the event of a major power outage, there are about 10,000 things to worry about. However, according to Angel, "Weave took a lot of that weight off [her] shoulders."
What did Weave allow Creedmoor Road Animal Hospital to do that kept their business afloat following the storm? This blog post contains five ways veterinary clinics can guide their business through emergency situations thanks to Weave.
Meet Angel at Creedmoor Road Animal Hospital
1. Answer phone calls through the Mobile App
Due to the power of the thunderstorm that rolled through North Carolina that workday, the phone lines at Angel's clinic went down. Without the right phone system, the loss of phone lines would put all operations on permanent hold. With Weave, the practice was able to quickly redirect all phone calls to the smartphones of its employees.
The Mobile App enabled Creedmoor Road Animal Hospital to make and receive calls through their personal devices. They reached out to their clients and rescheduled appointments. When customers needed to get their pets into emergency rooms, Angel and her team were able to redirect pet owners to locations near them.
Weave's Mobile App isn't just for handling phone calls. It lets you take care of the majority of your office work while working remotely. Even if you're not faced with a situation as challenging as Angel's, the Mobile App can facilitate a work-from-home lifestyle or frequent traveling, keeping your entire organization connected.


Want your employees to stress less? Ask Weave
Weave's Smart Technology Helps You Do More with Less Effort
Lighting struck our practice, we lost power and breaker boxes. In all my years in veterinary medicine I had never experienced anything like this. Thankfully Weave took a lot of weight off my shoulders. In seconds, I was able to send our phone lines to my cell through the Weave app & answer client calls. ~Angel | Creedmoor Road Animal Hospital

Schedule Demo
2. Utilize text messaging
Business texting seems to get more popular every year. That's because it makes communication easier in many situations, like the power outage caused by a North Carolina thunderstorm. While some pet owners have a hard time picking up their phone to have a conversation with their vet, they're almost always able to read a text message.
After losing power, the employees at Angel's practice set about notifying their clients of changes to upcoming appointments. They sent pictures to owners of pets who were boarding, letting them know that their animals were safe. Some pets were at daycare; their owners also received a photo and notification.
Weave Messages allows veterinarians to engage in two-way text conversation with their customers, whether they're in the office or working from home. This type of engagement is especially important for maintaining a rapport with your younger customers. As you'll see in the next two sections, texting serves a variety of purposes.
3. Set up missed call auto texts
Every veterinary clinic has certain times of day when it seems impossible to answer every call. In the event of an emergency, this sort of influx is only exacerbated. That's why it's critical that veterinarians adopt technology that gives them a way to alleviate the pressure felt by their office staff in stressful situations.
Angel said her team was grateful for the recall feature in the aftermath of a lightning bolt striking their office. The recall feature is possible thanks to VoIP (Voice over Internet Protocol) phones, which connect your phones to other lines of communication. By linking phones with texts and emails, veterinarians can diversify their approach to customer communication.
Following the thunderstorm, Creedmoor Road Animal Hospital's clients that couldn't reach the front desk automatically received a text message notifying them of the incident and assuring them that the office would contact them as soon as possible. Angel used the customizable text template to adjust the messaging of the missed call texts to explain the predicament. These missed call texts reassure clients in times of peace and in emergency situations.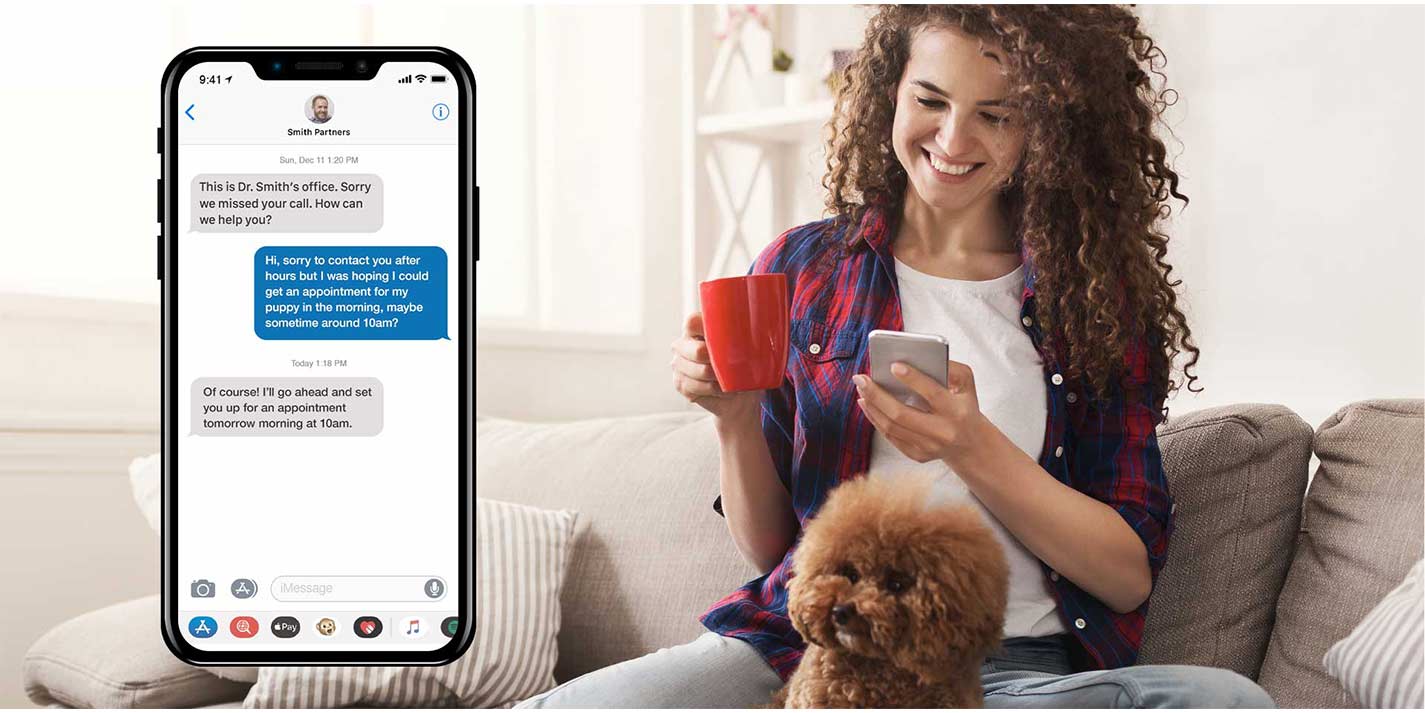 4. Add a contactless payment option
Texting doesn't just enable veterinary clinics to have conversations with pet owners or allow them to reschedule appointments. Pet owners now can pay for services by text. Weave's version of text payments is known as Text to Pay.
Angel raved about her office's ability to continue to collect payments despite their power being out. Although they weren't offering many of their normal services, pet owners were able to pick up medicine and cat or dog food and pay for it with Text to Pay. Having the tools to continue to provide services and collect payments provided some relief to Angel's clinic.
Weave Payments offers veterinary clinics not only Text to Pay, but lets them collect payments from mobile wallets. If pet owners prefer an old school approach to payments, your clinic can still accept cash, checks, and cards. This way, your practice can move toward digital payments while continuing to support all of its clients' payment preferences.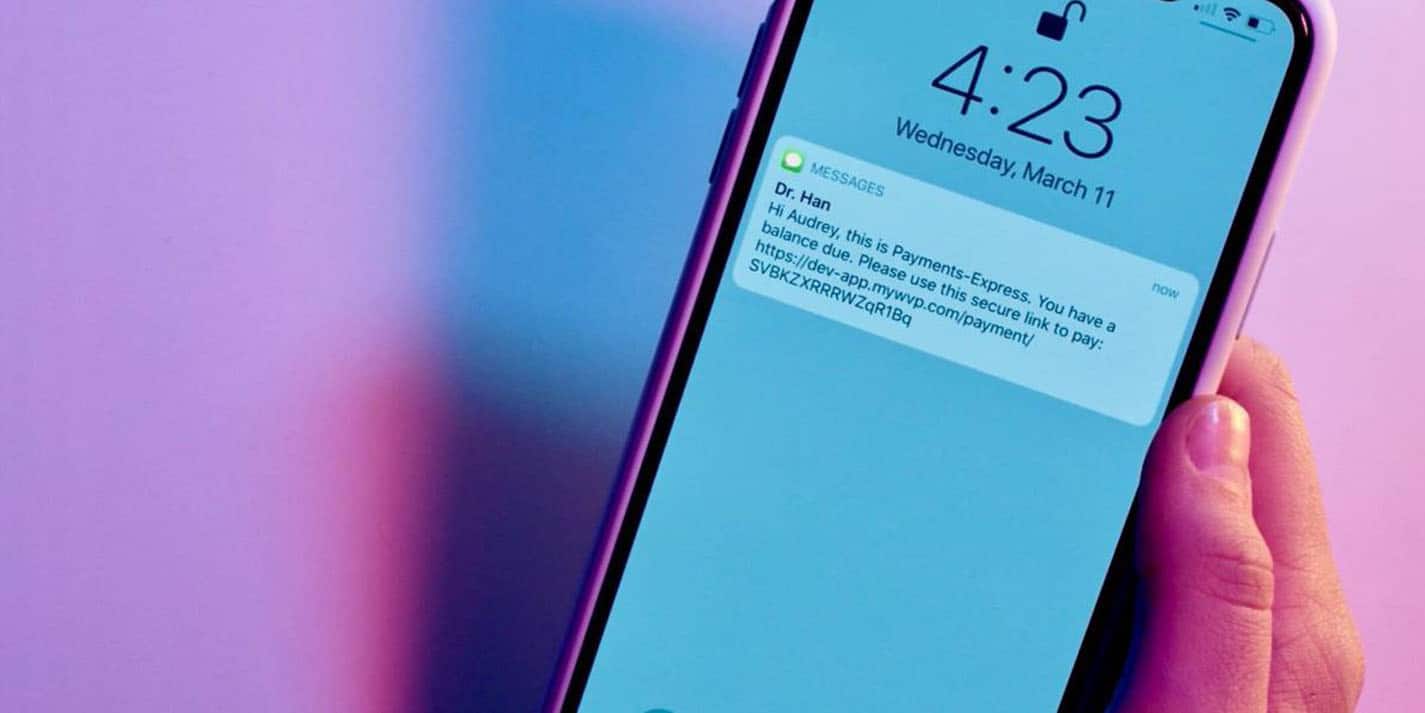 5. Create a new voicemail message
While handling calls via the Mobile App, Angel and her team needed to adjust their voicemail in an effort to notify pet owners of the power outage. With landline phones, this sort of adjustment would have been out of the question. However, Weave made setting up a new voicemail easy, even under stressful circumstances.
Weave Phones lets veterinary clinics customize their voicemail messaging and phone tree. It gives them unlimited long-distance calls and unlimited rollover lines. Call recording and analytics allow veterinarians and their staff to learn from their phone calls and develop better customer service, including training for future emergencies.
Manage the unthinkable with Weave
No veterinary clinic knows when lightning might strike. Adopting a sophisticated communication and engagement platform can save veterinarians in the future. Weave offers practices powerful solutions for dealing with unexpected situations.
"I am so glad that when the unthinkable happened," says Angel, "Weave was there to catch us."