Although optometrists primarily focus their day-to-day attention on the visual, it's still important that their patients hear from them. Setting up an optimized phone system keeps the goings-on in your office from falling on deaf ears. Optometry patients need to be heard by your office before they're ever seen stepping through the front door.
Because they're so focused on the essential services of prescribing lenses, helping with vision development, and finding the right medication for patients, optometrists sometimes don't see how a modern phone system could bolster their communication network. Many offices rely on traditional phones that simply aren't adequate in today's marketplace.
Switching to VoIP (Voice over Internet Protocol) phones is one of the best ways for optometry practices to optimize their lines of communication. A VoIP phone system utilizes internet connections to make unified communication easy. By converting to VoIP phones built with optometrists in mind, optometrists allow their office to integrate calls, texts, emails, and online reviews into one complete network.
Small and local practices shouldn't hesitate to try VoIP phone systems. They let office teams provide higher quality customer service to patients. They also keep administrators and practitioners coordinated and synchronized. Finally, they create opportunities for growth and expansion by broadening networks and opening new markets.
Here are some of the features that make VoIP phones ideal for optometry practices:
Aggregated customer contacts
For optometrists that own or run multiple offices, it's critical that patient information be available from any location. Traditional phones and optometry software don't provide this sort of integration. If optometrists are working at one office and need to find records from another, they often have to call the other location to have a receptionist look up the information for them.
VoIP phone systems make patient records accessible from any location within the network. These records can be organized by the office, yet are viewable as long as the communication network is integrated. This type of phone system prevents optometrists from being frustrated by their separate offices. Instead, it pushes them toward further growth.
Mobile app
Let's be honest. The vast majority of people, optometrists included, use a smartphone almost exclusively. While office phones are a necessity and an asset, it's incredibly useful to have personal smartphones connected to the office network. Of course, this level of connection is impossible with traditional phones.
VoIP phones let optometrists manage their practices remotely. If they're traveling between offices or are simply working from home, they can use a mobile app to put themselves in touch and receive calls. And mobile access isn't limited to practitioners; your whole office can download a mobile app to make remote work a reality.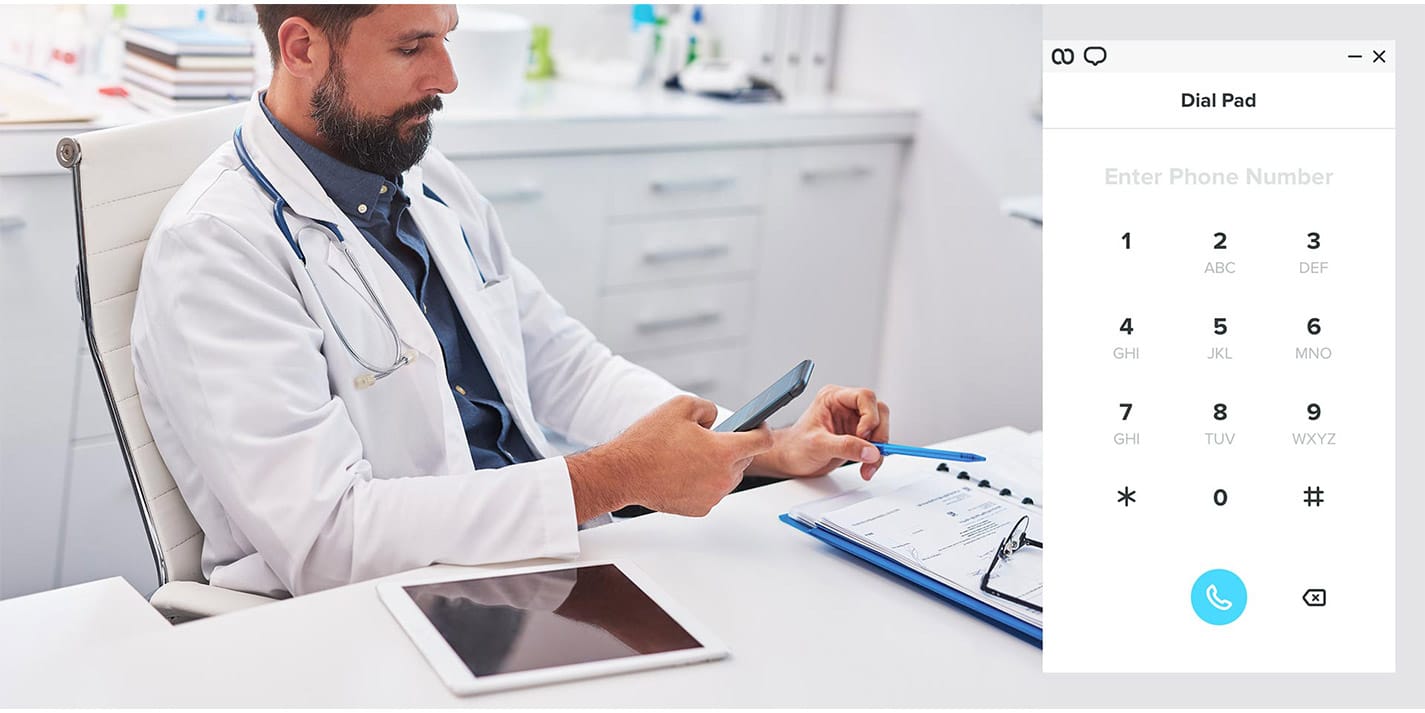 Unlimited rollover lines and long-distance calls
Traditional phones keep optometry practices from handling high call volumes. They can also make them hesitant to call long-distance numbers, like those of lens suppliers, insurance companies, and other business contacts. That's because conventional phones have a limited amount of rollover lines and can be costly when calling out of your locality.
With VoIP phones, your optometry practice can create as many rollover lines as it needs, so no call needs to be rejected outright. Your front office team can sort out calls at its busiest times. VoIP phones also get rid of long-distance phone bills and instead ask for a monthly flat rate. This way, receptionists don't have to worry about running up a bill when they're coordinating deliveries, payments, or appointments.


Want to see how Weave can help you?
Weave Helps Streamline Business Communication
"Amazing technology has simplified our patient communication immensely! We are fairly new and can't wait to learn even more Weave features... customer service and tech support is SPOT ON and can't be beat! " - The Eye Station

Schedule Demo
Customer insights
Though all optometry practices have the personal records of their clients in a digital form, these records aren't always readily available during phone calls. Receptionists have to open up digital files and search for patient information, which ends up coming across as clumsy. The preferred approach is having these records directly connected to your phone system.
VoIP phones allow offices to view personal information as soon as a call is answered. The software populates the customer's personal information on the receptionist screen, making it easy to look at upcoming appointments, outstanding balances, family members, and other tasks. Team members can also take notes and save them to the patient's history for future communication.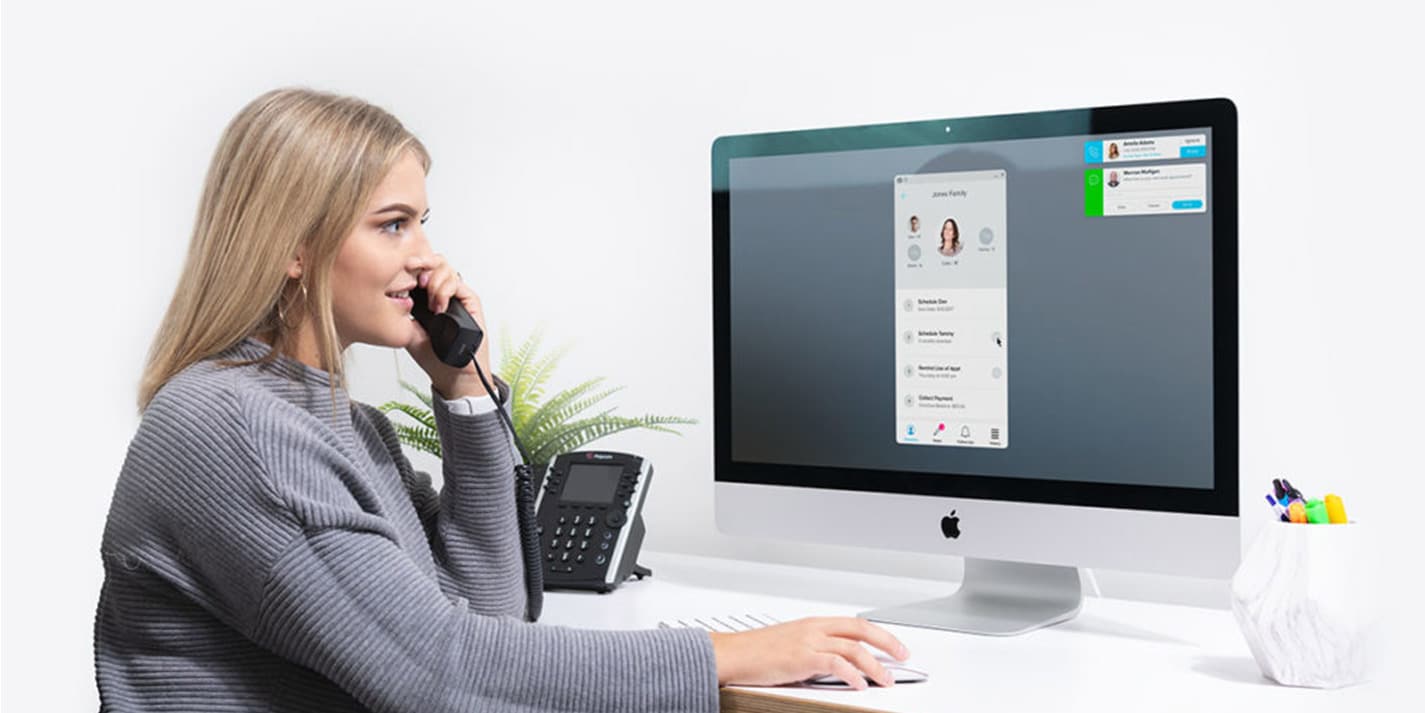 Conference calls
Regular landlines can make it difficult for optometrists to hold conference calls. Outdated technology often creates more failures than successes, distracting from the original purpose of a conference call or meeting. By switching to VoIP phones, optometrists will improve the efficiency of team meetings, conversations with other practitioners, and board discussions.
VoIP phones don't function much differently than traditional phones in the event of a conference call. However, they allow offices to add more callers, and with less hassle. Conference calls are a significant part of developing office unity, and switching to VoIP conference calls will make these get-togethers easier to orchestrate.
Missed call texts
A clear difference between traditional and VoIP phones is their connection to texting services. Bouncing between texting and calling is a nightmare for those using traditional office phones. Even if your optometry practice is trying to provide alternative lines of communication, there's no cross-pollination or coordination between phones and texts.
The software that works with VoIP phones can automatically send texts to callers when receptionists are too busy to receive them. This type of follow up reassures patients and opens up avenues for two-way texting. A record of texts is kept within the network as well, giving front office workers and practitioners the ability to revisit conversations.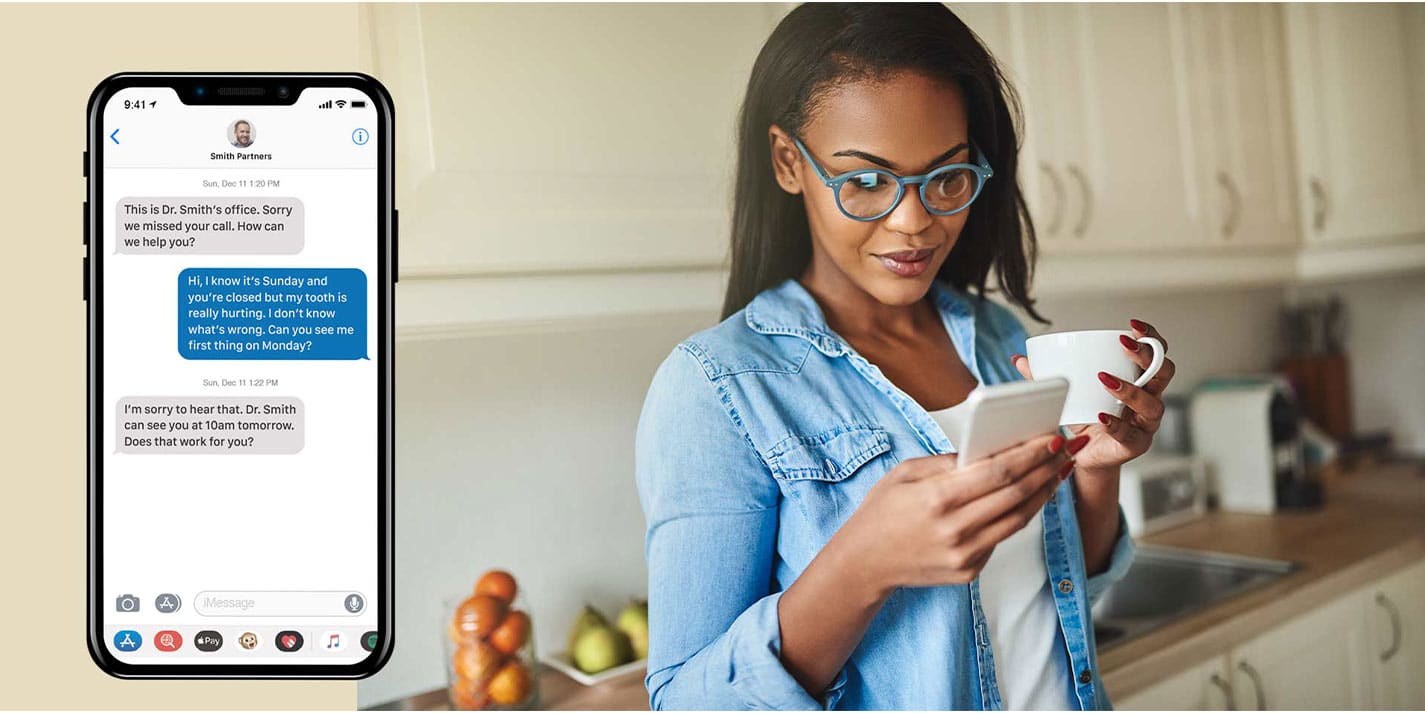 Call recording
Traditional phones enable callers to leave messages, but if dialogue takes place, there's no record of the conversation. This gap in the records often leads to optometry offices calling patients back to get the information they may have missed. It also prevents practice owners and administrators from having any oversight regarding their customer service.
VoIP phones and their corresponding software allow optometry offices to record each conversation that happens on their network. This feature makes it possible to return to calls for patient information that might have been missed. It also functions as a tool for training and assessing the customer service provided by the front desk.
Voicemail override
Recording voicemail messages can be a tedious affair with traditional phones. The process of recording a quality message can take up the time of office administrators. There's also no way to create backup messages for holidays and emergency situations.
By switching to VoIP phones, optometrists can have their team easily record and re-record voicemail messages for each of their practices. Voicemail overrides are backup messages for situations in which offices are changing their hours or closing temporarily. When these alternate voicemails need to be activated, office staff are able to activate voicemail override in a matter of minutes, saving on stress.
Hold music
We all know what it's like to get stuck in a call queue with obnoxious elevator music. Conventional phones don't offer many options for finding quality hold music. Of course, it's more effective to eliminate the time customers spend waiting to speak with your team, but in the inevitable event of placing a call on hold, it's best practice to have a pleasant tune to enjoy.
VoIP phones make it possible to choose from an array of music to match with your office's aesthetic. The sound quality is enhanced by using software to find something that fits your optometry practice.
Customized phone trees
Phone trees are the audio menus patients hear when they call your office. They're effective for helping customers navigate your office structure and reach the exact receptionist, administrator, or practitioner they're hoping to speak to. Traditional phones provide phone trees, but make it difficult to customize your network.
Offices deserve to have some creative freedom when they set up their phone trees. Every organization has its own unique structure, and VoIP phones enable optometrists to design a phone tree that resembles their internal network. Establishing a phone tree that matches the structure of your organization cuts down on inefficiencies and avoids having patients meander from employee to employee in search of the information they're seeking.
Weave Phones
All of the features listed in this article are available through Weave's complete toolbox. Weave specializes in VoIP technology, and our team developed each feature of our phone system with optometrists in mind. If you're hoping to upgrade your communication network, Weave's phones are a great place to start.
Not only do our phones make it possible for you and your team to handle a higher call volume in a more professional manner, they also connect your phones with your texting service, faxes, online reviews, emails, and the rest of your digital communication.
Contact us today to discover how Weave phones are built with optometrists in mind.