Texting has gone from an occasionally-used tool to a primary mode of communication over the last two decades. While older consumers have been slower to embrace texting, the younger generation shows a clear preference for communicating with text messaging. Businesses that want to attract more prospective customers and provide a better customer experience to existing clients should respond to the need to optimize their text outreach.
Weave recently commissioned an independent survey of 750 healthcare professionals and patients to understand how they're dealing with the conditions brought about by COVID-19. Among other statistics, there were some noticeable trends toward increased business texting due to the pandemic.
With 93% of healthcare patients delaying care as a result of COVID-19, practices need to find better ways to communicate with their customers and let them know about the safety of their office and facilities. According to our survey, 78% of clients are reluctant to go into healthcare practices right now. Reaching out to patients by text and using text messaging's full potential will keep your practice running smoothly and safely.
Here are 17 hints for unleashing your practice's full potential with text messaging:
1.Increase your client contact rate
70% of healthcare practices say improving their client contact rate enhances the customer experience. Increasing your client contact rate with phone calls can be quite difficult and take up a huge amount of time for employees. Texting allows for increased contact in a smaller amount of time.
Thanks to communication software, text messages can be scheduled in advance and automatically distributed at specific dates and times. Offices shouldn't overwhelm their customers with texts, but pinpoint times for appropriate and useful appointment reminders and confirmations.
2. Send wellness forms by text
Despite the difficult conditions presented by the pandemic, 48% of practices say their quality of care has improved. What are practices doing to improve their quality of care? One of the approaches being utilized is sharing wellness forms before appointments.
By texting wellness forms along with appointment reminders, your office can effectively screen for potentially-sick customers that should be redirected to clinics. Wellness form links bring customers to a short series of questions about their physical condition, exposure to sick family and friends, and recent travel. Texting these electronic forms is the best way to get intel on the health of clients before they enter your office.


Want to increase your contact rate with Weave Messaging?
Quicker Responses, Means Fuller Schedules
Weave's automated appointment reminder texts save me so much time to proactively reach out and schedule past patients. I don't leave the office without the schedule being full. -Lynn Parkinson, Hygiene Coordinator, ~Berdy Dental Group

Schedule Demo
3. Let customers know you're promoting safe practices
Because of the pandemic, governments have put regulations into place to protect people from the threat of disease. Public health officials have shared guidelines for reducing the chance of community spread. Conforming to these guidelines and notifying patients of your compliance will help them trust your practice.
57% of healthcare patients won't go into a facility unless masks are mandatory. Texting your clients about your mask policy, hygienic practices, and social distancing measures can put them at ease. Texts have a 98% open rate¹, so they make sure your clients get the message.
4.Reduce the number of patients in-office
In our survey, healthcare practices said the top ways to go no-touch are mobile payments, spacing out appointments, and reducing the number of patients in the office. Many providers, along with sending wellness forms, are creating curbside waiting rooms to keep the amount of clients in their office to a minimum.
Waiting rooms are a prime location for potential disease-spreads. By asking your patients via text to check in from the parking lot, your office can protect itself from the spread of germs. Once your staff is ready, they can bring customers directly back for essential services.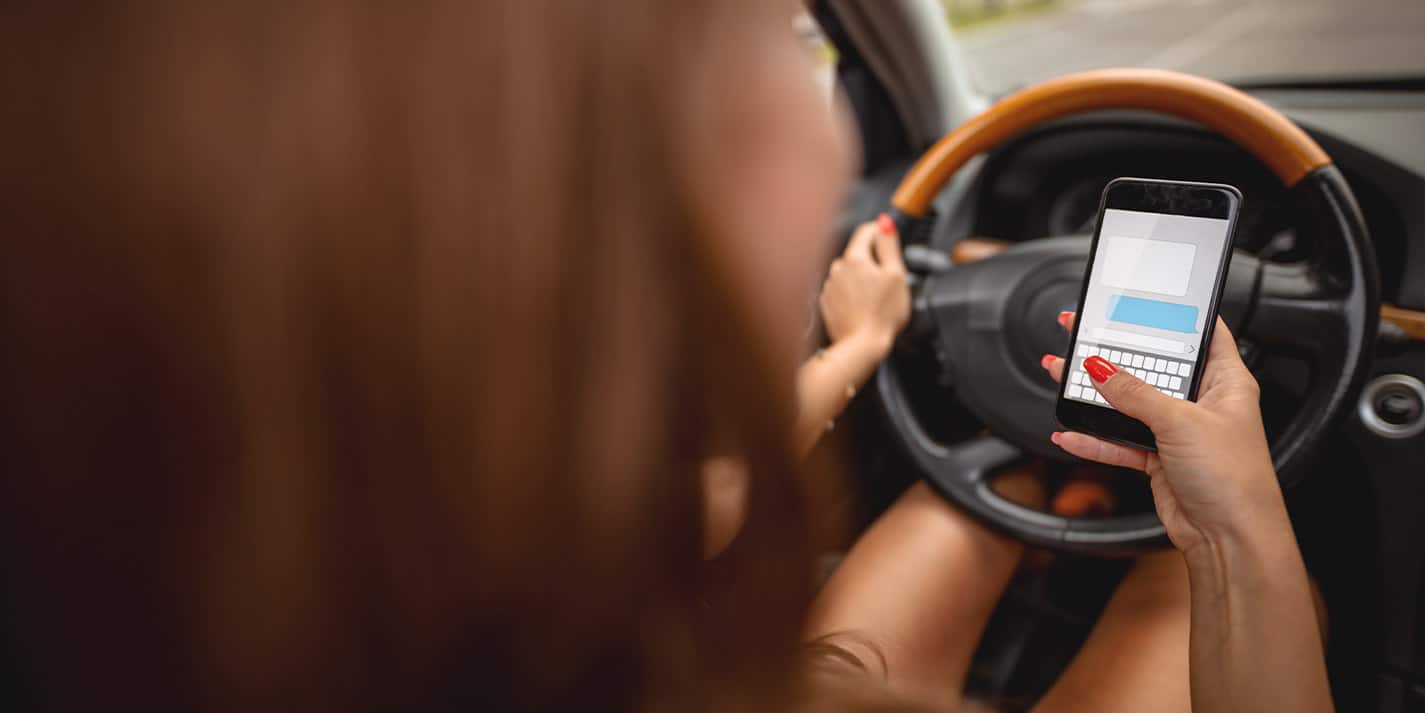 5. Get ready for the future
Of the offices in our survey, 68% of them said text messaging will be the primary form of outgoing client communication within three years. Practices are anticipating a further embrace of texting and need to set up systems to allow for a transition to more texting.
VoIP (Voice over Internet Protocol) phones use the internet to integrate your various communication lines. Unlike traditional landlines, VoIP phone systems let your practice bounce between calling and texting, even responding to missed calls with automatic text notifications.
6.Engage with younger patients
As mentioned in the introduction, those under the age of 35 have an established penchant for text messaging. In fact, they're twice as difficult to reach by phone. Healthcare practices that are looking to gain loyal customers in the future should engage with younger patients by text.
Missed call texts open up the possibility of two-way text conversations. Texting allows both employees and customers to respond at their own pace while getting across essential information. Templates within communication software let your team craft text messages that are directed toward your particular clientele base.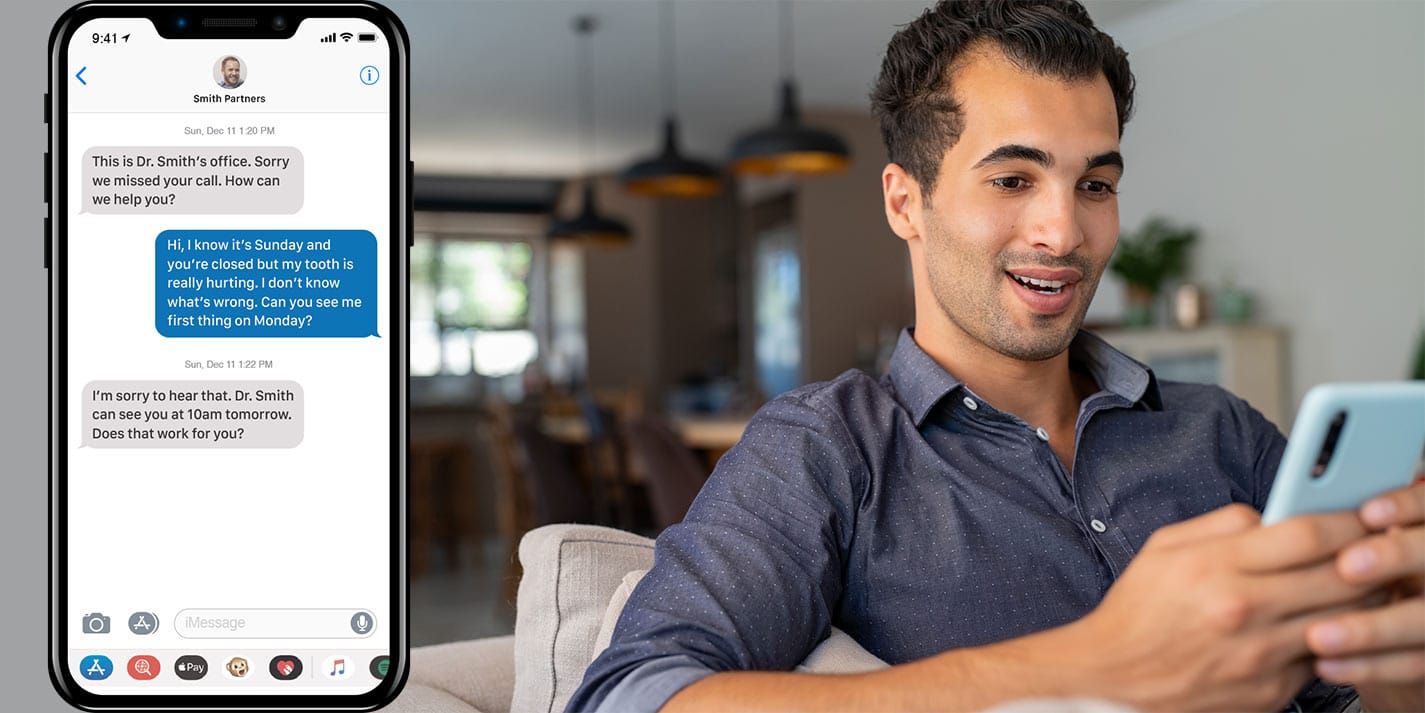 7.Collect feedback by text
The patients from our survey said they're more likely to provide practices with feedback by text than by phone. 38% of those interviewed said they've responded to the request for feedback by text, while only 24% have given feedback by phone.
Online reviews are a key way to use feedback to improve your services and bolster your online presence. By sending review requests over text message, your office can build a mass of reviews on popular sites like Google and Facebook, leading to more exposure.
8.Personalize your texting
73% of healthcare practices say outgoing communication does better when it's personalized. Just as you should avoid bombarding customers with calls and texts, you should do what you can to avoid generic communication.
Software that provides customer insights can be synced with your phone system to put the details of your customer's individual profiles at your fingertips. This way, your team can quickly put personal details about past visits, upcoming appointments, and outstanding balances into its text outreach.
9.Provide contactless payment options
70% of healthcare practices now say contactless payments are a competitive advantage. Contactless payments take a couple different forms. Mobile wallets are provided through companies like Google, Samsung, Microsoft, and Apple.
Another form of contactless payments are text payment options. Weave's text payment option is called Text to Pay. It allows your practice to replicate curbside waiting rooms at the end of appointment by requesting payments via text.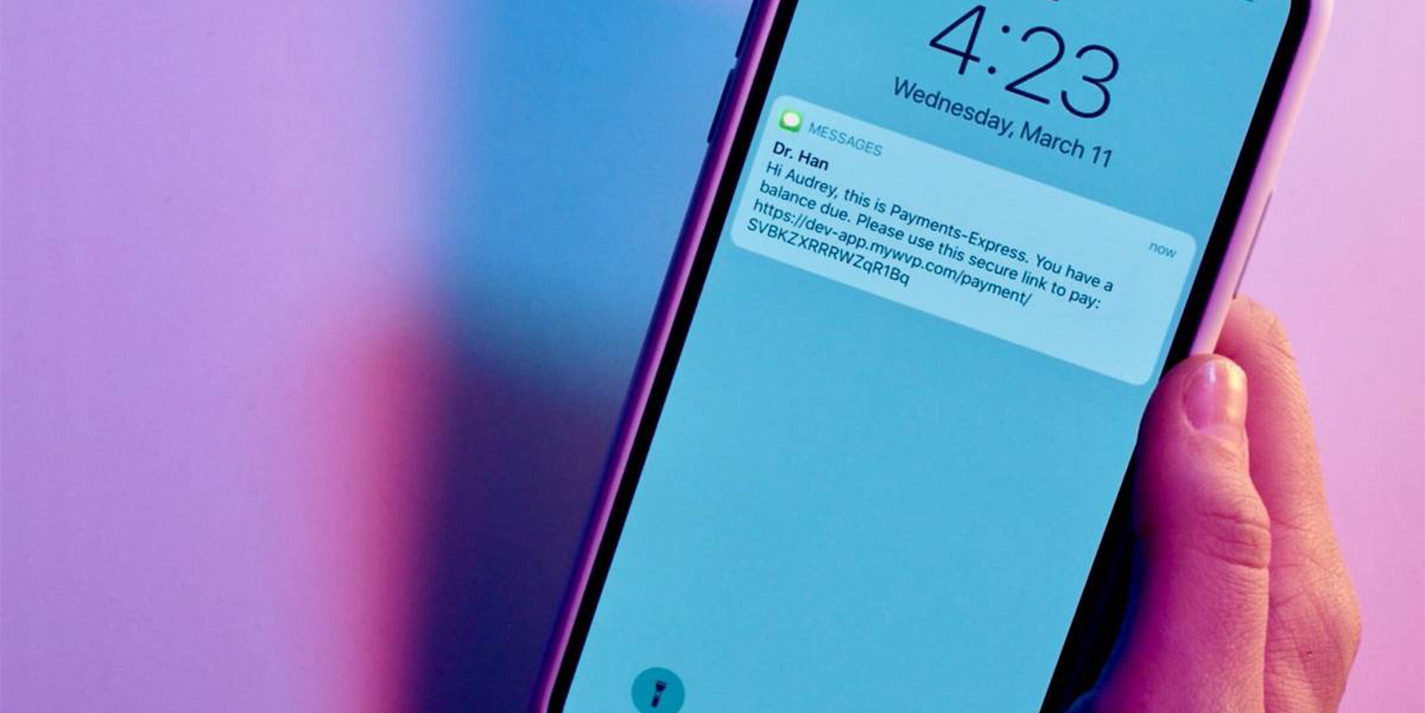 10. Be a high-growth practice
In the survey, practices that identify as high-growth were 40% more likely to say Text to Pay improves the customer experience. High-growth providers understand that business communication is constantly changing and evolving. This evolution should incorporate innovations such as contactless payments.
Weave Payments accepts both mobile wallets and Text to Pay, giving high-growth practices the ability to offer various ways of going no-touch. Moving toward more contactless payments brings together employee and staff safety with the future of payment processing.
11.Meet demand
Because of the COVID-19 pandemic, 71% of providers say there's been an increase in demand for Text to Pay. That's a clear indicator that those practices that aren't adding a text payment option fail to meet customer demand.
Once your office has credit card information on-hand, it can easily text payment requests to customers following appointments. Like other text messages, these can be customized and contain a simple link to payment sites for payment processing.
12. Use one payment platform
Some offices might be concerned about adding contactless payment options because it sounds too complex. 69% of offices want to convert to a single payment platform. The question is, is it possible?
With Weave Payments, your practice can take care of all its payment processing and merchant services from one platform. This involves competitive pricing and no upfront or monthly fees. Whether your customers are using cash, check, cards, or mobile payments, Weave Payments accepts them all.
13.Respond to customer preference
Practices aren't the only ones noticing an uptick in demand for contactless payments. 68% of healthcare patients now prefer contactless payments. Text to Pay is a great way to respond to this preference by making payment processing simple, safe, and secure.
14.Transition to Text to Pay
67% of practices want to transition to Text to Pay. This transition shouldn't come at the expense of clients that want to pay with traditional transactions. That's the beauty of a complete payment platform; it allows you to encourage text payments while giving you the flexibility to keep accepting cash, checks, and cards.
15. Let customers decide
50% of customers want to transition to Text to Pay. Not all customers are aware of the benefits of text payments, which include better hygiene and increased social distancing. As your office transitions to Text to Pay, don't dogmatically demand that patients convert to contactless payments right away.
16. Be more hygienic
67% of healthcare practices want to move toward contactless payments from credit cards. Although Weave Payments accepts Visa, AmericanExpress, Discover, and MasterCard, the use of payment terminals can be fraught with germs and potential disease spread. Instead of swiping, tapping, or inserting credit cards, be more hygienic with digital payments.
17. Explore your full texting potential with Weave
Only 19% of the healthcare practices we interviewed said they're using texting to its fullest potential. Part of the reason for that might be that some providers have yet to adopt a system capable of realizing this potential.
Weave is a complete business toolbox that facilitates all of the texting features mentioned in this blog post. It integrates VoIP phones with text reminders, missed call auto texts, review requests, and Text to Pay. To find out more about our suite of hardware and software communication tools, schedule your free demo with us today.