Ninjas were covert agents known for their stealth and invisibility in feudal Japan. In fact, the word ninja is also pronounced shinobi, which comes from the kanji characters for "hide" and "person." Over the centuries, legend and folklore helped ninjas develop a reputation in popular culture for their stealth and invisibility.
How do ninjas relate to your dental practice? Well, they probably don't, but the idea of "going ninja mode" is relevant to dental offices everywhere. Yes, we're dealing with slang terms here.
In the context of dental offices, "going ninja mode" simply refers to behind the scenes tactical decisions that can be made to give your practice a decisive advantage going forward. What many small businesses, including dental practices, sometimes fail to realize is how optimizing office communication tools can improve your business strategy behind the scenes.
With recent events limiting the amount of in-person contact dental offices have with their clients due to social distancing guidelines, it's critical that your practice find stealthier ways to build rapport with customers and even expand your clientele base. These seemingly invisible tools make it easier to relay essential information to patients and end up protecting both them and your employees from public health risks.
Here are five communication tools for running your dental practice in ninja mode:
1. Upgraded VoIP Phones
VoIP is an acronym that stands for "Voice over Internet Protocol." These types of phones are a significant upgrade from traditional landlines because they allow your practice to establish an integrated communication network that's linked through the internet. Switching your office to a VoIP phone system puts you in ninja mode by connecting your phones to your texting, scheduling, online reviews, emailing, and various other lines of communication.
Let's look at a few key features of a VoIP phone system:
Customer Insights
Have penetrating insights and intelligence on hand as soon as customers call with software for customer insights. VoIP phones allow you to connect to a database of customer information, including names, pictures, upcoming appointments, birthdays, outstanding balances, and personal histories. Giving your administrative team access to this wealth of intel before they even pick up the phone lets them better handle business with patients and take care of a laundry list of tasks with one phone call.
Call Analytics
Optimizing your practice's communication isn't just about taking action. It also requires the sort of analysis that's only possible with data-collecting software. VoIP phones give you the ability to gather much more sophisticated call data than you could with conventional caller ID. By understanding when your office is missing calls and how often, you can adjust your staffing to accommodate your busiest hours.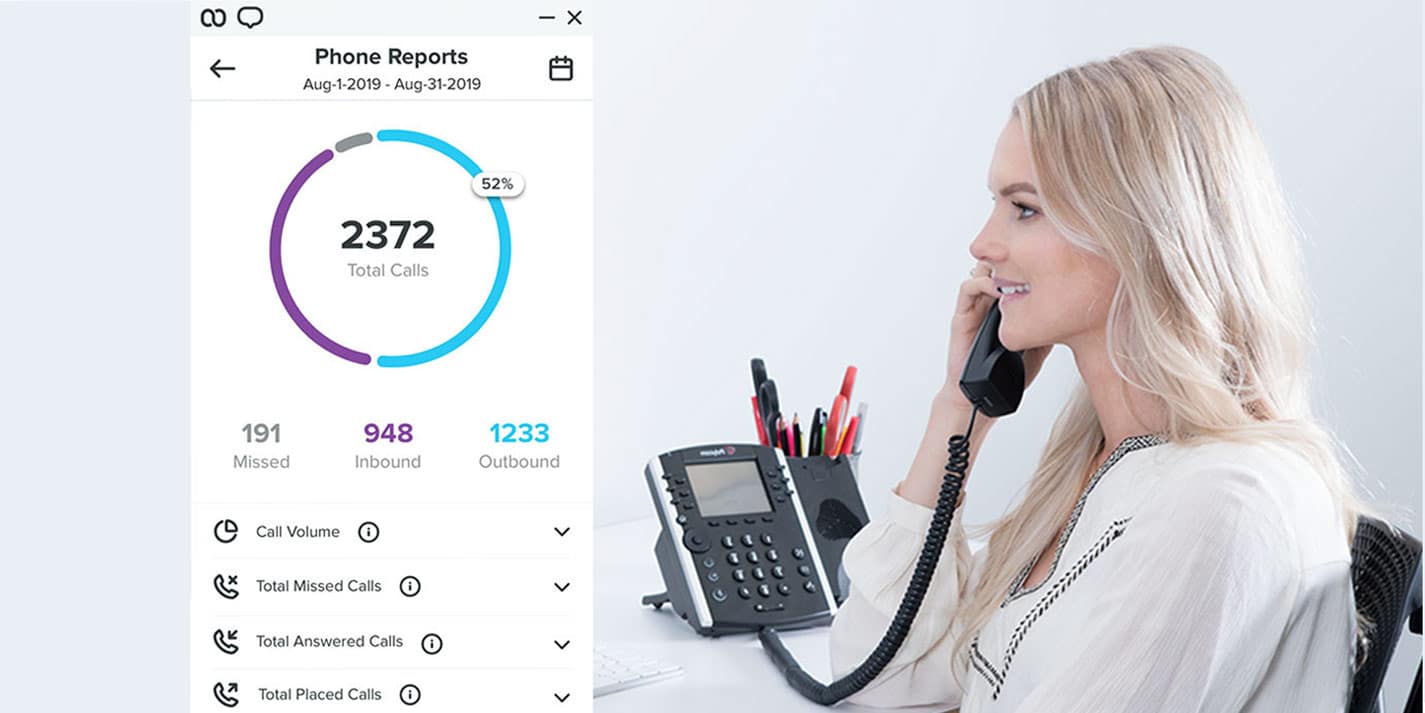 Voicemail Override
Traditional office phones can be difficult to navigate when you're trying to set up alternative voicemail messages. With VoIP phones, alternate voicemails are recorded with ease and can be activated at the drop of a hat. Having backup communication at the ready prepares your practice for holidays, temporary closures, and emergency situations.
2. Business Text Messages
In medieval Japan, ninjas were known for using alternative tactics to accomplish their goals. Though the vast majority of consumers rely on text messaging every day, lots of small dental practices have yet to add this tool to their communication network. This unconventional approach to communication can simultaneously reach more customers and give your office staff more time to focus on other tasks.
Below are three features of business texting for your tactical consideration:
Two-way Texting
Sending text messages to customers should ideally open up the opportunity for conversations. Discussing scheduling, payments, and other questions with patients by text keeps your phone lines open for more urgent dialogue. It's also much more likely that patients will see texts than voice messages; text messages have a 98% open rate.¹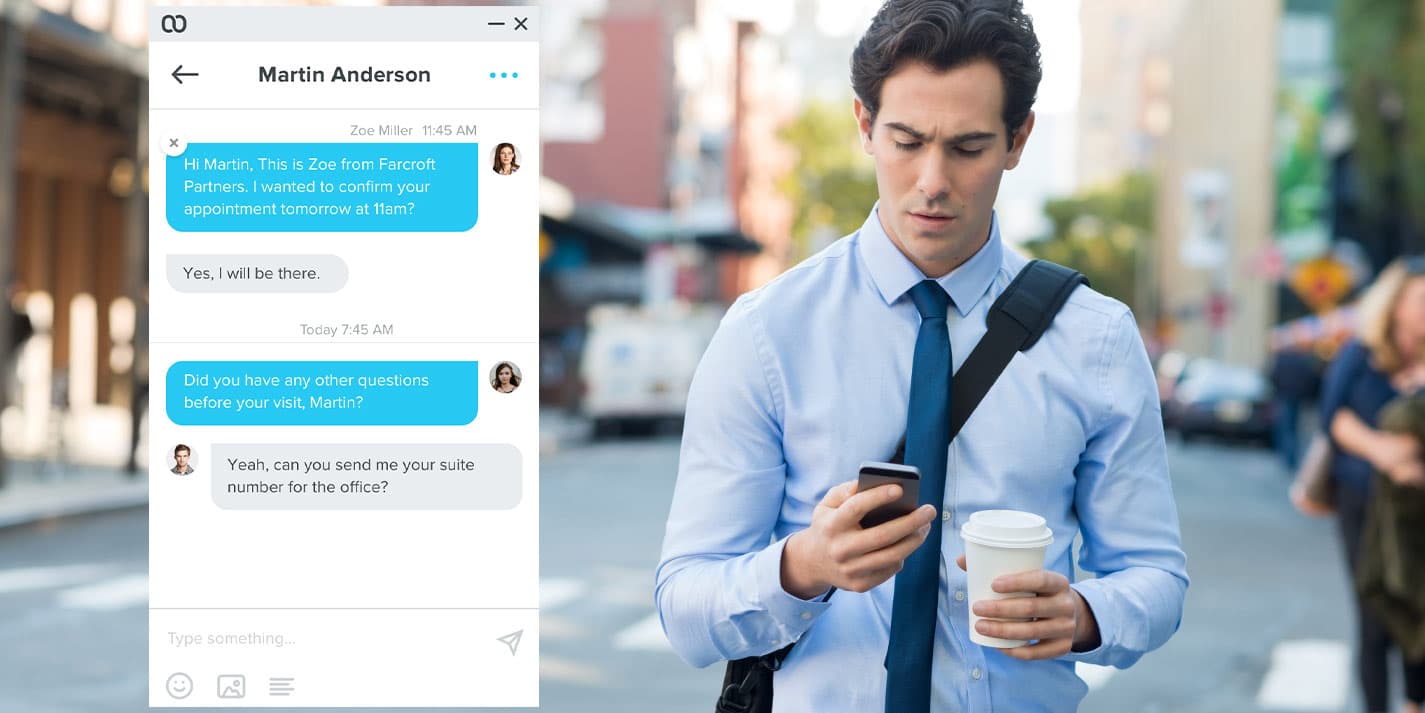 Team Chat
It's crucial for dental practices to not only have open communication by text with their patients, but also within their organization. With many businesses trying to implement various levels of social distancing and public health regulations, it's likely that some administrative team members are and will be working offsite. An internal chat lets your team of front desk ninjas work as a cohesive unit behind the scenes, even if they're working remotely.


Want to see how Weave can help you?

Weave Helps Streamline Business Communication
"Amazing technology has simplified our patient communication immensely! We are fairly new and can't wait to learn even more Weave features... customer service and tech support is SPOT ON and can't be beat! " - The Eye Station

Schedule Demo
Missed Call Texts
This feature is a perfect example of how an integrated communication system functions. If your team misses a call, patients can receive an automated text message thanks to advanced software. Getting a missed call text reassures clients that your office is aware of their call and opens up the potential for handling the concern via text. Pretty sneaky!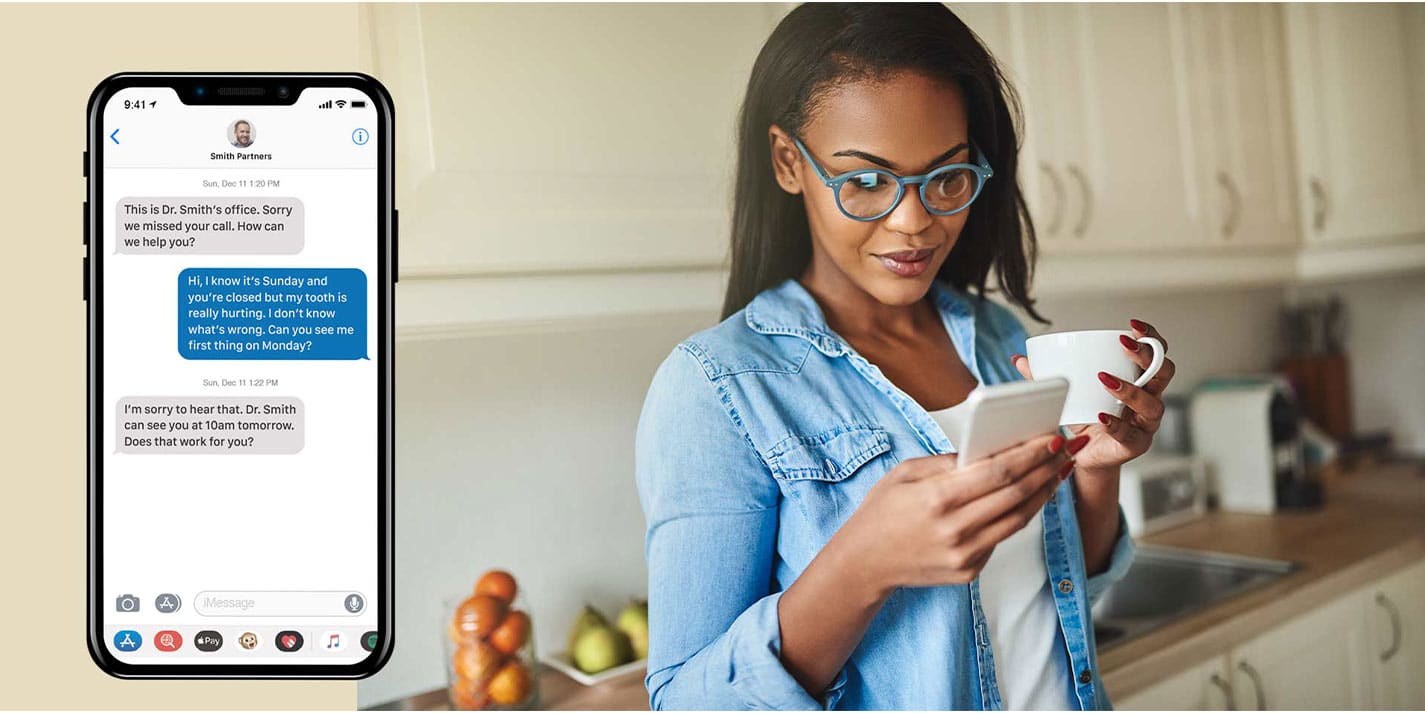 3. Advanced Scheduling Tool
The utility of text messages is magnified by scheduling software. Running your dental practice depends on consistent and productive scheduling in order to get patients through the doors of your office. By upgrading to an integrated scheduling system, your team can get more done in less time.
Here are some features of advanced scheduling that will bring your office into ninja mode:
Appointment Reminders
With the help of the right software, your office can automatically send appointment reminders to customers with personalized text message templates. These reminders are scheduled for whichever days and times work best for your patients. Just like missed call texts, reminders make sure customers show up for their appointments and provide an opportunity for a two-way conversation if necessary.
Smart Confirmations
Confirmation texts differ from reminders in that the responses to patients are created by smart software. Regardless of how customers answer confirmation texts, this software is capable of interpreting colloquial language, jargon, and even emojis. This type of communication keeps you informed about patient intentions without requiring the attention of your administrators.
Quick Fill Lists
Advanced scheduling software comes into play again when your office gets last second cancellations. It can be incredibly frustrating for employees to fill your schedule up after an untimely cancellation. Use Quick Fill lists to check your database of patients and identify those most likely to accept an appointment on short notice, then send a text blast to these patients to let them know about the opening.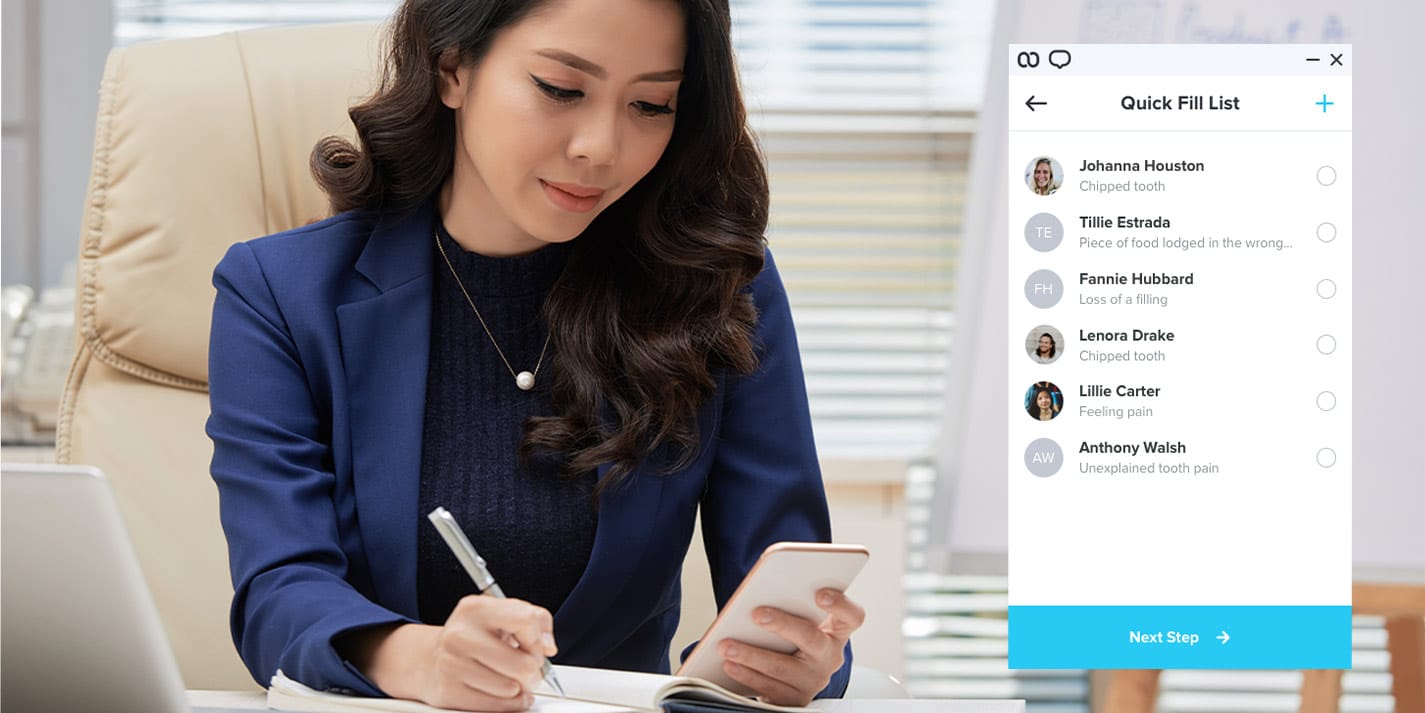 4. Online Review Software
In the past, small dental practices relied on traditional forms of advertising in places like newspapers, television, radio, and by good old-fashioned, word-of-mouth reputation building. The new ninjas of marketing and advertising have shifted their focus to cyberspace. Gathering reviews on key online review sites such as Google and Facebook is central to the marketing strategy of businesses hoping to find new customers in the 21st century.
Let's briefly consider two of the most essential review gathering features:
Review Requests
Your team should be sending review requests to customers after each appointment. These invitations are usually sent by text messages that can be automatically scheduled. When patients receive review requests, they'll also get a link that brings them to a popular review site. Ninja mode makes it easy for your clients to share their opinions online.
Review Management
Once your dental office starts stockpiling patient reviews on prominent review sites, it's important that you keep tabs on your status through a review management interface. This feature displays your star-rating and review totals on key sites. It also notifies you about the latest customer reviews, allowing you to respond to reviews in a timely manner.
5. Email Marketing
Small dental offices generally use emailing as a communication tool for relaying long-form information to customers. However, many of them aren't utilizing the professional email marketing tools now available to businesses of all sizes. Bringing email marketing software on board is a behind-the-scenes move that's sure to stealthily optimize your email outreach.
Update your email marketing by finding software with these features:
Pre-Written Templates
A significant amount of time is spent by dental offices crafting unique emails each time they decide to conduct an email campaign. With access to pre-existing templates written by experienced email marketers, your staff can write, format, and send emails minus the usual headache. These templates also allow your team to include images meant to increase the visual quality of your emails.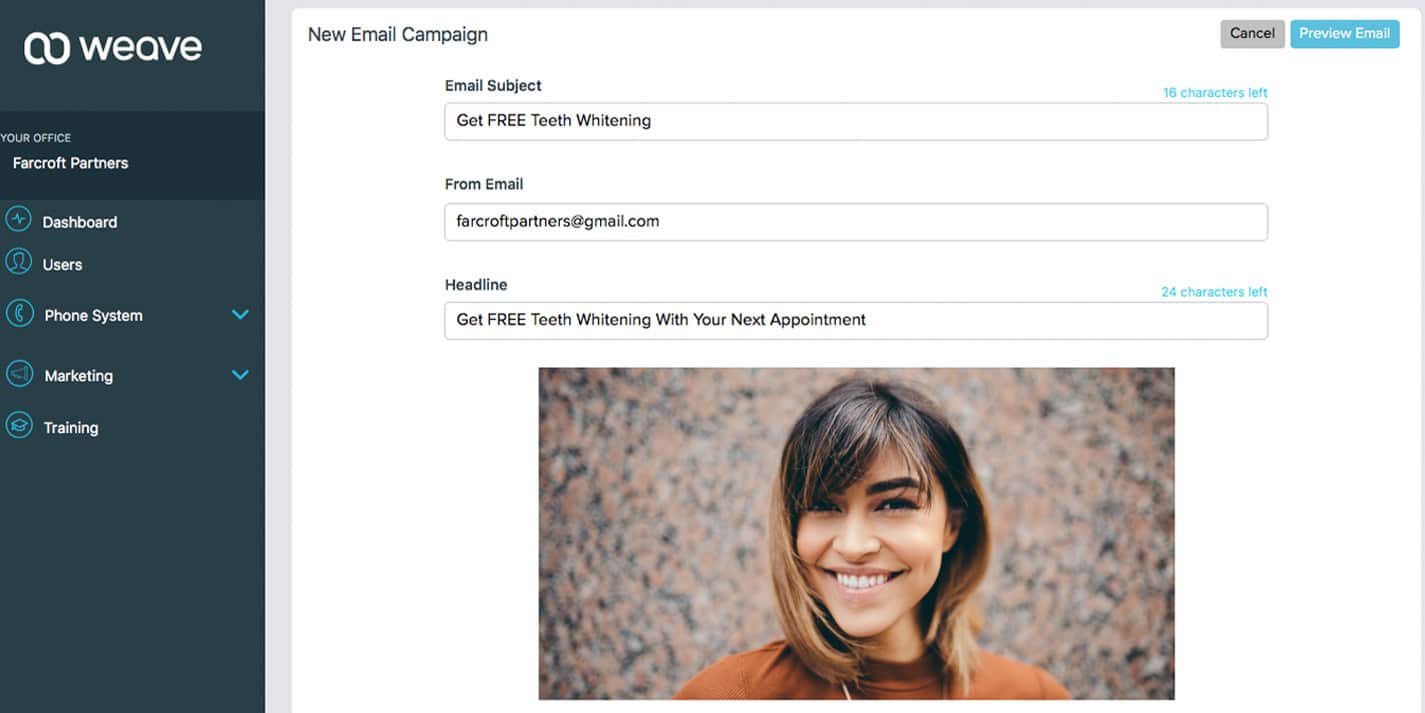 CTA Buttons
CTA is an acronym that stands for "Call to Action." These buttons are actually souped up links that bring customers to payments and scheduling pages. Putting CTA buttons in your emails lets customers take action immediately regarding upcoming appointments and outstanding balances. Part of going ninja mode is getting your patients to meet you halfway by initiating some of the action themselves.
Go Ninja Mode with Weave
We hope this post has demonstrated the array of communication tools and techniques that are available to your dental office for optimizing the way it runs. By doing the nearly imperceptible work of switching your office to VoIP phones, business texting, advanced scheduling, online review management, and email marketing software, you're quietly modernizing your operations to meet the demands of the contemporary marketplace.
Weave is prepared to help your dental practice run in ninja mode. Our complete business toolbox offers all the features listed above, plus many others, including analytics and digital payments.
Schedule your free demo today to find out how to bring your communication network to new levels of sophistication and efficiency.