Weave's Expert Blog Series
In order to understand how communication methods and patient expectations are evolving in the podiatry space, we recently sat down with Dr. David Edwards,¹ current practice owner, loyal Weave customer, and former President of the American Podiatric Medical Association.²
About Industry Expert- Dr. David Edwards, DPM
Dr. Edwards has been practicing as a podiatrist for 34 years. Ever since his student days in San Francisco, he's taken leadership roles in podiatric associations, including two terms as the President of the Utah Podiatric Medical Association and his recent service as the APMA's national president.³ These positions have given Dr. Edwards unique insight into the medical, political, and business aspects of podiatry.
Dr. Edwards' interest in podiatry began with his love of athletics. In college, he started out as a business major, but switched to medicine when he realized that medicine is a business itself. He's always found podiatry to be an invaluable opportunity to practice sports medicine, though he's also discovered it to impact the lives of people of every age.
The range of knowledge needed for podiatric medicine has captivated Dr. Edwards over his career, from dermatological issues to soft tissue problems to skeletal structures. Dr. Edwards' first practice was a smaller one, where he worked for eight years before switching to a larger group with Intermountain Healthcare.4 He later practiced with an orthopedic group, and now works primarily with geriatric and diabetic patients, along with sharing his wisdom and experience as a national consultant.
The evolution of patient communication
In our conversation, Dr. Edwards brought up how long certain communication technology has existed, noting that many of the communication tools we think of as recent innovation have been around for 50 years. For instance, email has been around since 1971, with mobile phones first appearing in 1973. These technologies were followed by the world wide web in 1990, Facebook in 2004, and the iPhone in 2007.
"There's tremendous opportunity for adapting to new technology in the podiatry space," says Dr. Edwards. "Not that podiatry's unique; the whole medical space overall needs to become adapters to the tools that are available to them."
A similar innovation that's relevant to podiatry practices is VoIP (Voice over Internet Protocol) phones.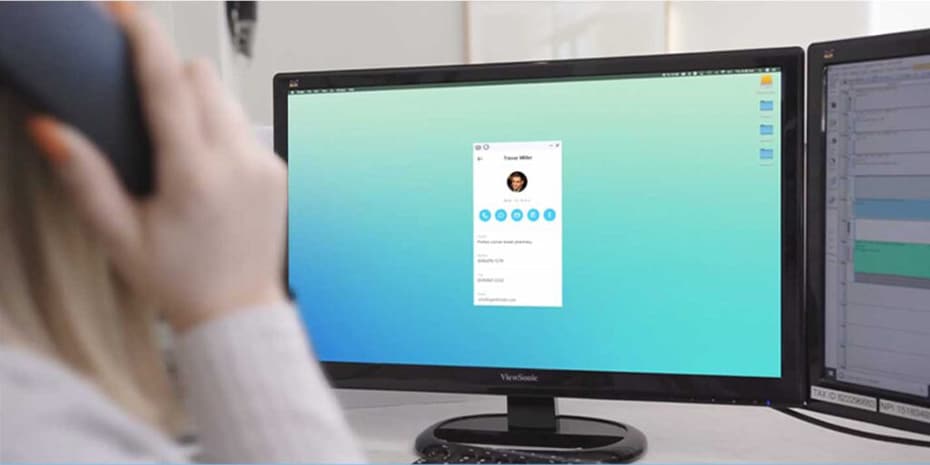 Though the technology has existed for small businesses and practices for a while now, only about a third of podiatry offices utilize VoIP phones, meaning the rest are still using landline phones. Dr. Edwards sees this same lag in offices that still type in transcriptions for medical records instead of using dictation technology that he's been utilizing for 20 years.


Want more efficient patient communication? Ask Weave
Meeting patients' communication needs maximizes ROI
I look at the ROI Weave gives me and the choice to use them is easy.
The value of 2 new patients a month pays for their fee - and "Missed call Texting" keeps that patient in my practice! The use of their "Quick Fill List" is so efficient for my staff and holes in the schedule are filled- keeping revenue up and patients happy!".~Dr. Edwards + David Edwards DPM
"There's tremendous opportunity for adapting to new technology in the podiatry space," says Dr. Edwards. "Not that podiatry's unique; the whole medical space overall needs to become adapters to the tools that are available to them." The possibilities for podiatrists aren't limited to phones and dictation. There's a whole suite of communication tools on the market that are dedicated to optimizing patient communication and, consequently, a practice's ROI.
Being an early adapter
Dr. Edwards believes it's harder for smaller practices to catch the vision of how communication technology can transform their offices. He saw the necessity of these innovations while working for larger practices, where economies of scale make it much more apparent how tools like VoIP phones are vital to successful communication.
To understand how essential these tools are, Dr. Edwards says podiatry offices need to simply look at their ROI (return on investment). Because they rely on the internet, VoIP phones let practices get rid of landline phone payments, an immediate reduction in overhead costs. Additionally, VoIP phones let offices set up multiple phone lines, making their communication networks more expansive and responsive, for patients and staff alike.
Recent communication developments
Dr. Edwards' term as President of the APMA ended right as the Covid-19 pandemic took hold in the United States. In his practice and consulting, Dr. Edwards quickly noticed that people were hesitant to come into the office. To address this fear, Dr. Edwards used text messaging and email to help his patients stay informed about protocols and be more comfortable in the office. He also has seen the value of establishing curbside waiting rooms that prevent patients from crowding into an office's waiting room.
"The ability to have health information forms that decrease the amount of time in the office isn't new, but people are now more willing to adapt," says Dr. Edwards. These electronic forms can be sent to patients prior to appointments by text, allowing them to fill out forms before ever arriving at their podiatrist's office.
"You never want a payment to come between you and the patient."
Contactless payments have also become much more accepted over the last year or so. This type of payment makes it easy for people that are usually slow on their payments to take care of them by text. After appointments, your staff can quickly send a payment request by text to patients that allows them to pay from the parking lot or from home.
Quickly request payments by sending a text with a secure payment link using Weave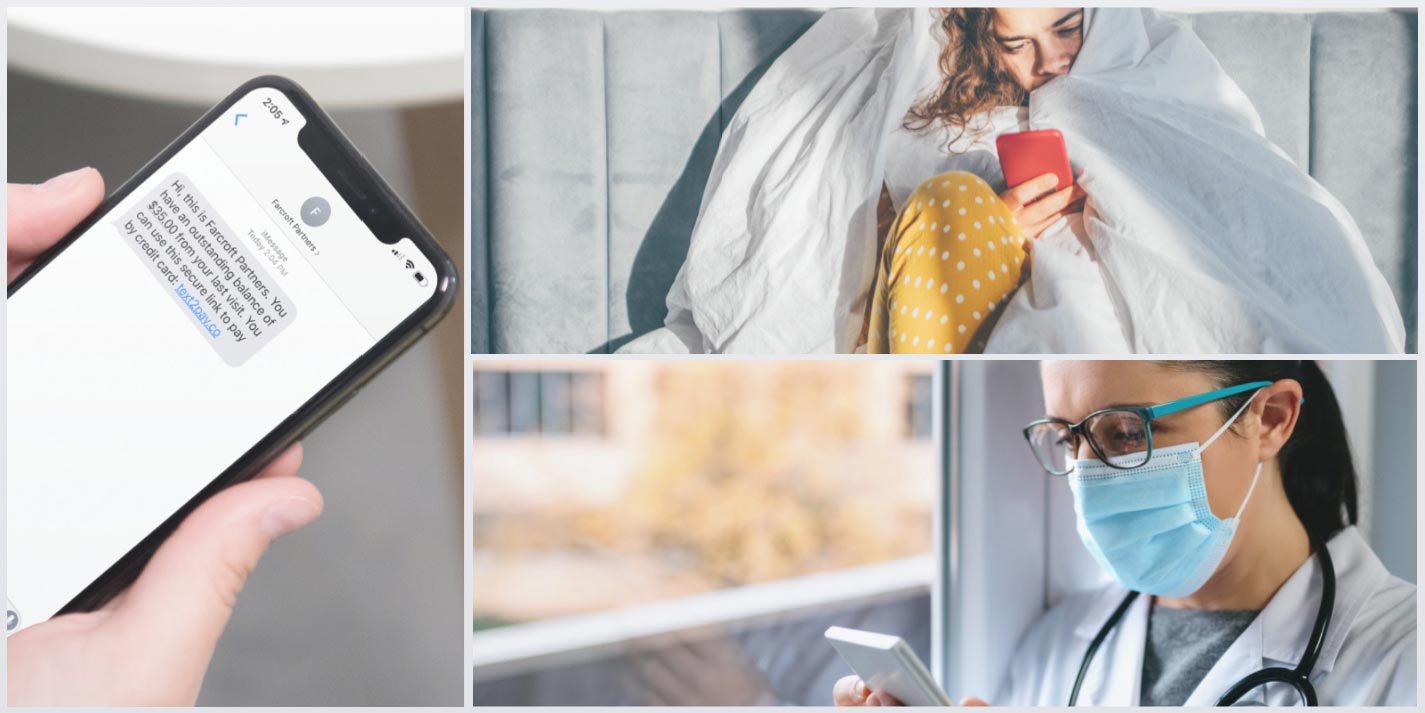 "You never want a payment to come between you and the patient," says Dr. Edwards. "Unfortunately, if a high deductible hasn't been met or a balance is overdue, it sometimes impacts the patient's ability or comfort in coming into the office." Contactless payments simplify things by reducing this tension and letting patients pay through a text link.
Communication tools in the near future
Dr. Edwards sees voicemail's relevance slowly going away for podiatry offices. Statistics show that 80% of callers6 don't leave a voicemail message, an indication that voicemail often isn't the best way to maintain contact with customers. Increasingly, texting is a more acceptable form of communication with patients.
"It's amazing how close to a 100% open rate texting is," says Dr. Edwards. And he's right: 98% of text messages get opened,7 a number that voicemail messages can't really compete with. Although older patients are less likely to adapt to texting, Dr. Edwards is witnessing grandmas and grandpas become comfortable with texting due to their interaction with family members.
"Everybody has a smartphone today," says Dr. Edwards. "One of the great things that drew me into using Weave is missed call texts." Missed call texts go out to patients that aren't able to reach a podiatrist's front desk, assuring them that the office will contact them again soon.
Tools like missed call texts keep patients from having a bad service experience. That's critical because a recent study found that 72% of consumers8 will switch to another business after just one negative customer service experience. Instead of waiting around for lunch time or the end of the day to check voicemail, podiatry staff can rely on missed call texts to engage patients that are calling to get their sprained ankle assessed.
Changing patient expectations
Patients want to feel that their voices are heard and their concerns are acknowledged. They want some minimal response from their podiatrist every time they contact them. As communication technology continues to evolve, Dr. Edwards sees a two-way cycle happening: podiatrists communicate better with their patients and patients are communicating better with their doctors. It's all about connection.
"I think we're all learning to better adapt to new communication methods," says Dr. Edwards. "It's becoming more and more acceptable to get a text response back from podiatrists." Texting with patients, especially younger ones, increases connection, allowing podiatrists to offer better care and to keep their schedules full.
"I think we're all learning to better adapt to new communication methods," says Dr. Edwards. "It's becoming more and more acceptable to get a text response back from podiatrists."
Dr. Edwards loves Weave's Quick Fill feature for this reason. Missed appointments kill revenue, and Quick Fill lists let staff members quickly and conveniently identify the patients most likely to accept an appointment on short notice. When an appointment falls through, office staff check the boxes of patients on a waiting list, then send them a text, saving them from the time-consuming chore of making multiple phone calls.
Imagine how Weave's Quick Fill feature can help your podiatry practice
Marketing tools for podiatrists
Another aspect of patient expectations that's changing is their thirst for information. People want quick answers to their questions, and if they don't get them, they turn to Siri or Alexa. The ability to use simple, targeted, informational marketing campaigns is becoming a must for podiatrists.
Dr. Edwards tries to develop seasonal campaigns for his current and prospective clients. These campaigns involve providing patients with materials about the problems they're experiencing with heel pain or ingrown toenails. Dr. Edwards views these opportunities to share this information with patients as "quiet giants hiding under the layers of our busyness."
Marketing campaigns let podiatry offices keep their name at the forefront of patients' minds. Dr. Edwards points out that analytical software now enables podiatrists to follow the success of their campaigns and to make adjustments going forward. The APMA offers³ resources like posters, printed materials, and downloads that can be customized to fit your office's particular clientele.
Online reviews are also key to the health of podiatry offices. In his consulting, Dr. Edwards encourages podiatrists to emphasize review collecting with their staff. Using Weave, practices can text review requests to patients after appointments, linking them to popular sites like Google and Facebook.
"We can help doctors' offices be more efficient," says Dr. Edwards. "Over my years in leadership roles, I've seen every product in the book. Weave's effectiveness makes it easy to use." As communication methods and patient expectations continue to evolve in the podiatry space, leaders like Dr. Edwards will be there to identify the best ways to connect with patients.
Sources:
https://www.apma.org/
https://www.utahpodiatry.org/
https://intermountainhealthcare.org/
https://www.getweave.com/ebook-voip/
No Second Chances: New Northridge Group Study Reveals 72% of Consumers Will Likely Switch Brands After Just One Bad Service Experience