In today's business world, there's a growing demand for B2C (business-to-consumer) texting. Businesses that require appointments be set in advance are even more likely to need dependable text messaging with their clients. 78% of people now want to be able to have text conversations with the businesses they frequent.¹
The veterinary industry is no exception to the trend toward increased business texting. Veterinarians, veterinary technicians, and their office managers are all on the lookout for efficient ways to text with customers.² However, the way texting services sync with their practice management systems has often slowed the process of transitioning to more text conversations with pet owners.
At Weave, our product team noticed this demand for business texting and the clumsiness of some communication integrations for veterinary offices, so they took action. Their hard work led to the creation of our Pet Reminder feature. This feature is designed to keep the animals you serve healthy, pet owners on schedule, and your business productive by providing timely reminders for upcoming appointments at your clinic.
To better understand the inspiration, benefits, and functionality behind our Pet Reminders, we are dedicating this blog post to helping our existing and prospective clients understand this new feature. Let's take a look at why we pursued this unique solution in the first place.
Why Pet Reminders?
Pet owners are notoriously busy people. When veterinarians and their staff call pet owners to remind them about upcoming visits, these clients are often out on a walk with their dogs, taking care of their horses, or tending to some other aspect of their animals' day-to-day needs.
That's why texting is such a powerful tool for veterinary clinics. Text messages have an incredibly high open rate, 4 ensuring that your practice reaches pet owners and gets animals into the clinic for checkups, procedures, and vaccinations.
If veterinary clinics are unable to effectively remind pet owners of upcoming appointments, there are a few problems that begin to flare up.
Sick animals
The primary concern when your customers forget about visits is the health of their animals. While pet owners are rarely going to skip visits when their animals have serious or emergency health conditions, it's completely normal for routine appointments to slip their mind. Unintentionally skipping on important visits, like vaccinations, can lead to unexpected health problems for the animals you serve.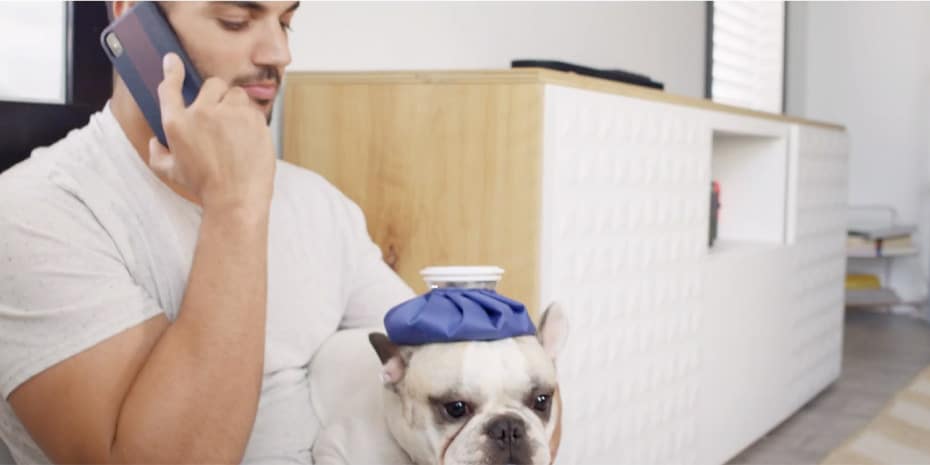 Customer compliance
Beyond the pressing need to make sure animals are showing up for annual checkups and vaccinations, your job is to help pet owners comply with legal requirements. The law asks pet owners to have their animals vaccinated on a regular basis. Letting your clients know about these requirements with a quick reminder keeps everyone in line.
Business revenue
Although most veterinarians get into the industry because they love animals, they're reminded every day of the business demands involved with running a veterinary clinic. You need to stay busy in order to make money and continue to thrive as an animal health provider. Pet reminders are a powerful way to keep animals and their owners coming into your office, generating the revenue necessary to maintain and grow your practice.
Want to Meet Each Client's Needs? Ask Weave
Start Communicating on a More Personal Level with Clients
" We really appreciate the personal touches we can now provide for our patients."- Weave Customer
Schedule Demo
How do Pet Reminders work?
For those familiar with or already using Weave, Pet Reminders are remarkably similar to the appointment reminders you would normally send to keep pet owners in the loop about upcoming appointments. However, these pet reminders have additional functionality meant to specifically benefit veterinary clinics.
For those who've never used Weave, our appointment reminders are customizable text messages that go out to clients prior to visits, notifying them of things like appointment time, your location, and your health and safety protocol. If your customers have questions, they're able to start a two-way text conversation with your front desk.
Here are three components that are unique to Weave's pet reminders:
1. Automation
Like our other appointment reminders, Pet Reminders can be set up to go out to your clients in advance, saving you and your staff on the time you spend trying to reach pet owners. Designate the specific date and time you want these reminders to go out, then let the software do the rest of the work for you. Businesses in every industry are using automation to minimize inefficiencies, and veterinary clinics are no exception.
Vets can quickly create Automated Pet Reminders with Weave's help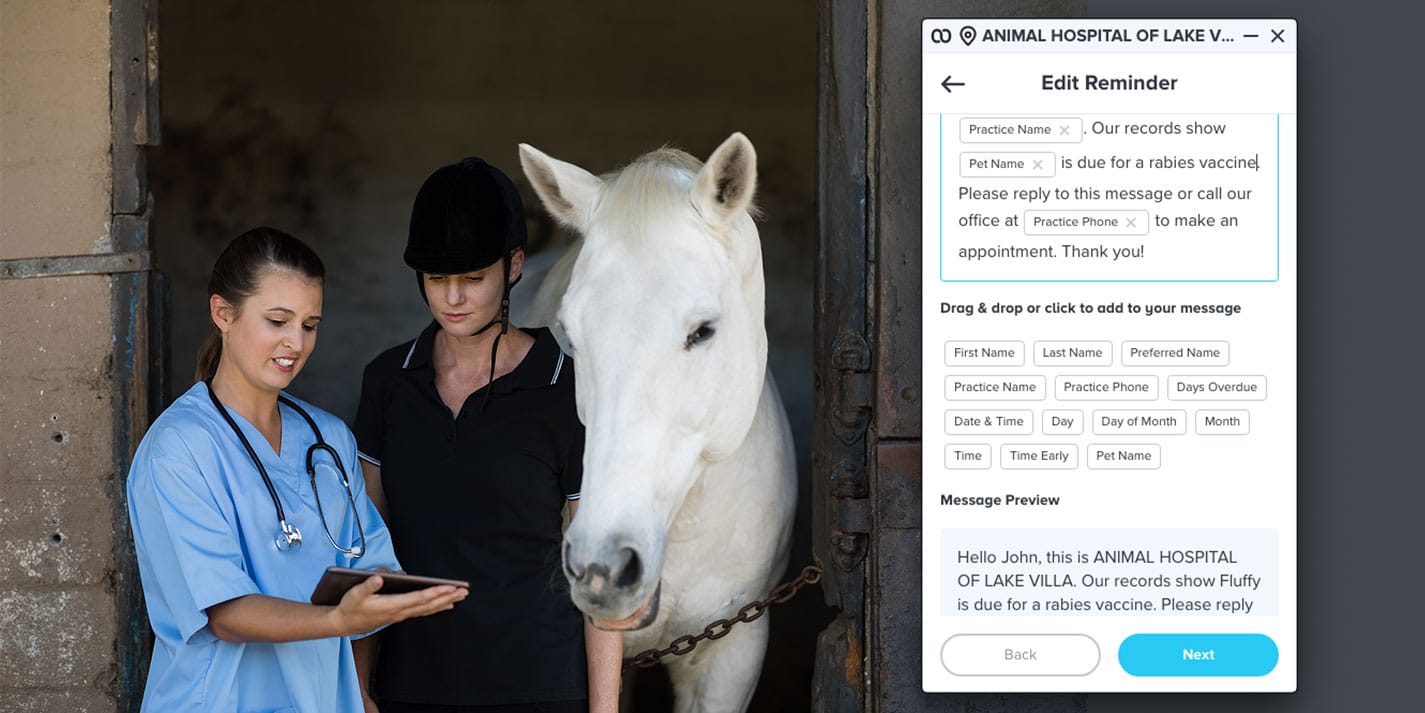 2. Pet-specific texts
Many of your customers bring multiple pets to your clinic. Generic appointment reminders can lack details like the name of the pet that's due for a checkup or vaccination. Weave's Pet Reminders allow you to quickly select and include the animal's name in your reminder texts. These seemingly minor details help engage pet owners and get the right pet into your practice at the right time.
A glance at the pet reminder message your client will see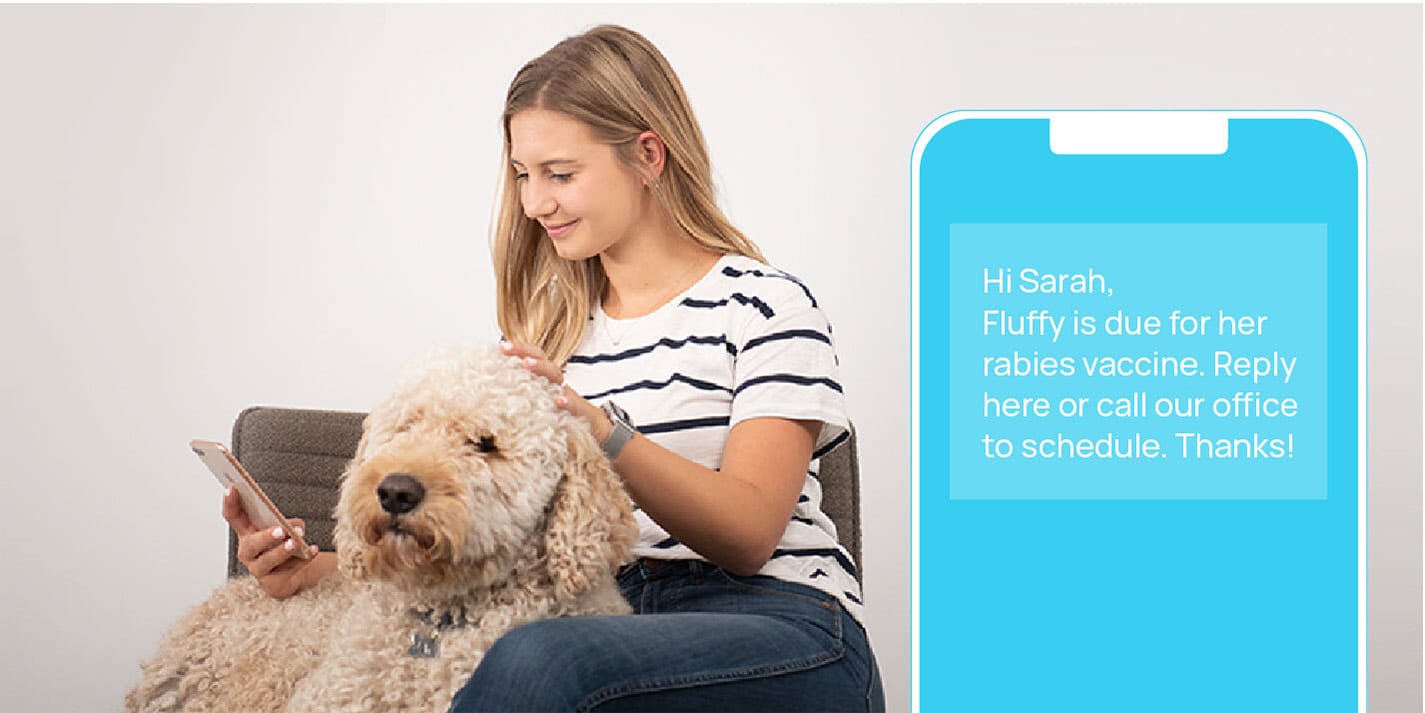 3. Customized appointment types
It's crucial that pet owners know not only which of their animals is due for a visit, but the type of appointment. Including the appointment type in your reminder texts increases urgency, especially when a pet needs to come in for a vaccination or a more serious procedure. Our pet reminders let you choose from a dropdown menu of appointment and vaccination types, as well as the species of the animal you'll be serving.
 Build customized vaccination options with Weave
What about integrations?
As we mentioned in the introduction of this article, some veterinary clinics may have avoided using text reminders until now because reminder features didn't work in concert with their practice management systems. That's totally understandable; we know how vital practice management systems are to the health of your practice.
Weave's pet reminders are available to all AVImark, Cornerstone, and Impromed customers. These integrations are what allow clinics to personalize and customize their appointment reminders with pet names, species, and appointment types. It's essential that your communication platform work seamlessly with your practice management software.
Try Weave's Pet Reminders
We are proud to offer veterinary practices the opportunity to increase their office efficiency, help pet owners comply with checkup and vaccination requirements, and keep animals healthy with our new pet reminders feature.
These reminders can be automated to save you and your staff time, and the ability to specify the pet's name makes your outgoing communication more personable. Using our software to include details like vaccine type in your reminder texts increases engagement and keeps business steady. This level of engagement is possible thanks to our integrations with AVImark, Cornerstone, and Impromed.
To discover more about Weave's pet reminders, contact us today for a free demo.