Keeping in touch with patients is a tough task, especially in 2020. The COVID-19 pandemic has caused temporary closures and altered office hours for thousands of healthcare practices. It's also scared some clients away from seeking out the healthcare they need and deserve.
Weave commissioned an independent survey of 750 healthcare providers and patients recently in order to see how they're coping with the new normal. One of the many revealing facts we uncovered is that 70% of healthcare practices believe they could provide a better experience to their customers by improving their client contact rate. Client contact rate is the measurement of how easily your office is able to communicate with its patients.
Communication technology has developed at a seemingly exponential rate in recent decades. Healthcare practices have gone from phones to emails to texts to teleconferencing with clients in just a few years. Harnessing the power of communication technology by consolidating various outreaches in one system can revolutionize the way your office communicates with customers and significantly improve your client contact rate.
The study we conducted indicated specific ways to use communication technology to improve your client contact rate. This article couples important statistics from the study with eleven strategies for optimizing your communication with patients.
1.Implement electronic wellness forms
48% of the healthcare providers in our study said they've improved their quality of care because of COVID-19. The first steps toward this improvement involve conforming with public health guidelines set forth by federal and state governments, such as wearing masks, promoting sanitization, and encouraging social distancing. Offices can also improve safety and care by sending out electronic wellness forms before appointments.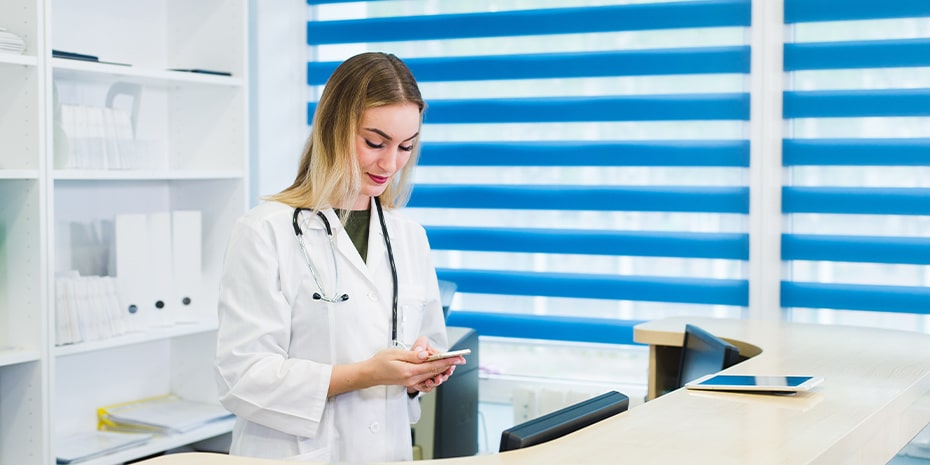 Your wellness forms don't need to be overly complicated. These forms include questions about patients' physical condition, contact with potentially sick household members, and recent travel. Practices with the right texting software can simply attach a wellness form to appointment reminders. Sending out wellness forms screens patients in advance and avoids community spread among your employees and customers while increasing your contact rate.
2.Reduce the number of patients in your office
The top ways of going "no touch" or "contactless" according to the healthcare providers and patients in our survey are spacing out appointments, switching to mobile payments, and reducing the numbers of patients in your office at a given time. As you'll see, reducing the number of patients in your office doesn't necessarily mean seeing fewer clients.
Some healthcare practices have adopted curbside (i.e., digital or virtual) waiting rooms in order to cut down on the number of clients in their office at one time. Essential services generally follow social distancing protocol because the patient is working with a doctor or other professional individually. Waiting rooms present hazards because of all the shared space and commonly-touched surfaces.
Curbside waiting rooms are instituted by sending a text to clients before appointments and asking them to call or text your front desk upon arrival outside your office. Patients can check in from the parking lot, allowing your staff to bring them back once everyone's ready to receive them. Engagement surrounding curbside waiting rooms increases client contact rates.


Want an easier way to reach patients? Ask Weave
9 out of 10 people check online reviews before choosing a business
Weave helps you easily collect and monitor reviews on Google and Facebook. These reviews can be some of the best marketing for your business.

Schedule Demo
3. Let clients know about safety measures
A staggering 93% of the healthcare clients in our survey said they're delaying care until COVID-19 eases. The concept of "easing" is relative, but as cases continue to amount, it's important that healthcare practices communicate with their clientele base regarding the safety measures, such as wellness forms and curbside waiting rooms, they've enacted.
A VoIP (Voice over Internet Protocol) phone system is foundational for providers trying to increase their client contact rate. Because they utilize the internet instead of landlines, VoIP phones link your calls with text, email, and other outreach. With a VoIP phone system, your office can create a strategy around the best way to let patients know about social distancing measures you're taking.
4. Start texting with clients
Some healthcare providers have already adopted a text outreach for their office, and many see the value in establishing this line of communication. 68% of practices say that most of their outgoing client communication will be via text in the next three years. This anticipated shift toward texting should be central to your office's communication strategy.
Text messages can be linked with VoIP phones to allow software to distribute missed call texts to patients that aren't able to get through to your team. These notifications let customers know your staff is aware of their call and open up the opportunity for a two-way conversation. Text conversations appeal to your younger clients in particular, and catering to the needs of this demographic will ensure you improve your patient contact rate.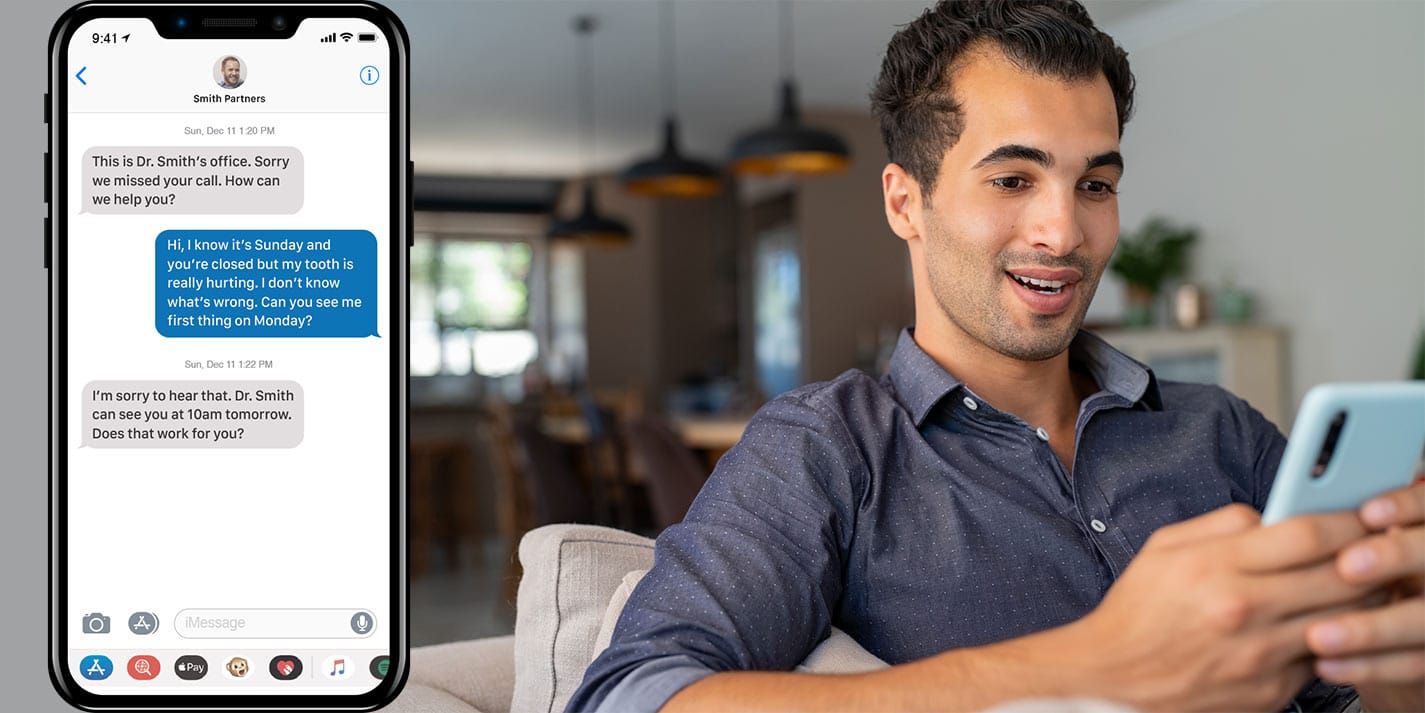 5.Schedule appointments by text
According to the survey we commissioned, clients respond more quickly to texts than calls. On average, patients said they answer texts within 13 minutes, while they return calls in around half an hour. These numbers make scheduling by text more advantageous than placing phone calls.
Thanks to software automation, your practice can schedule appointment reminders to go out in advance, as well as customize them to fit the particular preferences of your clients. Sentiment analysis within the software is also capable of interpreting client responses, saving your staff the hassle of checking each text response. Scheduling texts speed up contact rates and save your employees time and effort.
6.Professionalize your emails
Calling and texting are the two most preferred forms of communication among healthcare clients. The third-most popular method for communicating with providers is email. Practices would be wise to improve their email outreach by adopting email marketing software.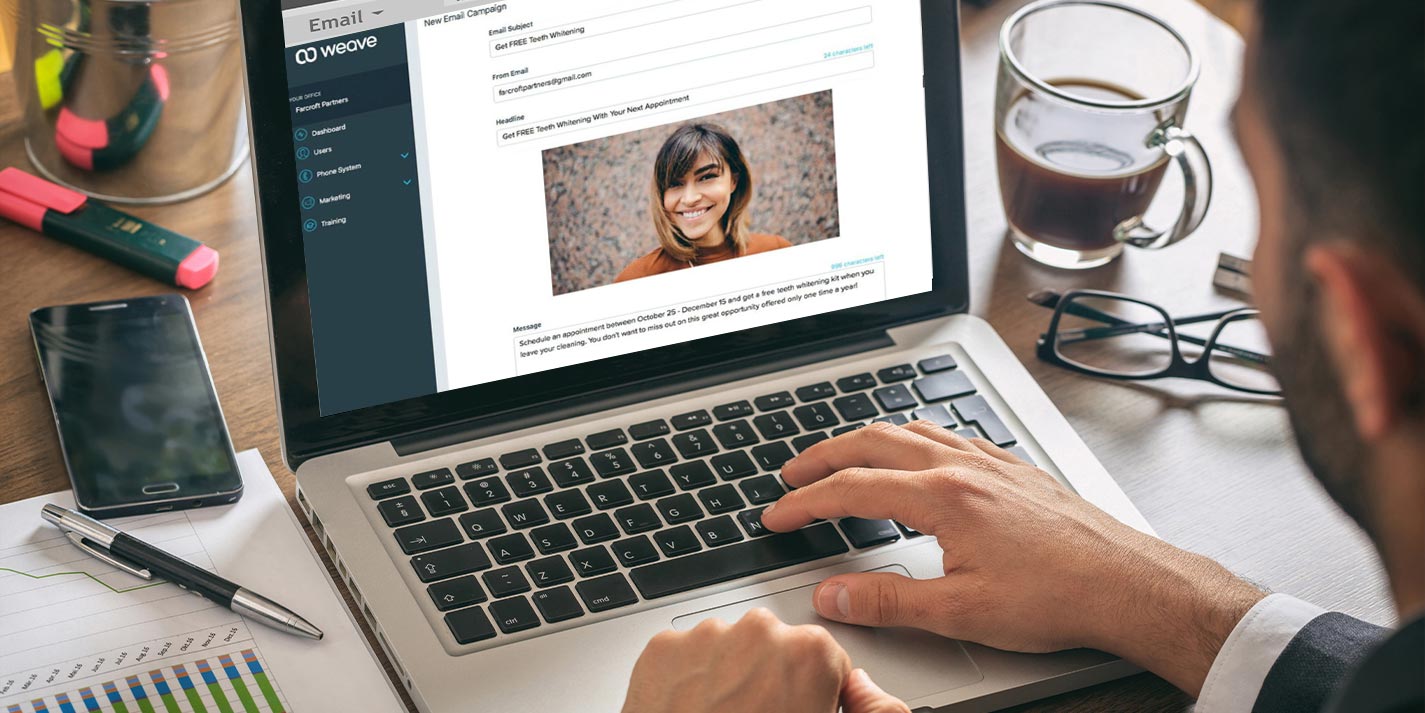 Email lets your office reach its entire clientele base at once and include much more detailed information than calls or texts. With email marketing software, your team can rely on pre-written templates to improve their rate of composition and apply photos from an image library to your messaging. CTA (Call to Action) buttons within emails increase customer engagement by allowing them to schedule appointments or pay their overdue balances.
7.Personalize your communication
As you increase your contact rate with patients, it's crucial that you stay true to your roots by maintaining your personal rapport with them. 73% of the healthcare providers we spoke to said personalized communication performs better than generic communication. In addition, 43% of patients said they've been annoyed by impersonal messaging from practices.
To personalize your outreach, you'll want to use customer insight software that aligns with VoIP phones. This way, when customers call, you'll be able to access information as varied as names, birthdays, medical histories, personal notes, upcoming appointments, and outstanding balances, all without digging through paper or electronic files. As soon as contact is made by phone, the profile of that specific patient is at your disposal.
8.Request patient reviews
The patients in our study said they're more likely to respond to surveys by text than by phone. 31% of them said they've completed surveys by text, as opposed to 21% having answered a survey by phone. You're more likely to improve client contact rate by sending review requests by text.
Review requests sent by text allow customers to fill out an online review from the parking lot or from home. Requests should include a link to popular review sites like Google and Facebook. Compiling a high number of positive reviews on key sites will also increase your contact rate with prospective customers.
9.Transition to contactless payments
Though many businesses don't think of payment requests as a form of client contact, it's actually one of the most common reasons practices reach out to their patients. In our survey, 67% of providers said they want to transition from credit cards to contactless payments.
Contactless payments include mobile wallets, provided by companies like Google, Apple, Samsung, and Microsoft, and text payments. Weave's text payment option is called Text to Pay. Text to Pay increases contact rates with patients by asking them to pay for services through a texted link rather than by traditional payment processing.
10. Adopt a complete payment platform
Healthcare providers are leaning toward contactless payments, but they're smart enough to realize that they still need the ability to collect through conventional payment processing. 69% of practices want to be able to use one platform for full payment processing and merchant services.
Text to Pay is a feature within Weave Payments, a complete payment platform that accepts both traditional and contactless payments. As your practice transitions to contactless payments in the new normal, it can still accept all major card types and brands. Switching from traditional to contactless payments will also improve your client contact rate.
11.Analyze your outreach
Because of the pandemic, clients are 5 times more likely to expect improved quality of service, including improved communication. You can learn about which communication process are working by blind trial and error, or you can rely on powerful analytics to help you make better business decisions.
Analytical software that provides vital statistics about your phone calls, scheduling, and reactivation efforts are critical to improving patient contact rates. Weave Analytics offers your healthcare practice the ability to compile statistics about how successfully your business is contacting clients. Basing your strategy on data rather than gut instinct will serve you well in the long term.
Contact us today for a free demo of how to improve your patient contact rate using Weave's complete business toolbox.