Developing a strong relationship with patients is a sometimes overlooked aspect of maintaining a successful healthcare practice. The rapport doctors and their team of professionals have with clients is often the determining factor in whether or not patients stick with a practice year after year. Establishing effective and personable communication with patients from the get-go and maintaining it throughout a patient's experience with your practice is essential.
Creating a healthy patient relationship has become a bit trickier. Pandemics have made it necessary for practices to follow social distancing guidelines and other extreme precautionary measures, and everyday emergencies continue to require modern solutions. At Weave, we decided to commission a survey of 750 healthcare professionals and clients to understand how social distancing is affecting their experiences.
One of the major takeaways from the survey is that 78% of healthcare clients are reluctant to go into practices during a pandemic. This hesitancy is understandable; it's not everyday that we're having to deal with the repercussions of a pandemic. In fact, 93% of respondents in the survey said they prefer to delay healthcare until the pandemic eases.
Despite this reluctance, practices need to stay profitable, professional, and personable. Business texting is increasingly a powerful tool for creating healthy patient relationships. The younger generation of clients is especially keen on texting with healthcare providers, and embracing texting as a fundamental method of communication will help practices grapple with doing business in the new normal.
Here are ten more facts about how to use business texting to strengthen your relationship with clients:
1. Explore texting's possibilities
Business texting is by no means an unexplored line of communication in today's market, but many healthcare providers still haven't optimized their texting with clients. In the survey we commissioned, only 18% of practices said they believe they're using texting to its fullest potential. Those practices that start exploring texting possibilities now have an advantage over those that are slow to embrace this modern form of communication.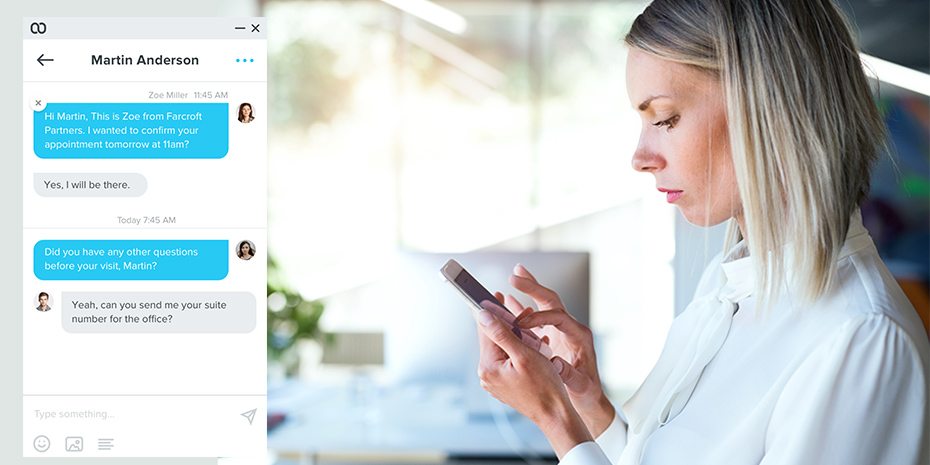 In order to consolidate communication, practices should first adopt a VoIP phone system. VoIP (Voice over Internet Protocol) phones use the internet to increase the efficiency of office communication. Once this system is in place, it's easy to connect it with a strong text outreach that works in conjunction with your calls to clients.


See how Weave
Messages helps
client relationships
Weave Helps Streamline Business Communication
"We have been using Weave as our office phone system for about 3 years now and we love it! It integrates seamlessly with our software and constantly updates. We use the text feature all day long. Patients love being able to text back and not have to answer a phone call. I highly recommend this system "-Barb Paz
2. Embrace the future
Although most of the practices in the survey admitted to not having optimized their text outreach, many of them see the benefit of strengthening this type of communication. 68% of healthcare practices think most of their outgoing client communication will be via text within 3 years. So, not only is texting a viable and necessary line of communication, it's also anticipated to be the primary way of talking to patients here shortly.
Texting already links with phones to help out office staff during busy times of the work day. When patients can't get through to your office and go to voicemail, they can also receive a missed call text that notifies them that your team will get back to them as soon as possible. Customers can respond to these texts and start a two-way conversation, effectively opening up text messaging as an alternative to calls.
3. Meet patient preferences
Older patients in the study generally stated that they want to continue to use phone calls as their first option for communicating with healthcare providers. However, 43% of clients say it's easier to reach them by text rather than by phone. This group, which is almost half of the average clientele base, is almost certainly younger clients, especially those under the age of 35.
Text messages don't only have to be basic two-way conversations. With the right software, texts can be automatically distributed to clients to keep them up to date with their appointments. These reminder texts can be customized by your office team to include client names and a message that matches your office's style to help patients feel a connection to your practice.
4. Get faster responses
Texting has plenty of benefits for practices as well. The clients in our survey said they respond within 13 minutes to text messages, while it takes them 30 minutes to respond to voicemail messages. If your office wants to get in touch with patients more quickly, adopting a strong text outreach is the way to go.
Of course, it's not beneficial to have receptionists and administrators sitting behind their desk, composing text messages all day. That's why automatically sending out appointment reminders and confirmations with communication software is so important. Technology is now developed to the point that it can interpret responses from patients using sentiment analysis and notify your team of rescheduling needs or cancellations.
5. Collect online reviews
Online reviews have become one of the best ways to market your healthcare practice and demonstrate your ability to develop healthy patient relationships to prospective customers. 38% of healthcare clients said they would rather give feedback about a provider over text, which is notably more than the 24% who would rather respond on the phone. Additionally, 31% of healthcare clients said they have answered a survey from a practice via text, but only 21% have answered a survey over the phone.
Asking clients for feedback in the form of online reviews is simple with texted review requests. After appointments, your office team can send a quick request to patients that includes a link to a popular review site like Google or Facebook. Clients can write a short review and give a star rating while maintaining social distancing. Gathering a large amount of positive reviews will boost your practice's visibility when prospective customers search for healthcare practices online.
6. Avoid generic communication
Healthy patient relationships are ones that maintain the rapport you have in the office over your various lines of communication. Nearly half of the clients we surveyed said they've been annoyed by generic communication from healthcare providers in the past. It's understandable that practices slip into generic communication when they're trying to reach their clientele base, but it's best to avoid it.
As we've already mentioned, good communication software allows your team to craft personalized messages using texting templates. In addition to these templates, a customer insight tool can make it easy for your team to look up the names, photos, medical history, upcoming appointments, and payment balances of patients without having to sort through a series of paper or electronic files. Referencing these insights will improve the personalized nature of your text outreach.
7. Send payment requests by text
Thanks to business communication technology, healthcare practices can now send payment requests by text. 68% of the patients in our study said they prefer contactless payments to other payment options. Contactless payments include mobile wallets and Text to Pay.
Mobile wallets are now offered by Google, Samsung, Apple, and Microsoft. Text to Pay is a feature in Weave Payments that makes it possible for your office to simply text customers after appointments to collect payments. These texts include a link to a payments site, allowing clients to pay for services from the parking lot or their own home instead of stopping by the front desk.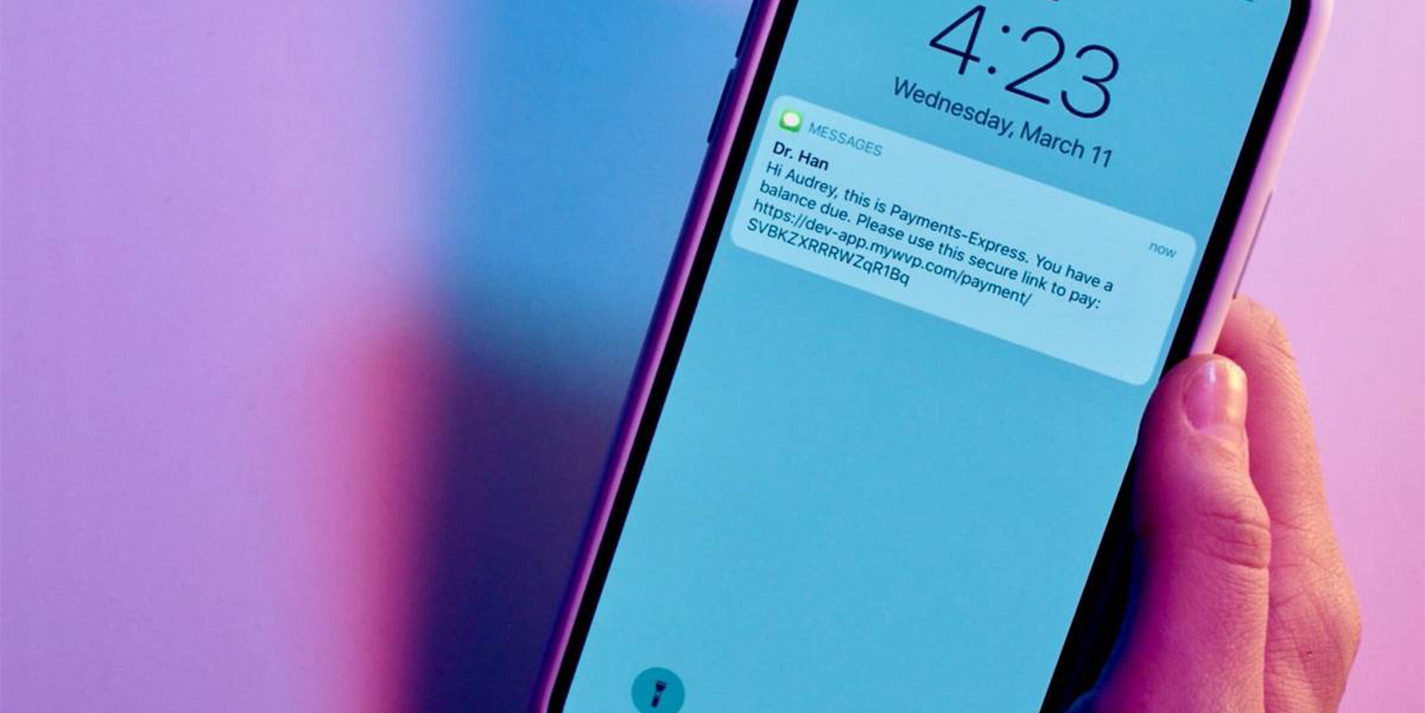 8. Use Text to Pay to your advantage
Contactless payments let healthcare practices maintain good social distancing with clients. They're also incredibly convenient for customers. 70% of the healthcare providers in our survey stated that contactless payments are a competitive advantage in today's market.
Payment options like mobile wallets and Text to Pay don't have to be your only method for collecting payments. They should be another arrow in your payment quiver. A complete payment platform allows your practice to accept traditional payments like cash, checks, and cards alongside contactless payments.
9. Transition from cards to contactless
Though some patients may still want to use conventional payment methods, there seems to be a growing preference for contactless payments. 67% of the practices we spoke to in the survey said they want to transition from credit cards to contactless payments. The ease, simplicity, and security of Text to Pay facilitate this transition.
Once your office has a patient's credit card information on hand, it can then suggest patients try paying by text instead of at the front desk with a card. This text option promotes social distancing by allowing customers to walk out of your office directly after receiving essential healthcare services. Text payments protect the physical health of your employees and patients.
10. Text to keep your patients healthy
At a time when the spread of germs and viruses is at the forefront of many people's minds, business texting is a fundamental way to maintain social distancing. 68% of the clients we spoke to said Text to Pay is more hygienic than other payment methods. By adopting Text to Pay, you're showing customers that you care about their health.
Credit cards and other traditional payments involve a lot of physical exchanges. Payment terminals are breeding grounds for community spread because of all the hands that touch them on a daily basis. Sending payment requests by texts gets around this messy business.
We hope this list of statistics and suggestions for how to optimize your business texting demonstrated the value of creating healthy patient relationships with modern communication. Contact us today for a free demo to understand how Weave's complete business toolbox can strengthen your practice's patient relationships via text.