Emailing is one of the most important, yet underutilized tools that small businesses have at their disposal. It's a mode of communication that virtually everyone in our society uses on a regular basis, and we sometimes take for granted how effective it can be in developing a relationship between businesses and their customers.
While other forms of communication, such as calling and texting, are powerful ways of notifying customers about scheduling, payments, and other updates, they don't have the capacity of emailing to share detailed information with customers. That's one of the reasons why consumers look to email marketing for promotions, educational materials, and other resources that they wouldn't otherwise know about or be able to access.
59% of respondents in a recent survey stated that emails influence their purchase decisions¹. This statistic means that emailing is a key way to engage with your customers and influence their decision-making. If the majority of consumers acknowledge that emails sway their choices, there's an imperative for your business to provide value and help customers understand the benefit of frequenting your business.
Engaging with customers by email is one of the best returns on investment for businesses of all sizes. Email marketers say that emailing generates $38 of new business for every $1 spent². And emailing isn't going away, either; 78% of email marketers have seen an increase in email engagement over the last 12 months.
Small businesses wanting to improve their email marketing may feel like they don't have the time to focus their attention on email marketing. However, with the help of an email marketing tool, it's entirely possible to optimize your email campaigns while spending less time on developing them.
Here's a list of ways to craft and send professional emails in reduced time:
Use pre-written templates
Most administrators don't have the time to develop perfect emails each and every time they want to communicate with customers. Those working for a small business are especially busy with all types of other tasks. It's hard to find the right words while dealing with a mountain of other responsibilities.
Fortunately, email marketing software provides small businesses with pre-existing templates for all sorts of email campaigns. Whether you're trying to write an email about scheduling, overdue payments, office updates, or upcoming promotions, it's much easier to craft emails with a foundation developed by professional email marketers.
Templates can be edited and shaped to fit your particular industry, and then can be saved for future use, saving your team huge swaths of time and effort.
Rely on an image library
Many businesses don't include photos or logos in their marketing emails. Neglecting to place striking imagery in your emails is a missed opportunity for strengthening brand recognition. Putting something as simple as your company logo in each email outreach helps customers appreciate and remember their relationship to your business.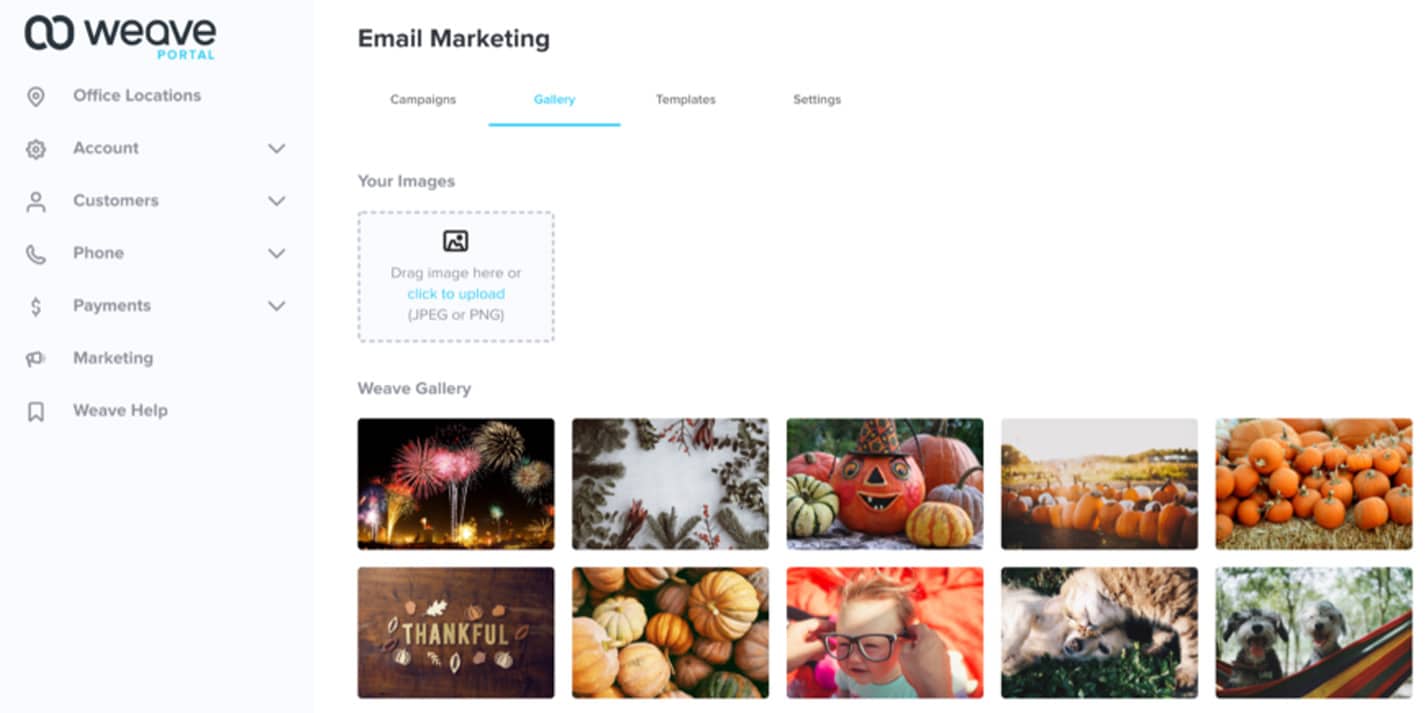 Finding appropriately sized pictures for your emails can be a hassle for administrative teams. That's why email marketing tools offer an image library for sprucing up and professionalizing your emails. Pick from a library of dozens of photos, then fit them seamlessly into the body of your email with only a few clicks.
Include a CTA button
CTA stands for Call To Action. A CTA button is really just a dressed up link that grabs the attention of email readers and allows them to immediately take action regarding the content of your email. It's important to remember that the goal of emailing isn't merely to inform customers; it's meant to get customers to engage with your business.
Be sure to include a CTA button in every email you distribute to customers. With an email marketing tool, creating a CTA button is incredibly simple. It allows you to share a link and format the CTA button, then install the button within your email's body in a few short minutes.
By including a CTA button in your emails, your office can spur customers to action. If customers take care of things like scheduling and payments digitally instead of in person, your administrative team is free to spend more time on other urgent tasks around the office.


Want to see how Weave can help you?
Weave Helps Streamline Business Communication
"Amazing technology has simplified our patient communication immensely! We are fairly new and can't wait to learn even more Weave features... customer service and tech support is SPOT ON and can't be beat! " - The Eye Station

Schedule Demo
Run internal tests
After you've crafted a professional-looking email, you'll want to run a test to ensure that there are no spelling and grammar mistakes, that the images are formatted properly, and that the links function correctly. Checking all these different facets is too often skipped over by administrators that are rushed and just want to get their email out to customers.
Running internal tests lets you verify that your emailing is firing on all cylinders. This testing is done by creating up to three test addresses that allow you to see your email through the eyes of a reader before actually sharing it with your clientele. This process is facilitated by email marketing software.
When you and your staff take a few extra minutes to run test emails, you're actually saving on time spent troubleshooting in the future by preventing faulty information, broken links, and distorted images from reaching your customers.
Look at email analytics
Like many other areas of modern business, emailing can be a data-driven artform. Without an email marketing tool, it's extraordinarily difficult to gather and analyze data regarding your office's email campaigns. Email marketing software makes it possible to see clear indicators of your emails' relative successes and failures.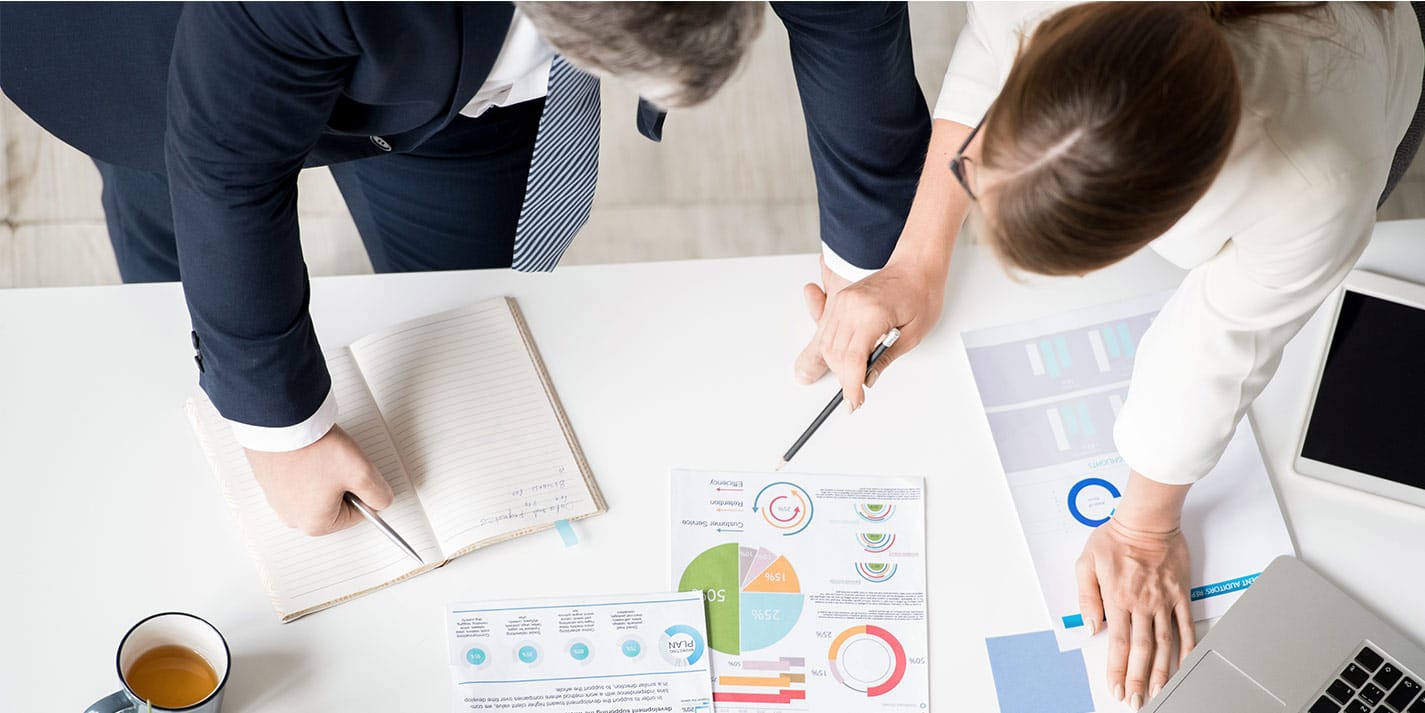 The types of data collected through email analytics are numbers like open rates and click rates. Taking the time to study this data will help you optimize your emails by understanding the messaging, images, and links that prompt customers to engage with your business. This feedback will reduce the time you spend crafting emails in the future.
Discovering your customers' marketing preferences with email analytics is a shortcut to becoming an email expert. Finding an effective email marketing tool is a key step toward gathering the data that will teach you the ins and outs of professional emailing.
Weave's Email Marketing tool
Now that you have an idea of the ways in which email marketing software can save your office time while allowing you to improve the quality of your emails, let's take a look at some of the features of Weave's Email Marketing tool.
Campaign templates
Our Email Marketing tool comes with a selection of pre-written templates designed to help your office speed up the rate at which it produces email content. These templates cover an array of subjects, from scheduling to payments to reviews. There's also templates for updates regarding changes to your practice due to Covid-19.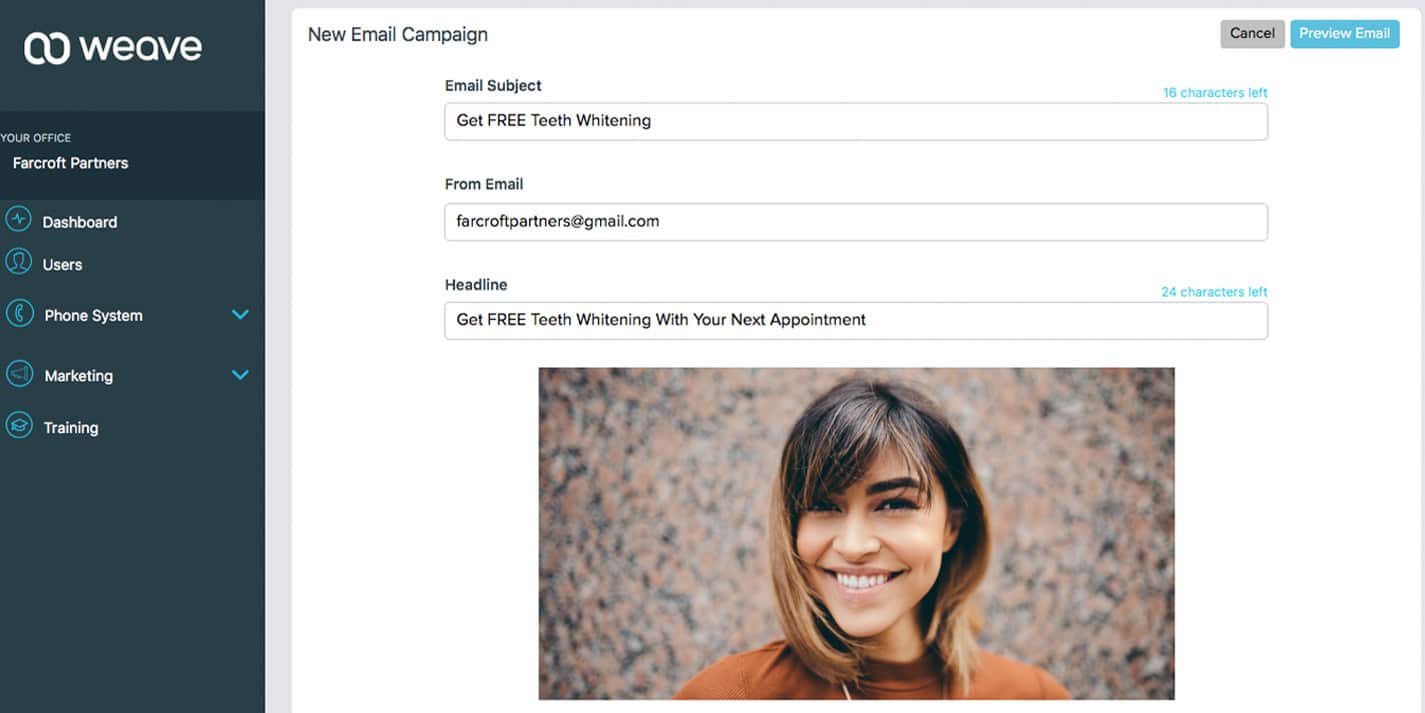 If you have a more ambitious email writer on staff, the Email Marketing tool lets them save their best work and repurpose it in the future. Stockpiling original and adjusted templates creates a base of material that will benefit your email outreach and cut down on time spent writing.
Image library
Our software also includes a library of images that couples with templates to bring your emails to the next level. As we've mentioned, consistently placing your logo in emails builds brand recognition and loyalty. Images also supplement the content you're sharing with customers.
The images in our library are designed to fit into pre-existing templates. This way, your office doesn't have to worry about the compatibility of photos within email formats. The Email Marketing tool strengthens the visual aspects of your email campaigns while also reducing the time spent finding sharp images.
CTA buttons
Weave's Email Marketing tool lets your customers take immediate action by clicking on sleek Call-to-Action buttons. These buttons guide customers pages for scheduling appointments and making online payments.
When your business invites customers to take action, it's actually saving on the amount of time it spends calling and texting clients about upcoming appointments and overdue balances. By focusing on prompting customers to engage through email, your team is easing its own workload. CTA buttons emphasize the importance of customer engagement.
Test emails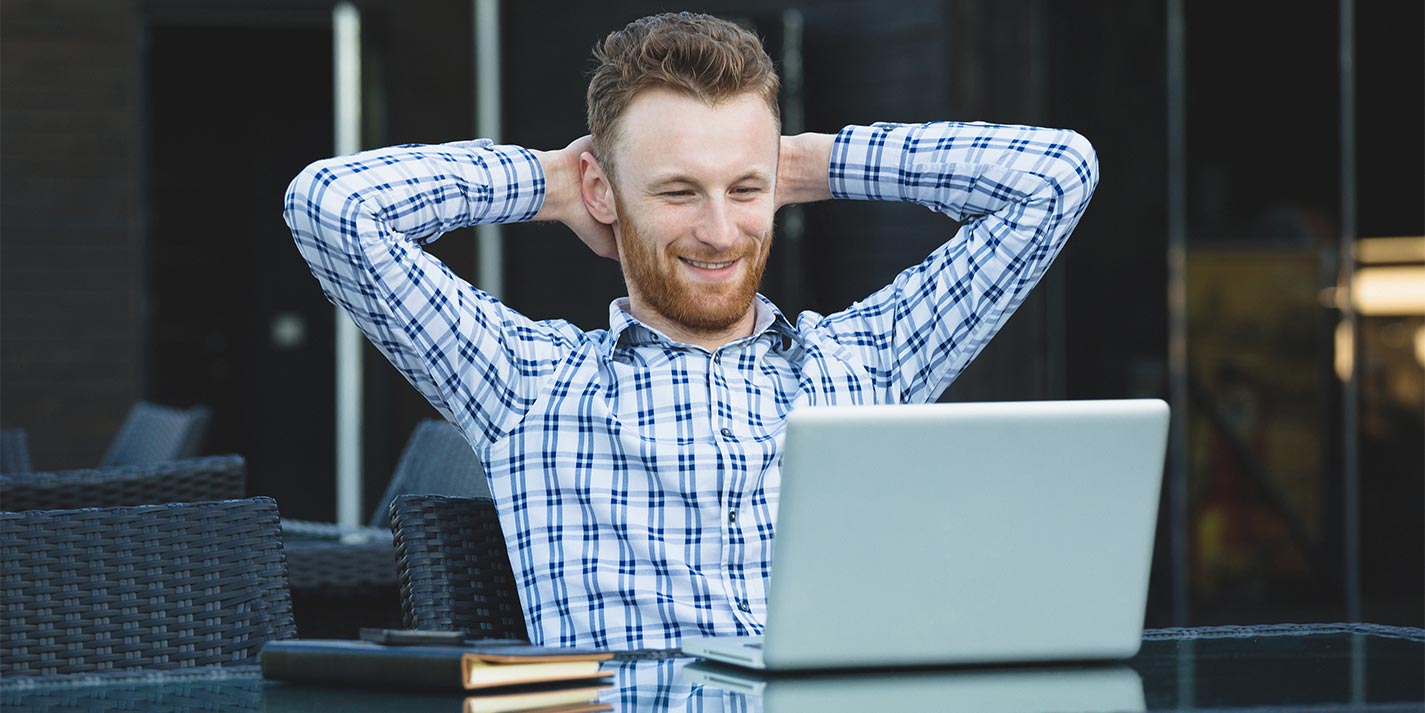 In addition to professional templates, images, and links, the Email Marketing tool makes it easy for your office to run test emails before sending them out to your customers. This feature allows you to catch mistakes and glitches in advance. Eliminating hiccups from your email campaigns saves you from going back and having to repeatedly cover up these errors.
By sending emails to three test addresses, your team can avoid having to redo emails. You're also much more likely to deliver effective content on the first go-round.
Actionable analytics
Our software lets businesses gather data such as open rates and click rates. Viewing these numbers is made convenient with an easy-to-use interface. After a short period of collecting email analytics, your office will have a more sophisticated understanding of which emails incite customer engagement and which get ignored.
Contact us about your email marketing
Using an email marketing tool is one of the best investments your business can make. Weave's Email Marketing tool includes templates, an image library, CTA buttons, test capabilities, and analytics that allow you to craft and send professional emails in less time than ever.
To learn more about our Email Marketing tool and how it fits within our complete business toolbox, contact us today for a free demo.