Multi-location businesses can allow their offices to be either an asset or a liability. A lack of cohesion sometimes causes a domino effect that ruins an organization. On the other hand, offices that function independently yet cooperatively spur growth and build their brand.
The COVID-19 pandemic has made it more difficult for individual offices to communicate, both internally and with customers. The challenge is even greater for multi-location businesses. With some employees working from home to prevent commfunity spread, it's critical that offices give their teams the right communication tools to support each other and their clients.
It's not practical to transplant your communication system of phones, computers, and the rest to each employee's home office. A viable alternative to divvying out your VoIP phones and desktop computers is equipping your staff with a laptop and mobile app. Because of the sophistication of business communication tool kits, your team can now access many of your in-office communication tools while working remotely.
A recent study shows that customers consider the ease of building relationships and the convenience of doing business to be the top attributes of small- and medium-sized businesses.¹  Bringing a mobile app on board that enables your multi-office business to communicate easily and with a personal touch is essential during this pandemic and beyond.
Let's take a look at some of the tools designed to help offices communicate effectively while working from home.
Scheduling for each of your offices
No-shows are a problem for many businesses right now due to the fear and hesitation caused by COVID-19. To reduce no-shows, your staff needs the ability to quickly fill the calendar. The speed at which front office workers fill last-minute cancellations is increased by a mobile app and access to a wider range of clients.
Using a mobile app, receptionists and administrators are now able to pull up lists of customers that would likely want to book an appointment on short notice. Once they've compiled a list of clients, they can then send out text blasts notifying customers of the vacancy. Having access to contacts from other locations aids front office employees in their quest to fill your schedule.
Scheduling software that your team can utilize from home also lets them distribute appointment reminders and confirmations. If they've booked customers that usually visit your other locations, your receptionists can customize these texts to include your office location and other pertinent details. Giving each of your offices the ability to fill their schedule from home additionally allows your in-office team to safely provide essential services.
See how Weave Unify will help your multi office practice
Integrating your multi-location practices will never be easier than with Weave.
Let us help you as you acquire more offices for your multi-location practice.
Learn More
Customer information for front office staff
An ideal work-from-home tool kit should also make it easy to respond to inquiries by customers, even if your multi-location business is constantly adding new clients. Having customer information at your fingertips as soon as you answer a call cuts down on call times and eliminates a lack of familiarity with customers. Software provides your front office staff with customer photos, names, activity level, and notes that are recorded for future reference.
This software also lets your offices view upcoming appointments and family members that might be overdue for a visit to your practice. Sharing this information across locations ensures that clients aren't double-booked or too frequently notified.
Front offices working from home are empowered by reminders of outstanding balances for callers. The right tool allows your team to tell customers about overdue payments and send payment requests by text. We will return to this feature while discussing COVID-19 responses in more detail.
Analytics for assessing work from home
The reaction to COVID-19 has significantly altered how most multi-location offices approach their work. With some employees transitioning to remote work, it's key that your organization monitor how the new normal is affecting its communication.
Analytical software helps businesses identify areas for growth and improvement as they adjust to their new working reality. Looking at call volume, missed calls, and call sources across your various locations lets you optimize staffing by finding peak hours. Analytics also offers you the chance to see how different locations are doing relative to each other. Locations with fewer missed calls can then share their tactics with other offices.
Phones as smart and flexible as your business
Multi-location offices need the ability to link their phones in order to increase their efficiency and group productivity. A unified phone system lets businesses set up multi-office phone trees that help connect customers to the right location. These phone trees can be continually updated and adjusted to fit the particular dynamics of your practice.
Mobile apps that permit receptionists, administrators, and practitioners to handle calls from their smartphones make it easy to transfer and forward calls to other offices, even while working remotely. It's common for customers to call the wrong location; keep them on the line by immediately transferring them to the front desk and the specialist they're seeking.
It's impossible to avoid missed calls completely. For your busiest hours, it's wise to implement missed-call texts that automatically go out to callers who can't get through to your staff. These texts are triggered regardless of your staff's location, and allow your patients to begin two-way text conversations with your team.
A major benefit of a shared phone system is that it gives your offices the ability to support each other. When one location is experiencing low traffic, receptionists can help out busier offices by taking some of their calls. Connected phones combined with a mobile app lets employees work effectively from home while maintaining cross-location cohesion.
Administrative control of employee access
A multi-office phone system doesn't grant every employee equal access. Owners and administrators determine which team members can use which tools. If staff need better access to work from home or to assist another location with customer service, they have to contact their supervisors to expand their capacities in the mobile app.
Pandemic response initiatives
The public health crisis caused by COVID-19 has forced masses of people to work remotely. While smartphone apps that connect employees with offices weren't designed with a global pandemic in mind, their utility in the present situation is undeniable.
Offices can share waiting procedures with customers to promote social distancing. Even when employees are calling or texting patients from home, they're able to share instructions for setting up curbside waiting rooms. These virtual waiting rooms keep germs from spreading in your lobby and allow workers to focus on essential services.
Staff members can use their mobile app to send wellness forms to patients. Wellness forms are short questionnaires that ask about a customer's physical health, contact with sick family members, and recent travel. Asking these questions with a paperless form screens clients and protects employees from infection.
Contactless payments are in high demand due to the pandemic. Offices are sending payment requests by text, mirroring curbside waiting rooms by eliminating front desk stops after appointments. Contactless payments let more receptionists and administrators work and collect payments from home.
Text messages for multiple locations
This article has covered text messaging extensively, but we wanted to remind you of the seemingly ever-increasing demand for text communication in the business world. 84% of customers now want to receive service reminders from the practices they frequent.² Establishing a strong text outreach is a must in today's market.
It's admittedly harder to bounce between calls on a smartphone and a VoIP office phone. Text messaging, however, feels the same with the right mobile app. Chat features are also available to help employees communicate and cooperate with each other while working remotely.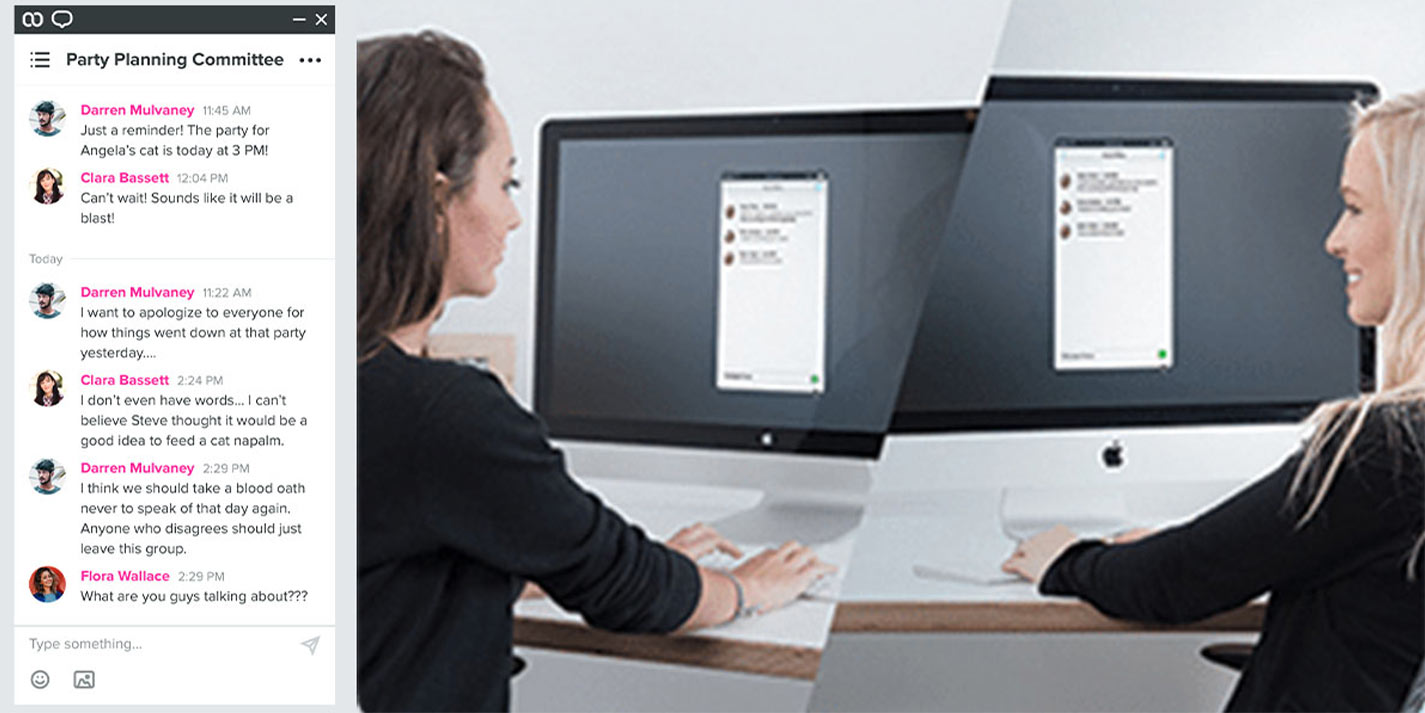 Work from home with Weave Unify
At Weave, our development team recognized the need for multi-location offices to give their employees a complete business toolbox. We designed a combination of hardware and software tools that allow offices to work both independently and interdependently. The mobile app is an important feature that empowers staff members to match their office productivity from home.
Weave Unify offers businesses the ability to fill their schedule and deliver critical communication to customers for each of their locations. An interconnected phone system and corresponding analytics let your employees take calls remotely and provide you with metrics for monitoring your various offices' efficiency. The mobile app allows offices to adhere to COVID-19 protocols and promote social distancing in the new normal.
Contact us today to learn more about how Weave Unify can support remote work and your group practice's entire communication system.