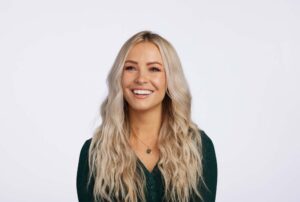 LEHI, UTAH (November 22, 2021) – Weave's VP of Inside Sales Megan Prince has been named to Utah Business magazine's 20 in Their 20s. This was a highly competitive award that was created to highlight 20 of the very best twenty-something-year-olds in Utah. 
Megan Prince has been a standard of excellence at Weave for over 4 years. Megan started at Weave as an SDR in November of 2015 where her persistence and tenacity helped her rise through the ranks. Prior to joining Weave, Megan worked at a tanning salon, Papa Murphy's, and as a door-to-door salesperson which is why a company with a clear career ladder and a Diet Coke machine sounded perfect. Because Megan has worked at Weave for six years her knowledge of the product is unparalleled and helps her team reach the lofty goals that are set. 
"I love what I do, I love my job. I love the people in this company and that's what makes me tick," Said Megan Prince, VP of Inside Sales. "I'm willing to put in the work and I know the second you want to give up, it's the moment something good is about to happen."
This determination to be the very best is what led to her attending President's club for the past 4 years, being voted as Sales Director of the year for both 2019 and 2020, and being awarded Great Places to Work's Leader of the Year. Under Megan's leadership, her team has directly contributed over $75 million in revenue to Weave.  
"Weave has become a better company because of Megan and people like her," said Roy Banks, CEO at Weave. "We are so lucky to have Megan on our team, and I couldn't be more proud of her for winning this award. Her willpower, determination, and experience are inspiring to me and the rest of the company."
But Megan is much more than a VP of Sales at Weave. Megan and her husband run a rental property company with 3 locations, with a goal to own an apartment complex soon. She is also an active ally for the LGBTQ+ community and is always looking for ways to make Weave more inclusive. Megan is originally from Sandy, Utah, and attended USU where she received a scholarship to attend. 
Contact:
Kali Geldis
Director of Communications, Weave