The COVID-19 pandemic has presented new challenges to businesses of all sizes. Businesses searching for ways to succeed in a market altered by public health regulations and consumer preferences need to provide an updated customer experience in order to demonstrate their commitment to the safety of their employees and clients.
Businesses trying to flourish in the new normal have to put a premium on social distancing. Scientists and public health officials have repeatedly emphasized the importance of social distancing in stopping the spread of the virus. The question for businesses has become, "How do we implement social distancing without negatively impacting the customer journey?"
This blog post shows how communication technology allows businesses to continue providing high-quality customer service while promoting good social distancing. We've broken the principles of doing business in the new normal into five categories:
Minimizing human contact
Maintaining effective communication
Creating a personal touch
Getting more leads and customers
Optimizing your current system
Let's take a look at 15 fresh ideas for economic prosperity in the age of social distancing.
Minimizing human contact
By definition, social distancing means minimizing human contact. Several novel solutions have been developed in recent months that are designed to reduce unnecessary interactions in your office.
1.Curbside waiting rooms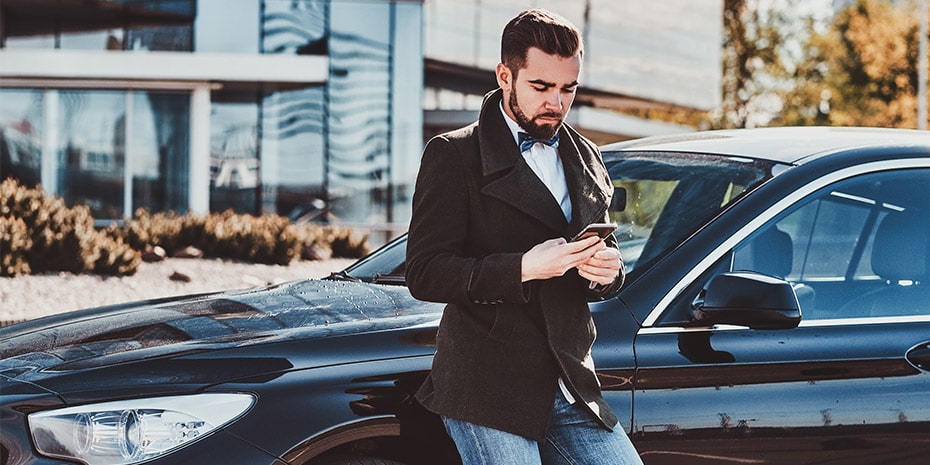 Waiting rooms can harbour lots of germs and even disease transmission. Businesses have begun protecting their employees and clients by setting up curbside waiting rooms, also known as digital or virtual waiting rooms.
These safe spaces are created by asking customers to wait outside your building before appointments. Businesses ask customers to call or text the front desk to notify them of their arrival, then bring them back once they're checked in and staff members are ready to receive them. This process minimizes human contact outside of the essential services your business renders.
2.Wellness forms
Businesses have started screening customers before they walk through their doors. Some do this onsite by taking temperatures, while others have adopted the practice of sending wellness forms to customers before appointments.
Wellness form templates can be shared by text message, and ask customers about their current physical condition, their exposure to potentially infected friends and family, and their recent travel. Inquiring about the health of customers allows them to reflect on their potential for spreading illness. Sharing wellness forms before appointments minimizes the chance of sick customers walking into your office.


Want to see how Weave can help ? you?

Weave Helps Streamline Business Communication

Amazing technology has simplified our patient communication immensely! We are fairly new and can't wait to learn even more Weave features... customer service and tech support is SPOT ON and can't be beat! - Weave Customer
3.Mobile apps
One aspect of social distancing we haven't mentioned yet is remote work. Millions of people have transitioned to full- and part-time remote work this year, if only temporarily. Businesses with a user-friendly mobile app for managing their communication are better positioned to succeed in the new normal.
A mobile app for business communication isn't limited to calls or texts. It allows businesses to handle every aspect of their organization despite working from home. If businesses want to maintain or exceed their past levels of production, a mobile app increases their ability to do so in spite of social distancing.
Maintaining effective communication
Good social distancing also means less in-person communication with employees and customers. The potential difficulties of this adjustment are greatly mitigated by establishing clear and efficient lines of communication.
4.VoIP phones
Businesses are limited in their ability to unify communication if they're still using landlines for their phone system. VoIP (Voice over Internet Protocol) phones are the foundation for modern business communication. They let businesses utilize the internet to synthesize their office communication.
When businesses can connect their call outreach with other forms of communication, such as texting and emailing, they give their customers more options for engaging with them. More engagement leads to better retention and opens avenues for growth.
5. Text messages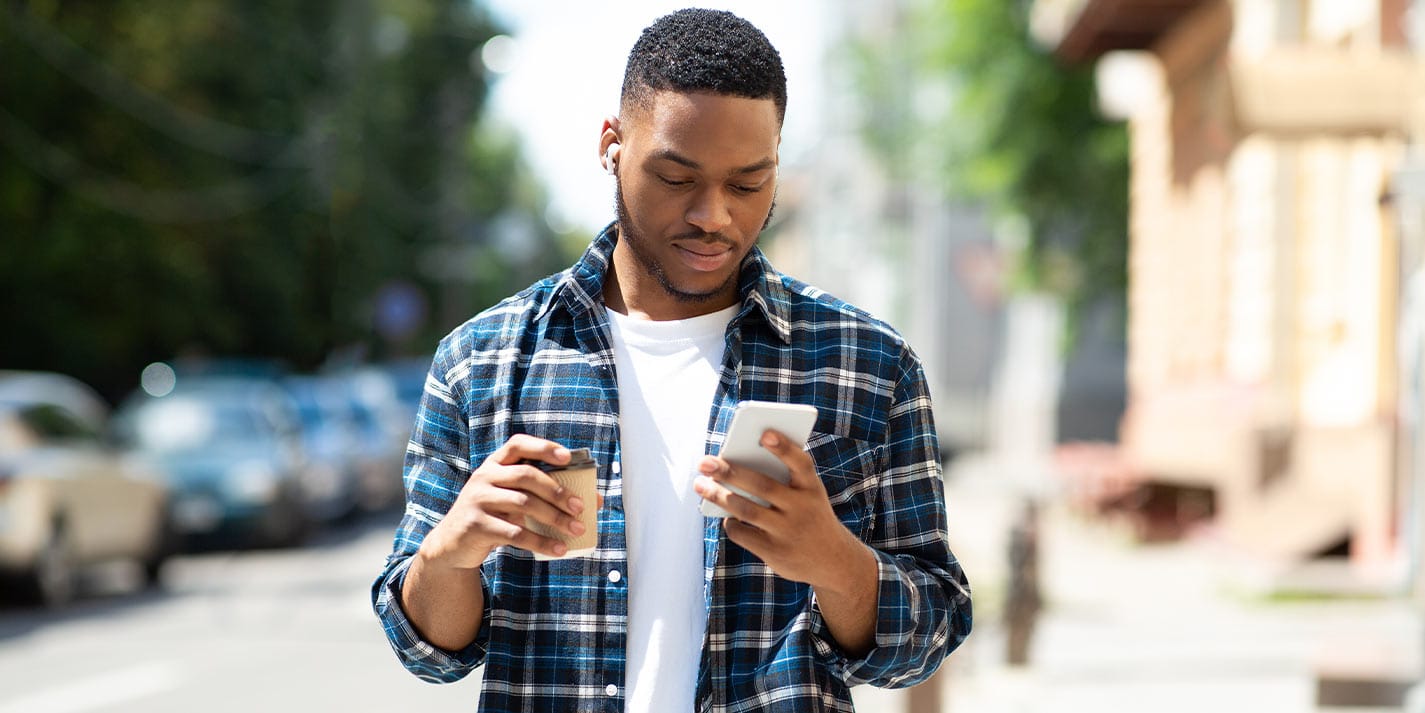 While texting is commonplace in our social lives, many businesses have yet to adopt texting as a primary mode of communication with customers. Text messages have a 98% open rate,¹ so your business's messages are more likely to get through to customers this way than by phone.
The younger generation of consumers is particularly fond of texting. Couple this penchant for texting with the demand for social distancing, and it becomes obvious that a text option for business communication will be key for maintaining a viable business in the years to come.
6. Team chat
Even before the pandemic and its coinciding social distancing measures, 86% of employees cited a lack of collaboration or ineffective communication for workplace failures.² With many employees now working remotely, businesses need to give their staff the ability to communicate effectively from home.
A team chat fits within your larger communication network keeps your whole organization on the same page. Employees can collaborate, relay information, and brainstorm together no matter their location.
Creating a personal touch
For many businesses, in-person conversations are the place where they build rapport with customers and establish a personal connection. Social distancing reduces the opportunities for showing your personal touch. Luckily, the right software enables businesses to manifest their connection with customers in new ways.
7.Customer insights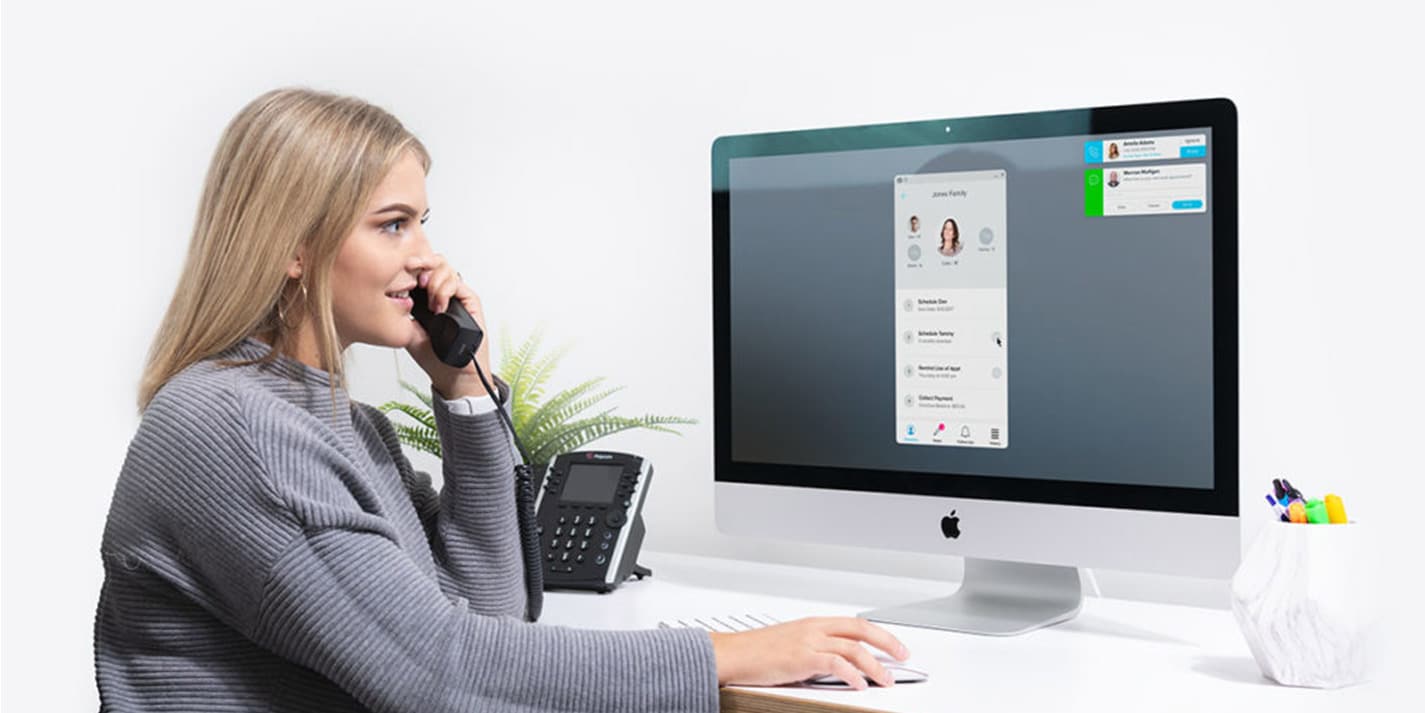 Typically, customers can remind administrative team members of their specific needs in conversation at the front desk. With businesses attempting to keep their waiting rooms safe, these conversations are getting cut short.
However, when businesses maintain a detailed record of each customer and save it on software that's linked with their phone system, these personal insights are available to receptionists as soon as clients call your office. By having names, birthdays, preferences, upcoming appointments, and outstanding balances at staff's fingertips, businesses can simultaneously demonstrate their commitment to individuals and social distancing.
8. Appointment reminders
Helping customers remember their appointments is crucial for ensuring your business's profitability and optimizing customer service. Reaching out to customers in a deliberate fashion lets them know that you want their business and will do whatever it takes to get them into your office on time.
Appointment reminders are made easy for busy offices with effective software. Administrators can schedule appointments to go out for upcoming visits in advance. These reminders are sent out in text form and can be customized using templates within a scheduling program.
9. Smart confirmations
Businesses can also create a personal touch with smart confirmations. These automated messages are similar to reminders, but ask for customers to respond with a yes or no regarding their upcoming visit.
It's important that customers feel heard by your office. Scheduling software with smart confirmations automatically interprets the responses of customers, even when they use slang, jargon, or emojis. This technology frees up office staff to take care of more essential work while helping customers stay socially distanced and engaged with your business.
Getting more leads and customers
As your business creates a personal touch in the age of social distancing, it will attract the attention of potential customers. Those businesses that use communication technology to channel this attention into leads and new customers will have an advantage in the new normal.
10.Quick Fill lists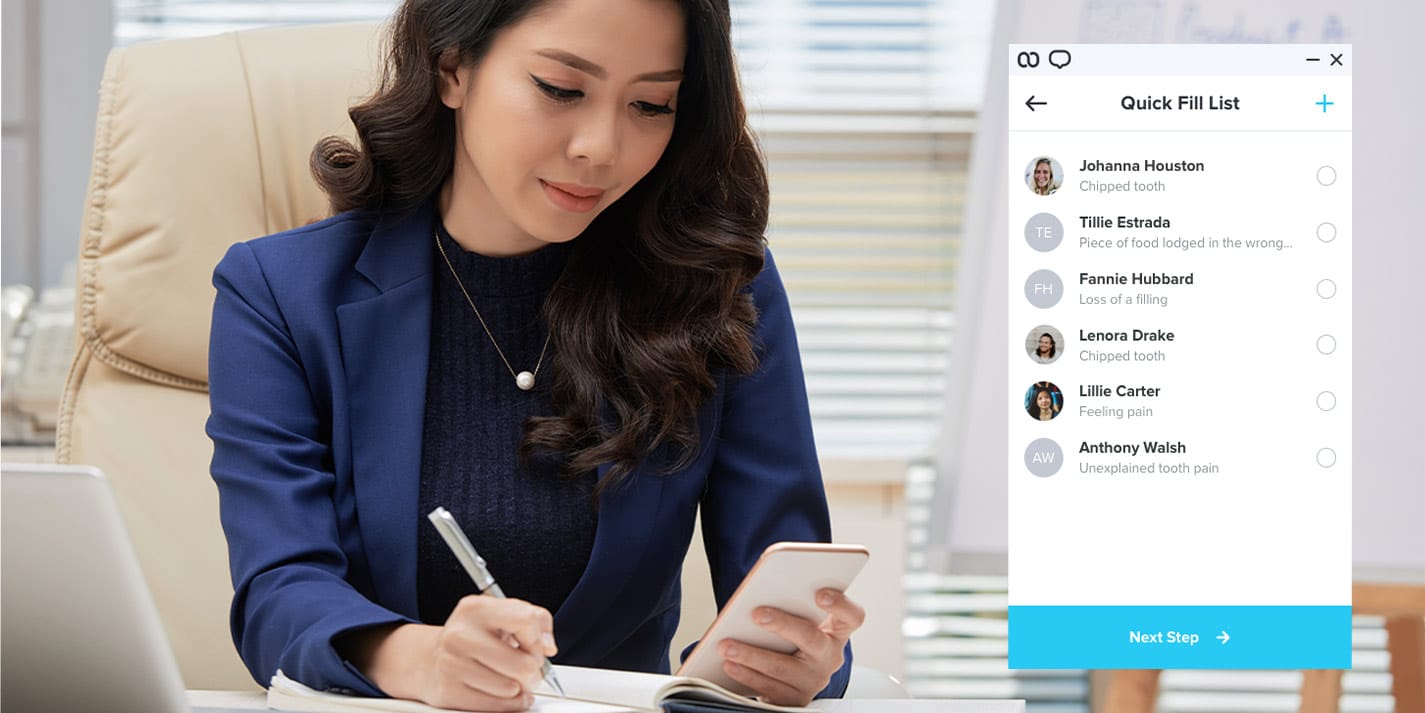 With many consumers rightfully concerned about COVID-19, your office is guaranteed to have some reschedules and cancellations. When receptionists get last-minute cancellations, it's tough to fill open time slots.
Quick Fill lists are groupings of customers most likely to accept an appointment on short notice. Smart software identifies those customers who haven't visited your office in a while and those anxiously awaiting your availability. Administrators can then send text blasts to these groups, activating lapsed customers and generating new sources of revenue for your business.
11. Review requests
Even before the virus created the conditions for social distancing, 95% of customers had begun to read online reviews before making a purchase.³ Now that social distancing has become the new normal, people are spending even more time online.
That's a good thing for businesses with the right marketing strategy. By amassing positive reviews on popular sites like Google and Facebook, businesses can significantly improve their online presence. Review requests that are texted to customers following appointments are a simple way to gather online reviews and attract new clients.
12. Email marketing
Another component of an optimized marketing strategy is effective email outreach. Recent studies have shown that email has an ROI (Return on Investment) of $38 for every $1 spent.4 This form of communication aligns with the demand for social distancing while also paving the way for major economic gains in your organization.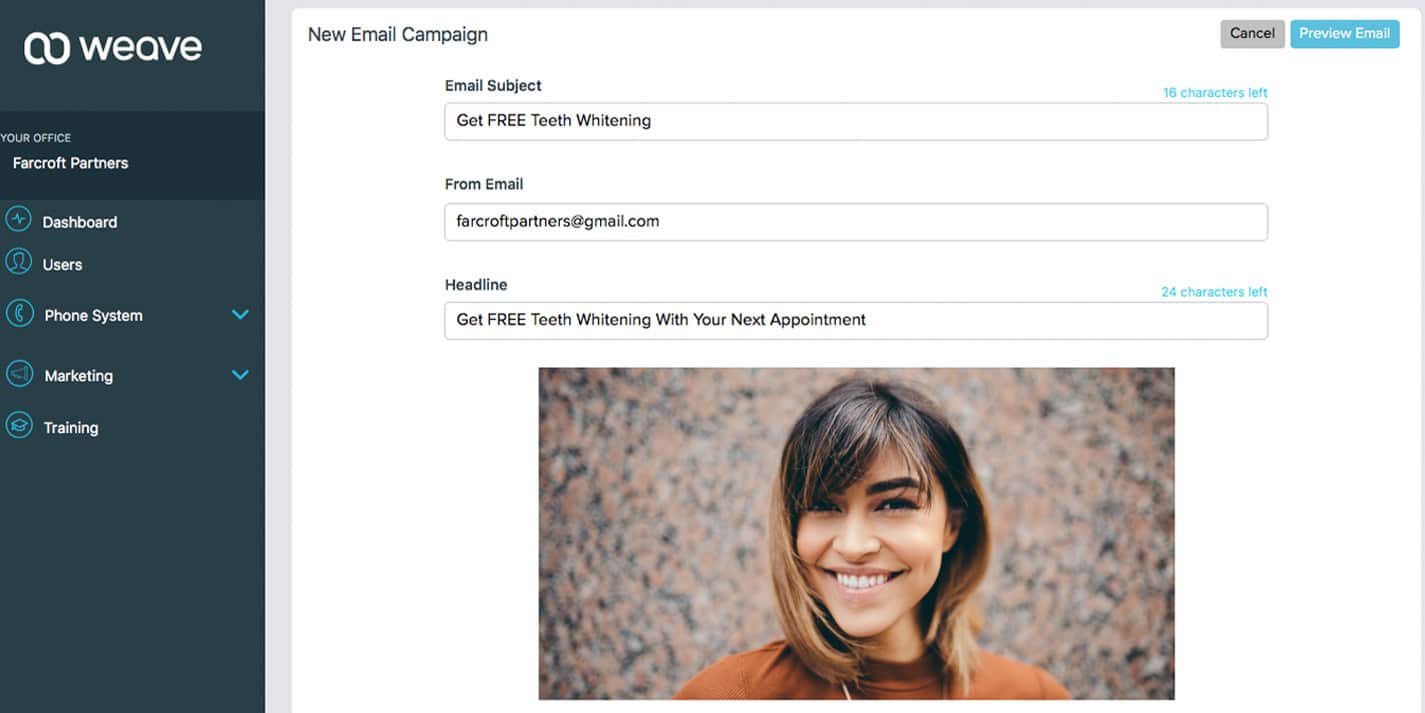 A professional email marketing tool allows your office to use pre-written templates to craft its email messaging. It also provides an image library and CTA (Call to Action) buttons for increasing customer engagement. In the age of social distancing, emails are perhaps the best place for sharing detailed updates and promotions with your entire customer base.
Optimizing your current system
This list of ideas probably incorporates a lot of the tools and techniques your office is already using to communicate with customers and provide proper social distancing. Some of the best ways to improve your business involve perfecting systems that have long been in place.
13.Analytics
Over the last decade, businesses of all sizes have put increasing emphasis on the importance of gathering data. Modern software empowers even small businesses to gather data on their processes, then analyze the data to understand how to make the adjustments necessary for further growth.
Businesses have been dealing with the conditions created by COVID-19 for months. By using software with analytical capabilities, businesses can see how social distancing is affecting their communication, their scheduling, and their payment collection. Gathering these statistics is critical for those that want to prosper in the new normal.
14. Digital forms
Electronic wellness forms aren't the only digital forms your office should be using. Switching to digital forms of all kinds can provide further social distancing in your business. They simplify the hassle of collecting patient information by allowing your customers to fill out and submit forms online before appointments.
Digital forms are easy to use and customizable. With the right help, your paper forms can quickly be digitized, which saves your staff time by letting them avoid tedious data entry. In addition, digital forms cut down on the amount of paper you have to purchase and its coinciding environmental impact.
15. Website assistance
Most businesses today have their own website. Along with their site, many organizations utilize a website chat to engage with current and prospective customers. However, website chats that keep people tethered to their computer or tablet can create friction in the customer experience.
A website assistant that allows patients to set appointments on your site and chat with your team via text message smooths out the hiccups inherent to most website tools. Clients request appointments by providing times that work best for them and your administrative team confirms those times. Taking website conversations to a text format allows for a freer form of communication that's flexible for your business and its customers.
Do business in the new normal with Weave
The ideas listed here all involve using business communication technology to prosper in the age of social distancing. At Weave, we believe our complete business toolbox has only become more essential for businesses as COVID-19 has impacted economic conditions. Consolidating all your communication with our combination of hardware and software solutions makes doing business in the new normal both possible and prosperous.
Contact us today to find out how to embrace social distancing without sacrificing the quality of your customer service or your profit stream.
Notes:
1.https://blog.adobe.com/en/2015/07/27/marketing-with-98-percent-read-rate-and-10-more-compelling-stats.html?
2.https://fierceinc.com/employees-cite-lack-of-collaboration-for-workplace-failures/
3. Spiegel Research Center
4.https://www.emailmonday.com/dma-national-client-email-report-2015/