Multi-location healthcare practices face a unique set of logistical challenges, especially when they're looking to bring additional offices into their network. It's frequently these challenges that discourage business owners from trying to expand their practice at all.
While there are plenty of problems inherent to growth, lots of them can be mitigated with the right business tools. In recent years, advancements in communication technology have simplified the process of building a multi-office practice.
A consolidated communication system makes life simpler for practice owners, their employees, and their patients. It allows multi-location practices to expand rapidly, communicate effectively, and run efficiently without the hiccups of outdated approaches. It empowers your offices to learn from each other, retain their old clients, and discover new patients.
Before discussing the benefits of a multi-office communication solution, let's get into further detail about why communication is tricky for growing practices. Here are nine problems multi-location businesses deal with on a regular basis:
1. Migrating new EHR's
Growing healthcare practices can be frustrated with the process of migrating patient records from a newly acquired office's Practice Management System. Switching from one system to another takes up large swaths of time for office teams, resulting in production losses right when your business needs to be running on all cylinders. Practices with the tools that enable them to simplify or avoid the migration process for newly acquired offices are best prepared to hit the ground running at these new locations.
2. Knowing your Patients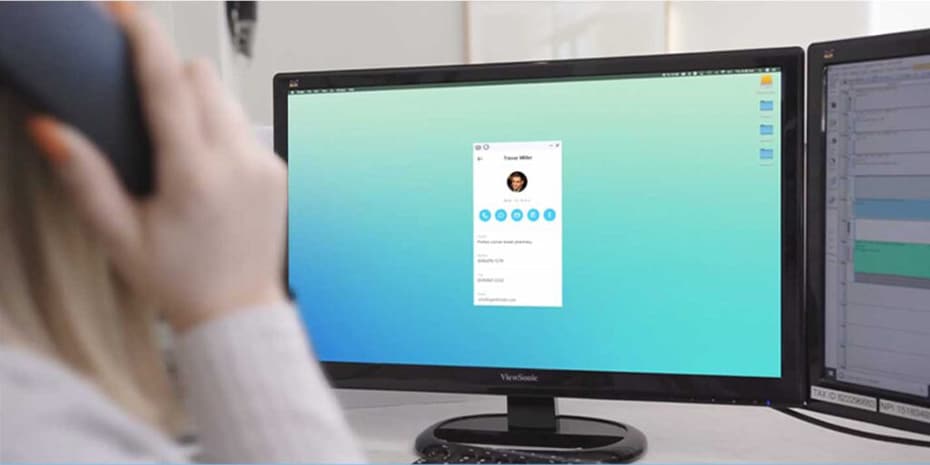 As multi-office practices expand, it's easy to lose track of clients and the familiarity of a smaller scale operation. An additional hurdle presented by adding locations is patients contacting the wrong office and feeling like a statistic in a growing business. To maintain a personalized style of communication at each of your locations, find a phone system that connects your staff with patient data as soon as they answer the phone.
See how Weave Unify will help your multi office practice
Integrating your multi-location practices will never be easier than with Weave.
Let us help you as you acquire more offices for your multi-location practice.
Learn More
3. Consolidating your communication
Adding new office locations can often feel like a labyrinth of networks and systems. It requires integrating the text outreach, phones, emailing, online marketing, and payment methods of another business. Simplifying this integration is key to making your practice's customer service uniform and optimal. Luckily, there are options available for unifying your offices.
4. Gathering data from offices
In today's world, there's an emphasis placed on the process of gathering and using data to discover better ways to run your business. The healthcare industry is no exception to the rule. However, owners of multi-location practices can have a hard time centralizing their administration, reporting, and analytics. Only a unified system can give business owners and practitioners the oversight to gather data from all their offices.
5. Connecting your locations' phones
There's a variety of ways to handle the phone tree of multi-office practices, but the best approaches require interconnected phones. Your business can establish separate numbers for separate locations, or bring all offices together under the same number. Without unified phones, it's virtually impossible to manage call overflow or create external call centers.
6. Facilitating remote work
Due to the Covid-19 pandemic, remote work is perhaps as prevalent as ever. Healthcare practices have often dealt with multiple shutdowns this year, and in some cases had the number of in-office workers limited by social distancing guidelines. Doctors, dentists, and optometrists with multiple locations frequently travel between offices and have to do business on the go. Offering a mobile app for efficient remote work is a surefire way to improve the productivity of receptionists, administrators, and practitioners that are away from the office.
7. Chatting with other offices
It's important that each of your locations be able to communicate effectively with each other. Calling and creating unnecessary queue traffic doesn't help your offices support each other; it only causes frustration. Practices with an effective group chat can communicate in a way that lets production continue at its normal rate while staff members are answering each other's questions and sharing vital information.
8. Controlling employee access
As mentioned in the section on analytics, controlling employee access is important for owners and administrators of multi-location practices. Without a way to regulate which tools staff members are using, it's difficult to keep everyone focused on their individual specialties. Those practices whose communication systems aren't unified do not have the ability to check the access of employees and ensure that offices are functioning as a cohesive unit.
9. Adapting to new conditions
The Covid-19 crisis has thrown a wrench into the plans of many multi-location practices. Even though these difficulties persist, those businesses with adaptive tools are best prepared to take on the challenges of the pandemic. The complications of this year's events are just another bump in the road for healthcare practices whose locations are connected by a unified phone system.
Multi-office solutions with Weave Unify
To answer the unique problems of multi-location healthcare practices, Weave has designed a complete toolbox for patient-centric businesses with multiple offices. Our combination of hardware and software solutions address each of the concerns already listed in this blog post.
Here's a sampling of the capabilities unlocked by Weave Unify:
Easy data mergers
With Weave Unify, your administrative team doesn't have to worry about the laborious process of migrating a new location's Practice Management System. Weave Unify lets new offices keep their old system of record while merging relevant data. This flexibility simplifies the process of acquiring new locations and ensures that your administration has all the records it needs.
Accessible patient information
Weave Unify accommodates and augments your phone system by connecting your call handlers to patient data as soon as they answer the phone. This information includes details about upcoming appointments, outstanding balances, and preferred locations. Even if receptionists are taking an overflow call from an office, they can view patient records and provide useful answers to patient questions.
Consolidated communication
Through Weave Unify, you can leverage our full product suite. This suite lets multi-location offices send appointment reminders, develop an email marketing strategy, manage online reviews, and collect payments. Having these various tools housed in one, user-friendly system drives practice value, improves patient retention, and increases the rate of new patient acquisition.
Replicable performance
As your practice adds locations, it can use its past success to optimize its new offices. Weave Unify allows practices to see concrete statistics and trends that lead to high-performing offices. Once you've discovered the keys to business health in your existing offices, it's easier to expand and promote cross-practice compliance.
Interconnected phones
Multi-location practices with an effective phone tree are less likely to allow for missed calls. Weave Unify's customizable phone system lets offices personalize their phone trees, ring phones across locations, support each other with call overflow, and even set up external call centers. Again, the flexibility of Weave Unify is meant to spur organic growth and development.
Our mobile app
Patient communication, office management, and payment collection can happen anywhere with Weave's mobile app. For business owners that are constantly traveling and employees working remotely, the mobile app makes customer service almost as simple as in-office tools.
Team chat
Multi-office practices are frequently communicating with each other by phone, text, and email. Why not simplify this communication with a HIPAA-compliant team chat? This style of communication keeps your other lines dedicated to patients and encourages your office staff and practitioners to collaborate.
User access controls
Employees don't need to have access to every single feature in Weave Unify's toolbox. Certain tools, like multi-office analytics, are best managed by a few administrators. Our software lets you determine who has access to which features, allowing employees to stay focused on the task at hand and giving business owners the ability to see how growth and efficiency are progressing for individual offices or for the practice as a whole.
Pandemic response
Because of its adaptability, Weave Unify enables multi-office practices to maintain proper social distancing guidelines and meet the preferences of their patients. Our clients have used Weave to establish curbside waiting rooms, screen patients prior to appointments, and collect contactless payments during the pandemic. Weave Unify lets practices respond to variable conditions with innovative procedures.
Discover Weave Unify's solutions for your business
Because each multi-location healthcare practice is unique, it's important for offices to learn firsthand how Weave Unify can meet the demands of their business. Contact us today to find out the solutions Weave Unify can offer your growing practice.