If your veterinary clinic is succeeding in its quest to provide high-quality service to pets in your area and turn a profit in the process, you're probably considering expanding. The transition to becoming a multi-location practice can be a tricky one. So, how do you know if you're ready to turn your clinic into a multi-location practice?
There are a few basics to consider before diving into more specific qualifications. Are the doctors and employees working well together at your clinic? Are pet owners happy with the way you treat their animals? Is your current mode of business profitable enough to expand?
Those clinics with a talented and content staff, satisfied customers, and a viable business plan are well on their way to opening up new locations. Now let's take into consideration some of the more nuanced signs that your veterinary clinic could be on the verge of becoming a multi-location practice.
This blog post will discuss sure signs of being ready to make the jump to a multi-office veterinary practice. After going over nine signs of a clinic that should be turned into a multi-location practice, we will look at some of the communication solutions that can make this transition as smooth as possible.
1. You're searching for an easy way to migrate data
Veterinary clinics that want to add new locations might be intimidated by the prospect of bringing the databases of acquired locations on board. It seems like a major hassle that requires a huge amount of time to convert another practice's old system of records into yours. If you've put thought into how your clinic could accomplish this transition, you're likely on your way to becoming a multi-location practice.
2. You want to quickly get to know your new clients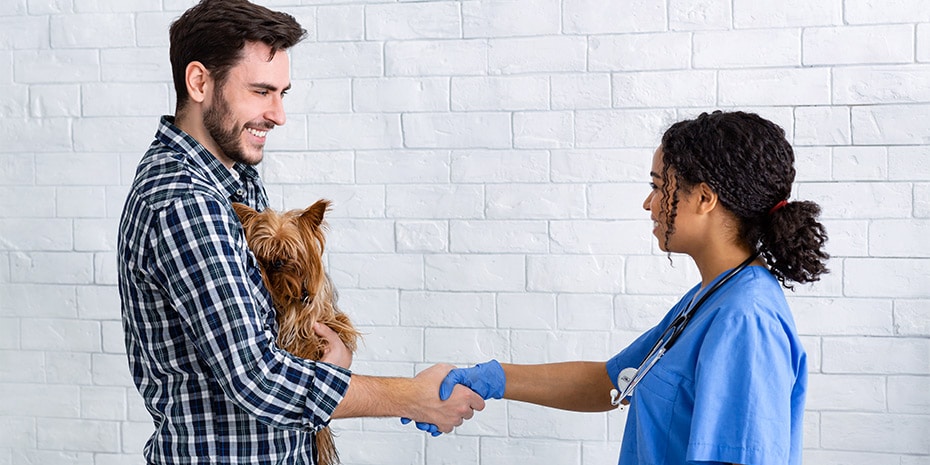 If you've succeeded at your current clinic, you likely have a great relationship with most of your clients and their pets. It's not easy creating a whole new series of relationships with customers, but you're hoping to gain their confidence as soon as possible. Finding ways to help your staff understand the particular needs of each new customer is a priority for any clinic aiming to become a multi-location practice.
3. You need more efficient ways to schedule appointments
Busy veterinary clinics are constantly looking for better ways to fill their schedule. Part of becoming a flourishing practice is keeping all your time slots full, even when pet owners reschedule or cancel last minute. Multi-location practices can help each other with scheduling, but need the right tools for sending appointment reminders and confirmations.
See how Weave
Unify can help your multi-office practice
Integrating your multi-location practices will never be easier than with Weave.
Let us help you as you acquire more offices for your multi-location practice.
4. You'd like to replicate your success
Veterinarians that have achieved a good amount of success are often keen on doing it again. They realize they have a formula that is beneficial to their employees, their customers, and the pets they serve. In order to make sure that your clinic's success is effectively replicated at new locations, you'll want to collect data and have metrics for monitoring new locations.
5. You're looking for coordinated communication
There are plenty of challenges associated with communication in a multi-location practice. If you're on the hunt for better ways to communicate because you're considering expanding your practice, it's a sign that you're ready to make the leap. Getting an efficient phone system serves as the foundation for an interconnected group of veterinary clinics.
6. You're worried about being away from your clinic
Some veterinarians worry about being disconnected as they travel between locations. If you find yourself out of the office because you're looking at potential new locations, there are ways to stay in touch with your employees and customers while you're on the move. Vets frequently work remotely, especially if they're working with horses or other animals that are difficult to transport. Maintain effective communication by adding a mobile app to your clinic.
7. You want your offices to collaborate
The success of your original clinic is at least partly due to your team's ability to work as a cohesive unit. It's a sign that you're ready to move to a multi-location practice if you want to ensure that this collaboration continues at new clinics. A team chat can make the transition to becoming a multi-location practice much smoother.
8. You need to advertise more effectively
If you're thinking about the best ways to reach prospective customers in new areas, it's a sign that you're on the brink of becoming a multi-location practice. While more traditional forms of advertising are still useful, the most effective methods now involve a robust online strategy. To implement these strategies, consider updating your website, starting social media accounts, and pushing for online reviews.
9. You'd like to safely navigate the Covid-19 era
Successful veterinary clinics have found unique ways to keep their staff and clients safe from the threat of Covid-19. As you move into new locations, you'll want to maintain this same level of safety to protect new customers. Adopting the right communication tools can get you started out on the right foot with your new pets and pet owners.
Turn your clinic into a multi-location practice with Weave Unify
In order to help veterinary clinics become multi-location practices, Weave has created a complete business toolbox called Weave Unify. It's designed to ensure that your group of practices functions like a single office. Below are some of the key tools for running your multi-location practice optimally from the get-go.
Onboarding
With Weave Unify, you don't have to worry about the complications of migrating another practice's old system of record. Our technology allows acquired clinics to keep their systems but still gives you access to their pet records. Instead of overwhelming your staff with the prospect of migrating a whole new clinic, use Weave Unify to bring new locations onboard.
Customer Insight
Using the Customer Insight tool, your clinics can have detailed information about pet owners on hand as soon as the phone rings. Information including the customer's name, upcoming appointments, and outstanding balances keep your staff in the loop and increase the efficiency of phone conversations. Your employees can leave notes for future reference that are shared across locations.
Scheduling
Our Scheduling tool enables veterinary clinics to automate appointment reminders and confirmations in order to be more efficient. Reminders can be turned into two-way text conversations, and sentiment analysis lets our software interpret customer responses and notify you of rescheduling and cancellations. In the event of cancellations, Quick Fill lists empower your front desk to identify pet owners who would take an appointment on short notice.
VoIP Phones
VoIP (Voice over Internet Protocol) phones use the internet to establish a consolidated communication system, bringing together phones, emails, texts, and more. Using our phones, your multi-location practice can choose whether to list all your offices under the same number or list their numbers separately. Set up phone trees, ring phones across multiple locations, create inter-office call overflow, support external call centers, and more.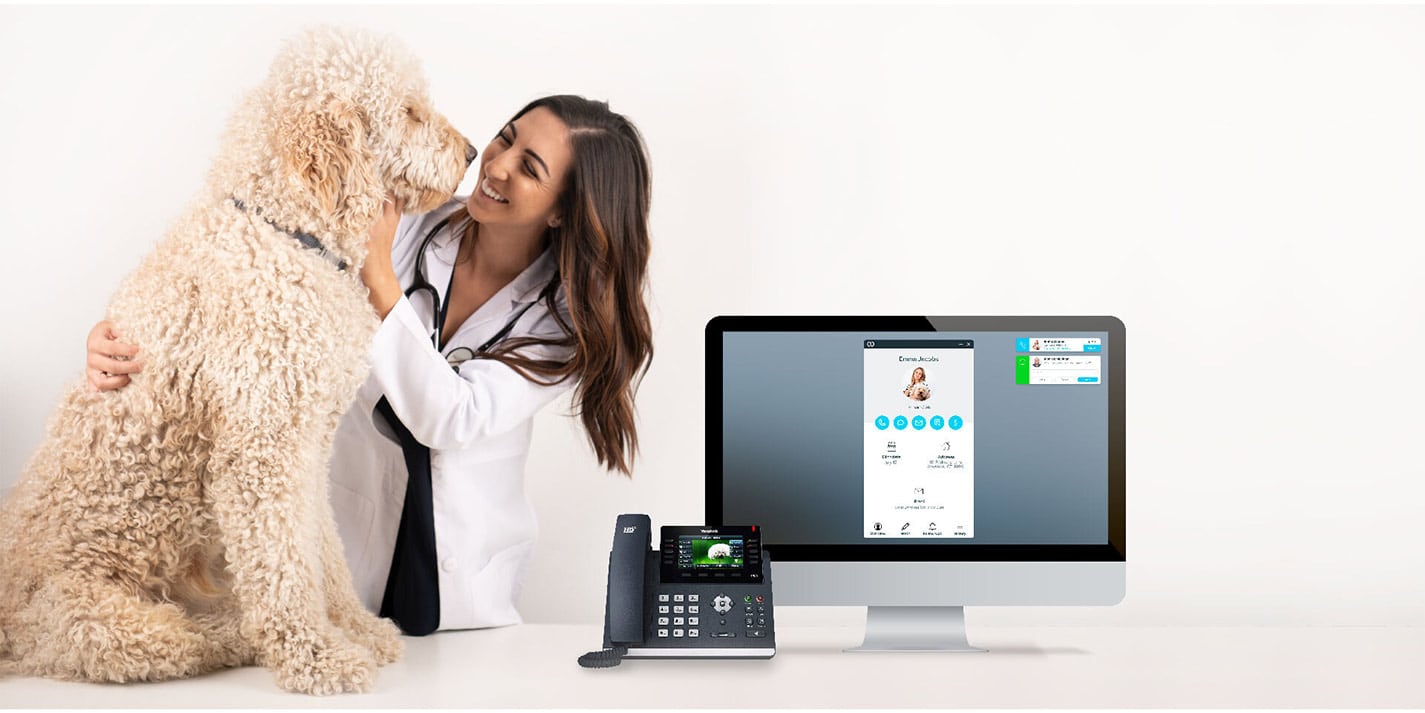 Mobile app
The Weave toolbox can be accessed through a convenient mobile app, allowing veterinarians and their staff to stay connected when they're away from the clinic. This means you're able to communicate with patients, schedule appointments, and collect payments from any of your locations on the go. If you're planning to travel between offices or have staff work remotely, our mobile app is an essential tool.
When you text from the mobile app, your customers receive the message from your office number. This simple feature increases your open rate and makes it easier to follow up with your clients on the road or from home.
Team chat
Multi-location veterinary practices need to be able to communicate with each other to ensure they're following similar protocols. Let your staff support each other by using our Team tool, which gives your clinics the ability to collaborate without taking up other communication channels, like phones. A team chat also enables you to keep track of the conversations going on within your organization.
Reviews
Online marketing is a powerful tool for building your reputation in new locations. Send review requests to pet owners following successful appointments using Weave Reviews. Gathering a high number of positive reviews on popular sites like Google and Facebook is one of the best and cheapest ways to build your reputation and push you to the top of search results.
Analytics
In today's business world, collecting and analyzing data is more important than ever. Weave Analytics allows your veterinary clinics to gather data about how effectively your office is communicating with its customers. Replicate the success of your original clinic by making sure your newly-acquired locations keep up with your quantitative success.
Covid-19 protocol
During the pandemic, businesses have used Weave to make certain they're adhering to regulations and the demand for good social distancing. Some clinics have set up curbside waiting rooms by texting customers before appointments, asking them to check in from the parking lot. They've also sent electronic wellness forms to customers to screen for symptoms.
The Payments tool has also been useful to business owners. It allows you to collect cash, check, and card payments while pushing for contactless options. Contactless payments include both mobile wallets provided by Google, Apple, Microsoft, and Samsung, as well as our Text to Pay feature, which lets you send payment requests by text. Watch a demo with Weave to see how to manage your practice's expansion more smoothly.