Optometry practices see a lot of patients. There's a constant cycling through of new customers looking for their first set of lenses, people hoping to update their prescriptions, and clients moving on to other offices or getting their vision permanently corrected with lasik surgery. This state of flux makes it difficult to maintain effective communication with patients.
Communication is key to running a successful optometry practice. Optometrists that are able to connect clearly with their patients in person as well as when patients are out of the office have a decisive advantage over other practices. The power of good communication is enhanced when optometrists have an advanced phone system available for their employees and customers.
Advanced phone systems are different from traditional phones because they utilize the speed and dexterity of the internet to optimize communication. These systems use an alternative to conventional landlines called VoIP (Voice over Internet Protocol). VoIP phones make it possible to consolidate communication channels by bringing together calls, texts, emails, and other ways optometrists connect with their patients.
This blog post will explain seven specific reasons for switching to an advanced phone system. The reasons are focused on the unified features within a modern communication network, including phones, text messages, customer insights, scheduling tools, data analytics, online reviews, and emailing services.
1.Consolidating communication
As technology has developed in recent years, optometry practices have gained a number of different methods for connecting with their customers. While they formerly relied on phones, mailers, and conventional advertising, practices are now using more digital tools to reach current and prospective patients. Tools like texting, emailing, and social media are much more prevalent than they were even ten years ago.
→Watch How VOIP Texting Get Patients' Responses in Less Time↓↓
The problem facing practices today involves bringing these tools together. If secretaries are texting customers from their personal devices and talking to customers over the office phone, essential information sometimes gets lost. When practices convert to VoIP phones, their alternative forms of communication can be integrated into their phone system.
VoIP phones also ensure that optometrists have increased oversight regarding what conversations are being transpiring between their administrative team and patients. Call recording lets them go back to conversations and check on the quality of customer service as well as verify details about their vision patients may have shared. The voicemail and phone tree functions of VoIP phones are significantly more sophisticated than traditional phones.
2.Exploring the capabilities of text messages
Although many offices have adopted some form of text messaging in order to meet the demands of younger patients, it's important to connect texting with office phones. Simply sending out text blasts without engaging in a dialogue with customers can feel too promotional. Additionally, texts that aren't part of an advanced phone system can create coordination problems for front desk staff.
Text messaging that's unified with your office phones offers patients another line of communication without feeling alienating or causing information to fall through the cracks. It opens up the possibility of text conversations that lead to more business for your practice. Texting can also be automated to help administrators handle missed calls.
Two-way texting makes sure that your patients' needs and wants are acknowledged by you and your team. They also let both employees and customers respond at their own speed, without the pressing urgency of a ringing telephone. Missed call texts are sent out automatically by advanced phone system software when your team is too busy to answer or when the call comes in after hours, opening up the opportunity for dialogue by text rather than by phone.
See how Weave Texting can improve communication
Weave Helps Streamline Business Communication
"Amazing technology has simplified our patient communication immensely! We are fairly new and can't wait to learn even more Weave features... customer service and tech support is SPOT ON and can't be beat! " - The Eye Station
Schedule Demo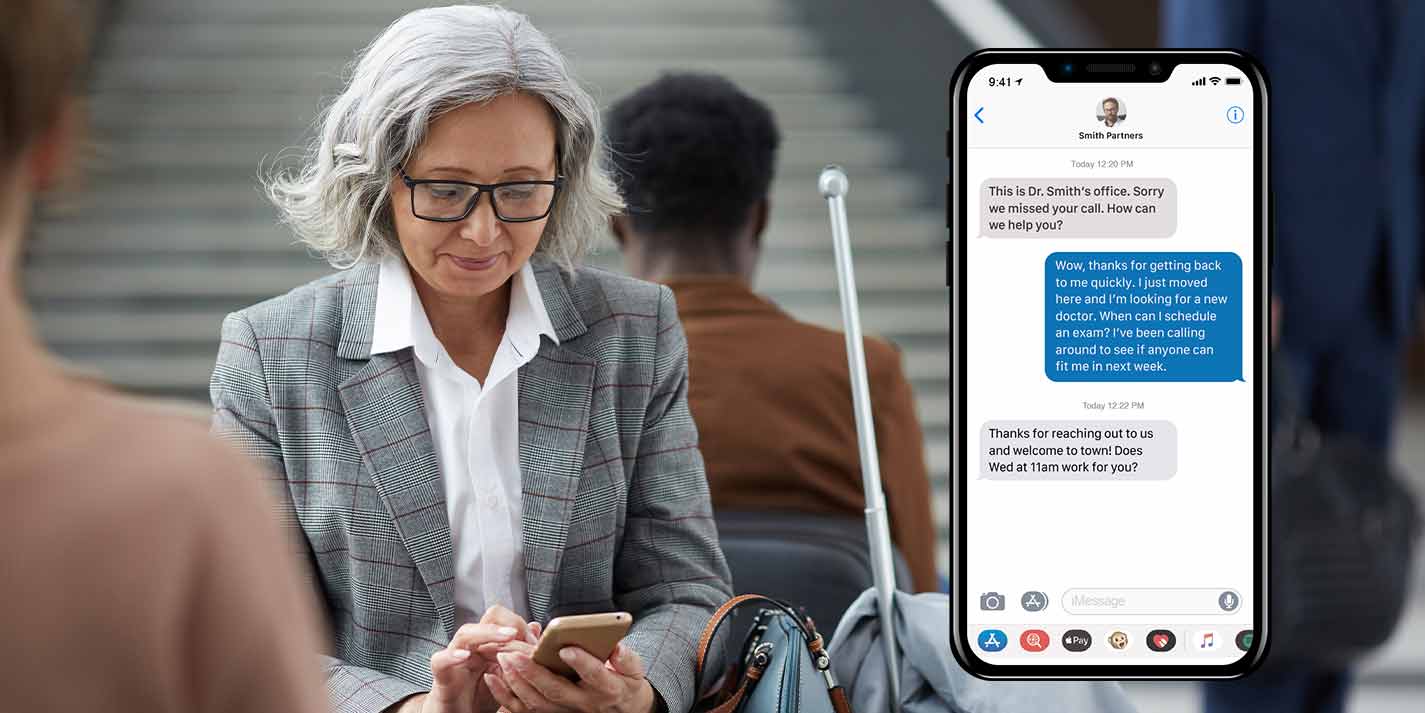 3.Having customer insights ready
Even small optometry practices have enough patients to make it easy to confuse or forget their personal histories. When customers call into the office, they expect practices to have a reasonable idea of their vision record. Outdated software keeps track of personal histories, but it's a clumsy process trying to access these details over the phone.
Advanced phone systems populate the profile of the patient calling as soon as the phone starts ringing. Secretaries and practitioners alike can click on these profiles and immediately access a host of information that reminds them of the particular customer. These insights allow employees to provide optimal customer service and help patients feel seen by your practice.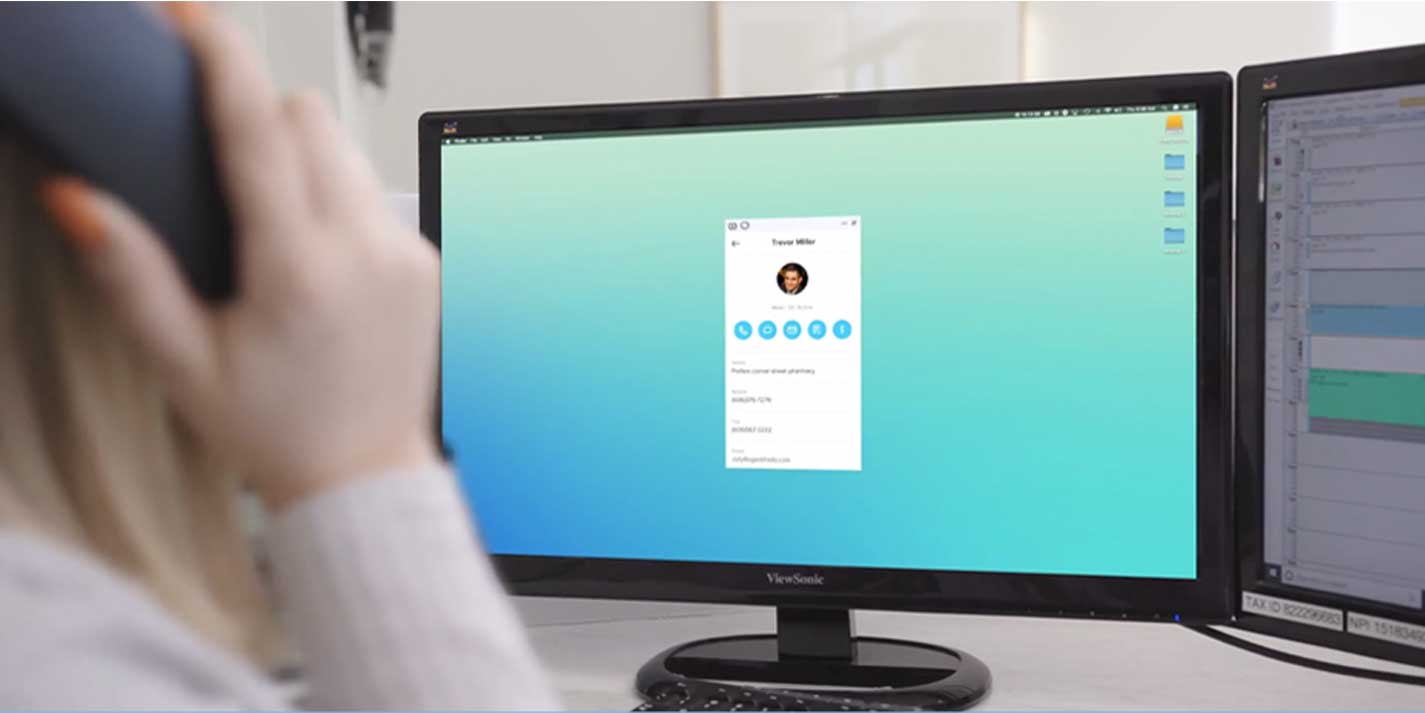 The insights available through advanced software includes patient names, their family members, birthdays, upcoming appointments, outstanding balances, and even notes taken by employees in the past. This wealth of information lets your office take care of all tasks relevant to the caller in one fell swoop. It also gets rid of the wasteful and cluttered process of posting sticky notes all over the front desk.


Want to see how Weave can help you?

Weave Helps Streamline Business Communication
"Amazing technology has simplified our patient communication immensely! We are fairly new and can't wait to learn even more Weave features... customer service and tech support is SPOT ON and can't be beat! " - The Eye Station

Schedule Demo
4.Automating your scheduling
Scheduling is one of the primary reasons for communicating with optometry patients. Administrative teams are faced with the task of bringing patients through the doors of your practice at a steady rate. However, this responsibility can often disproportionately overshadow the other work they have to do in the office.
By adopting an advanced phone system, optometrists relieve their administrative team of many of the tedious aspects of filling their schedule. Instead of laboriously going through a list of patients each week to call them each individually, administrators and receptionists can use software to automate their usual appointment reminders and confirmations.
These automated reminders and confirmations are distributed by text and can be pre-programmed to go out to patients at a time of their choosing. The content of the texts is customizable as well, letting your office add its own personal touch to scheduling messages. In the event of unexpected rescheduling or cancellations, this same software allows your team to send text blasts to patients likely to come into the office on short notice.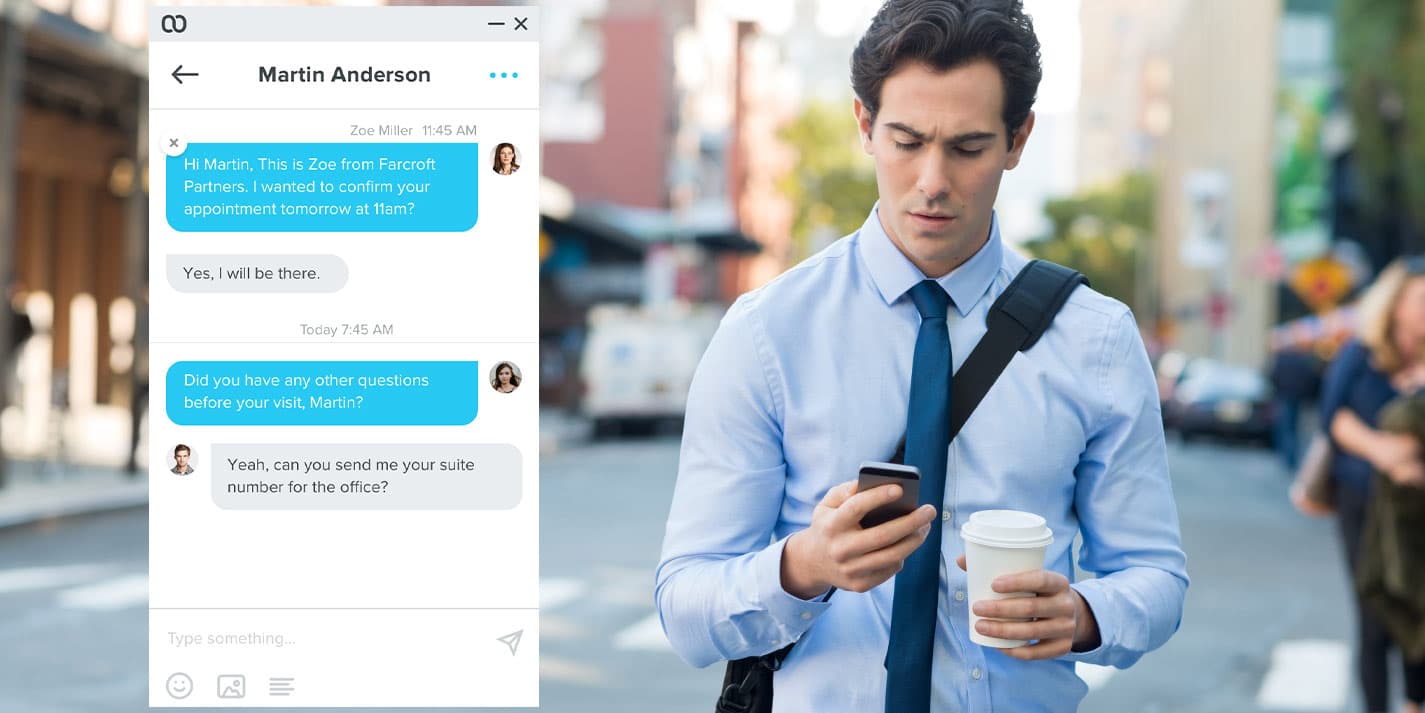 5.Gathering and analyzing data
With traditional phones, there's almost no data available for those optometry practices that want to look at statistics regarding their communication channels. Regular phones provide a caller ID and call history and not much more. At a time when data collection and analysis are more important than ever, it's critical that phone systems have components for gathering and analyzing data.
Thanks to advanced phone systems, small optometry practices can now collect and study information about how their office is communicating with customers. It's incredibly difficult to make improvements to the way you're communicating based solely on qualitative measurements. Quantitative data gives you and your team concrete facts that lead to changes in policy and an expansion of successful approaches.
Analytical software identifies busy call times and empowers you to increase staffing around those times. It also helps you recapture patients that haven't been into your office in a while by indicating them within your system and making it easy to send them a message.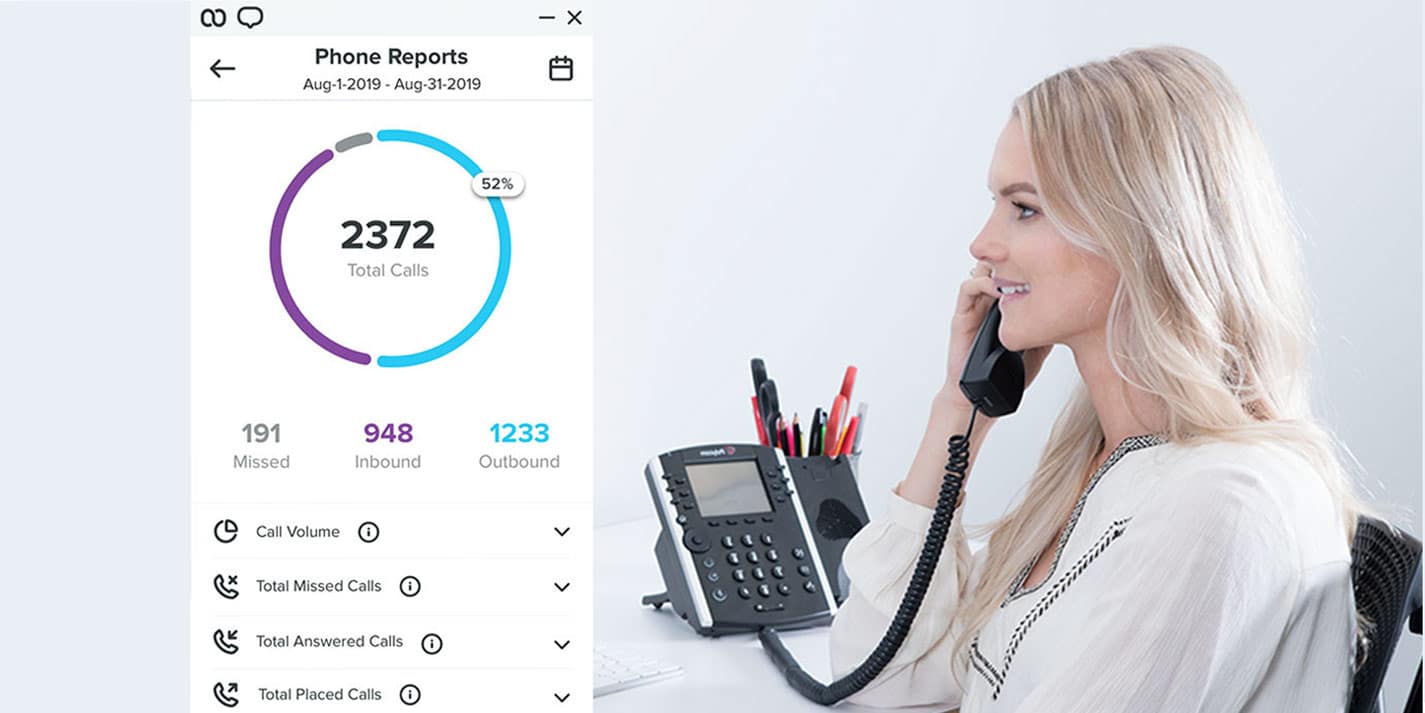 6.Developing your online presence
Establishing a strong online presence has become a preferred form of marketing for optometry offices. This means setting up a user-friendly website and creating social media profiles that organically increase patient engagement. It also means that optometrists should be honing their presence on review sites such as Google and Facebook.
Though they initially seem like a separate endeavor, online reviews can be an extension of your advanced phone system. Using software that's integrated with calls and texts, administrative teams are able to text customers immediately following their appointments to request reviews. These text messages come with a link that brings patients to popular review sites, where they can quickly compose and share a review.
Online reviews are key to boosting your ranking on these sites and in major search engines. Those optometry offices with a high amount of positive reviews get priority when local consumers look up optometrists using Google. By incorporating reviews into your phone system, it's much easier to collect, monitor, and share authentic patient reviews.
7.Involving email marketing
Emailing is a tool used by virtually every optometry practice today. However, the type of emailing implemented by many offices leaves something to be desired. It's often completely disconnected from other communication, rendering it less effective than it could be as part of a consolidated network.
When emailing outreach is linked with tools like analytical software and scheduling programs, it becomes an invaluable resource for optometry offices. Emails are less intrusive than calls and texts, letting patients respond at their own speed to invitations to schedule appointments and take care of outstanding balances. They also allow your office to share more detailed updates and promotions while including a visual component such as office logos and photos.
Call-to-Action buttons, which are basically fancy links to online sites, let patients immediately act on the emails your office sends. With an advanced phone system, these actions are coordinated with scheduling and payment software, and consequently with the calling and texting components of your system. This holistic approach to office communication is the future of business strategy for optometrists.
Weave's Advanced Phone System
Optometry practices have more communication tools available to them than ever before. These tools can be consolidated into one advanced phone system thanks to Weave's combination of hardware and software business solutions. If you're looking to unify your practice's communication, Weave is ready to provide you with the ability to optimize your network.
Contact us today for a free demo of all the tools within our advanced phone system.