Does your business have a reliable Internet connection? If the answer is yes, then your business could be benefited by using VoIP.
Short for Voice over Internet Protocol, VoIP is a technology protocol that allows voice and multimedia data to be transmitted via the Internet. In more everyday terms, when you talk on the phone, your voice data can be digitized into packets and travel over the Internet, instead of using copper wires and cell towers.
If you've ever used a service like Skype, Zoom, or Google Hangouts, then you're already familiar with the basic functionality of VoIP. Still, you might not have considered how this type of functionality can be used as your business's primary communication function. Today, there are professional-level VoIP services that go beyond the basics of tools like Skype to provide an integrated communications solution for businesses of all sizes.
In this article, we'll highlight 7 benefits of using VoIP for your business.
1. VoIP Leads to Cost Savings
Who doesn't want to save money? With VoIP, businesses can cut costs in the following ways:
Lower long-distance fees – Because voice data is transmitted over the Internet instead of using the outdated copper-wire infrastructure of the PSTN (Public Switched Telephone Network), making a long-distance phone call is similar to sending an email. Most VoIP providers charge low or no long-distance fees, which can cut the phone bill of an average business by about 40%.
Companies that utilize international calling can save even more. According to a report from Tech.co, businesses that make calls around the globe can slash their long-distance charges by upwards of 90%.¹
As you evaluate VoIP providers, take a look at your phone bill first to see where you're overpaying. If your long-distance fees are high or you're paying for a long-distance bundle to avoid going over on your plan, look for a VoIP provider that doesn't charge long-distance at all.
Reduced hardware costs – Traditional phone systems require a lot of equipment to function. Those costs can add up, making the installation of a landline phone system a major financial undertaking.
VoIP systems, on the other hand, require limited equipment. And, if you opt for a hosted VoIP solution, then your equipment requirements are zero, other than IP phones that are capable of making receiving calls over the Internet.
Lower (or no) maintenance fees – The one constant with hardware is that it's bound to fail. Maintaining and repairing that equipment can be expensive, especially if you don't have a certified phone tech or IT support specialist on your full-time staff to troubleshoot issues as they arise.
2. VoIP is Mobile
Because VoIP can be used on any communication device with an Internet connection, a whole new world opens up for your business. You and your employees are no longer tethered to your office desks or restricted to your premises with a cordless phone. Instead, you can be anywhere and still communicate as if you were in the office.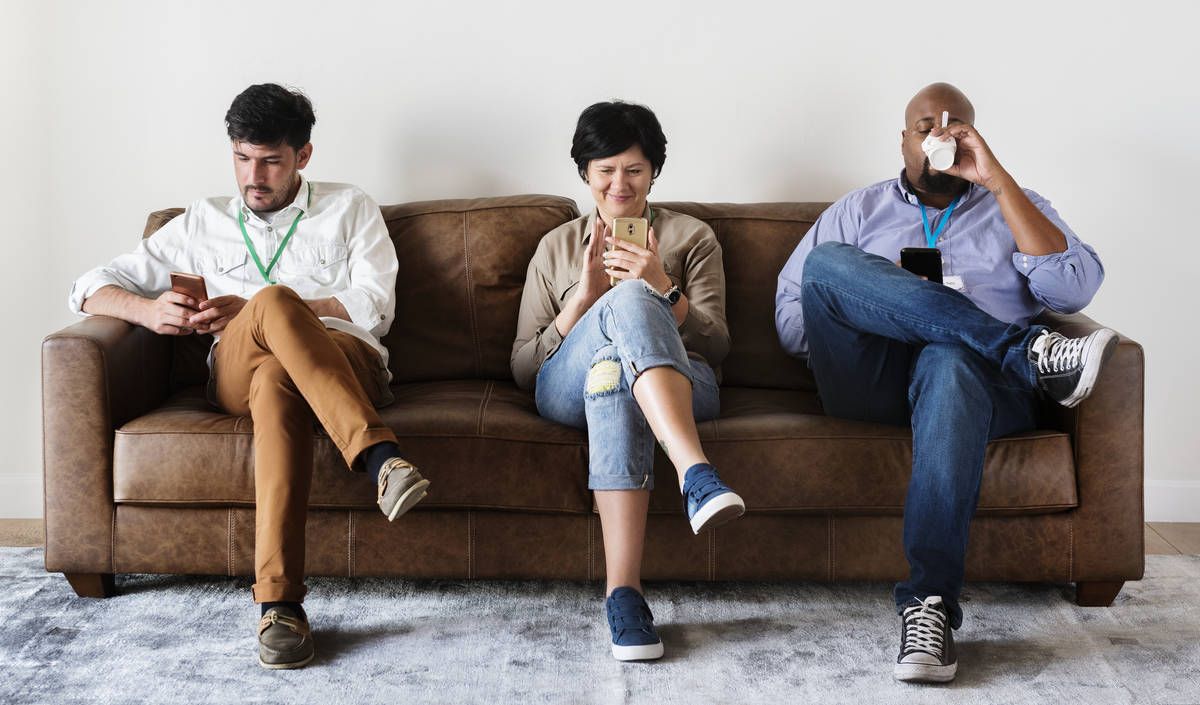 This mobility is a game-changer, especially for small businesses. If you have employees that work from home, travel, or are in different parts of the country, you can all be in communication with each other from a single phone line.
Even if you and your team are all in the same place, having office phone functionality outside the office can improve both your internal and external communication. For example, instead of trying to reach an employee on their personal mobile phone when they're out (or leaving a voicemail on their desk phone), you can dial their business line directly, and it will ring to their mobile device. To avoid throwing off the work-life balance, employees can set their devices to DND, turn off notifications, and reply with automated messages about their availability.


Want to see how Weave can help you?
Weave Helps Streamline Business Communication
"Amazing technology has simplified our patient communication immensely! We are fairly new and can't wait to learn even more Weave features... customer service and tech support is SPOT ON and can't be beat! " - The Eye Station

Schedule Demo
3. VoIP Has More Features
Traditional phone systems can no longer compete with VoIP's advanced functionality. Not only do landline systems come with fewer features, but those features also come with a hefty price tag. Compare this to VoIP, where most features come standard for one low rate, and companies can add more services at lower prices.
Not all VoIP systems are the same, but the ones designed for businesses usually have the following features available:
Automated attendants
Hold music and custom marketing messages
Menus and directories
Find me / Follow me
Voicemail to email transcriptions
Call forwarding, transferring and recording
Call analytics
Automatic call distribution
Internet faxing
Text messaging and team chat
Conference calling
Video conferencing
Each one of these features has value for a business, whether you have three employees or 300. Perhaps the biggest benefit of VoIP is implementing these features in a way that makes your business more professional. You can seem much larger than you are, and provide your customers and callers with VIP-level customer service.
For example, how many times have you called a mom and pop operation and gotten a staticky sounding voicemail with outdated information? The outgoing greeting might remind you that the office is closed on Labor Day, but that was weeks ago. You try to leave a message, but the voicemail box is full. You begin to doubt whether this company is the right one for you. So, you dial the next company that showed up on your Internet search.
By contrast, a VoIP system would greet a caller with a professional automated attendant that's easily customizable by anyone on your team with admin access. The caller would be given an option to receive information about your business, such as hours, locations, services, etc., by selecting an option. If the caller is transferred, then there will be pleasant on-hold music as they wait for the call to be answered.
Depending on the availability of your team, the call may be transferred to a series of employees as the system looks for someone who is available and qualified to take the call. If no one is available, then the caller would be prompted to leave a voicemail. Again, there's a high chance that the caller doesn't leave a message, but that's okay because you've got missed call texting.
With missed call texting, your caller will get an automatic voice message, letting them know when someone will return their call. The caller could even correspond with the voicemail message, and your team can reply, opening up a dialogue. As you can imagine, this level of service goes above and beyond what companies with a traditional phone system can offer.
4. VoIP is Scalable
If your business is growing, then it's logical that you'll need to add employees. From a communications standpoint, this can be a bit of a hassle. If you're using a traditional phone system, then you're going to need a new phone, and that phone has to be equipped with an active line. Depending on your office set up, that could require an expensive visit from a technician who will have to add a line and reconfigure your entire system.
Companies that have VoIP can call their provider and add a line within minutes.
5. VoIP is Easy to Use
We mentioned earlier that companies often need a phone tech or IT expert to customize or update their phone system. VoIP, by contrast, is much easier to use.
Many VoIP systems come with a desktop and/or mobile application that features a comprehensive dashboard that functions as a control panel. You can easily change your outgoing messages, update your phone tree, set up call distribution rules, revise office hours, alternate your hold music, and more.
6. VoIP Integrates with Other Business Functions
Some VoIP systems integrate with other areas of your business, including CRM, a client database, and payment systems. If you like the idea of having a client's complete file pop up on your desktop when they call, then you're going to love these integrated features.
Not all VoIP providers offer this level of integration, so we encourage you to shop around as you look for solutions.
7. VoIP Increases Productivity
There's no question that being tethered to a phone line can hinder productivity. But that's not the only thing that decreases your company's efficiency. Imagine, for a moment, that you're a productivity expert, and you're looking for ways to improve your workflows. Watch as your employees have to get up and leave the room to speak to each other, dial extensions only to get voicemail, and wait idly for the person they need to talk with to become available.
A VoIP system can equip you with team chat and other messaging features that allow you to skip endless games of phone tag and frustrating idle time. Instead, you can send your message or engage in a chat without having to leave your workspace.
Conclusion
Are you ready to see how VoIP can benefit your business? Schedule a demo today.
Resources: 
https://tech.co/news/voip-essential-business-today-2015-03