Email is one of the first and most popular forms of communication to be developed on the internet. Along with tools like chat rooms and message boards, emailing has shown people how quickly and effectively they can communicate in cyberspace. Social media has introduced newer and more novel lines of communication to the general public, so many that some experts thought social media would gradually replace or eliminate emailing.
However, 78% of marketers have seen an increase in email engagement over the last year¹. While there are alternative forms of electronic communication created regularly, emailing is yet to be defeated as a trusted method of communicating on both personal and professional levels. In fact, many businesses still haven't taken advantage of email's potential for implementing an effective marketing strategy.
Some business owners may never have considered how email could fit into their marketing outreach. They should. Research shows that emailing generates $38 of new business for every dollar spent². That's the sort of massive return on investment capable of propelling small businesses into a whole new world of growth and development.
Despite all of the useful emailing done each day across the globe, 86% of email traffic is still unsolicited junk mail³. Another popular term for this unsolicited junk mail is spam. Just like the junk mail that piles up in traditional mailboxes, spam is an annoyance that fills the inboxes of email users on a regular basis.
Unlike traditional junk mail, spam can be automatically sorted by having its sender labeled as such through your email service provider. Labeling things as spam saves email users from distraction and wasted time. Unfortunately, personal and professional emails can sometimes fall into the spam box, causing users to miss out on vital information.
As your business seeks to develop its email marketing, it's crucial that you keep your emails from getting relegated to your customers' spam folders. Below are five methods for keeping your emails from getting marked as spam, as well as a description of five features in Weave's Email Marketing tool designed to assist you in keeping your emails out of the spam bin.
1. Never purchase email lists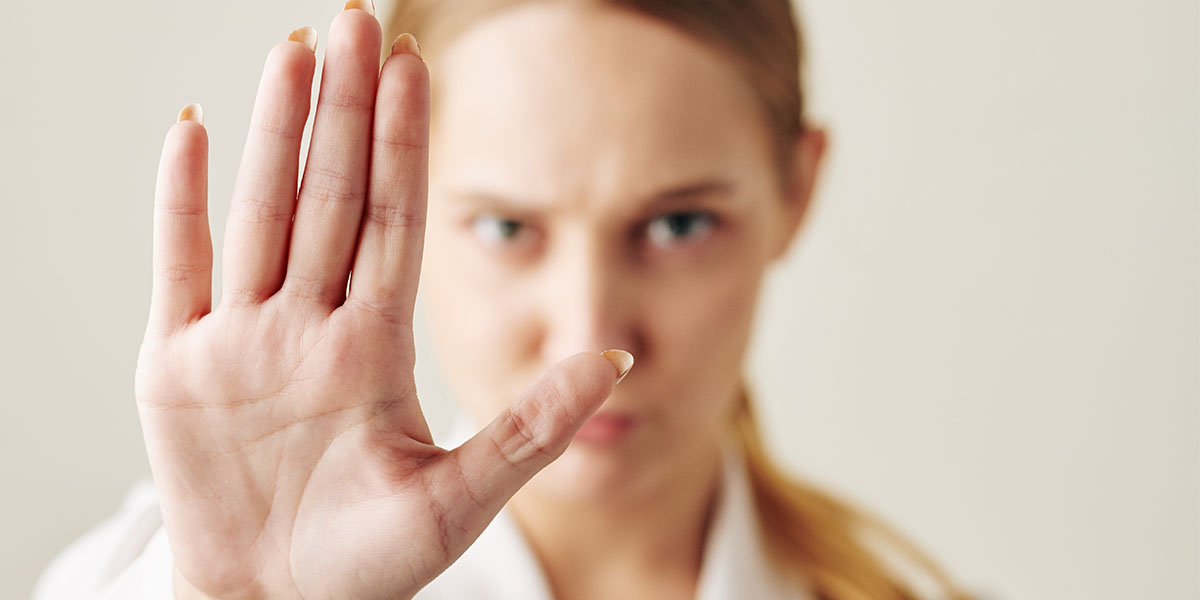 The first rule of thumb for not getting marked as spam is to avoid sending unsolicited emails. Lists are readily available for purchase across the internet, but that doesn't mean they're effective for marketing purposes, especially for small businesses. In fact, buying email lists for distributing mass emails to unsuspecting potential customers is a route that leads directly to spam folders.
Instead of wasting time purchasing email addresses from a third party, your business is better off building its own base of active email users. Email service providers have protective measures in place to filter out and automatically mark as spam messages sent from unknown or otherwise suspect entities. Directing emails to customers and potential customers that have an awareness of and relationship with your business is much preferred to emailing strangers.
2. Segment your emails
One of the best ways to avoid being marked as spam is to segment your email tree. Segmentation is an email marketing term that describes the process of dividing up your database of email addresses into smaller segments based on criteria. These criteria include factors such as location, interests, purchase history, and other factors.
Being selective about who's receiving your emails helps increase the personable nature of your messages. Appealing to specific interest groups keeps the purpose of each email tightly focused and prevents you from wearing out your welcome with customers. With the right email marketing software, segmenting emails is quick and easy, keeping readers intrigued and your messages out of the spam folder.
3. Avoid sounding like spam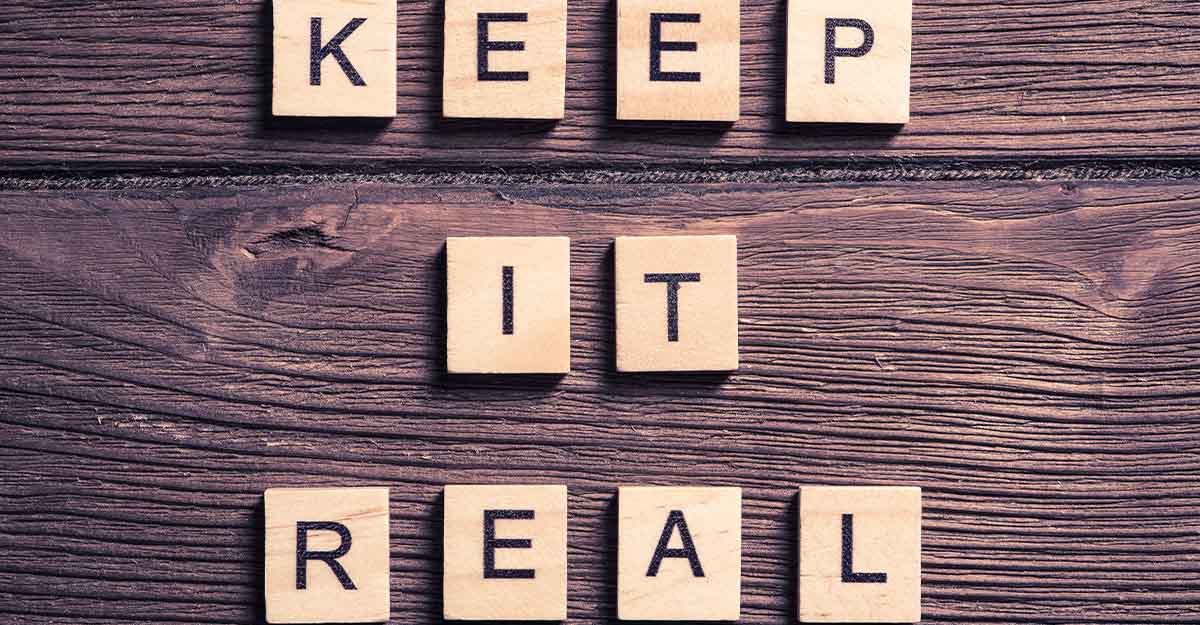 It's essential that your team not sound like spam in its emails. Again, email service providers have algorithms in place that detect "spammy" language. If your subject lines and messages trigger internal monitoring mechanisms, there's a good chance your emails will be labeled as spam, thwarting your marketing outreach.
There are a number of ways you can avoid sounding like spam. First, avoid capitalizing whole subject lines. In addition, don't use excess punctuation in your emails. A long string of exclamation marks comes across as spam and generally seems unprofessional.
Loading your email with images and little text is another surefire way to get thrown into the spam bin. Finally, including your physical address and contact information at the bottom of the email body makes your message more authentic and less likely to be marked as spam.
4.Remind readers of your relationship
The previous methods for keeping your emails out of the spam bin can help you pass the checkpoints created by email service providers. However, once your email safely reaches a customer inbox, there's still the potential for customers themselves to label you as spam. By reminding readers of their relationship to your organization, they're likely to appreciate, open, and interact with you via email.
In the email subject line, be direct about what information or incentives you're offering. Include references to your specific staff members and the geographic locations your business serves.
Putting your company logo and other useful images can also remind readers of their relationship to your business, but be careful not to load the email body with too many photos. Placing a call to action in the message also increases the likelihood of readers engaging with your email and improving their rapport with your business.
5. Analyze your emails
Keeping track of all the specific ways to avoid getting marked as spam can be a lot for you and your team to remember. For this reason, many businesses have adopted email management software to help them navigate their email marketing efforts. This type of software prevents you from sending out spam and gives you the analytical capabilities to develop and expand your email marketing campaigns.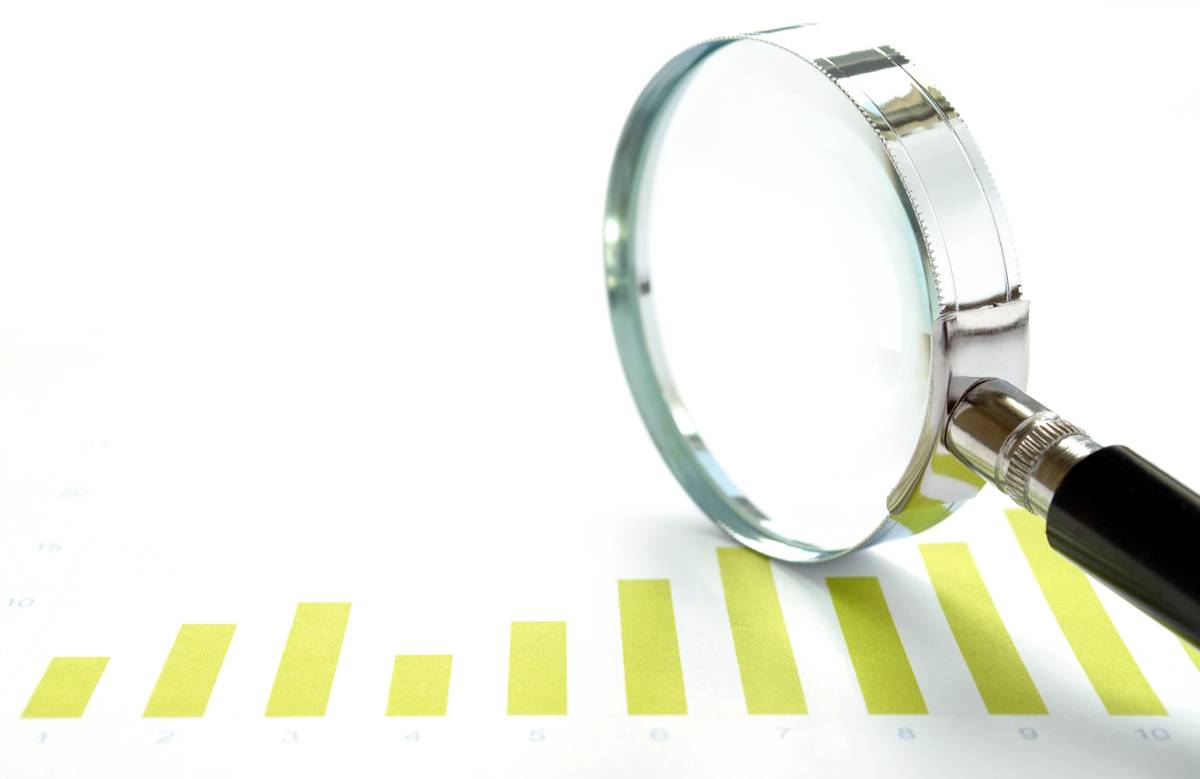 These capabilities are multifaceted. They allow your business to segment out its emails easily, keeping you from bombarding customers by dividing up their needs and interests. They also let you run tests internally, giving you the opportunity to preview emails for spam-like characteristics. Good email management software additionally gathers data regarding open, click-through, and bounce rates.
Weave's Email Marketing Tool
At Weave, our team understands how powerful email marketing can be in building customer loyalty and expanding your clientele base. That's why our developers created an email marketing tool meant to make emailing simple and effective, all while keeping your messages out of customers' spam folders.
Here's a brief description of some of the easy-to-use features within our email marketing software:
Previewing and proofreading emails is an essential practice for good email marketing. Being able to send test emails internally lets your business check for glitches and problems with links before distributing them to your customers. Weave's Email Marketing lets you run a test campaign that goes out to up to three unique addresses.
As mentioned above, calling customers to action in the body of your email keeps them engaged with the goings-on of your business and decreases the chance that they'll mark your email as spam. Weave's Email Marketing tool gives you the ability to add a "Call-to-Action" button to each email, allowing customers to click a link and complete actions like signing up for your newsletter, paying for outstanding balances, and scheduling appointments.
Images are an effective way to make your emails reader-friendly and professional. If your team doesn't have ready-access to quality images, our software comes with a library of stock photos for their convenience. Aesthetically-pleasing emails help keep you out of the spam category.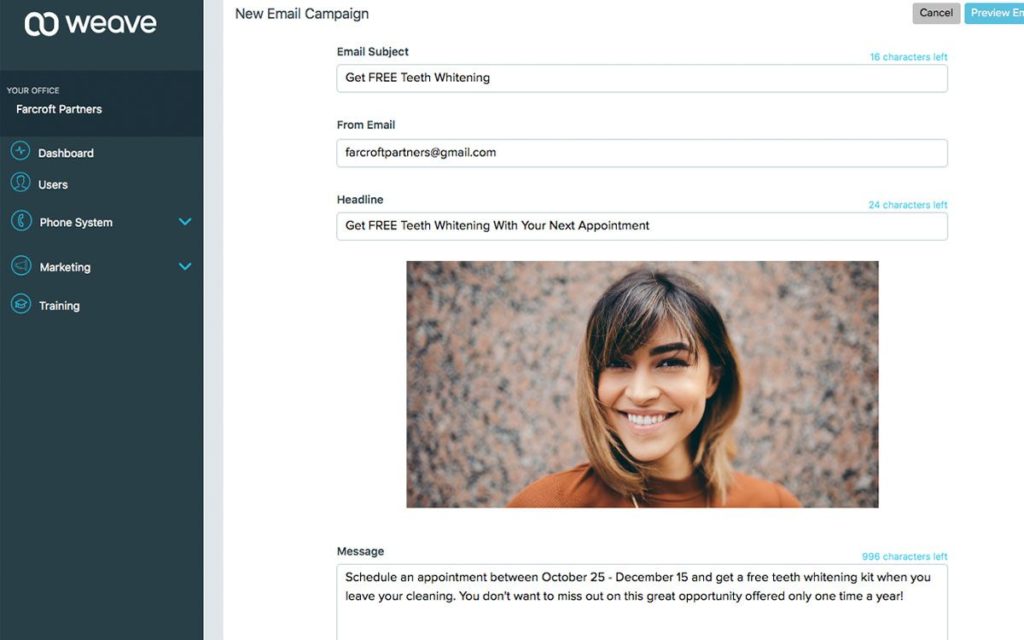 Office staff members don't always have the time or means to continually develop new email formatting and text. Our Email Marketing software gives them access to our actively-growing Campaign Template Library, as well as the ability to create and save their own templates. By utilizing these templates, your team doesn't need to write its own emails or subject lines. The heavy lifting has already been done for you.
Weave's Email Marketing tool is designed to bring email marketing down to earth for small businesses without any expertise in running email campaigns. Keeping track of customers addresses and how customers are responding to each campaign is an important part of developing an effective email outreach. Good analytics detect the potential for your emails getting marked as spam.
For more information on our email marketing software, schedule your free demo today.
Resources: