How can podiatrists bring new patients to their practice?
In one of our first "In the Trenches" episodes, a webinar series devoted to learning from real industry experts, Weave's own Adam Smith sat down with Trenna Ellison to discuss this question. Trenna is an experienced office manager at Cache Valley Foot and Ankle, a successful practice in northern Utah.
Trenna's practice sees between 50 and 70 visitors per day and is consistently adding new patients to its list of loyal clients. They will soon be going from three to four doctors and moving into a new building because of the practice's growth. The conversation ranges from how to improve marketing outreach to COVID-19 response tactics to providing the best possible patient experience.
Trenna goes through her office's most successful tools for attracting new patients, something Cache Valley Foot and Ankle does particularly well. She then discusses the tools the practice is using to keep patients and employees safe from the threat of COVID-19. Throughout the conversation, Trenna returns to her office's emphasis on care as the primary reason for its growth and profitability.
→Watch Amazing Interview with Cache Valley Foot and Ankle ↓↓
Let's look at 21 specific ways Cache Valley Foot and Ankle personalizes the patient experience in order to add new patients to the practice.
1. Consider every possible marketing channel
Office managers and other administrators should sit down and think about all the options available for marketing their practice to prospective customers. Traditional marketing goes through avenues like print advertisements, radio commercials, billboards, and word-of-mouth reputation building. More innovative marketing strategies include social media, online reviews, and email campaigns.
Cache Valley Foot and Ankle relies on both traditional and non-traditional marketing approaches. Trenna says the key for her has been to find the strategies that appeal to the practice's specific community.
2. Ask patients for referrals
Trenna's office makes sure to ask new patients and long-time clients for referrals. When patients have a spare moment, the staff at Cache Valley Foot and Ankle simply ask for a few names of people that might be interested in podiatric care. Satisfied patients are generally happy to suggest the names of family, friends, and acquaintances that are in need of a podiatrist.


Want to increase booking revenue? Ask Weave
Fill Holes in Schedule Quickly & Keep Patients Happy
"I've been a user of Weave services for 1 1/2 yrs. I have not seen anyone in the Podiatry space that offers the breadth of services they provide. I look at the ROI Weave gives me and the choice to use them is easy." - Dr. Edwards + David Edwards- DPM

Schedule Demo
3. Request online reviews
Increasingly, practices are gaining new patients by establishing their online reputation using reviews on sites like Google and Facebook. By stockpiling positive reviews on these sites and getting star ratings, offices become more visible to people searching for specific businesses in their community.
Trenna's practice has embraced online reviews and is sure to ask happy customers to post reviews on Google. She uses Weave to send review requests by text after appointments. These review requests are easy to compose, personalize, and distribute with the Reviews tool.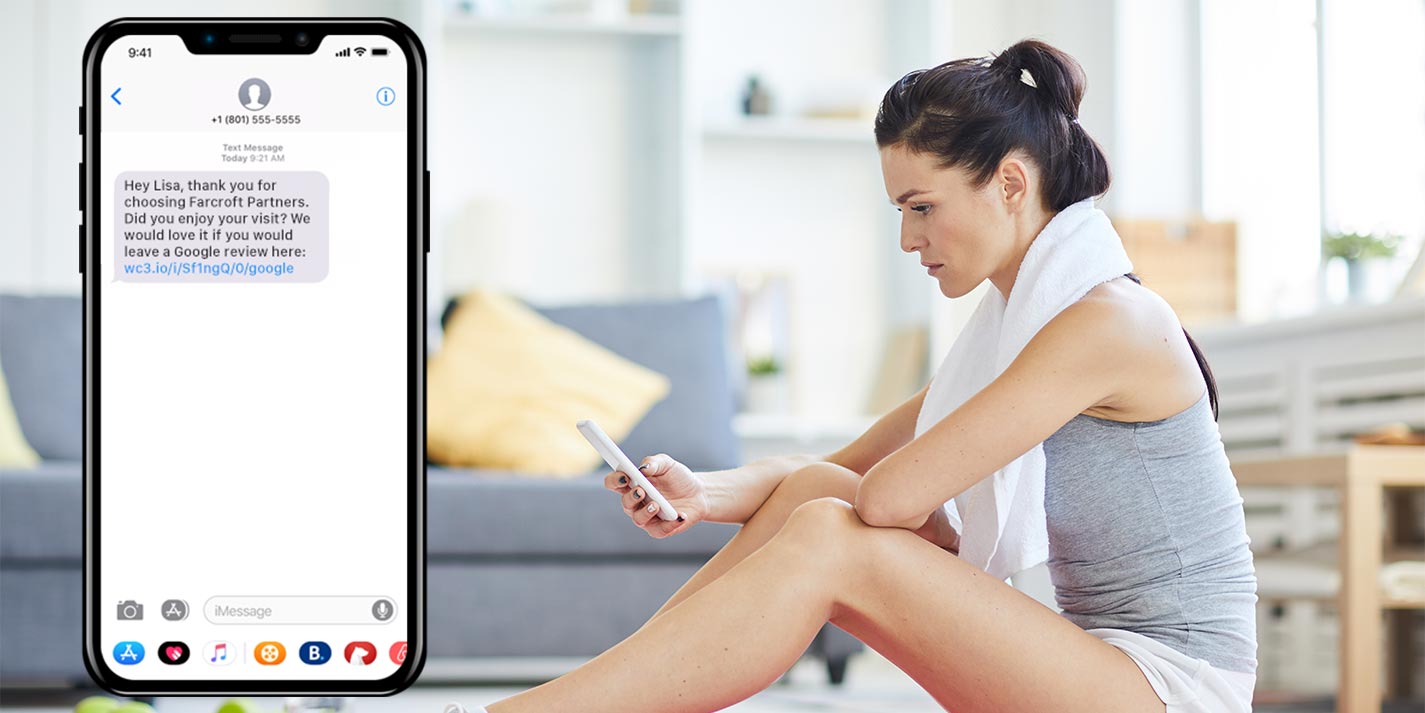 4. Have a polished online presence
Practices focusing on improving their marketing strategy need to have a presentable website and an account with Google My Business. Your website doesn't have to be extravagant, but it should be user-friendly and potentially allow prospective customers to start conversations with your office.
Be sure to set up an account with Google for your practice. You can't amass online reviews and improve your standing in search results without first registering with Google itself. This process doesn't take much time and asks for things like your practice's name, physical location, and contact information.
5. Advertise in local media
Although Trenna's practice puts emphasis on their website and online reviews, it still relies on more traditional marketing as well. Publishing ads and even getting features in local magazines and newspapers is a way to get exposure for your office. Some may claim these are outdated forms of reaching new patients, but many successful offices continue to use traditional marketing to establish themselves in their communities.
6. Start social media accounts
We're all aware of the popularity of social media. People initially used social media for contacting their friends and family. However, businesses and medical practices are beginning to use social media accounts to personalize their communication with both existing and prospective patients.
Trenna's office has accounts on Facebook and Instagram. She says it's crucial to have someone posting from this account every week or so. A member of the office team should also be checking on these various accounts regularly to answer questions and respond to people interested in your practice.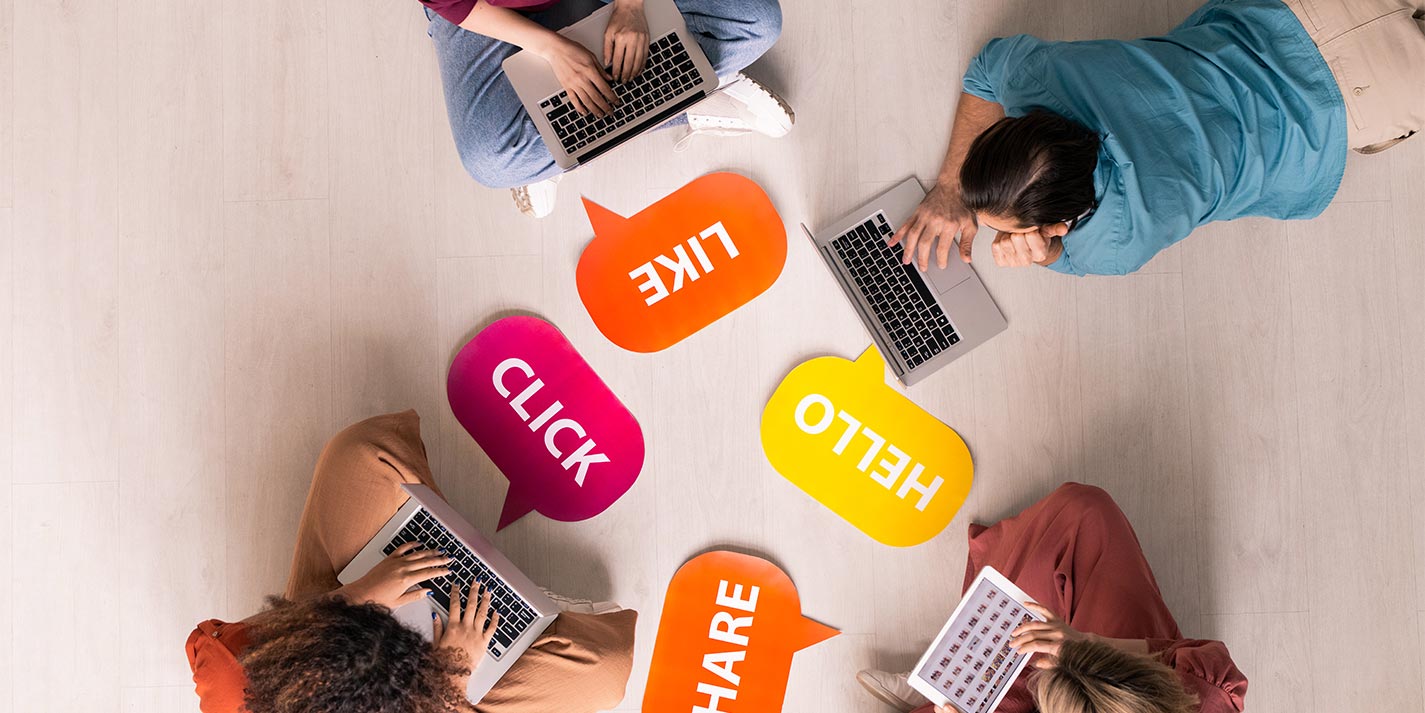 7. Don't be afraid to ask for referrals and reviews
Some offices might hesitate when asking for favors like referrals and reviews. Trenna insists that she's never had anyone say no to giving referrals or posting reviews. In fact, most people genuinely enjoy sharing their opinion or referring someone new to the office. The critical thing is making sure it happens!
8. Give people a reason for sharing reviews
Trenna believes the reason patients at Cache Valley Foot and Ankle are happy to share referrals and reviews is the quality of service from the practice. When patients are happy with the care at the podiatry office they visit, they're more likely to be enthusiastic about posting on review sites or telling you about a friend with a foot issue.
This theme comes up repeatedly in the conversation with Trenna. The single best way to bring in new patients is by caring for each client at an individual level and providing care that makes them loyal to your practice.
9. Hire top-notch employees
Cache Valley Foot and Ankle has found much of its success due to the caliber of its doctors and other employees. Excellent care starts and ends with the employees in your office. While office managers like Trenna can't control every aspect of their practice, they can be particular about the types of employees they bring on board.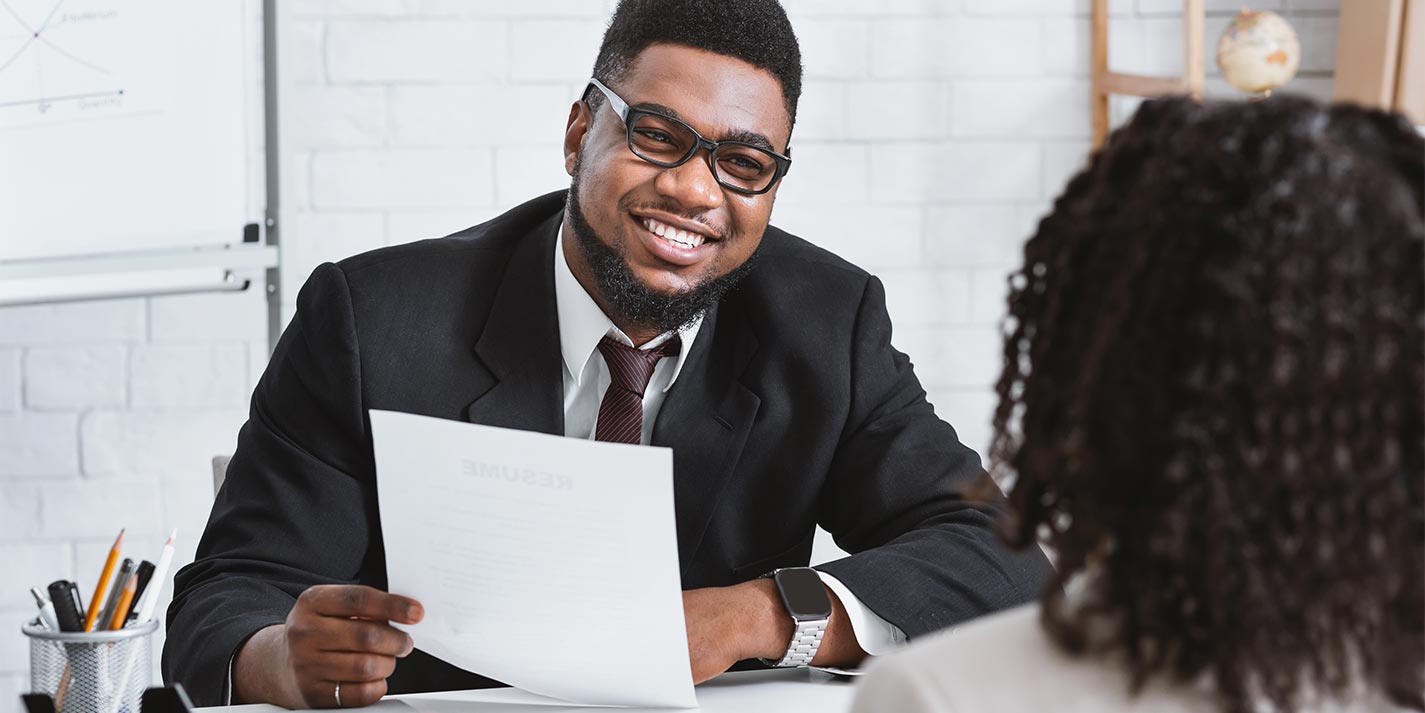 10. Care about visual branding
An important aspect of marketing is the visual component. Your office should develop a logo that stands out to potential customers and catches their eye. The signage on the outside of your building is even important. If you have the budget, find a graphic designer to help you establish a style and image that appeals to the people in your community.
11. Share COVID-19 updates by text
COVID-19 has severely affected medical offices around the world. To keep patients informed and safe during the pandemic, Trenna's practice is sending out text messages prior to appointments to help patients feel secure and to let them know about proper safety procedures like mask-wearing and social distancing. Weave supports this outreach with both the Messages and Scheduling tools.
12. Complete paperwork prior to appointments
Cache Valley Foot and Ankle has started asking patients to register on their portal before stepping into their office. This strategy cuts down on the amount of time patients are spending in their waiting room, a place where there's more potential for the spread of germs and viruses. Practices that use paperless forms and share them with customers by text are better able to set up safe conditions in their office.
13. Let people know your protocol
You don't have to exclusively rely on text to share your COVID-19 protocol. Have the conversation over the phone or in person. Just make sure patients know what to expect when they step into your office. These precautions will protect your team and patients from putting themselves into high-risk situations.
14. Evaluate your COVID-19 protocol
Are you taking the right precautions? Go through every step of the patient experience to find ways to perfect your precautionary measures. Masks, hand sanitizer, and social distancing are basic tools for fighting the threat of the virus. How can you communicate more effectively with patients about your office's protocol?
15. Improve your communication system
Trenna's office has used the conditions created by the pandemic to optimize their communication with patients. More than ever, patients want specific directions about their appointments, including how to check in, what precautions to take, and how doctors and their staff will socially distance.
16. Explore emailing
Almost every practice has an email outreach. Email is an essential form of communication because it allows you to share detailed information that's difficult to convey via calls and texts. Offices utilize our Email Marketing tool to optimize their emailing with pre-written templates, an image library, and Call to Action buttons.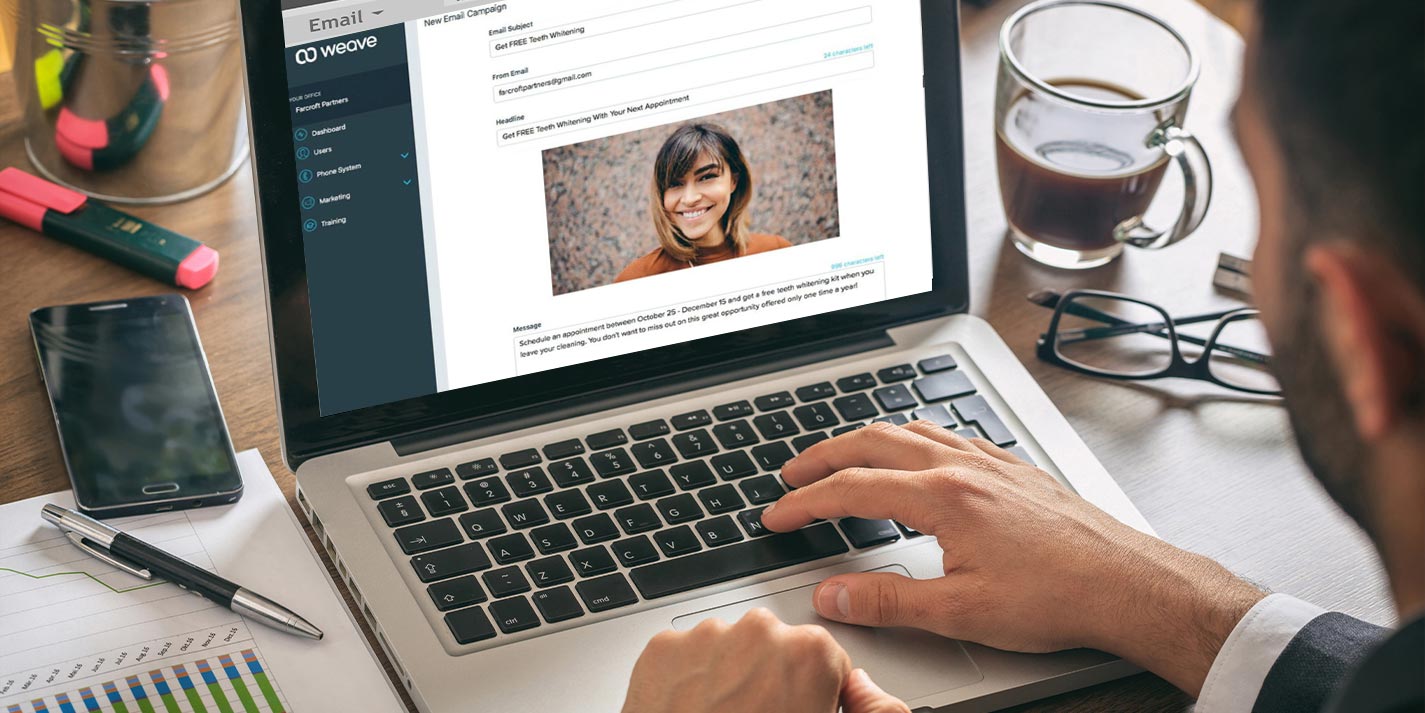 17. Trust word-of-mouth marketing
After discussing a list of various strategies for finding new patients, Trenna admits that old-fashioned word-of-mouth marketing is still one of the most reliable sources of new clients for Cache Valley Foot and Ankle. That's why it's imperative for offices to continually focus on their quality of care.
18. Embrace social media
Trenna says she was initially intimidated by running social media accounts. However, because she's an experienced office manager, her instincts told her that social media is a huge part of today's marketing, especially for younger patients. She pushed forward and now social media is an important part of Cache Valley Foot and Ankle's strategy.
19. Make patients feel like VIP's
Whatever small actions your office can take to make clients feel recognized on a personal level are essential for success. Putting names in text messages is a simple way to do this. Offices also give gifts to new patients to show their appreciation.
  → Listen to Podiatrist Dr. Dave Edwards  Success Story↓↓
20. Don't trip over dollars to pick up pennies
It's not worth stressing over every miniscule way to save your practice money. Small practices of course need to watch their budget, but when you're focusing on profit over people, the quality of care can drop off dramatically.
21. Remember, patient care is the crux
Cache Valley Foot and Ankle puts its patients' needs first. Trenna concludes the conversation by again emphasizing how everything comes back to this point. If you're not providing optimal care, all your marketing strategies, communication tools, and COVID responses are in vain. Caring for people is the best way to personalize the patient experience and consistently add new customers.