How can optometry practices use marketing channels, word-of-mouth advertising, and brand positioning to bring new patients into their clinics?
A recent episode of Weave's In the Trenches webinar series looks into these industry-specific questions. We sat down with Christi Cupp, the clinical manager of Wichita Optometry, to find out how her practice drives new traffic to their offices.
Christi has worked for Wichita Optometry for the past nine years. Thanks in part to her leadership, Wichita Optometry now has four locations and handles 500 visits per week. Christi's extensive experience has made her an expert in managing marketing, branding, and communication in the optometry industry.
→Watch Interview w/ Christi, manager at Wichita Optometry ↓↓
Here are fifteen tips on finding and impressing new patients from Christi's interview:
1. Use Google Reviews
Christi says Google Reviews is a huge part of Wichita Optometry's marketing strategy. The goal for the practice is to appear first in search results when people new to the Wichita area google "optometrists." Because of this emphasis, Wichita Optometry is indeed the first webpage that comes up for most optometry-centric searches specific to Wichita, KS.
A high-standing in Google search results is a product of a large amount of positive reviews and a number of other factors, like the quality of your website. Optometry practices that don't already focus on Google Reviews should begin by registering on Google My Business. Once that registration is finished, start to regularly request reviews from your patients.
See how Weave increases Optometry Practice bookings
Reduce Slow Days Significantly with Increased bookings
" We have less empty spots in the schedule. We are able to fill our openings either that are empty to start or happen last-minute with cancellations without having to make a ton of calls."- Weave Customer
Schedule Demo
2. Send review requests
In the past, review gathering often took the form of hand-written responses collected with on a clipboard or testimonials captured with a tape- or video-recorder. The advent of the internet and other business communication technology has greatly simplified review gathering. At Wichita Optometry, review requests are handled with quick text requests following appointments.
Review requests are text messages with a brief, polite statement and a link to popular review sites like Google and Facebook. Some optometry practices may be hesitant to use review sites because they're afraid of the occasional negative review. Christi says not to worry. Clinics can address bad reviews and use them as opportunities to better meet their patients' needs.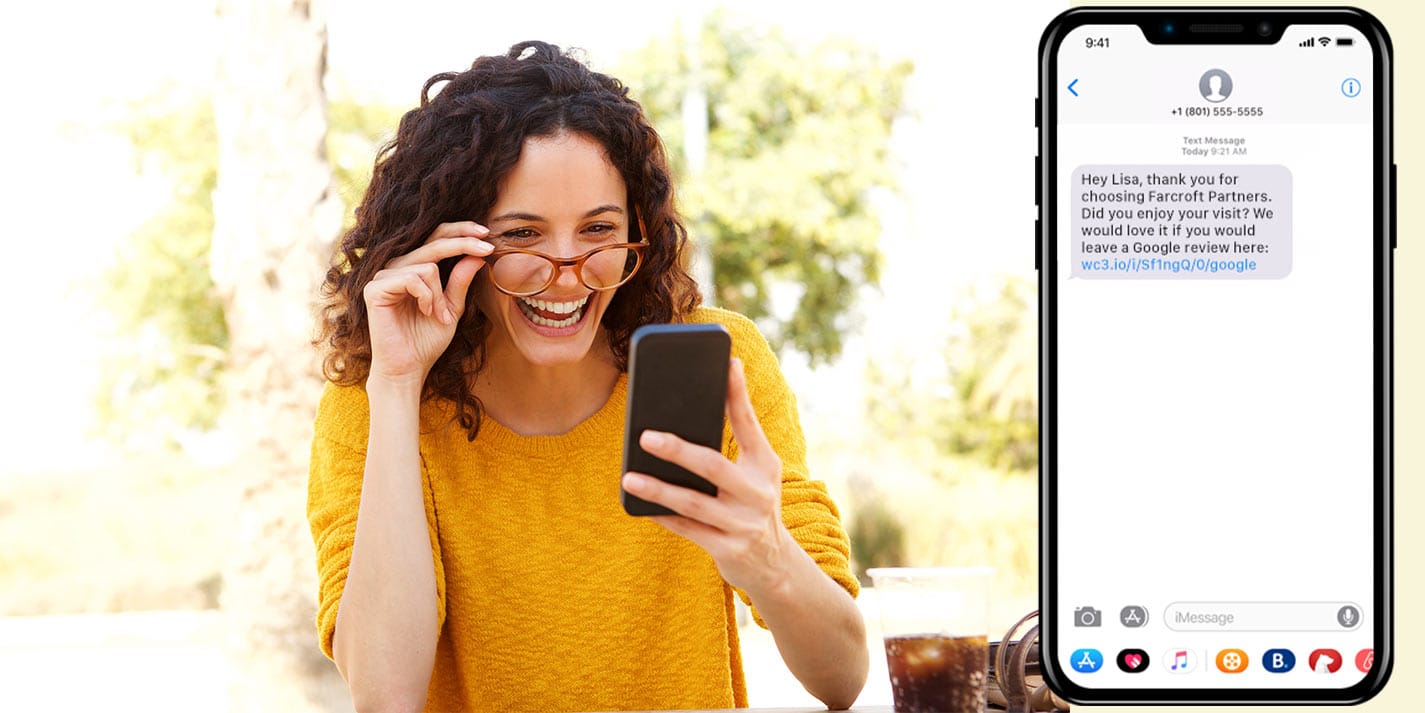 3. Set a precedent
Wichita Optometry doesn't just ask for online reviews out of the blue. They help their patients appreciate their service by setting expectations. These expectations keep the entire staff in line with the values of the practice and ensure the majority of customers are happy with the clinic. This way, when patients get a review request, they're more likely to post a review.
Christi tries to make sure her team communicates early and often with patients by text. They send appointment reminders, confirmations, and missed call texts to keep this line of communication open. Wichita Optometry also asks customers to fill out a short, electronic survey following appointments. This survey makes certain patient needs were properly taken care of, and can also include a link to review sites.
4. Offer and check email feedback
On a daily basis, Christi checks the practice's email inbox to see if customers have shared any feedback. Wichita Optometry's website provides patients with the opportunity to send this type of feedback, which is invaluable to optimizing the clinic's processes. The practice hires a third party to make sure its website is always looking good and functioning in a user-friendly manner.
5. Post social media ads
Wichita Optometry strategically places ads on social media sites like Facebook to discover new patients. These posts target the interests of various demographics, whether that's children's vision, vision therapy, or glaucoma needs. Find someone in your office with the ability to manage and monitor your social media accounts and post on a consistent basis.
6. Unify your communication
One of the greatest contributing factors to the success of Wichita Optometry's marketing is their consolidated communication. Christi says the practice has one phone number, one website, one fax number, and one email address for all four of its locations. This unity makes it easier for prospective customers to get in contact with the clinic and simpler for Christi to oversee communication as an office manager.
VoIP phone systems allow for this type of consolidation. Instead of relying on traditional landlines, VoIP phones use the internet to connect your different communication outreaches. Calls, texts, emails, and faxes can then be unified across locations, further increasing collaboration, organization, and efficiency.
→Watch How Weave Unifies Communication for Practices below ↓↓
7. Explore alternative marketing
Beyond conventional and contemporary marketing strategies, optometry practices should explore small ways to increase their visibility in their communities. Wichita Optometry achieves this visibility by giving all their staff members swag like jackets and t-shirts to wear both in and out of the office. They also attend healthcare fairs in the area and try to partner up with some of the major job providers that offer vision insurance in the area.
8. Don't forget word-of-mouth
Despite all the other approaches to discovering new patients, Christi still thinks word-of-mouth advertising is the single most effective way to bring in new clients. The vision and values of Wichita Optometry allow it to thrive. Christi says her clinic is based on respect and a fundamental belief that everyone deserves good vision, regardless of their background or their insurance policy.
For Wichita Optometry, the greatest satisfaction comes from putting prisms in glasses to correct double vision, working hard to help someone find the right contacts, or helping a child see again. When your practice goes above and beyond, it's easy to spread by word-of-mouth. Christi says her practice puts patients and integrity first, and this reputation continually brings them into contact with new customers.
9. Schedule appointments online
One of the ways Wichita Optometry improves its brand positioning is by making it easy for patients to communicate with their offices. Offering online appointment scheduling simplifies the process of booking a visit with an optometry clinic. The right scheduling page lets customers choose their doctor, location, and time of appointment.
Christi's practice has its patients schedule appointments on its website. They get clients to this page using texts, emails, and phone calls. Appointment reminders and email CTA (Call to Action) buttons provide customers with links to a scheduling page. When patients fail to confirm their appointments by text or email, Wichita Optometry gives them a courtesy call.
10. Make courtesy calls
Courtesy calls are essential for getting new patients into Wichita Optometry's offices. Christi says the majority of clients are extremely appreciative of these calls. They remind busy customers of appointments they might otherwise forget because of other obligations. If a few patients complain about courtesy calls, take them off your reminder list, but don't change your entire system to account for a handful of negative reactions.
11. Post Covid-19 updates
Like virtually every other business in the world, Wichita Optometry has felt the impact of Covid-19 and its impending regulations. Christi and her team have countered these effects by posting updates online and at their physical locations. They're sure to keep new patients informed on the clinic's website and have signage at the front door of each of their offices.
12. Train staff on Covid-19 protocol
Wichita Optometry isn't merely posting information about the pandemic as a surface-level measure. They're also training everyone that works in their offices on each step of their Covid-19 procedures, including temperature taking and mask wearing. If patients have a problem with their protocol, the staff is sure to reschedule with customers.
13. Share mass updates by text and email
Phone calls aren't ideally designed for mass communication. Mass calling often devolves to automated voices that end up alienating customers. Texts and emails are better suited for mass updates regarding Covid-19. Wichita Optometry has used texts and emails from the start of the pandemic to share information about their social distancing efforts.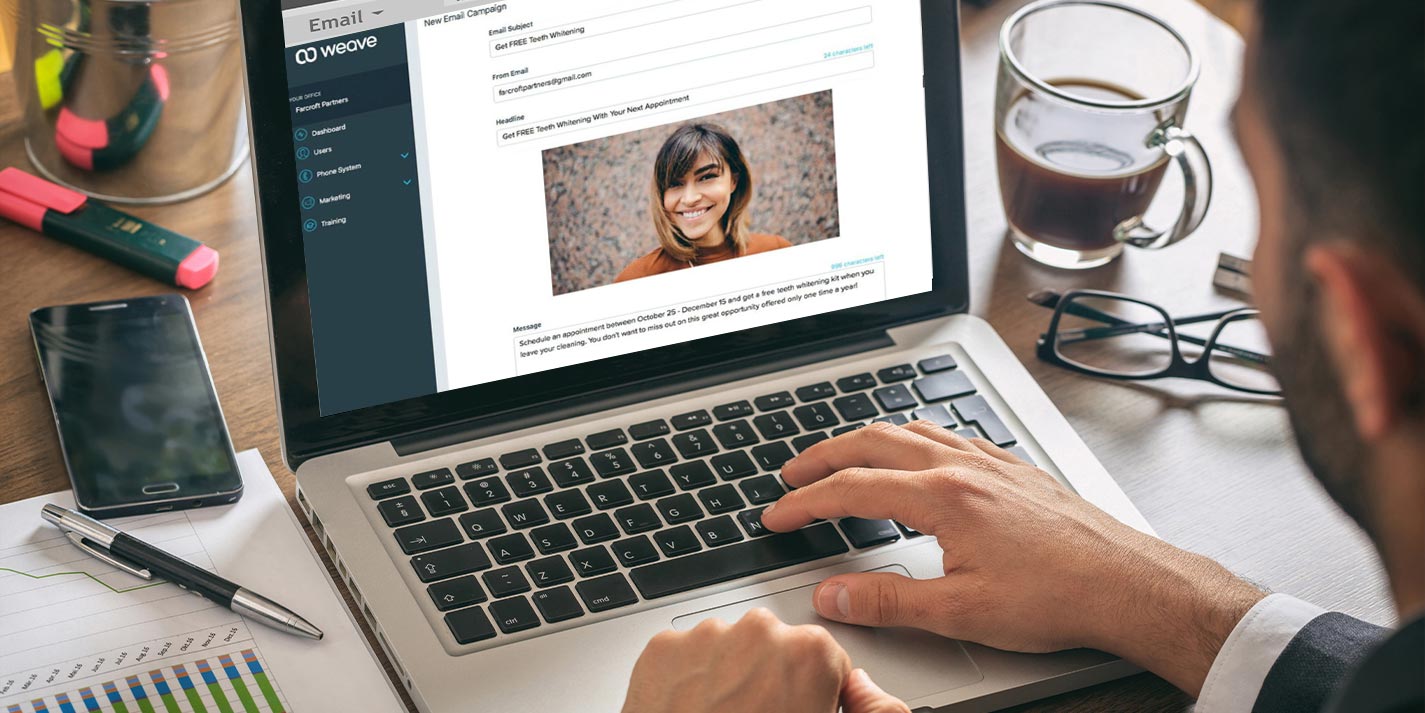 14. Try two-way texting
Though some optometry practices have adopted business texting, plenty of others have yet to embrace this new form of communication. Text messaging appeals to patients with busy lifestyles that can't find the time to take calls or respond to voicemail messages. Sharing appointment protocol by text is a great way to establish trust and clear lines of communication with new patients early.
15. Get the right equipment
When asked what advice she'd give to up-and-coming optometry practices, Christi says clinics need to have the right equipment on hand. She explains that the right equipment isn't just the tools used in the exam lane or pre-test area; it also includes the right EHR tool, the right fax system, and the right phone system.
The right equipment enhances your clinic's ability to reach out to patients and prospective customers. Once your team is trained on your communication system, it's easy for them to quickly gain confidence and improve their productivity. That's why Wichita Optometry has been a Weave customer for the last five years.
As Wichita Optometry has grown and expanded, Weave has grown alongside them and made the necessary changes to meet the challenges of an evolving marketplace. Christi says Weave is responsive to both the needs of the practice and the patients it serves. If you're hoping to find the right equipment for communicating with new patients, consider Weave by watching a free demo.