The primary role of a dental practice is taking care of its patients' needs. However, as practices work to improve their patients' smiles, they also aim to increase their efficiency and the customer service surrounding essential care. A move toward greater productivity also increases worker satisfaction and profits, allowing practices to expand their circle of care to more patients.
Communication technology continues to develop at a rapid pace, and its effects are changing the way dentists talk to their clients. Instead of using old methods, like print advertisements, mailers, and phone messages, dentists are starting to use online marketing strategies, emails, and text messages to communicate with current and potential customers.
Phones still have a central place in a dental communication network. In fact, phones serve as the basis for integrated communication. Dental offices hoping to adopt modern communication solutions don't need to forget about making phone calls altogether. Rather, they should be searching for multi-functional phones that enhance traditional calling while empowering their practice to utilize alternative communication methods.
Here are eleven ways a multi-functional phone will improve your practice's productivity:
1. Consolidated lines of communication
Dental offices are transitioning away from traditional telephony to VoIP (Voice over Internet Protocol) phones. Unlike traditional phones, which are based on landlines, VoIP systems rely on the internet to transmit your phone conversations. This move toward internet-based communication connects your phone communication with other lines of communication, from emails to texts to online reviews.
This article will go back to this basic concept multiple times. Linking your phones with emailing allows your office to look at a recently contacted list then distribute emails to those who have gone by the wayside. Another example of the benefit of integrated communication is texting customers in your phone system for an online review after appointments rather than stopping them at the front desk.


Want to improve productivity? Ask about Weave Phones
Weave Phone's Smart Technology helps you do more with less.
During this coronavirus issue Weave has been a life saver. I have been able to contact my patients via text, put our phones on a special message system, communicate at home with patients via the app. It has been wonderful!!! Thank God for Weave!

-Carolyn, Grimley Family Dental

Schedule Demo
Watch How Dr. Sydner's (DDS) Dental Office Increases Productivity using a VOIP Phone
2. Conference calls
Practices could host conference calls with insurance agencies, specialists, and patients using landline phones. However, conference calls in this format make it more difficult to toggle between the conversation and data on your computer or other devices. Conference calls that are supported by VoIP phones make it easier to have an informative discussion and access quantitative and qualitative data on your computer.
With the popularity of telehealth protocols, conference calling is more important than ever for many dentists. They and their staff should use VoIP phones for their conference calls in order to solve patient and office problems more quickly. Patients will benefit from practices that have a grasp on their unique and personal situations.
3. Missed call auto texts
As previously mentioned, communication with dental patients is changing. A significant number of clients now prefer text messaging to phone calls, and a multi-functional phone system opens up avenues for potential text conversations. Missed call auto texts can be a gateway for offices looking to increase their client contact rate by text.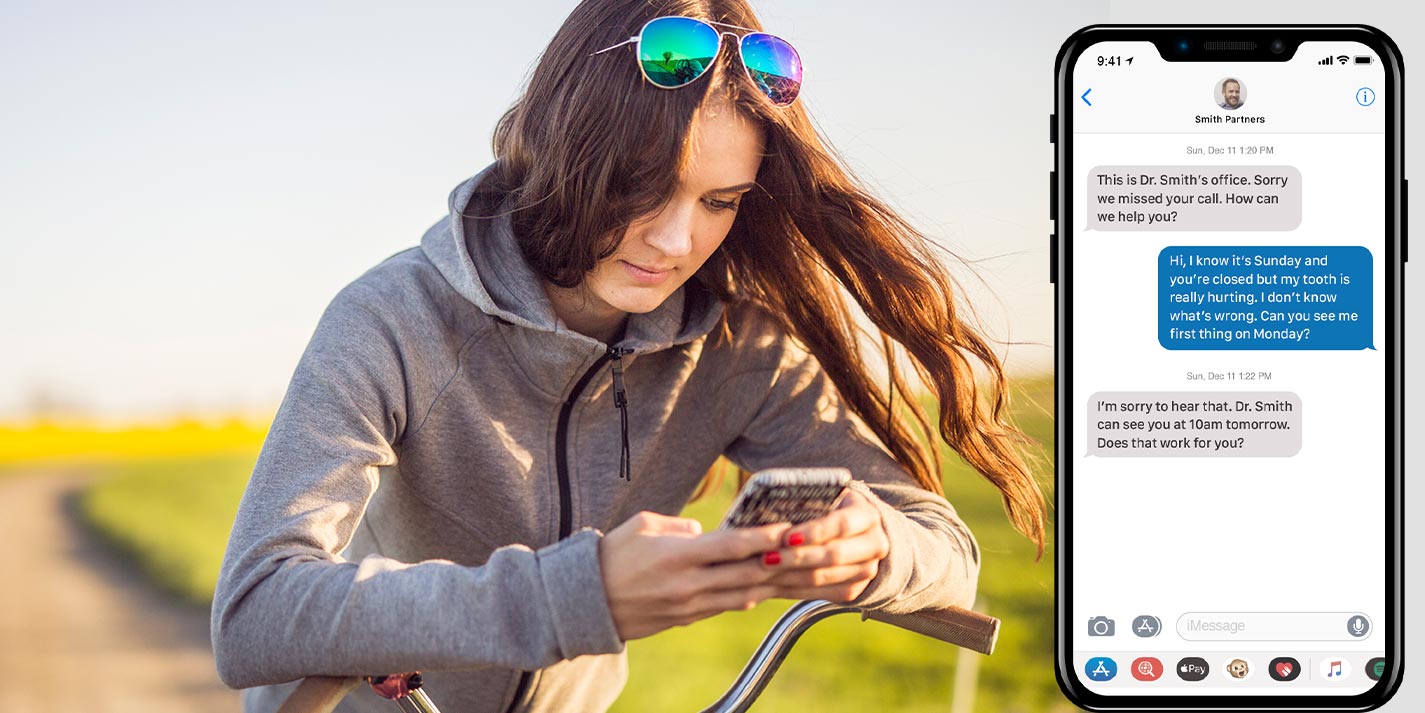 Missed call auto texts are messages automatically sent to callers that aren't able to reach anyone in your office. As soon as a customer hangs up, they receive a text message from your practice that their call will be returned. In the meanwhile, patients can respond to the text and begin a two-way conversation with a member of your team.
4. Voicemail override
Recent events have made running a practice slightly more unpredictable. Closures and shortening of office hours resulting from the COVID-19 pandemic mean your office needs to constantly be on its toes and ready to notify patients about last-minute scheduling changes. A voicemail override is easy to set up for those with a VoIP phone system.
Voicemail override is a backup voicemail message that can be activated at a moment's notice. If public health regulations cause your practice to abruptly make alterations to its schedule, dentists or their administrative team can quickly implement a voicemail override. This measure keeps your practice running smoothly and keeps patients in the loop regarding emergency situations.
5. Phone trees
Phone trees are the system of options that guide callers to the right person or source of information in your office's phone system. They exist in traditional systems, but creating phone trees is much more efficient and creative with VoIP phones. Phone trees that use digital technology in place of analog methods make it possible to continually refine your system to maximize efficiency for both employees and customers.
Dentists with an eye toward growth recognize the merits of a phone tree that can adapt to the size and scope of their practice. The administrators in charge of optimizing phone trees appreciate greetings and extensions that are easy to record and organize. Patients notice the difference between well-constructed phone trees and outdated or useless caller menus.
6. Call recording
Multi-functional phones expand the amount of data dental practices can keep on hand. A basic log of data comes from call recording. Older phones provide offices with a caller ID, but don't allow dentists to record entire conversations. Having these conversations available benefits practices in a number of ways.
Dental professionals that want to check up on the quality of their office's communication with patients can pull up conversations to see how customer service is being handled. Secretaries and administrators that might have forgotten valuable information from customers can refer to their most recent chat to find out the detail that's slipped from their memory.
7. Call tracking and forwarding
Traditional phones make it difficult to track and forward calls. They often involve having to push a series of buttons manually in order to move a call to the right person in your office. A VoIP phone system simplifies the process of not only forwarding calls, but tracking the calls that come through your communication network.
With a multi-functional phone system, your practice can forward all calls to a different number. This ability is especially helpful for practices that have multiple offices or have employees working from home. When call forwarding is turned on, calls will be automatically routed to the number of your choosing and won't reach your normal voicemail message.
8. Unlimited long distance calls and rollovers
Another benefit of multi-functional phones is having unlimited long distance calls and rollovers. Landline phones tend to rack up fees for offices when they have to make calls across the country. Their lines can become clogged up when they reach a critical mass of callers.
By converting to a VoIP phone system, your practice won't have to worry about long distance phone bills or dropping callers. Using the internet, dental offices only have to pay a flat rate for their phones each month without worrying about unexpected costs. If your office is flooded with calls at peak hours, it will be considerably easier to keep clients on the line and even switch over to other types of communication such as texting.
9. Mobile apps
Offices with traditional landlines are extremely limited when their employees are offsite. Thanks to VoIP phones, practices can now utilize mobile apps that allow dentists and their staff to communicate using their smartphones. An integrated communication system isn't simply a tool for those in the office; it expands your network to those traveling, visiting other offices, or working from home.
A mobile app lets your team access all of the tools it has in the office regardless of their location. This allows your employees to stay on the same page and take care of their duties even when they're away from the practice. Mobile apps are especially popular right now because they empower offices to promote social distancing and other public health protocols.
10. Analytics
It's hard to learn much about how efficiently your practice is communicating with landline phones. Multi-functional phones not only give you the ability to communicate in various ways, but they also let you look at data in order to optimize your staffing, your outreach, and your customer service.
Analytics are a huge area of emphasis in virtually every sector of the business world today. Dental practices are no different. They can discover the specific times of day when their patients are calling in high volumes. They're also able to see if their adjustments are actually cutting down on their missed calls and call times. Viewing these statistics through an analytical interface is a sure-fire way to increase productivity.
11. Customer insights
VoIP phones have the capacity to put personal information regarding each caller at your fingertips. Because they're connected to smart software, multi-functional phones bring up customer insights as soon as your office answers a call. This way, they can provide prompt responses to patient questions and check off a whole series of tasks at once.
Customer insights that populate onto your screen include names, patient photographs, birthdays, upcoming appointments, outstanding balances, and health histories. These insights are also available through mobile apps, so the individual records of patients can be seen by those away from the office as well. This feature of VoIP phones boosts productivity and your practice's relationship with its clients.
All of the features of multi-functional phones are available through Weave's phone system. Contact us today for a free demo of how our phones can improve your practice's productivity.